Spencer Tracy: 12 movies that defined the original actor's actor
Spencer Tracy died 50 years ago this week. One of Hollywood's best-loved stars, many critics believe him to be the greatest of them all. Graeme Ross charts his career through 12 of his finest films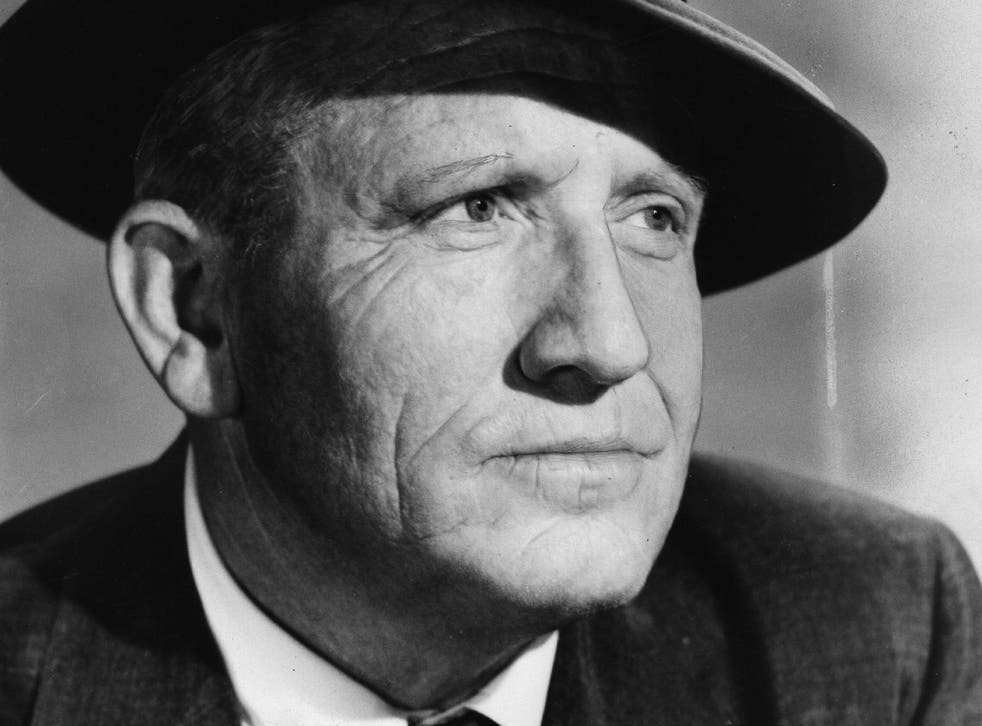 One of Hollywood's most loved actors Spencer Tracy died 50 years ago this week leaving a wonderful legacy of memorable performances in some of Hollywood's most loved films. A versatile actor who excelled in a number of genres, Tracy was nominated nine times for the best actor Oscar, a record matched only by Laurence Olivier.
Tracy played down his considerable achievements – his advice to fellow actors was "know your lines and don't bump into the furniture" but he was the ultimate actor's actor, the model to which many of his peers aspired, proving that it was possible to be a major film star and a great actor at the same time.
In fact, many critics consider Spencer Tracy the greatest movie actor of them all. Modern day audiences would find many of his films rather outdated but for those of a certain vintage, Spencer Tracy represents simpler, more innocent times when there were a mere three television channels and Sunday wasn't just another day of the week. A Spencer Tracy film was the perfect weekend afternoon movie, one the whole family could watch together.
On screen, Tracy represented honesty and integrity, the kind of guy you would be proud to call a friend, a father-figure full of sage advice with a shoulder always there to cry on, but nobody's pushover. Let's relive his career in 12 defining movies.
The Power and the Glory (1933) After a long apprenticeship on stage and some unsuccessful movie roles, this was the film that first raised Tracy's profile with both movie fans and critics, with his performance praised by The New York Times as the finest committed to screen up to that time. It's a film that clearly served as a model for Citizen Kane, telling the life story in flashback of a ruthless railroad magnate and his rise to the top. Tracy has to age in the film from 20 to 70 something with only a modicum of make-up, but shines in the part thanks largely to the sheer force of his personality and his impressive acting chops. However, he soon grew unhappy with the parts he was being offered at 20th Century Fox.
Fury (1936) Tracy switched to MGM and was rewarded with his breakthrough role in Fritz Lang's first American film, an attack on mob rule. Tracy plays a man wrongly accused of kidnapping who narrowly escapes a small-town lynch mob after they set fire to his jail cell. Fury is the word for his performance as the once happy-go-lucky, now embittered Tracy almost destroys himself as he seeks vengeance on his assailants, but ultimately finds redemption thanks to the love of his fiancée.
San Francisco (1936) In his next film, Tracy played a priest who battles King of Hollywood Clark Gable and mother-nature in the form of the great San Francisco earthquake of 1906 in this lavish early disaster movie that was the biggest hit of the year. Tracy proved as handy with his fists as with the Bible, flooring Gable in the boxing ring, and was rewarded with an Oscar nomination for just 17 minutes screen time. Having been raised as a Roman Catholic himself, Tracy was nervous playing a priest – but it wouldn't be the last time he would don the dog collar.
Captains Courageous (1937) Tracy's star was now on the rise and he was landing good roles, like this one from Kipling's novel as a Portuguese fisherman who rescues a spoiled, privileged young boy who falls off a liner and becomes a surrogate father to him. Tracy really touched hearts with his charismatic performance, with his death scene particularly moving, and was rewarded with his first best actor Oscar.
Boys Town (1938) Tracy lifted the best actor Oscar for the second year in a row (a feat not repeated until 1994 by Tom Hanks) for his role as the real-life Father Edward J Flanagan who set up a school for wayward boys in Nebraska. Tracy fit the role of a priest like a glove and although Captains Courageous and Boys Town can now be viewed as somewhat sentimental and melodramatic, they are both tremendously affecting in the style that Hollywood and MGM did so well in their golden age, and Tracy's performances definitely brought a new type of naturalism to screen acting.
Woman of the Year (1942) A hugely significant film in the life of Tracy as it marked the beginning of not only his professional, but also his personal relationship with Katherine Hepburn which would last until his death. The on-screen chemistry between the two is evident throughout Woman of the Year, although the pair's first meeting didn't auger well for the future. Hepburn's first words to Tracy were "I'm afraid I'm a little tall for you, Mr Tracy." Tracy replied, "Don't worry Miss Hepburn, I'll cut you down to my size." This sparkling romantic-comedy features the pair as journalists who find their work demands are affecting their marriage. Woman of the Year was the first of nine Tracy/Hepburn collaborations as they established themselves as one of cinema's most popular and enduring duos.
Adam's Rib (1949) "Liquorice! If there's anything I'm a sucker for it's liquorice! " So says Tracy as he gleefully chomps on the liquorice gun he has threatened Katherine Hepburn and her suitor with at the hilarious climax to this supremely witty and sophisticated battle of the sexes comedy. In the best of the Tracy/Hepburn pairings, they play a married pair of lawyers who find themselves on opposite sides of the courtroom when they take on the case of a woman accused of shooting her husband. Perfect entertainment.
Father of the Bride (1950) "I would like to say a few words about weddings," a beleaguered Tracy opens the film, and there can't be a father of the bride who has viewed this sparkling comedy and hasn't identified with the bemused and horrified Tracy who cannot believe the expense and palaver involved in arranging his daughter's wedding. It's a masterclass from Tracy, displaying not only his gift for comedy, but his absolute mastery of the very funny straight man concept.
Bad Day at Black Rock (1955) After hitting his peak with Adam's Rib and Father of the Bride, Tracy's career took a downturn, but he bounced back with this terrific modern noir-western. Tracy has a great role as the one-armed stranger who arrives in a remote desert town to deliver a medal to the father of a Japanese American who saved his life during the the Second World War, but in doing so rattles skeletons in the town's closet. In a taut, suspenseful examination of racism in small town America, Tracy is menaced by a trio of cinema's greatest heavies in the shape of Robert Ryan, Lee Marvin and Ernest Borgnine, but is a match for all of them, displaying a nifty brand of martial arts and despatching Ryan with ruthless economy.
The Old Man and the Sea (1958) The role of the aged fisherman from Hemingway's almost un-filmable novella was a part that Tracy coveted, but ill health and weight problems almost scuppered his chances. It was a troubled shoot with Tracy spending much of his screen time alone, but the consummate professional pulled it off.
Inherit the Wind (1960) Tracy's career had hit a slump as he aged, however he fell under the aegis of Stanley Kramer who gave him some meaty roles in the twilight of his career. In this dramatisation of the famous Scopes Monkey Trial in 1925, Tracy played famed lawyer Clarence Darrow in everything but name, defending a schoolteacher charged with teaching Darwin's theory of evolution. Up against another principal member of Hollywood royalty in Frederic March, Tracy gave a tour de force Oscar-nominated performance, losing to Burt Lancaster for Elmer Gantry.
Guess Who's Coming to Dinner? (1967) Tracy's swansong role in his final movie is one of his most moving, as the father whose liberal principles are tested when his daughter announces her engagement to a black doctor. Guess Who's Coming to Dinner? may look dated and sentimental now but it was filmed against a backdrop of racial tension in the US and drew praise for being one of the first mainstream Hollywood movies to examine an inter-racial relationship. But it's most memorable for Tracy's performance, particularly his last scene, a monologue in which he is clearly expressing his real-life love for Katherine Hepburn, his co-star, who watches, crying real tears. When Tracy finished the scene, the entire cast and crew burst into prolonged, spontaneous applause. Suffering from poor health throughout filming, Tracy died just 17 days after completing his valedictory scene.
Register for free to continue reading
Registration is a free and easy way to support our truly independent journalism
By registering, you will also enjoy limited access to Premium articles, exclusive newsletters, commenting, and virtual events with our leading journalists
Already have an account? sign in
Register for free to continue reading
Registration is a free and easy way to support our truly independent journalism
By registering, you will also enjoy limited access to Premium articles, exclusive newsletters, commenting, and virtual events with our leading journalists
Already have an account? sign in
Join our new commenting forum
Join thought-provoking conversations, follow other Independent readers and see their replies