Suffragette: Male actors turned down roles in Meryl Streep film as 'men's roles weren't meaty enough'
Brendan Gleeson, Ben Wishaw, Sam West and Finbar Lynch play the supporting male cast in the film, released 7 October
Nick Clark
Wednesday 07 October 2015 16:33 Comments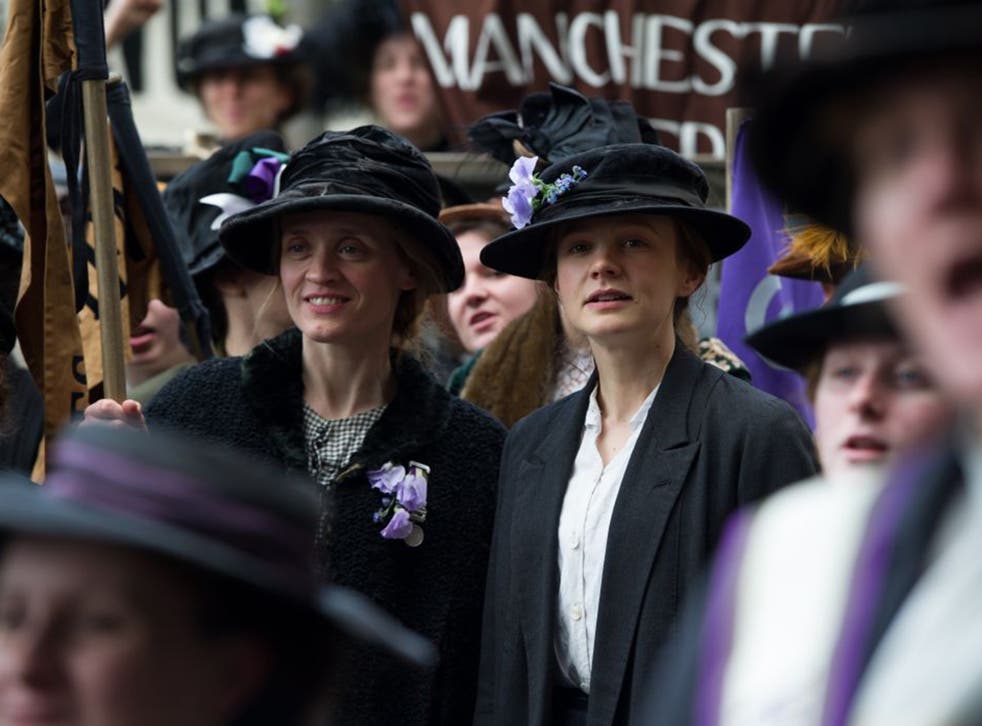 The title should have given them a clue, but it turns out a string of male actors turned down the chance to appear in new film Suffragette, about women's fight for the vote in Britain, because the roles for men were not meaty enough.
Scriptwriter Abi Morgan, who also penned The Iron Lady and Shame, revealed the battle to cast the male roles and added a film fronted by "an ensemble female cast" had been tougher to get made.
The aim was to get "complex but supporting" male roles but finding the actors to play them was unusually tough, Morgan said at a press conference yesterday.
"When we came to cast the film it was very difficult because we kept getting calls from agents saying the parts weren't big enough for the men."
She added it was a "huge tribute" to Brendan Gleeson, Ben Wishaw, Sam West and Finbar Lynch for taking on the supporting roles in the film.
Her statements raised a laugh as the lack of strong complex female roles on film has long been a charge levelled at the movie industry.
UN Women, a United Nations group looking at gender equality, criticised the global film industry for not creating enough speaking roles for women last year. Several months later, a study of women in television and film at San Diego State University found that women were just 12 per cent of the protagonists in the top grossing films in the US in 2014.
Suffragette, which opened the London Film Festival in Leicester Square last night, is set in 1912 England and follows the battle for universal suffrage as told through the eyes of Carey Mulligan's fictional character Maud Watts. It has a female ensemble cast, and women in prominent positions behind the camera.
Director Sarah Gavron said: "Everyone was telling a story they were feeling passionate about but there was also an unusual balance we had men and lots of women in key positions. That was exciting,"
Access unlimited streaming of movies and TV shows with Amazon Prime Video Sign up now for a 30-day free trial
Sign up
"It was also exciting to have lots of women on screen together," she continued. "It was incredibly exhilarating for all of us."
One reviewer said the suffragettes "finally get the film they deserve" but it took a decade to make it to the screen. Ms Gavron said the academics who advised on the film were not surprised the story had not been tackled on film before.
"They said it took ages to get women's history taken seriously, it took a long time to get it on the curriculum," she said.
Morgan added that given some public records, which revealed the level of police surveillance, were not opened until around 2002 "makes you realise this is something that has been supressed and denied. For us it has been a real detective job to unpick the research."
"Film does take time," Morgan said. "However a film where it's fronted not by one but an ensemble of women and they're not being funny or romantic is hard. That became a huge obstacle."
Meryl Streep, who plays Emmeline Pankhurst in the film, railed against the "lack of inclusion [of women] in the decision making bodies in every single enterprise around the world".
Suffragette Exclusive Interview With Anne-Marie Duff & Brendan Gleeson
"If men don't look around the board of governors table and feel something is wrong when half the people are not women, then we're not going to make any progress. We're making progress from the bottom up."
The Oscar-winning actress hopes Suffragette will make a global difference. "To make a film like this, it will circle the globe," Streep said. "It will encourage people who have very little hope, people whose lives look almost like the lives of the women in 1913 in London. It's a great encouragement."
When asked about who could be seen as comparable to Emmeline Pankhurst today, Streep chose Malala Yousafzai, the Pakistani teenage activist for female education.
"She's endured so much and she's so brave," Gavron said. "In terms of her language and her outlook and determination, there were many echoes."
Register for free to continue reading
Registration is a free and easy way to support our truly independent journalism
By registering, you will also enjoy limited access to Premium articles, exclusive newsletters, commenting, and virtual events with our leading journalists
Already have an account? sign in
Join our new commenting forum
Join thought-provoking conversations, follow other Independent readers and see their replies