The Salesman director Asghar Farhadi upsets right-wing critics with Oscar win speech
'We give an Iranian filmmaker an award & he writes us a lecture on our government. How about he go lecture his own Iranian leaders?' 
Maya Oppenheim
Monday 27 February 2017 16:28 Comments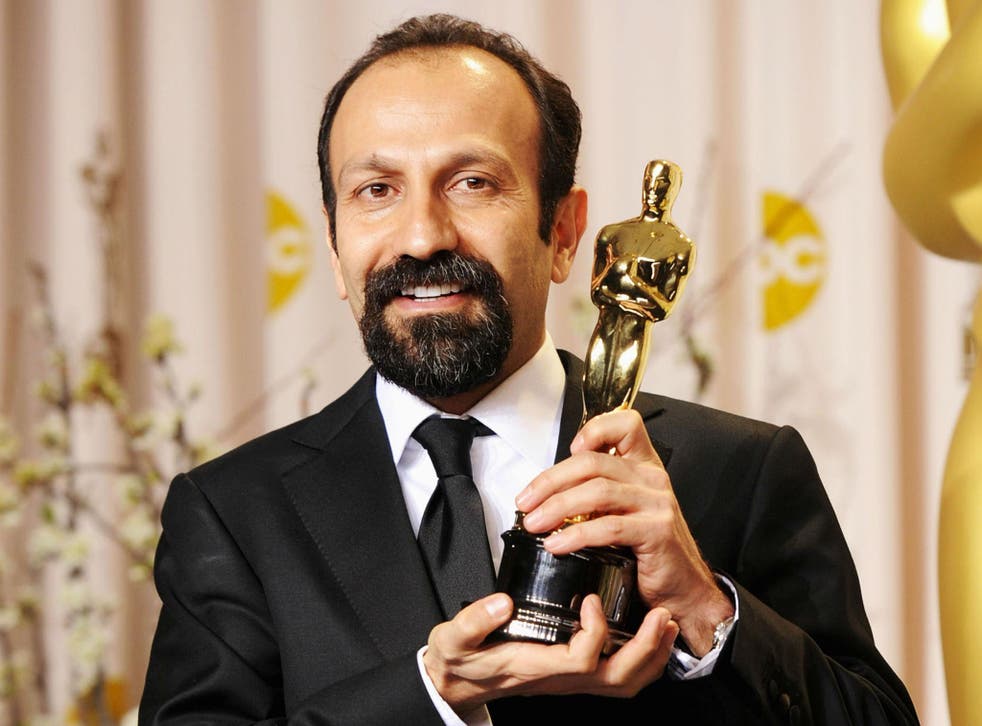 Asghar Farhadi's decision to send Firouz Naderi, a former Nasa scientist who project managed the Mars exploration and Anousheh Ansari, the first self-funded woman in the world to have made it to space, to the Oscars to collect his award had great political resonance.
In Mr Naderi's view, the Iranian film-maker, who won the Best Foreign Language Oscar for The Salesman, chose those particular two Iranian-Americans to symbolise the fact no borders can be seen from outer-space. In his own words, you see "one whole beautiful Earth".
Farhadi refused to attend the award in person as a show of protest against President Donald Trump's hard-line immigration ban. The film gained headlines after reports Farhadi would not be able to attend this year's Academy Awards.
In his emotionally charged acceptance speech, the acclaimed film-maker said his absence was "out of respect" for the people of Iran and the six other Muslim-majority countries affected by the President's controversial ban. He condemned the "inhumane" executive order and accused the American president of "dividing the world into the 'us' and 'our enemies' categories".
Oscars 2017: Best dressed on the red carpet

Show all 25
But while fellow Iranians and many others around the world took great pride in Farhadi's win, not everybody has been so positive about his accolade.
Some suggested the director should not express his opinions on Mr Trump's ban because of the alleged actions of Iran.
"So a guy from Iran just lectured America about human rights and democracy, to lusty applause from Hollywood. Too perfect," said Noah Pollak on Twitter.
"We give an Iranian filmmaker an award & he writes us a lecture on our government. How about he go lecture his own Iranian leaders? #Oscars," asked Lauren Cooley, a right-wing commentator.
But others disagreed, keen to point out there was nothing hypocritical about his powerful speech.
"You guys know that it's not hypocritical to be Iranian and pro-democracy, right?" said Seth Mandel, the Op-Ed editor of the New York Post.
Access unlimited streaming of movies and TV shows with Amazon Prime Video Sign up now for a 30-day free trial
Sign up
"Conservative twitter seems very upset than an Iranian man cares about democracy. I am very confused. #badlogic," said one.
Accepting the award on behalf of Farhadi at the Oscars, Mr Ansari read out a statement written by the director.
He said: "It's a great honour to be receiving this valuable award for the second time. I would like to thank the members of the Academy, my crew in Iran, my producer Alexandre Mallet-Guy, Cohen media, Amazon, and my fellow nominees in the foreign film category. I'm sorry I'm not with you tonight. My absence is out of respect for the people in my country and those of other six nations whom have been disrespected by the inhumane law that bans entry of immigrants to the US.
"Dividing the world into the 'us' and 'our enemies' categories creates fear, a deceitful justification for aggression and war. These wars prevent democracy and human rights in countries which have themselves been victims of aggression. Filmmakers can turn their cameras to capture shared human qualities and break stereotypes of various nationalities and religions. They create empathy between "us" and "others," an empathy which we need today more than ever. Thank you on behalf of Mr Farhadi."
Thousands of Iranians went to Trafalgar Square in London on Sunday to watch The Salesman in a special open-air screening organised by the Mayor of London Sadiq Khan. The film follows a couple in Tehran who play the lead roles in an amateur dramatic production of Arthur Miller's play of the same name.
The director made history at the Oscars back in 2012 when his film A Separation became the first Iranian film to win an Academy Award.
Register for free to continue reading
Registration is a free and easy way to support our truly independent journalism
By registering, you will also enjoy limited access to Premium articles, exclusive newsletters, commenting, and virtual events with our leading journalists
Already have an account? sign in
Join our new commenting forum
Join thought-provoking conversations, follow other Independent readers and see their replies