Video: Mila Kunis agrees to go to Nando's and watch football with Radio 1 reporter
When interviews go  off-script it may make the publicists quail, but stars who can think on their feet end up with more fans
Luke Blackall
Wednesday 06 March 2013 21:30 Comments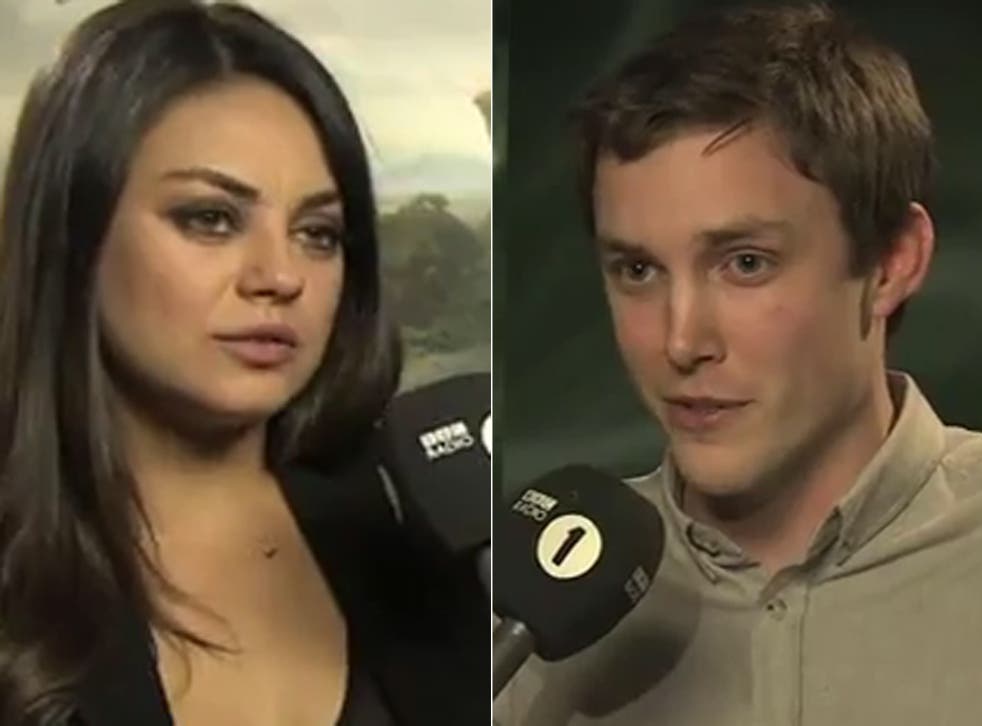 The effortless badinage between Mila Kunis and Radio 1 reporter Chris Stark this week has become the stuff of viral viewing gold. For those who haven't seen it, Stark skipped the standard questions about the film and instead told her about his mates and their fondness for a drink called "the lad bomb" and asked her on a date that involved lunch at Nando's and an afternoon sing-song at his beloved Watford FC.
The exchange highlighted not only Kunis's unflappable nature, but also the bizarre world of the movie press junket. While from the outside, it might seem glamorous, few ever enjoy them. Be they the actors bored with being stuck in a hotel room answering the same questions every day for two weeks, or the press bitter at having too many restrictions on their questions and having too little time to ask them, both are often desperate for something to puncture the boredom.
Martin Freeman discovered that, in the digital age, this can come at a cost. At a junket for The Hobbit, Freeman, also a star of TV series Sherlock, was asked about the rival show Elementary and its star Lucy Liu. Tongue firmly in cheek, Freeman said, "I met [her] at the Emmys who was charming, but very ugly. She's a dog... a very unattractive woman." But his joke served only to rally some of the internet's stupidest (and sarcasm-free) users, who took to forums to insult him.
Some have realised that flirting your way out of trouble can make the best viewing. Vin Diesel is a master at this, be it his cool reaction when Tara Palmer-Tomkinson (working, bizarrely, for MTV) asked what music he listens to "while making love" or how he asked Tess Daly out at the end of their chat.
The stars themselves can find themselves unhappy during the promotional tour. Earlier this year Bruce Willis, while promoting A Good Day to Die Hard, gave a rambling interview to the BBC's The One Show, later apologising and blaming it on jet lag. And in 2010, Russell Crowe became involved in an on-air spat with Mark Lawson on Radio 4's Front Row. When Lawson suggested that Crowe's accent in Robin Hood had "hints of Irish" (it was supposed to be northern English), Crowe responded by saying Lawson's interpretation was "bullshit" and "ridiculous".
For those stars with a sense of humour, the send-up or "awkward interview" has become its own sub-genre, with the likes of US presenter Gordon Keith, or "Tubes" from Sky Sports' Soccer AM (who likes to rap at his interview subjects), having access to big stars.
Publicists, it seems, are perhaps finally aware that these are the sort of interviews that are likely to be watched more than yet another junket-based chat about the film.
Register for free to continue reading
Registration is a free and easy way to support our truly independent journalism
By registering, you will also enjoy limited access to Premium articles, exclusive newsletters, commenting, and virtual events with our leading journalists
Already have an account? sign in
Join our new commenting forum
Join thought-provoking conversations, follow other Independent readers and see their replies