Fleshback: Documentary explores 30 years of Manchester's weird and wonderful hidden queer rave scene
Director Stephen Isaac-Wilson takes us on a tour of Manchester's most infamous nights, from ice cream vans in The Haçienda to dancers suspended from meat hooks at Body Horror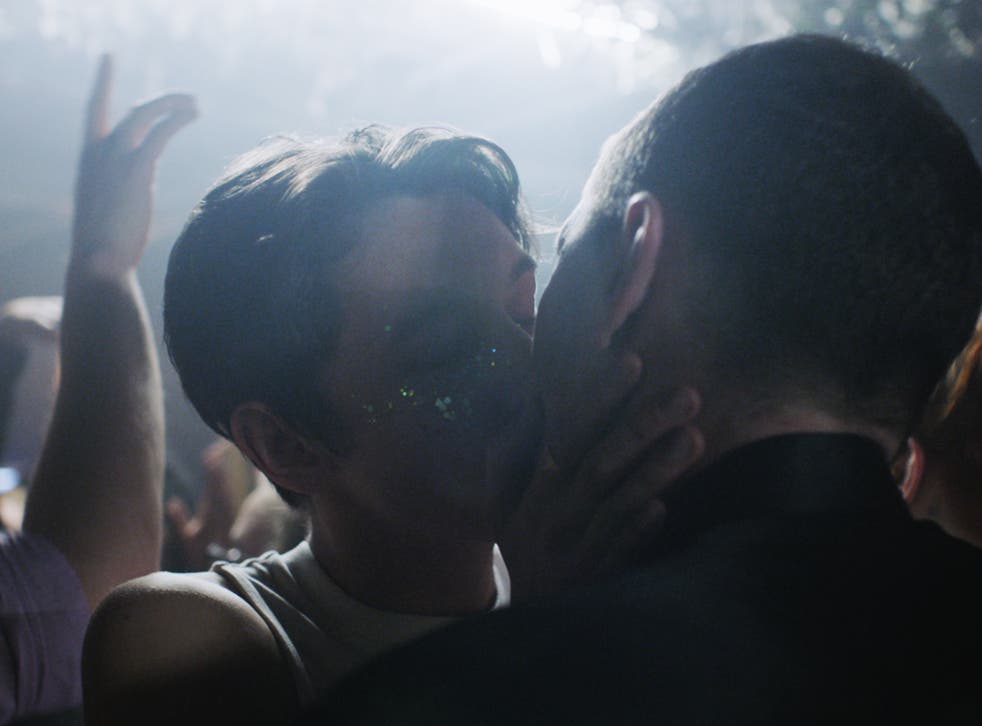 "People just take themselves very seriously in London... everyone has a more competitive streak" declares performance artist Grace Oni Smith, over the top of footage of leather-clad clubbers. "Here, people are so happy for you. If an amazing thing happens to someone there's this collective ownership of that experience."
The idea of shared community success is something that is heavily celebrated in Fleshback, a documentary featured on Boiler Room's new 4:3 platform, in partnership with the British Council, which explores the magical history of gay raving in Manchester.
The film spans three decades, from the Section 28 protests of 1988 that brought together people from all walks of queer life, to modern day warehouse raves in The White Hotel.
Nineties Mancunian club culture is most famous for the rise of acid house, that saw clubs like The Haçienda and Thunderdome gain worldwide notoriety and maintain massive influence over underground music. Fleshback explores a movement that happened in tandem with "Madchester", featuring stories from organisers of some of the city's biggest LGBT+ nights: Homoelectric, Body Horror, High Hoops and Meat Free; nights that continue to marry together great music and inclusivity to this day.
Filmmaker Stephen Isaac-Wilson was inspired to make the documentary after enjoying the "anything goes" attitude of the city's queer raving scene when visiting friends studying there, experiencing the alternative nightlife culture first hand: "Dance and partying as a form of therapy and escapism is something I related to.
"As a queer person of colour, I understood where a lot of the contributors for the documentary were coming from when they said they felt 'othered' by mainstream gay culture."
Before filming started, Isaac-Wilson travelled up to Manchester to meet promoters, DJs and most importantly to experience the parties: "We left with hangovers, but also this feeling that these nights were the most fun we'd all had in ages. The music and DJing at all the nights was incredible. No one was on Instagram, taking pictures or trying to be seen – everyone was just enjoying themselves."
Fleshback brings us back to this theme throughout the notion that Manchester's queer rave scene did, and still might, provide the ultimate antithesis to the image-focused nature of mainstream nightlife, and this lack of concern with superficiality has helped fuel movements both underground and politically in the city.
The documentary starts off by following Abigail Ward, the curator of an online exhibition called Queer Noise, as she details her own her experiences as a queer youngster moving to Manchester in the late 1990s. "What surprised you the most was how many people had fought for the gay community," she comments while looking over a pile of old polaroids. "The protests against section 28 had changed Manchester dramatically."
Section 28, which came into law in May 1988, prohibited the promotion of homosexuality. One of the biggest protests took place in Manchester, during which 20,000 people: gays, lesbians, trans men and women, and allies took to the streets. The number of people turning out to protest against the law had transformed the way Manchester viewed its LGBT+ community. Queer people realised they had a much larger public behind them than they expected – gays and lesbians suddenly wanted to party together and they needed spaces to accommodate it – and this is where the gay rave scene was born.
"It forced gays and lesbians to unite in protest," comments Isaac-Wilson. "As a result of this political fight, queer people partied together in the same spaces, which was historic and this change is still tangible in Manchester's alternative queer raving scene."
This alternative scene exploded, with flamboyant nights such as Flesh at The Haçienda becoming so popular that tickets had "thank you for not being heterosexual" written on them, in order to keep out non-gay revellers wanting a piece of the action. Fleshback illustrates this explosion with rare archive footage from artist Dick Jewell: drag queens and scantily clad dancers dressed in gold lamé gyrating on platforms in Manchester's most famous nightspot.
One activist even tells a story of police raiding the night due to an ice cream van being in the middle of the dance floor, with officers telling clubbers to move the van to the fire exit, believing the proximity of dance floor smokers and the petrol engine could be dangerous.
The over-the-top temperament of Flesh, however, led to the city's newfound gay scene moving swiftly away from its underground origins and into the mainstream. This was propelled by shows like Queer as Folk, which focused not on music or diversity but instead the experiences of young, wealthy white males and transformed Manchester's gay village, Canal Street, into something of a tourist attraction. In response to this, Homoelectric was born, a night for "homos, heteros, lesbos and don't knows".
Homoelectric attempted to recapture the more underground essence of nightlife that had been lost in the commercialised city centre by putting on raves in a warehouse. The nights were marketed as queer, but also aimed towards welcoming people from all backgrounds and of all identities, as organisers from its heyday mention in the film: "People used to come to listen to music, village had always been disco, house and techno and then it just wasn't anymore. Homoelectric was there not just so people could fuck each other, they came to feel comfortable, and they came to feel at home."
Isaac-Wilson was shocked by the fact he'd never heard of Homoelectric before in his research for Fleshback. After stumbling upon an article about the night's current run, he reached out to its founder.
"I talked to co-founder Luke Unabomber over Twitter and we ended up speaking for hours over Skype and FaceTime. Now in his fifties, he told me about all the changes in the rave scene since the 90s, what made raving in Manchester different to other parts of the UK, and a queer rave renaissance that the city was currently experiencing in Salford. My interest was sparked."
"For Fleshback, we filmed at Homoelectric's 20th birthday and it was a real mix of generations under one roof. So many people, with so many different lived experiences, all partying together until the early hours of the morning."
It's this renaissance which much of the rest of the film explores, detailing its move to the warehouses and former mills of Salford, on the edge of the city it now calls home. The reason for the move is detailed as not just an escape from commercialisation but also tougher nightlife legislation from the local council, with Salford being much more willing to grant late licenses.
High Hoops and Meat Free, the former a night that focuses on hedonism "no matter your race, nationality, sexuality and gender" and the latter organised by an all-female production team that asks clubbers to "leave their high heels and worries at the door" have become two of the area's most notable parties, both wanting to create tolerant, inclusive queer-friendly spaces with great DJing first – but not necessarily advertising themselves as queer nights.
High Hoops and Meat Free have seen massive success, attracting some of the biggest names in techno-house such as Hunee, Dj Sprinkles, Palms Trax, Helena Hauff and Objekt – with Meat Free even hosting its own night at The Warehouse Project last year.
On the other end of the spectrum, Fleshback also pays a visit to one of Salford's most outrageous nights, Body Horror, a cameras-not-allowed, sex-positive techno party that occupies warehouse club, The White Hotel. Organisers detail how they wanted to create a night inspired by seventies leather clubs because "the music in Canal Street is shit now".
Despite cameras not being allowed in the parties, the documentary gets access to dancers and performers complete with bondage and arseless chaps. The night pushes back against modern "clean" nightlife experiences, instead aspiring to achieve something more authentic and rough around the edges.
Isaac-Wilson mentions that one of his favourite sequences to film was of trans performer Grace Oni Smith recreating a performance she had conceived for a "meat-market" themed night at Body Horror.
"She's a dancer and host for some of the nights we featured in the documentary. She was so open about talking about her experiences as a transwoman in Manchester and her relationship with the alternative raving scene.
"She told us about a nude performance she did at Body Horror, and we were transfixed. The performance included her being suspended from the ceiling naked, swinging like a piece of meat in a butchers, a metaphor of how she feels viewed by men. She offered to recreate this performance for our film, which was a truly mindblowing experience."
The dreamy sequences of Fleshback let viewers experience the warm pride and belonging of a community that has fought constantly for its own existence; a story of how misfits and punks from all generations' subcultures created a home for themselves in the Warehouse City.
You can catch Fleshback on Boiler Room 4:3 or on Youtube
Join our new commenting forum
Join thought-provoking conversations, follow other Independent readers and see their replies