20 best PS2 games ranked, from Shadow of the Colossus to Grand Theft Auto: San Andreas
A countdown of the 20 PlayStation 2 games we miss the most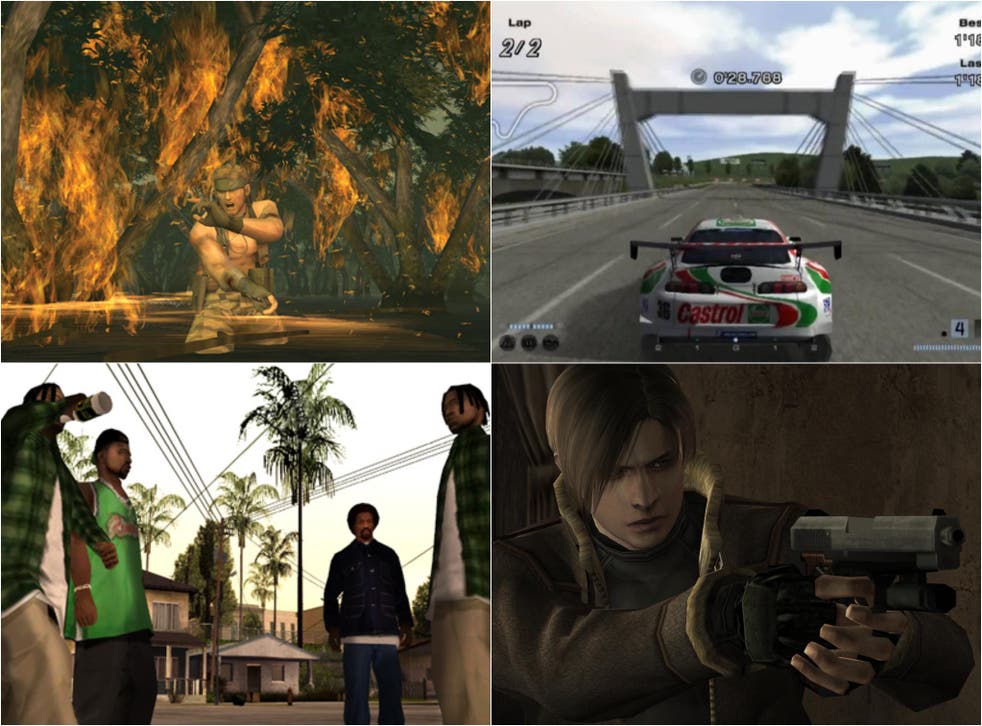 There aren't many games consoles that are still remembered as fondly as the PlayStation 2.
Arriving in March 2000, Sony's sleek machine was a revelation: a futuristic console for the exciting new millennium. It went a long way towards introducing the world of video games to an older, more diverse audience.
It's no wonder that the PS2 sold more than any other console ever made – it was graphically leaps and bounds ahead of the original PlayStation, and boasted a stronger repertoire of titles than its immediate competitors, the Nintendo GameCube and Microsoft's Xbox. To date, it has sold more than 155 million units worldwide.
Some of the biggest franchises in gaming came of age during the PS2 era. From violent adult fare like the Grand Theft Auto sequels, to more accessible delights such as Ratchet & Clank, many of the games released on the console have since cemented their status as all-time classics.
Here are the 20 best PS2 games ever....
20. Gun (2005)
Before Red Dead Redemption, there was Gun. A third-person shooter that let you explore the American west, Gun featured a host of Red Dead's immersive features, from bounty hunter missions to poker minigames. An engaging (if problematic) Western storyline is punctuated with some truly shudder-inducing gore, and bolstered by a voice cast that includes Ron Perlman, Kris Kristofferson and Brad Dourif.​
20 best PlayStation 2 games

Show all 20
19. Star Wars: Battlefront II (2005)
A contender for the best Star Wars game full stop, this battle game built on the success of Star Wars: Battlefront to create a third-person shooter worthy of George Lucas's beloved universe. Splitting the action over two time periods – the Clone Wars and the Galactic Civil War – the game featured a diverse range of playable soldiers, heroes and villains from the iconic sci-fi saga. Star Wars: Battlefront II also featured extensive local multiplayer options, something that is missing from EA's recent franchise reboots.​
18. Guitar Hero II (2006)
The Guitar Hero franchise may lean pretty heavily into a gimmick – the specialised guitar-shaped controller that players must strap on to get the most out of the rhythm-based button-tapping gameplay – but that didn't make a jot of difference once the music started playing. With a soundtrack packed with rock classics like "Sweet Child O' Mine" by Guns N' Roses and "Free Bird" by Lynyrd Skynyrd, Guitar Hero ​II was a joy to play, and a staple of many gaming households.
17. Devil May Cry 3: Dante's Awakening (2005)
Capcom's acclaimed hack and slash prequel bounced back from the mediocrity of Devil May Cry 2 with dark gusto. Rapid-fire combos were the name of the game; the game's brutal difficulty curve may have put off casual gamers, but Dante's Awakening was catnip for those hardcore enough to beat it.
16. The Simpsons: Hit & Run (2003)
Of all the Grand Theft Auto imitators that sprang up in the wake of Rockstar's success, few have ever been as fun as The Simpsons: Hit & Run. The game's script was worked on by some of the series' writers, and it shows. Almost unanimously considered the best Simpsons game adaptation, Hit & Run is dense with jokes and references to the show, and its vehicular gameplay feels fast and varied.
15. Ratchet & Clank (2002)
Insomniac Games' zany, cartoonish platformer series focused on the adventures of Ratchet, an anthropomorphic cat-like animal, and Clank, his diminutive robot companion. Ratchet & Clank was colourful, light-hearted and accessible – the rare kids' game that was good enough for adults to enjoy as well.
14. Ico (2001)
This pensive, fairytailish game tells the story of Ico, a boy locked away in an abandoned castle who befriends Yorda, the imperiled daughter of the castle's Queen. As Ico, players explored the castle and navigated intricate puzzles while planning their ultimate escape. A spiritual predecessor to Shadow of the Colossus, Ico lives in the shadow of a colossus of its own, but remains a unique and artful accomplishment on its own quaint merits.
13. Gran Turismo 4 (2004)
Considered by some to be the finest racing game of all time, this slick, immersive driving simulator really showed off what the PS2 could achieve. A diverse variety of cars and courses helped make this a game that racing fans could return to time and time again. ​
12. Virtua Fighter 4 (2002)
The PlayStation 2 had no shortage of quality fighting games – including the excellent Soulcalibur II – but none could quite best the charms of Virtua Fighter 4, and its even slicker successor Virtua Fighter 4: Evolution. It was a rare Noughties success story for Sega – a robust, technically superlative fighting game that seasoned hands and newbies could both enjoy.​
11. Tony Hawk's Pro Skater 4 (2002)
Is there any game that sums up the zeitgeist of the early Noughties better than Tony Hawk's Pro Skater? Capitalising on the era's love affair with skateboard trickster Tony Hawk, the Pro Skater Franchise reached a zenith with its beloved fourth instalment. Featuring bigger maps, flashier tricks and crossover characters from Star Wars and Iron Maiden, Pro Skater 4 was not just one of the PS2's most popular games, but the peak of the skateboarding genre itself.​
10. Prince of Persia: The Sands of Time (2003)
Exhuming the Prince of Persia franchise from its sandy tomb, this seminal 3D puzzle-platformer rewrote the rules of melee combat. With an innovative mechanic that let players control the passage of time with a magical dagger, The Sands of Time seamlessly joined different genre elements to create a thrilling, cohesive whole. Just don't talk about the Jake Gyllenhaal-starring film adaptation.
9. Ōkami​ (2006)
With a bold, eye-catching cel-shaded art style, this Legend of Zelda-influenced adventure game was an immediate hit with critics and players alike. Drawing heavily from Japanese folklore, Ōkami tells the story of the Shinto Sun goddess, who takes the form of a wolf in order to save the world from darkness. Initially overlooked by audiences, the game's reputation has only strengthened with time.​
8. Final Fantasy X (2001)
The 10th entry in the hugely popular Japanese fantasy series introduced some major changes from 2000's Final Fantasy IX, including voice acting and fully three-dimensional background. Final Fantasy X is, for many people, the franchise's all-time high point – a dense single-player epic that fused role-playing, action and sports elements into one ambitious narrative. ​
7. Beyond Good & Evil (2003)
In Ubisoft's quirky sci-fi action-adventure Beyond Good & Evil, you played as Jade, an investigative reporter and trained martial artist who uncovers an alien conspiracy. Masterminded by Rayman's Michel Ancel, the sui generis game proved an unlikely hit with audiences; a hotly anticipated sequel, Beyond Good & Evil 2, was announced in 2017.​
6. God of War II (2007)
One of the crowning achievements of the PlayStation 2, God of War II borrowed aspects of Greek mythology to gild its fluidly violent action gameplay. A galvanised sequel to 2005's God of War, this late-era masterpiece let players step once more into the shoes of Kratos, the godlike warrior who embarks on a mission of supernatural revenge. ​
5. Metal Gear Solid 3: Snake Eater (2004)
Hideo Kojima's innovative stealth series Metal Gear Solid has pretty much gone from strength to strength down the years, but 1960s-set prequel Snake Eater stands out for several reasons. For one, its rainforest environments, which allowed a whole gamut of guerilla stealth attacks; for another, its deftly designed (and completely overhauled) combat system. Metal Gear Solid 3 is seriously fun, even today​​.
4. Silent Hill 2 (2001)
Remembered as one of the scariest video games of all time, Silent Hill 2 was a survival horror like no other. It drew inspiration from cinema, bringing class and intelligence to an often underserved genre by prioritising knotty psychological horror over empty jump scares. The results were electrifying, and the game is still a haunting delight to this day.​
3. Resident Evil 4 (2005)
Leon Kennedy is a government agent out to rescue the President's daughter in this beloved zombified sequel. The Resident Evil series has enjoyed some enviable successes down the years, but none balanced the core aspects of horror and action as smoothly as Resident Evil 4, and the game's narrative is still darkly compelling.
2. Grand Theft Auto: San Andreas (2004)
While its next-generation sequels Grand Theft Auto IV and V may have lifted the franchise to greater technical heights, there's no beating San Andreas for sheer indulgent, provocative fun. The game's narrative – of Black gang violence and police corruption – embodies the best and worst of GTA's political sensibilities, but it's the sprawling open world setting that really gets its hooks in you.​
1. Shadow of the Colossus (2005)
There's a solemn beauty to Shadow of the Colossus, the seminal action game in which players must defeat a series of magical giants. Figuring out how to slay each idiosyncratic beast poses the player a fiendish challenge; when you finally manage to fell them, the deaths are a poignant and ignoble spectacle that call to mind George Orwell's "Shooting an Elephant". Shadow of the Colossus remains a true video game landmark, a sophisticated rebuke to the old notion that video games and art are mutually exclusive.
Join our new commenting forum
Join thought-provoking conversations, follow other Independent readers and see their replies