Fall Guys is the epitome of sweet, wholesome fun – but it could easily grow into a monster
The sugary appeal of Mediatonic's best-selling multiplayer romp is impossible to deny, writes Louis Chilton. With its limitless capacity for commercialism, however, we shouldn't be suprised if it one day rots our teeth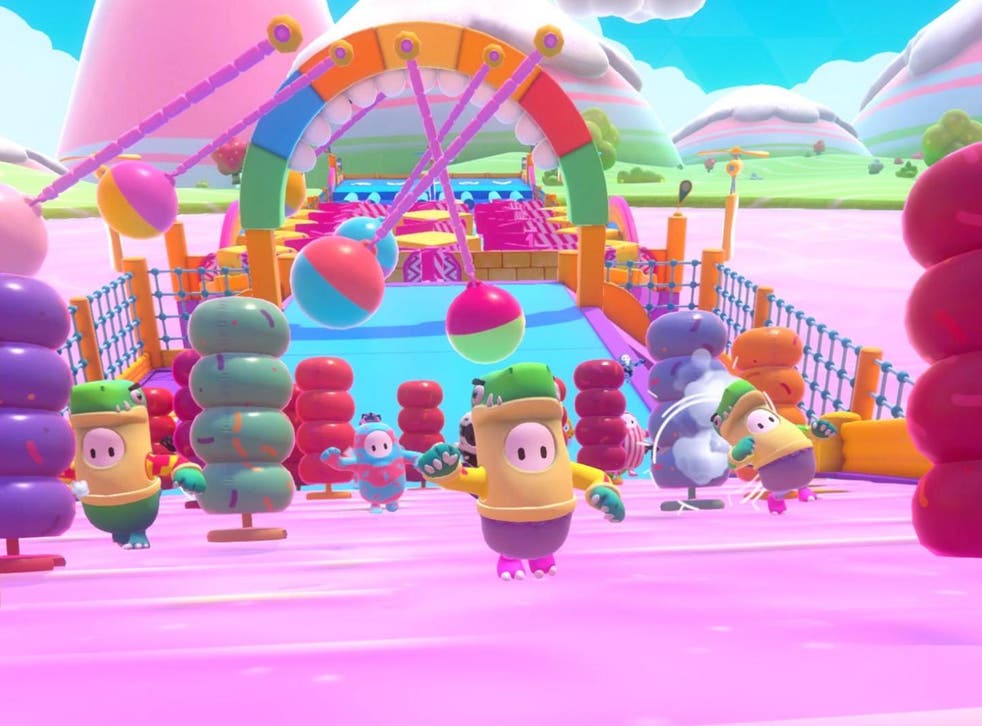 Just about everything in Fall Guys: Ultimate Knockout looks delicious. There are the characters: ungainly jellybean-shaped creatures that bear a passing resemblance to Despicable Me's minions, 59 of which you must beat to be crowned champion. Then there are the levels: bright, chaotic minigames and obstacle courses, rigged with appetising booby traps. As it happens, this tantalising slalom of bubblegum pinks and sherbert yellows is an apt choice for Mediatonic's shrewd, sugary battle royale game - everybody's been eating it up.
Fall Guys has already become the most-downloaded PlayStation Plus title of all time - being offered on the platform for free thanks to a limited-exclusivity console deal with publishers Devolver Digital - while also selling over seven million PC units on game distribution platform Steam in three weeks. In short, it's a sensation. But beneath the game's candy-coloured clownery, there runs a streak of pure, cynical commercialism; it feels only a matter of time before Fall Guys' humble charms are subsumed by the huge corporate maw of modern gaming.
Such is the accepted norm with any big multiplayer success now - brand sponsorships can be seen screaming from the menus of games such as Fortnite or Rocket League, and you don't bat an eyelid. Fortnite has channelled this into a particularly lucrative revenue stream, crossing over with large pop culture releases like Deadpool and IT: Chapter Two. Unlike traditional advertising, on TV or in newspapers, these promotions aren't treated as a flaw but a feature - branded character skins are prize and product, to be earned and coveted rather than merely tolerated and sat through.
Fall Guys is, in many ways, a marketing department's fantasy. Its pudgy avatars feel endlessly marketable, and the ability to customise their appearance with masks and outfits feels custom-built for sponsorship. There's already the option to spend real money buying these in-game character accessories - the commonplace but criticised practice of microtransactions - which offer no competitive edge in the gameplay. Fall Guys is already monetising its cute aesthetic; the question is, how far it will go?
It's also worth noting that Fall Guys is eminently accessible, and non-violent - still an aberration in much of the mainstream gaming world. This is a game targeted, successfully, at gamers of all ages and abilities: a beguiling prospect for commercial suitors.
Recently, Fall Guys' Twitter shared a behind-the-scenes look at the game's making, detailing the undeniably clever little tweaks and ideas that went into the pitching and development process. Described by its creators as a "unique, instantly understandable", and, crucially, "sellable" idea, the original Fall Guys pitch arrived almost fully formed. The adorable, clumsy avatars were present from the beginning - later refinements would only make them cuter - as was the simple yet frantic gameplay.
Developers Mediatonic borrowed smartly from other successful properties: when trying to sell the game to publishers, they would use Gifs of the slapstick reality series Takeshi's Castle to effectively illustrate the tone. No less canny was the decision to ditch the prospective names "Fool's Gauntlet" (too highfalutin) and "Stumble Chums" (too forgettable) in favour of the punchy, monosyllabic Fall Guys. The delectable level design was no accident either - the thread confirmed that the game's look was "directly influenced by candy and sweet treats."
The official Fall Guys Twitter account has become its own kind of minor sensation. In this era of hellish late capitalism, when brands are required to masquerade as your irreverent online buddy to better sell you mayonnaise or whatever, Fall Guys is a case study in hitting the tonal mark. Excitable without being abrasive, daft without seeming glib - it's already corralled some 1.4 million followers and counting.
Via this fledgling Twitter behemoth, Fall Guys launched a bidding war for brand sponsorship - with the highest offer landing its own in-game character skin. The informal auction - which climbed to a million dollars - is for charity, with proceeds going to the UK-based disability organisation SpecialEffect. As a harbinger of what's to come, however, it's telling: Fall Guys can joke about brands "thirsting" after commercial deals, but there's serious money to be made here.
It would be wrong to condemn a game simply for its success, for crimes of avarice it has yet to make. But it's clear that with Fall Guys, Mediatonic has created a monster. Whether it's Frankenstein or Barney the Dinosaur remains to be seen.
Join our new commenting forum
Join thought-provoking conversations, follow other Independent readers and see their replies