Dylan Thomas' 'writing shed' star attraction of festival celebrating poet's bohemian life in Fitzrovia
Evgeny Lebedev opens the exhibition that highlights the poet's path to inspiration and inebriation
Adam Sherwin
Tuesday 21 October 2014 10:12 Comments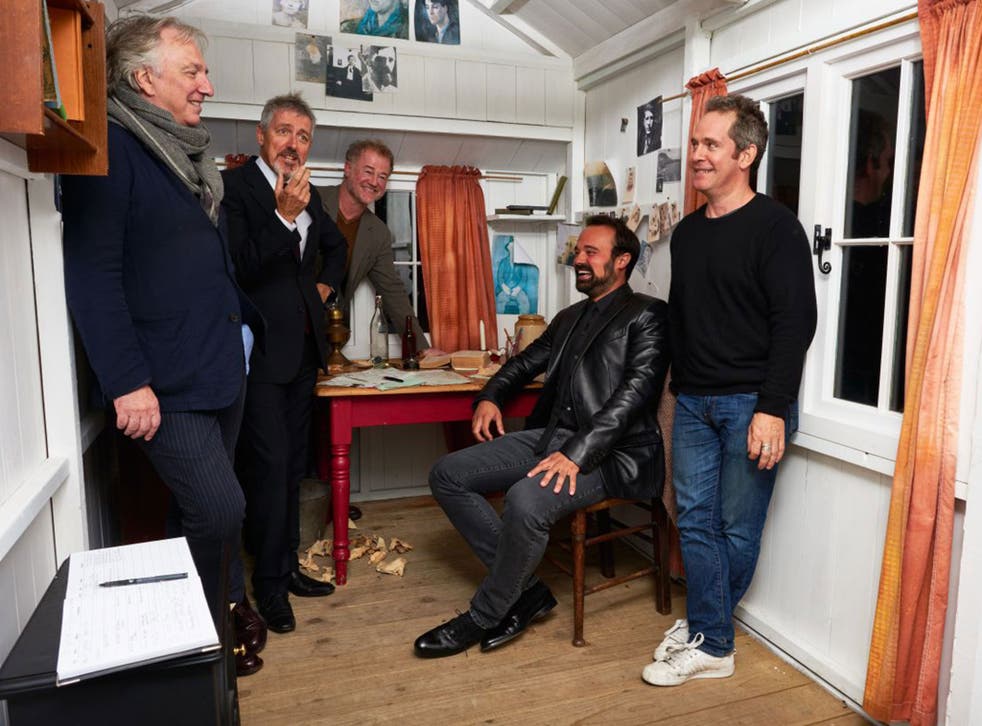 He was born in Swansea a century ago and drank himself to death in New York just 39 years later. But the bohemian bars of London's Fitzrovia district provided the backdrop to some of Dylan Thomas's most riotous exploits and a festival opening today will allow admirers to share the poet's path to inspiration and inebriation.
The capital's celebration of the Under Milk Wood writer's centenary honours Thomas's belief that poetry should be shouted, sung and consumed alongside a sackful of booze.
Chaired by Griff Rhys Jones, the week-long Dylan Thomas In Fitzrovia festival commemorates the period during the 1940s and 50s when the poet became a regular broadcaster on the BBC and a late-night fixture in London's watering holes.
Events include a "chamber" version of Terry Hands's acclaimed production of Under Milk Wood, starring the Game of Thrones actor Owen Teale, a performance of Stan Tracey's jazz version of the 1954 radio drama and a screening of "A Poet in New York", followed by a Q&A session with Tom Hollander, star of the BBC biopic about the poet's fatal final visit.
Visitor are invited to step inside Thomas's famous Writing Shed where Dylan wrote, ate boiled sweets, and read murder mysteries. The interior of the poet's Laugharne workplace has been recreated down to the smallest details. The shed, has been taken from Camarthen on a nationwide tour, and will be erected on Store Street.
On Wednesday, a flock of sheep will descend upon Fitzroy Square when performing shepherds read selections from Thomas's work to an audience served tea and traditional Welsh Bara Brith cake.
Rhys Jones hopes his Welsh compatriots won't be offended by his reclamation of Thomas as an "English poet". He said: "There will be a lot of celebrations in Wales this coming weekend. But I was sitting with Hannah Ellis, his granddaughter here in Fitzrovia and I said: 'This is where he spent a lot of his life, he wrote here and he drank here.' I hope people realise Thomas was an international poet. He died in New York where he had become a tremendous success reading his poetry."
The exhibition was opened by Evgeny Lebedev, owner of The Independent titles and the London Evening Standard. Mr Lebedev said: "These streets probably are as much part of Dylan Thomas, as those Welsh hills. It was here that he came to work, where he met artists, musicians, writers and poets, the human life that overlays the nature in his most loved poems.
"In that shed, he sat and saw 'the force that through the green fuse drives the flower'. Here, he raged, not necessarily against the dying of the light, but certainly the closing of the bar."
Mr Lebedev, who gave a reading of Thomas's 1946 poem In my Craft or Sullen Art, added: "Anyone who's read any Thomas at all, knows that life is about more than the blind force of nature, than birth, youth, aging and death –'The force that drives the water through the rocks'.
"We are not just 'clay for crooked worms'. We have a soul, we have a soul that must be enriched. Drink is certainly one way to do it, but the power of poetry is better."
The festival concludes on Sunday with a gala Southbank Centre concert featuring Hollander, Sian Phillips, Jonathan Pryce, John Owen-Jones, Lesley Manville and Griff Rhys Jones.
Programme and tickets at: http://dylanthomasfitzrovia.com
Register for free to continue reading
Registration is a free and easy way to support our truly independent journalism
By registering, you will also enjoy limited access to Premium articles, exclusive newsletters, commenting, and virtual events with our leading journalists
Already have an account? sign in
Join our new commenting forum
Join thought-provoking conversations, follow other Independent readers and see their replies