Ken Loach interview: 'Jeremy Corbyn's election was the most hopeful thing since the Labour Party began'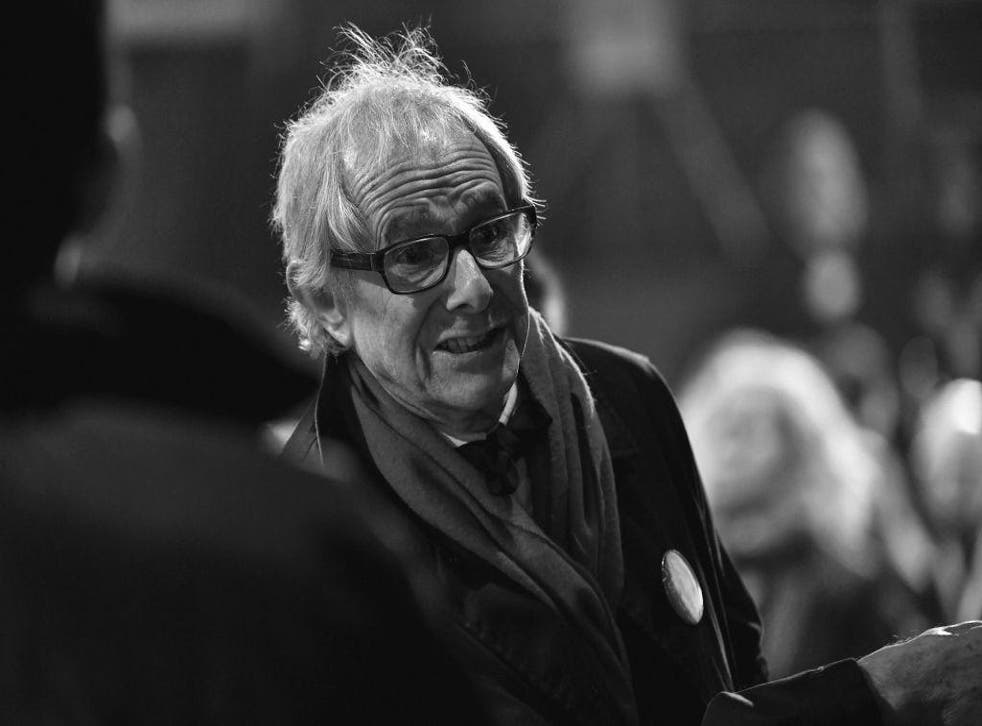 In Ken Loach's documentary The Spirit of '45, Winston Churchill is greeted with boos as he attempts to capitalise on the Allied victory over Hitler to secure re-election. The masses will not accept the reactionary vision being peddled by the Conservative statesman and wartime hero. What they demand, and receive courtesy of a Labour Party swept along by their anger, is a battery of socialist reforms introducing the NHS and the modern welfare state.
With the hard right now ascendant across the globe, the welfare state crumbling, and Labour in disarray, it makes for painful viewing. "The far right was on the march in the 1930s, and we defeated the fascists through a great united working-class effort," the veteran film director tells The Independent. "That sense of unity and strength is what gave people confidence to change things. We have to give people the confidence that we can change things now – and that we can do so without a war."
It's a big ask. In the 50s, Churchill told a Cabinet meeting: "Problems will arise if many coloured people settle here… attracted by the Welfare State. Public opinion in the UK won't tolerate it." In 2016, demagogues with all the bluster of Churchill made his Victorian views the stuff of 21st-century discourse.
I'm speaking with the Kes and Cathy Come Home creator at a Momentum-organised Take Back Control event in Croydon, intended to bring Leave and Remain voters together to build a progressive post-Brexit vision. Still a peppy and eager interviewee at the age of 80, he's evidently sincere in believing Jeremy Corbyn's Labour can win back the popular vote.
"Jeremy Corbyn's election was the most hopeful thing since the Labour Party began," Loach says. "He's the first Labour leader who's ever stood on the picket line along with workers." While the post-war sweep toward social democracy played out, Corbyn's 'socialist' predecessor Clement Atlee repeatedly sent in armed troops to break strikes.
Behind us I, Daniel Blake, Loach's stark depiction of life and death for those denied access to benefits, plays to a crowd of white-haired local Corbynites. As they gasp and applaud like a theatre audience the director allows himself a small smile, then borrows a Momentum line: "Labour need to take back the Brexit slogan of 'take back control', and say we've got to take back control of our housing, our jobs, our health service."
A marginal Remain constituency, Croydon is riven by the political fault lines which bisected the country on Referendum day. Near the station, a dizzying array of geometric plate-glass high-rises is under construction around an imported version of the Box Park. (Dapper in a silk cravat, Loach wouldn't look out of place at the new take on Shoreditch's over-priced hipster hangout.) But there are scores of homeless people sleeping rough around the shabby town centre, and one in five local children lives in poverty. The new Box Park cost Croydon council £160,000, plus a £3 million loan.
For the working class here and elsewhere, Brexit is only "the danger that's on the horizon", Loach argues. He cites the £2700 per child lost by impoverished families with more than two children, and the case of a terminally ill cancer patient whose family stood to lose all but £6000 of their expected £58,000 lifetime support if he survived past midnight last Wednesday. "That's going to reduce that family to poverty," he says. "It will happen to many people, and this is urgent and drastic regardless of Brexit.
"And how are the Tories going to attract investment, when countries want access to the European Union? By saying we've got a workforce you can exploit easily, you can get rid of them at the drop of the hat… come and invest here, because labour is cheap.
"It's the job of the Labour party to say all that. Labour should be working flat out, saying people are really suffering…. but it's very tough. They've got to demand to be heard."
Loach's documentary In Conversation with Jeremy Corbyn, shot as the socialist Labour Leader steamrollered the hapless Owen Smith in last year's re-election campaign, puts the focus on the groundswell of anti-Tory sentiment which thrust Corbyn into power. Frequent shots show him frowning and nodding in agreement with his supporters, who are given just as much air time to lay out their own grievances and demands.
But Corbyn has experienced rather different treatment elsewhere. "The whole media are committed to getting rid of him," says Loach. "They have this ritual where one MP will say something hostile to Corbyn, the media will give them interview after interview… their aim is to destroy the Labour Party in the local elections."
"This is what makes these labour MPs so despicable – the biggest party membership in Europe have joined because of Jeremy Corbyn, the leader they are trying to destroy. [Labour members] must not be bullied by the hierarchy of the Labour Party, by people like Tom Watson, who ought to be deselected."
"We can't abandon the mass media, we have to fight them every inch of the way for a presence…. but we need a mass movement: it's got to be grassroots activity, a lot of old fashioned door to door knocking, social media."
While I'm queuing for my interview with the celebrity film-maker, I chat to one member of this movement, disability rights campaigner Paula Peters. She asks why the Independent is giving another interview to the director of the Palme d'Or-winning documentary about benefit sanctions, rather than ordinary people really suffering at the hands of the Department of Work and Pensions.
"Since Brexit happened hate crime towards disabled people has risen yet again [by 216 per cent]," she says with tears in her eyes. She cites the case of Brendan Mason, hung from a tree and beaten to death. "Disabled people are really scared about the future. Many feel they simply do not have a future and we are scared what will happen next."
Like Corbyn, Loach wants to focus on the "mass movement" of activists watching his film next door, and despairs of a corporate funding system which stops progressive young filmmakers from following in his enormous but ageing footsteps. Like Corbyn, he inevitably seems a little frayed, reciting the same arguments for the fifth interview in a row. "Yes, I think there's hope," he says. "But whether it can be done, I don't know."
I'm sure he would much rather place campaigners like Paula in the spotlight, and follow through on the retirement plans he announced back in 2014. But this is the difficulty he and Corbyn face – a media which prefers to deal with Ken Loachs, while ignoring the real Daniel Blakes.
Momentum and The World Transformed are running 'Take Back Control' events around the country, focusing on communities which voted to leave the EU
Join our new commenting forum
Join thought-provoking conversations, follow other Independent readers and see their replies