The Independent's journalism is supported by our readers. When you purchase through links on our site, we may earn commission.
Noomi Rapace interview: 'I decided to never see myself as the victim'
The Swedish star takes on the role of septuplets in new Netflix film 'What Happened to Monday'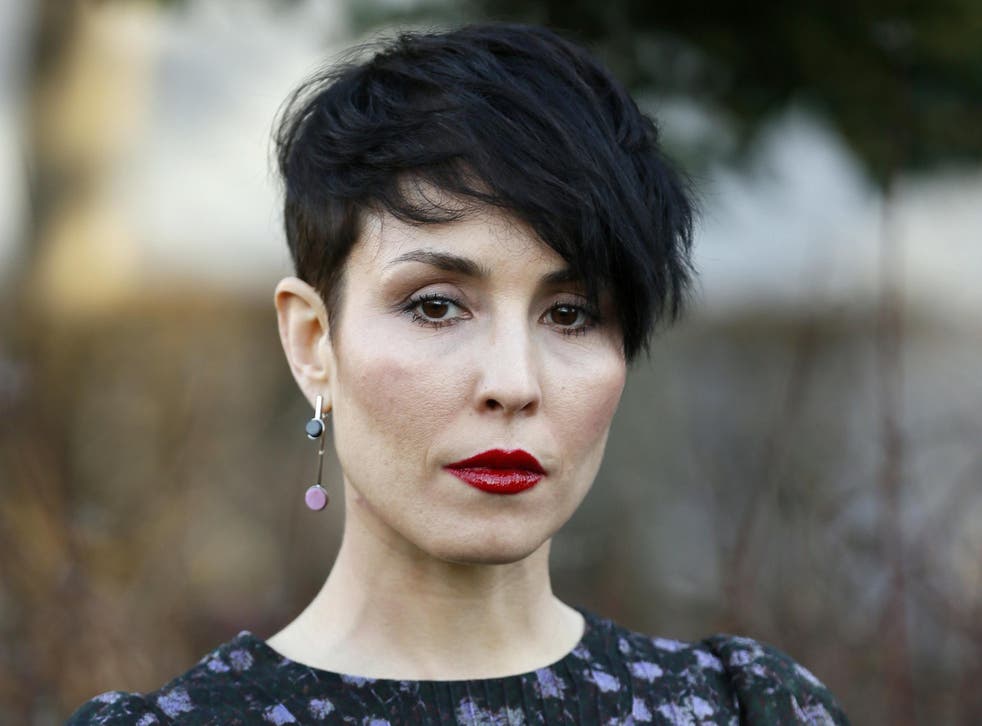 Noomi Rapace could be Hollywood's hardest working actor. Sat in a central London hotel one May afternoon, the short-haired Swedish star bats off jet lag having wrapped two forthcoming films taking her from LA to Rome via her native country's capital before arriving in London, the city she calls home. In other words, Noomi Rapace needs a holiday.
"I'm very used to it," she levels. "I love my job, but this is the first time I feel like I actually want to take a little break."
One look at her latest project, What Happened to Monday – now showing on Netflix – and you can see why. Directed by Tommy Wirkola, the science-fiction thriller saw Rapace face the gargantuan task of getting into the mindset of not one but seven identical sisters, all of whom pretend to be one person in an attempt to avoid a dystopian organisation known as the Child Allocation Bureau, led by Glenn Close.

The extent of the challenge – both physically and emotionally – was not lost on the film's lead.
"I was alone in the room most of the time with green screen and an ear piece with pre-recorded dialogue," she remembers. It was such a strange, hard experience. I was at the gym every day at 4am, my pick up was at six. I didn't go for dinners, I didn't see anyone. I was in my own bubble – there was not a millimetre of extra space in my brain, my focus was completely on those sisters. It really took me on my most extreme version so far. I came back and said no to like eight or nine films, I think."
She recounts the day co-star Willem Dafoe arrived on set after weeks of solitude.
"[Willem] came after 10 weeks and it had been just me for nine and I was a complete weirdo, crying, 'I'm so happy you're here!' He was like, 'OK…' [laughs]. It was such a blessing to be with someone again."
The all-encompassing experience brings to bear another character, perhaps the one Rapace is best remembered for: Lisbeth Salander in the Swedish adaptation of Stieg Larsson's Millennium trilogy spearheaded by The Girl with the Dragon Tattoo (2009), a role the actor says rendered her "a complete nutcase".
"Those films were a year and a half," Rapace recalls. "We did all three back to back and I was a mess. I wrapped the third one and remember the producers came in with a big bottle of champagne and everyone was celebrating. I had to run to the loo and was just vomiting; my body throwing out Lisbeth. I'm never sick but I couldn't stand. It was like a physical exorcism."
Rapace didn't have any input on David Fincher's 2011 remake starring Rooney Mara (she never met with either) for the sole reason it taps into her modus operandi: do not repeat yourself.
"I think they all knew I had done my journey with Lisbeth. I don't really look back at things so for me the chapter was closed. Now they're casting the fourth one with a new Lisbeth and actually a couple of friends of mine have been asked to put themselves on tape and have called me [for advice]."
She hesitates.
"But it was me – my version. She lived in me. It's kind of a love story between me and her and that's between us so I can't really help anyone else."
Rapace may never watch the remake but that doesn't make her bitter in any way about its existence, branding Mara "an excellent actress" and enjoying the fact that, ahead of filming her version, director Niels Arden Oplev made her watch Fincher's very own crime saga Zodiac (2007) which served as inspiration. "He was in our universe!" she beams. "It felt like a really good fit when I heard he was doing the remake."
Early Oscars Best Picture Contenders 2018

Show all 15
The actor briefly strayed from her code with Ridley Scott's Alien: Covenant (2017) which saw Rapace reprise the role of Prometheus character Dr Elizabeth Shaw for all of two seconds. Confusion has reigned over her involvement in the film – which was expected to be much heftier – but she's finally shed light on the situation fuelling speculation that Shaw may return in a future prequel.
"I was not supposed to be in it at all but I think Ridley wanted to build some kind of bridge between the films. I was filming in Sydney for ten days and I asked him, 'So I'm dying, right? You're gonna kill Elizabeth,' and Ridley's like 'Hmmm.' You never really know with him – he's a mystery and I adore him."
The Italian translation of Rapace's surname is emblematic of her vigorous work ethic – "bird of prey". She tells me how the gender wage equality issue crippling Hollywood inspired her to become a one-woman force unto herself.
"To be honest, I decided at one point never to see myself as a victim – to just step into the fire and never wait for people to come to me. I don't do auditions – I've done five in my whole life. If I meet someone I like, we connect and find a project. So I'm very much my own engine."
There are no signs of slowing, either, with the actor "booked up" until next summer. As well as David Ayer's Bright, and Stockholm, in which she stars alongside Ethan Hawke, Rapace will take to the seas as soprano Maria Callas for the long-gestating biopic from Whale Rider director Niki Caro. She laughs, her face lighting up with exuberance.
"I'm an addict," she affirms. "Acting's my drug – it's the best profession in the world."
Follow Independent Culture on Facebook for all the latest on Film, TV, Music, and more
Join our new commenting forum
Join thought-provoking conversations, follow other Independent readers and see their replies