Werner Herzog: 'My films are certainly not art'
The famously taciturn German has directed some of the greatest 'arthouse' films – but don't read too much into them, he warns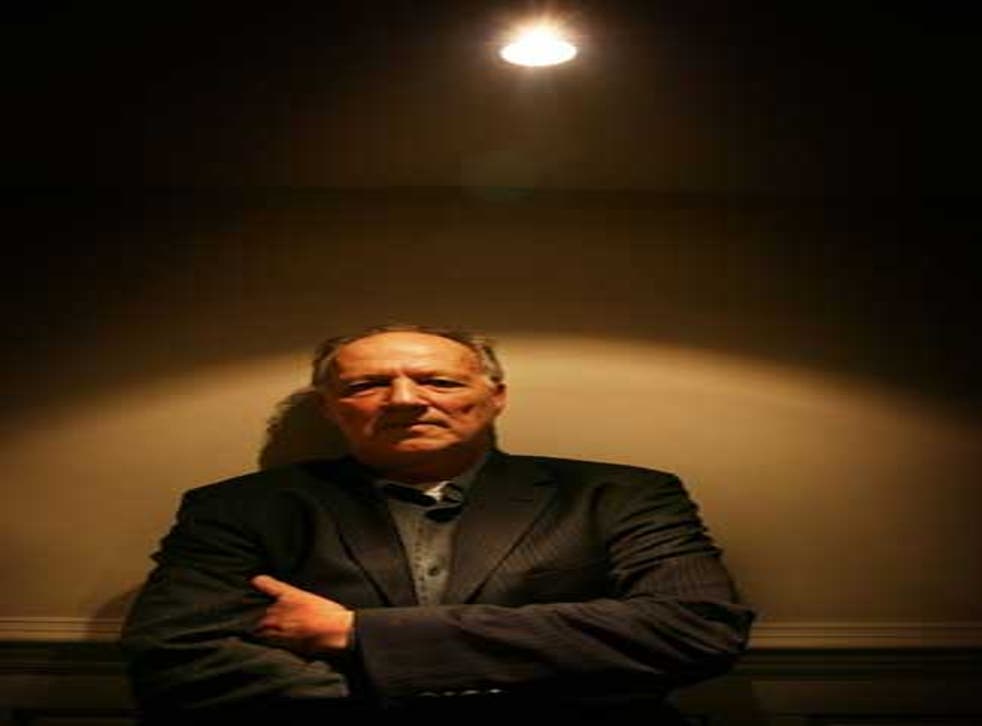 It takes a certain kind of director to drag a boat over a mountain. It takes a certain kind of director to threaten to shoot his leading man. It takes a certain kind of director to eat grubs as an act of solidarity with his cast, or leap into a field of giant cacti, or release 10,000 rats in a city, and dye them black, and "forget" to take them back, and a certain kind of director to be shot during an interview and continue unfazed. What it takes is Werner Herzog: auteur, dreamer, poet of the screen and the man François Truffaut once described as the most important film director alive.
The leading man was Klaus Kinski, the brilliant, demented star of five Herzog films and the man Herzog described as his "best fiend". It was while filming Aguirre, the Wrath of God in Peru in 1972 that Herzog threatened to kill Kinski, when the star threatened to walk out. Kinski, the director later discovered, was plotting to kill him, too. Luckily, they survived – long enough to make Nosferatu, Phantom Der Nacht (1979), a remake of FW Murnau's 1922 Nosferatu that demanded those 10,000 dyed rats; and Woyzeck (1979), a version of Buchner's expressionist theatre piece about a tortured soldier; and Fitzcarraldo (1982), a tale of folly and opera in the Peruvian jungle. It was here that Herzog, against all technical and artistic advice, and with the help of the vast cast of indigenous extras, dragged a steamboat over a mountain. Fitzcarraldo won the best director award at Cannes. It set a new bar for filmic effort, filmic folie de grandeur. The title itself is a kind of flourish. Follow that!
Herzog did, of course: with Cobra Verde (1987), his final collaboration with Kinski, based on a novel by Bruce Chatwin, who became a friend; and with Lessons of Darkness (1992), a hauntingly beautiful depiction of the Kuwaiti oil fires after the Gulf War; and with Little Dieter Needs To Fly (1997), a documentary about a German-American pilot imprisoned and tortured in Vietnam; and Grizzly Man (2005), a documentary about a bear enthusiast in Alaska who was eaten by the creatures he adored. Herzog has, in fact, made more than 50 films.
And now he's made another one. A little, tiny one. A four-minute film to accompany "O Soave Fanciulla" ("Oh you vision of beauty"), an aria from La Bohème. The film is one of three opera shorts commissioned to celebrate six years of Sky Arts' sponsorship of English National Opera. You might think that getting this giant of German cinema to match a Puccini aria is a bit like asking Tolstoy to produce a haiku, but the result is terrific. Sam Taylor-Wood's singing clown (from Pagliacci) left me cold. Dougal Wilson's barbershop whimsy (from The Barber of Seville) left me amused, but Herzog's glimpse of dignified passion in an African landscape moved me. Nothing happens. Just figures standing – a young couple, a group of older women and men, clutching guns – and staring impassively and, occasionally, momentously, blinking.
So, I like the film, which is a good start. And Herzog, according to the PR, is in a good mood, which is also a good start. In interviews, he's invariably described as terrifying, but I've been reading Herzog on Herzog, his book-long conversation with Paul Cronin, in which he doesn't sound like a mad dictator, but funny and sweet. And, after bumping into the film editor at Faber yesterday, I've got something to give him – a manuscript of a book version of Little Dieter Needs To Fly – which, surely, is a very good start. Isn't it?
Herzog, who these days looks not like the wild man of cinema, but like a respectable German businessman, glances at the plastic bag I've been carting around for two days. "What is it?" he says. When I stumble over the title, he corrects me. "Yes," he says, and nods regally, "I am glad to have it." But my attempts at a bit of chitchat – the PR has warned me not to go straight into the questions – seem to fall on deaf ears. "I do not go to the theatre," he declares portentously, when I mention a play I've seen the night before. "I go to football. I go to WrestleMania."
OK. Down to work. Puccini, then. When did he first discover La Bohème? Herzog stares at me, as if I had, perhaps, offered him grubs. "I never discovered it," he says. When did he first hear it? "I had never heard it." Really? But he listens to opera a lot! He has directed operas! "I have never been watching one," he says. "I stage them, but I do not watch them. You should remember I have never volunteered to do operas. I never wanted to make a career. I have been dragged into it."
He had, he told the audience after the screening this morning, taken on the project because he'd been approached by Andre Singer, "an old comrade". They set out just before Christmas to film in Ethiopia, on the southern border, near Sudan. In opera, he said, "it seems to be so reduced to archetypes of emotions, as if, in mathematics, you have axioms at the very base of it all. This is not the kind of Africa you'd normally expect. It's archetypal."
And it's true that this little film, like much of his work, and particularly those films set in South America and Africa, in which indigenous tribes feature prominently, does have that sense you get in all Herzog's work, of man (and it usually is man) pitted against the landscape, man struggling with his passions in a hostile world. I'm beginning to get a tiny sense of it, too. "You are," Herzog declares, when I give him my response to the film, "reading too much into it. It's a four-minute piece. It's an opera about two young lovers fighting for ever. That's all there is."
Isn't it, I venture, up to me to read into it what I like? "You have the privilege," he says coldly, "but the references here have a very clear function." Right. Practicalities, then. What were the African actors like to work with? "As easy as anyone else." Easy? Not, really, a word you associate with the making of a Herzog film. After Fata Morgana, which he made in Africa in 1970, and a series of experiences that were dramatic even by Herzog's own standards, Herzog said he was "afraid" of Africa. Was he still? "No. But I'm cautious because," he says, with supreme understatement, "very often when I was in Africa things didn't go well."
Opera, he says in Herzog on Herzog, brings "joy and inner balance". Does it do this more than any other art? Herzog fiddles with his glasses and stares. "Well, in principle," he says, "I have to say that I do not like art." What? All art? "All art, yes." But he has said that "art makes life better"! "No," he says. "For example, I don't have any painting or poster of photos on my wall." So, is he talking about visual art? "I don't," he says, "like the whole concept of art." Are his films not art? "No," he says, "certainly not. They're just films." And the Sistine Chapel? "It is," he says, "a very fine decoration."
"I don't like," he adds, "the whole fuss about art. There was a time when men would meet at dawn in pistol duels and damsels would faint on a couch. I do not accept anyone who talks about adventure nowadays. It makes me very suspicious to hear about art. It belongs to other culture and other times." Well, OK, let's forget about art. Can we talk about art forms? Can we, for example, talk about poetry? "Now," he tells me sternly, "don't become labyrinthic." Trying not to, I ask about the book he's just written. Does he like it? "Yes," he says. "It's a very good book." And does he think the opera short he's just made is good? "Well, it was done so quickly and I have seen it only once. It looked OK, but I wish to see it on a bigger screen."
Herzog has talked before about his lack of irony. It is, perhaps, what enables him to take the artistic risks he does without feeling the need, or desire, to defuse or deflect. It is, perhaps, a better quality on screen than in a Soho members' club. "I have a deficit in communication," he says. "There are people who are colour-blind and it's all right, they still see things, but in conversation or speech I have no sensory organ for irony. However, I do have a sensory organ for humour."
Really. Not much evidence of it, I'm tempted to say, but I plough on. So, we can't talk about art, but he must, surely, get something out of an opera? "In music," he says, "there is such a thing as consolation." And not, say, in a poem? "No, I think music has very specific qualities." And in a film? "I don't see too many," he says, "maybe one or two a year." Can't a film offer consolation? "Not for me. Maybe for others." So what would he hope that a film of his might offer others? "For example," he says, "that they don't feel alone." Well, isn't that consolation? "Maybe it is," he says, "but I can't really argue, because I am too much in my own work."
I am beginning to get a sense of the man who grew up, often hungry, in a remote mountain village in Bavaria, who, after an accident as an eight-year-old, amused himself in hospital for eight days with a single thread from a blanket, who made his first phone call when he was 17, and his first film, financed by doing night shifts as a welder, when he was still at school. I am beginning to get a sense of a man who will not be shaken from his path.
"Sometimes," he says, "you have to be street-smart. Sometimes," he elaborates, "you better forge a document signed by the Peruvian president, so that a commandant would salute and let us pass. Sometimes, you have to be ready to do the unusual." And are there lines he wouldn't cross? Herzog nods. "I would not," he says matter-of-factly, "do a snuff movie."
So, can films be great? There's a long pause. "Yes, there is such a thing as sublime." And has he made sublime films? Werner Herzog, giant of German cinema, film-maker of genius, or something like it, shrugs. "I don't know. I don't care."
Werner Herzog's opera short is on Sky Arts HD on Sunday at 10.45pm as part of 'Opera Shorts: Behind the Scenes', and throughout February (www.skyarts.co.uk)
Register for free to continue reading
Registration is a free and easy way to support our truly independent journalism
By registering, you will also enjoy limited access to Premium articles, exclusive newsletters, commenting, and virtual events with our leading journalists
Already have an account? sign in
Register for free to continue reading
Registration is a free and easy way to support our truly independent journalism
By registering, you will also enjoy limited access to Premium articles, exclusive newsletters, commenting, and virtual events with our leading journalists
Already have an account? sign in
Join our new commenting forum
Join thought-provoking conversations, follow other Independent readers and see their replies