Jennifer Lawrence pledges to throw Martini in Donald Trump's face
'Oh, I would, definitely. Oh, my God, I've been waiting for this moment,' says actor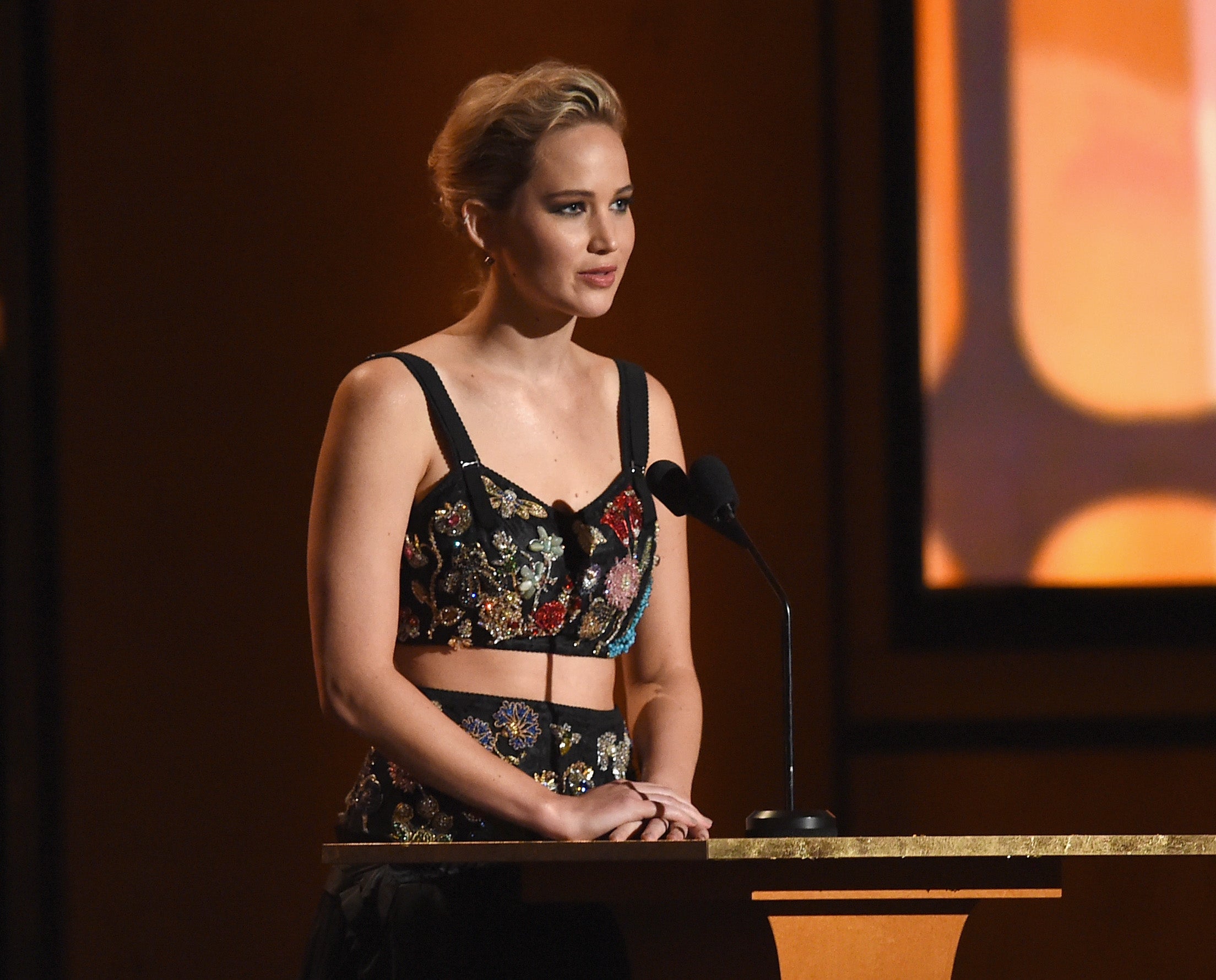 It is common knowledge Donald Trump does not drink alcohol and prefers a can of Coca-Cola to a tumbler of the hard stuff.
But the choice to be teetotal has not stopped Jennifer Lawrence declaring any encounter she has with the US president is likely to culminate in her pouring an alcoholic beverage in his face.
The 27-year-old actor, who starred in Silver Livings Playbook, X-Men, and American Hustle, said she had never met President Trump in the flesh but a meeting would no doubt end with "a martini to the face".
During a sit-down interview with Oprah Winfrey for Hollywood Reporter, Lawrence said she had not met the US president but had a few choice words up her sleeve.
"I've got a pretty good speech. And it ends with a martini to the face," she said with a laugh.
After Winfrey asked if she would be prepared if the chance to have a dialogue for the commander-in-chief did arise, the Oscar-winner said: "Oh, I would, definitely. Oh, my God, I've been waiting for this moment."
"I'll give you a hint - it's not nice. You wouldn't want me to say it to you."
She also revealed she had some stern words up for other unnamed politicians who upset her.
She said: "I have something to say for all of them. I watch different characters on the news, and I'm like, 'You just wait'."
Lawrence said she had become increasingly politicised recently, saying: "My political passion has almost turned into an obsession".
She added: "I mean, I don't think you ever do feel settled, [but] as soon as you feel settled with your home and your personal life, you're looking at the world and going, 'How in the hell do I fix this? What do we do?'"
Iran's 'Trumpism' contest
Show all 10
Lawrence, a board member for the non-profit organization Represent.Us, said she was keen to embark on secondary school and university campus tours throughout the US.
"I want to travel around to the areas I'm from so that people realise corruption is a completely nonpartisan issue," she said.
"I would love to help pass a bundle of laws [against government corruption]. We'd be able to pass state-by-state legislation to help [stop] corruption in our government."
"I would love to pass laws that help celebrity parents be able to take their kids to places without having to worry about paparazzi."
Last year, Lawrence, who has position herself at the forefront of Hollywood's ongoing war of war with Mr Trump, revealed she had two ferocious words for the billionaire property mogul if they were to encounter one another.
"I was at a concert that I heard he was attending, so I had my full security. I was like, 'Find Donald Trump,'" she told the Graham Norton Show in May 2016.
"I was adamant on finding him and then making a video of me going, 'Hey, Trump. F*** you!' I think he knew I was looking for him".
Despite being raised as a Republican, Lawrence stopped supporting the party because she said they do not espouse women's rights.
Join our commenting forum
Join thought-provoking conversations, follow other Independent readers and see their replies