Latitude 2013: Five minutes with... Austentatious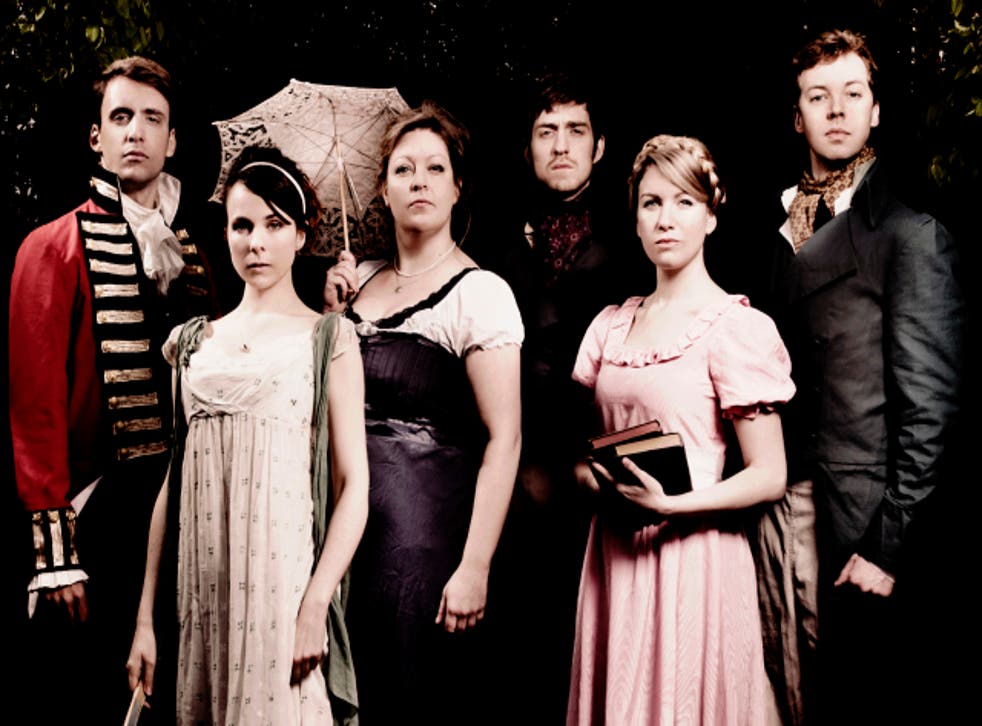 Austentatious is Cariad Lloyd, Rachel Parris, Amy Cooke-Hodgson, Andy Murray, Joseph Morpurgo and Graham Dickson. Together they do Jane Austen improve, somehow, in hour-long comedy plays based entirely on audience suggestions. And sometimes they do interviews...
Which latitude are you on right now?
51.5° N, 0.13° W: we are all in a pub near Warren street - we just finished a photoshoot in Fitzroy Square nearby. Getting some pretty strange looks from fellow drinkers as we still are still sporting regency curls and cravates...
Sum up what you do for us in one sentence for anyone who might not know
Austentatious perform an improvised Jane Austen novel, brand new every time and made up on the spot, from a title suggestion from the audience. In full costume. Previous titles we have performed include Pride and Predator, Northanger Rabbi, Tents and Tent Stability, Darcy Does Dallas and many many more.
If you could give us one hot tip for who to see at Latitude what would it be?
Definitely check out the Sunday Assembly. It's an atheist church service, run by two awesome comedians, Pippa Evans and Sanderson Jones. I bet it'd be so brilliant at a festival - all loving and spiritual and also very funny.
Do you have any pre-show rituals? 
Yes, a few. We play a lot of games and we always have a huddle before going onstage. Then we sacrifice a lamb, and dance around a burning pyre of "Northanger Abbey" editions.
What's the best thing about performing live?
The opportunity to crowd-surf in regency costume. Can't wait. 
What's your best festival story for us? The stranger the better!
I can't think now. Graham, the "Wickham" of the group, probably has the best stories...
Tell us a something you've never told an interviewer before
My signature cooking dish is a herb and sun-dried tomato risotto.
What's your signature cooking dish? 
I feel like you're not listening...
What book/film/record etc. changed your life and why?
Well, as a group, I think the book Persuasion, of all the Austen novels, has changed our thinking about what we do and how we peform - it's by far the most sincere and serious of her books with a genuine and long-lasting love story, and a real sense of drama. Reading that and talking about it helps to remind ourselves not to forget to have some depth and real emotion in all of our stories too. Strings of witty wordplay are great but you need to care about at least one of the characters!
Knock Knock, who's there?
It's Mr Darcy asking for a cup of sugar, again.
And lastly, summarise Latitude in three words. 
Exciting, creative and hopefully, sunny!
Austentatious regularly perform all over the country and in London where they have three residencies: Leicester Square Theatre, The Wheatsheaf and The Old Queens Head. For more details, visit www.austentatiousimpro.com
Join our new commenting forum
Join thought-provoking conversations, follow other Independent readers and see their replies