Lidl store builds glass floor to showcase 11th century Viking ruins
Remains from the 11th and 18th centuries can be seen from within the Lidl
Eleanor Sly
Monday 19 April 2021 10:45 Comments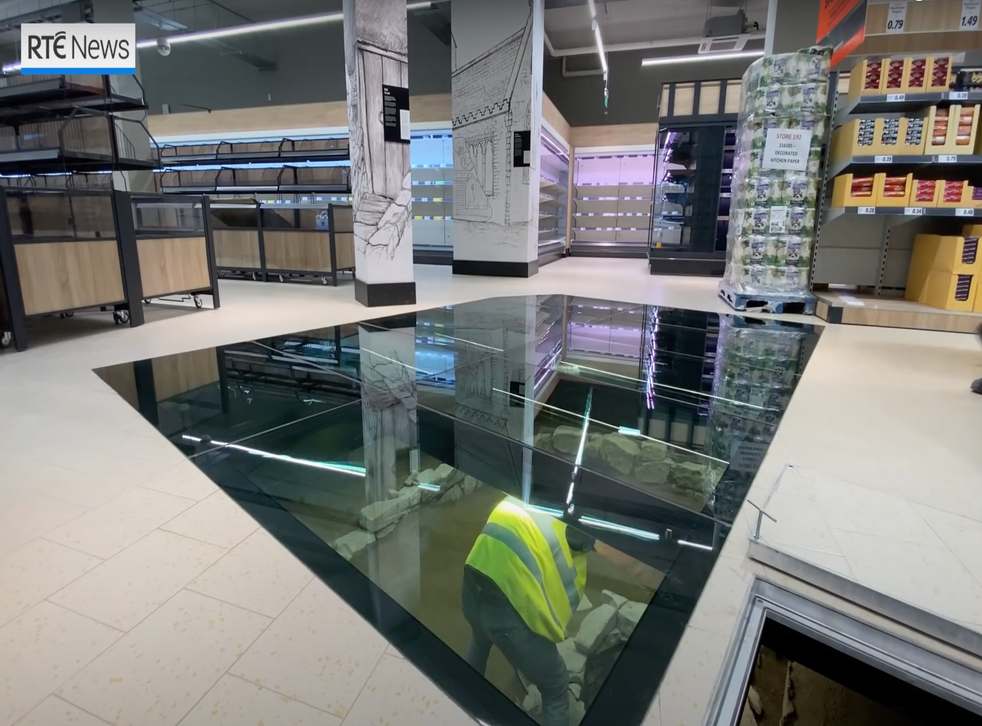 A Lidl supermarket in Dublin has put on a show for amazed shoppers, installing glass panels in between the isles that reveal a medieval snapshot of the city,
The store on Aungier Street in the city centre, opened in 2020 and uses glass panelling to showcase 11th and 18th century archeological remains that lie beneath the shop.
When the site was uncovered, Lidl managers invested heavily into preserving the historic structures, reported Dublin Live. 
Shoppers are able to see the 18th century Aungier Theatre staircase from one glass panel, while from another an 11th century sunken floor can be seen.
The Longford Street Arches, which date from the 18th century, can also be viewed from within the supermarket.
An image of the glass panels, posted on a Reddit forum, has received significant attention, racking up more than 20,000 upvotes and over 200 comments
The post reads: "During the construction of a supermarket in Dublin, Ireland, archaeologists discovered the remains of a 1000-year-old medieval house.
"Rather than excavate the items and build on top of the site, the store installed glass flooring that provides shoppers with a literal window into history."
One commenter joked: "The ghosts of that house are super confused."
While another said: "Wow. It's nice to see history preserved while you're getting milk and bread."
Reddit users from around the world weighed in to share their experiences with one user revealing: "We have something like these here in Slovenia! While building a supermarket, a road built by the Romans was discovered (about 4x1m) and glass-like was constructed. So while I'm shopping for veggies I get to look at them. Pretty cool."
Register for free to continue reading
Registration is a free and easy way to support our truly independent journalism
By registering, you will also enjoy limited access to Premium articles, exclusive newsletters, commenting, and virtual events with our leading journalists
Already have an account? sign in
Join our new commenting forum
Join thought-provoking conversations, follow other Independent readers and see their replies