Grisly death mask of Britain's first train murderer among previously unseen objects on display at Museum of London
The killer was so notorious people copied his mode of dress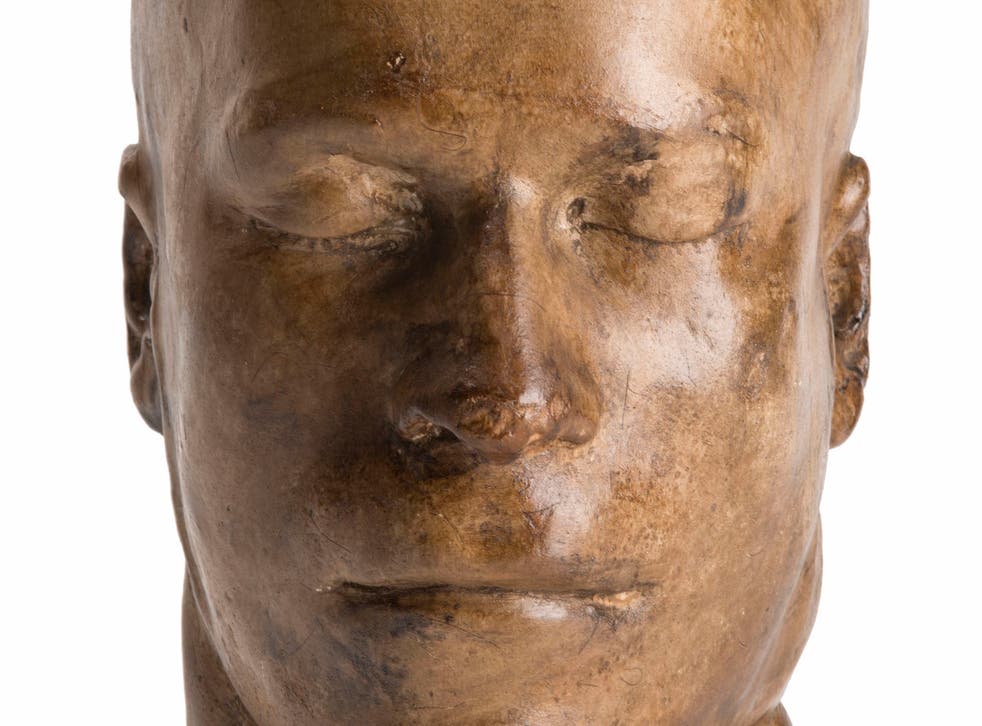 He could be sleeping, his features set in an expression of innocence. But this face belongs to Britain's first train murderer - a man who became so famous for his crime and subsequent capture that he sparked a Victorian fashion trend.
The death mask of German born tailor Franz Muller who was hanged at Newgate in 1864 for the murder of 69-year-old City banker Thomas Briggs is among a host of never-before-displayed objects going on show at the Museum of London.
Muller threw Briggs from a train travelling from Fenchurch Street to Chalk Farm having first robbed the banker of his gold watch, spectacles and top hat. Briggs was spotted lying on the tracks by a train driver travelling in the opposite direction and died after being brought to a nearby pub.
The murderer was identified by a jeweller whom Muller sold Briggs' gold chain. But by the time an arrest warrant was issued Muller was on his way to New York on a sailing ship. Scotland Yard officers took a steamer ship across the Atlantic and arrived in Manhattan three weeks before Muller, apprehending him along with Briggs' gold watch and hat, when he arrived.
Muller had cut down Brigg's top hat by carefully reducing the crown by half its height and sewing it to the brim, a fashion trend which become popular following his sensational Old Bailey trial and was known as the "Muller cut-down".
Muller was found guilty and hanged outside Newgate Prison on 14 November 1864. The case highlighted fears about railway travel and led to the introduction a few years later of the communication cord to stop the train in case of emergency.
Metropolitan Police Crime Museum

Show all 7
Exhibition
The Metropolitan Police's Crime Museum was founded in the mid-1870s. It was used as a teaching collection for newly trained officers and has never been open to the public.
But from next month the Museum of London will display unlocked real-life case files revealing details of some of the UK's most notorious crimes from Dr Crippen to the Krays, the Great Train Robbery to the Millennium Dome diamond heist.
The exhibition aims to consider the changing nature of crime and advances in detection over the last 140 years, as well as the challenges faced in policing the capital, such as terrorism, drugs and rioting.
The objects also reveal stories about Londoners that are often not told – about offenders, victims and police officers.
Register for free to continue reading
Registration is a free and easy way to support our truly independent journalism
By registering, you will also enjoy limited access to Premium articles, exclusive newsletters, commenting, and virtual events with our leading journalists
Already have an account? sign in
Register for free to continue reading
Registration is a free and easy way to support our truly independent journalism
By registering, you will also enjoy limited access to Premium articles, exclusive newsletters, commenting, and virtual events with our leading journalists
Already have an account? sign in
Join our new commenting forum
Join thought-provoking conversations, follow other Independent readers and see their replies