A message to you, Jay Z: Beyoncé's Lemonade is the latest example of pop music as public address
From Bob Dylan to Eminem, it's become natural to express intimate thoughts through songwriting for millions to hear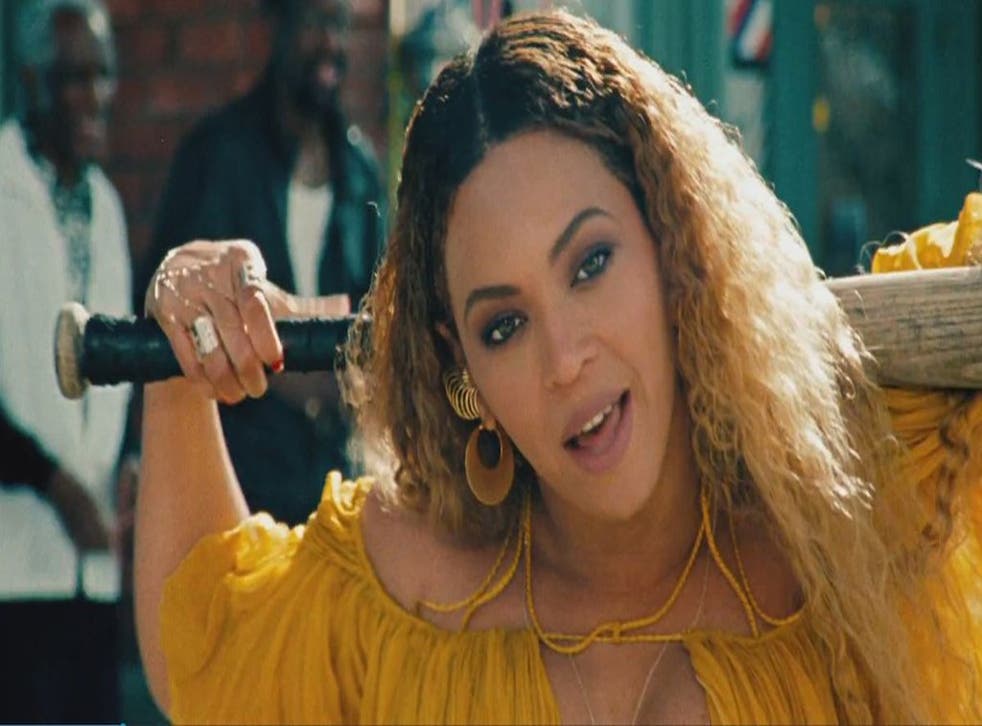 Jay Z certainly thinks these songs are about him. Beyoncé's new album, Lemonade, is most startling for its strutting evisceration of her husband. The royal rap couple she thrillingly celebrated in "Crazy In Love" are explicitly, intimately thrown on the rocks. "Smell the dishonesty/It's on your breath," she sneers at the stray dog who's betrayed her on "Pray You Catch Me". "They had you labelled a king," she sighs of a fellow superstar this music relentlessly places under her thumb. "If you try that shit again/You gonna lose your wife," she adds on "Try Not To Hurt Yourself". And just so you couldn't possibly imagine these songs aren't directly addressing her husband, she tells the "big homie" he was dubbed in "Crazy In Love"'s better days that he "better grow up". If he doesn't, the album's video version shows Beyoncé meaningfully trashing a street of cars with a baseball bat. And the music quotes The Nutcracker Suite.
Lemonade is the latest example of pop music as public address system. Past a certain level of fame, the most potent means of letting a loved one or enemy know just what you think of them is to broadcast it in a song. Since Bob Dylan helped make pop personal and presumed autobiography in the Sixties, it's anyway become natural to express the most intimate thoughts through songwriting, letting millions hear them as a consequence.
The rise and fall of Dylan's own marriage to the former Sara Lownds played out on generation-defining records, from "Sad-Eyed Lady of the Lowlands", the side-long poetic tribute to her which closes 1966's Blonde On Blonde, to Blood On the Tracks' 1975 account of a marriage on the rocks in which, during "Idiot Wind", Dylan acidly despairs that "you're an idiot, babe, it's a wonder that you still know how to breathe". Following that, Dylan actually used a song to briefly win his wife back. "Sara" reminds her of a series of scenes from better days in their marriage – the kids playing on the beach, and "stayin' up for days in the Chelsea Hotel/Writin' "Sad-Eyed Lady of the Lowlands for you." "Sara, Sara, whatever made you want to change your mind?" he wonders, his own recent tour affairs perhaps slipping his mind. He sang the version heard on Desire straight to Sara on the other side of the control room glass, and she crumbled and took him back. Messy reality, and divorce, soon reasserted itself over her husband's mesmeric art.
Every cameo in Beyoncé's Lemonade

Show all 16
The Kinks' Ray Davies tried a similar ruse when his marriage to his first wife Rasa horribly collapsed, though his own actions had again contributed. "Sweet Lady Genevieve" is one of his most heartbreakingly beautiful and romantic songs, written in 1973 in the hope that Rasa, not speaking to him in real life, would hear it on the radio and relent. "Forgive me please...put your trust in me," he sings, even as the song lists his untrustworthy, unchanging traits, finally pleading: "So will you come back to me?" But The Kinks had hit such a low ebb in 1973 that the song was barely played on the radio, its potential spell left uncast.
In the same troubled period, Ray's brother and fellow Kink Dave (himself in psychic meltdown after a nightmare acid trip) couldn't tell each other how they felt. A sequence of the most tender Kinks songs, including Dave's "Strangers" and Ray's "A Long Way From Home", did the job for them.
Lennon and McCartney similarly passed messages through songs in the Seventies, after their bitter Beatles divorce. "Piss off...too many people preaching practises...you took your lucky break and broke it in two," was the barb McCartney slipped into 1971's "Too Many People". Lennon's retaliation on "How Do You Sleep?" predictably took no prisoners: "The only thing you done was yesterday...The sound you make is muzak to my ears/You must have learned something in all those years." "I went through a period of trying to encourage Paul by writing and saying things which I thought would spur him on," Lennon later unconvincingly explained. "It's a drag," a doorstopped, numb McCartney infamously blurted of his old friend's murder. His open letter to Lennon on the 1982, Beatles-worthy ballad "Here Today" was a truer expression: "I still remember how it was before/And I am holding back the tears no more/I love you."
Carly Simon has maintained a career by staying coy about just who "You're So Vain" describes. The line "I bet you think this song is about you" left a string of Seventies Lotharios, from Warren Beatty (on whom the odds are shortest) to Mick Jagger (who sings backing vocals on it) feeling a flush of recognition.
Hip-hop has taken such autobiographical impulses to new extremes. Eminem's work repeatedly addresses his constantly demeaned mother, ex-wife Kim and their daughter Hailie, making them characters in a phantasmagorical, unreliable soap opera. They also trace his maturing attitude, early vengeful, bratty savagery giving way to "Mockingbird", a gentle explanation to Hailie of her parents' latest split: "Papa was a rolling stone and mama developed a habit/And it all happened too fast for either one of us to grab it." The coldly condemnatory song to his mother Debbie Mathers-Briggs, "Cleanin' Out My Closet", eventually turned into 2014's "Headlights", in which he confesses to her his "overwhelming sadness" at their relationship, patched up when she appeared with him in its video.
Jay Z's feud in the early 2000s with Nas, his main rival then for rap's crown, saw them trade insults in songs from "Takeover" to "Supa Ugly". This became a heavyweight championship, determining their relative worth. Jay Z couldn't have realised that, in later years, his most dangerous rival would share his bed. Though Lemonade ends with apparently resumed married bliss, Beyoncé's potent open message has put her husband in his place artistically, too. By putting him down with such naked honesty, she has raised herself to new creative heights.
Join our new commenting forum
Join thought-provoking conversations, follow other Independent readers and see their replies