Birdy on growing up in the spotlight, overcoming her nerves and singing for the Queen
She may only be 21, but the young Brit – who found fame covering Bon Iver's Skinny Love – has already been making music for a decade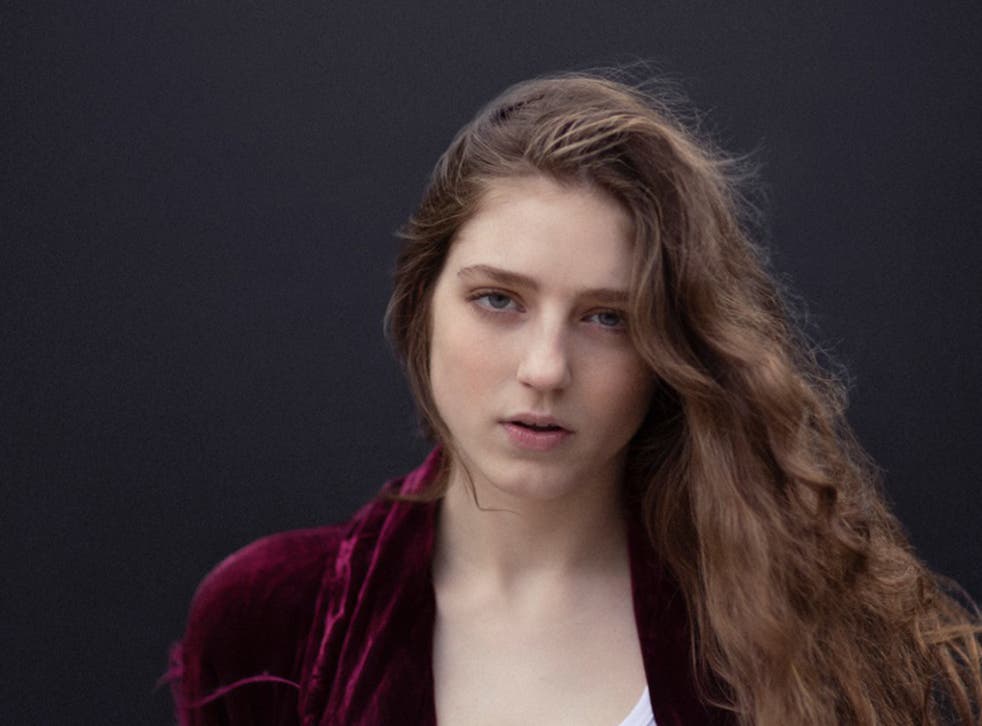 "Today I'm nervous." So begins Jasmine Lucilla Elizabeth Jennifer van den Bogaerde – or Birdy as you and I know her, the incredibly talented 21-year-old that burst onto the music scene as a young teen back in in 2008.
She's nervous because she's about to take to the stage in the courtyard of Somerset House as part of the sold-out Summer Series shows, with the backing of 17 string players, as part of a European tour. "It's quite a big production – I want it to go well as it's always been my dream to play with strings, and I've never done it with my band before."
Fast forward a few hours, and those nerves seem, at least from the outside, to have evaporated. The confidence and power in Birdy's performance is bewitching, as she begins her set with "Growing Pains", the opening track from her most recent album, Beautiful Lies.
To play a show of this calibre in this beautiful setting is bound to give even the most seasoned performer a touch of stage fright. What are her rituals for overcoming that? "Putting my make-up on calms my nerves, and the band and I like to listen to soul music before a show," says Birdy. "On the other hand, physical exercise can help release tension too, so a bit of backstage boxing helps!"
A lot of backstage boxing must have happened before her set – on a balmy midsummer's evening, the crowd seemed captivated by one of the biggest raw talents to have come out of Britain in the last 10 years.
Because almost a decade has now passed since Birdy's big break: winning the Open Mic UK competition, at the age of just 12. Still, her early start is less surprising when you consider the fact that her mother is a successful concert pianist, and that Birdy herself learnt to play the piano at the age of seven before starting to write her own music by eight.
"I was lucky to grow up in a very musical family; my mum taught me to play from a very young age, so I was around music all the time," she explains. Still, don't give nurture all the credit: there is an element of raw natural talent here too. "It was always just natural to me to play and sing, [but] having that encouragement from my family really gave me confidence in my songs."
Starting so young, however, comes with its own pressures, and when asked whether it was ever difficult, Birdy suggests "not with the music, but at the beginning it was hard getting used to interviews and the travelling. I've learnt so much in the seven years since my first album was released."
Birdy's set at Somerset House is peppered with covers – of Cherry Ghost, The John Butler Trio, The Naked and Famous – but it was one particular cover version that thrust her into the spotlight. In January 2011, aged just 14, Birdy released her debut single: a cover of Bon Iver's "Skinny Love".
Enjoy unlimited access to 70 million ad-free songs and podcasts with Amazon Music Sign up now for a 30-day free trial
Sign up
"I chose that song as I was a big fan of the original," she explains. "I love the fragility of the song; it's something I recognise in my [own] writing."
Fragile it might be, but her cover proved a smash hit. The track charted across Europe and earned platinum certification six times in Australia, as well as featuring on the soundtracks for the likes of Vampire Dairies and Being Human.
Asked whether she had an inkling it would be such a success, Birdy says: "No, not at all. I put the cover together on my piano at home. I was 14 and still at school at the time, so it was completely surreal when it started being played on the radio. I still enjoy performing it; I didn't for a while, but it's come back around and now it's like an old friend."
She may be famous for a cover version, but Birdy is also a talented songwriter in her own right. Her lyrics for "Wings", for example, capture the feeling of being overwhelmed by love: "I'm in a foreign state, my thoughts they slip away, my words are leaving me, they caught an aeroplane, because I thought of you."
"My songs have always been mostly personal, but I'd love to be brave enough to dig a bit deeper," she says when discussing her fourth album, which she is currently working towards. "I find the music that moves me most has always come from a very real place. I write all the time; I'm not sure where it will end up. I'm inspired by so much, but I want to take the time to get it right. I want the next album to be honest and personal."
However, it's not just personal experience that she draws inspiration from – Birdy is also going back to nature. "I grew up in the New Forest – it's a really beautiful and wild place. I'm so inspired by my surroundings and I feel that it contributed to the cinematic sound in my music."
Musically, meanwhile, she credits soul artists like Aretha Franklin and Etta James for spurring her on, and says she grew up listening to artists like Tracy Chapman and Jeff Buckley.
Despite her tender years, the 21-year-old has already been through much: she's on her fourth studio album, she's played Glastonbury, and she's even sung in front of the Queen.
"Playing the Royal Albert Hall in front of the Queen was really emotional. It was a really special moment for me, I felt so honoured to be a part of it. I'm not sure of her reaction, but I hope she enjoyed it!"
Still, nice as it is to have royalty in attendance, the young singer would rather be able to eyeball her crowd. "I normally prefer the intimate shows. I think my music suits that setting best as there are a lot of fragile moments. I like being close to the audience and being able to see people's faces at the front."
There's clearly still a lot more to come from Birdy, and judging by the performances she's giving this summer, the new album should be set to soar. There's no saying how far this young girl with a huge voice from the New Forest will go.
'Beautiful Lies' is out now. Birdy plays at Belladrum Tartan Heart Festival 3-5 August.
Join our new commenting forum
Join thought-provoking conversations, follow other Independent readers and see their replies