Bono, the Edge, Miley Cyrus, Jessie J and Hozier celebrate ten years of activism by One and (Red)
New York's Carnegie saw a night of celebration to mark ten years of activism against povery and Aids
Andrew Buncombe
New York
Wednesday 02 December 2015 17:34 Comments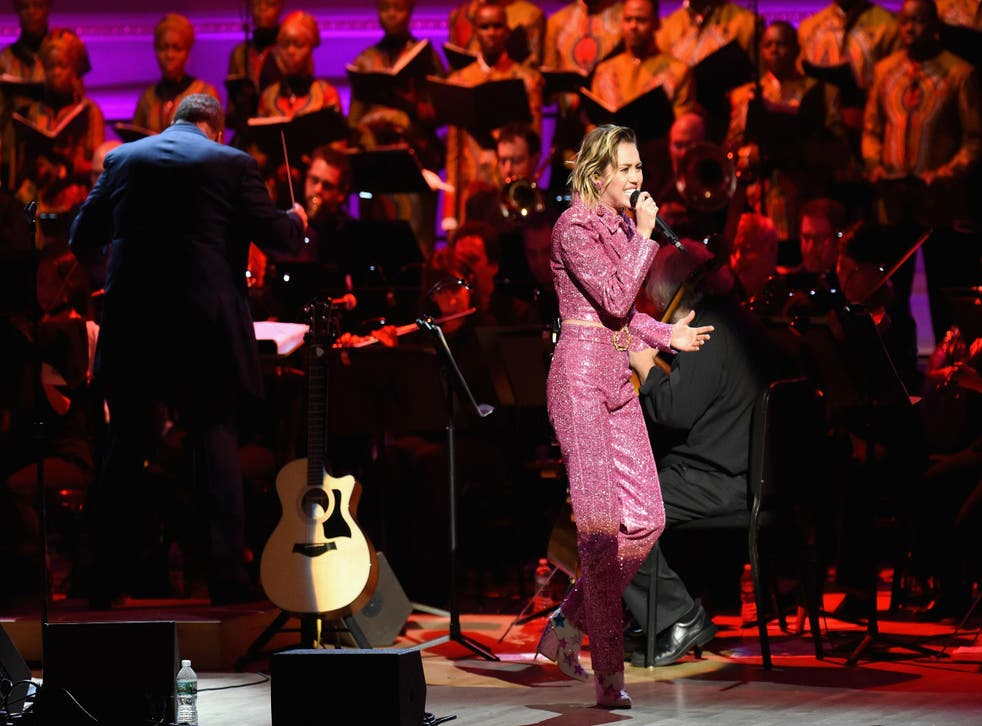 This is not a charity event. It is a celebration.
Such was the message delivered by Bono and a host of performers at New York's Carnegie Hall as they marked ten years of activism and campaigning by One and (Red).
The 55-year-old U2 frontman, took to the stage on Monday night along with the the Edge, Jessie J, Miley Cyrus, the Orchestra of St Luke's, the Choir of the Kimbanguist Symphony Orchestra and Hozier, to recognise the efforts of those involved in the ongoing fight against Aids and poverty.
The event was hosted by Trevor Noah, while speakers such as Vice President Joe Biden, former president Bill Clinton and Stephen Colbert, highlighted the contribution of individuals such as Bill and Melinda Gates, Michael Bloomberg and African entrepreneur and activist Mo Ibrahim.
"Mo Ibrahim is disarmingly blunt…He is the energiser bunny of Africa's tomorrows," said Bono.
Musical highlights included Bono, Hozier and the Edge's performance of When Love Comes to Town. The evening ended with Miley Cyrus and Jessie J joining them for the finale of One.
Miley Cyrus, wearing a pink glitter tuxedo produced by London-based designer Chris Cowan-Sanluis, did not seem to know the words - as she pointed out, she is only 23 - but nobody seemed to care.
The event also marked the kickoff of Bono's star-studded "once-in-a-lifetime experiences" campaign, in which donating at least $10 to (RED), which raises money to fight Aids, will earn entry for a raffle to win itms such as a trip to the Game Of Thrones set or a meeting with George Clooney.
Register for free to continue reading
Registration is a free and easy way to support our truly independent journalism
By registering, you will also enjoy limited access to Premium articles, exclusive newsletters, commenting, and virtual events with our leading journalists
Already have an account? sign in
Join our new commenting forum
Join thought-provoking conversations, follow other Independent readers and see their replies