Charlie Puth interview: Being bullied for pitch perfect talent and Selena Gomez's advice on dealing with negativity
Charlie Puth has always been so focused on music that he was bullied at school. Now the bullies want his autograph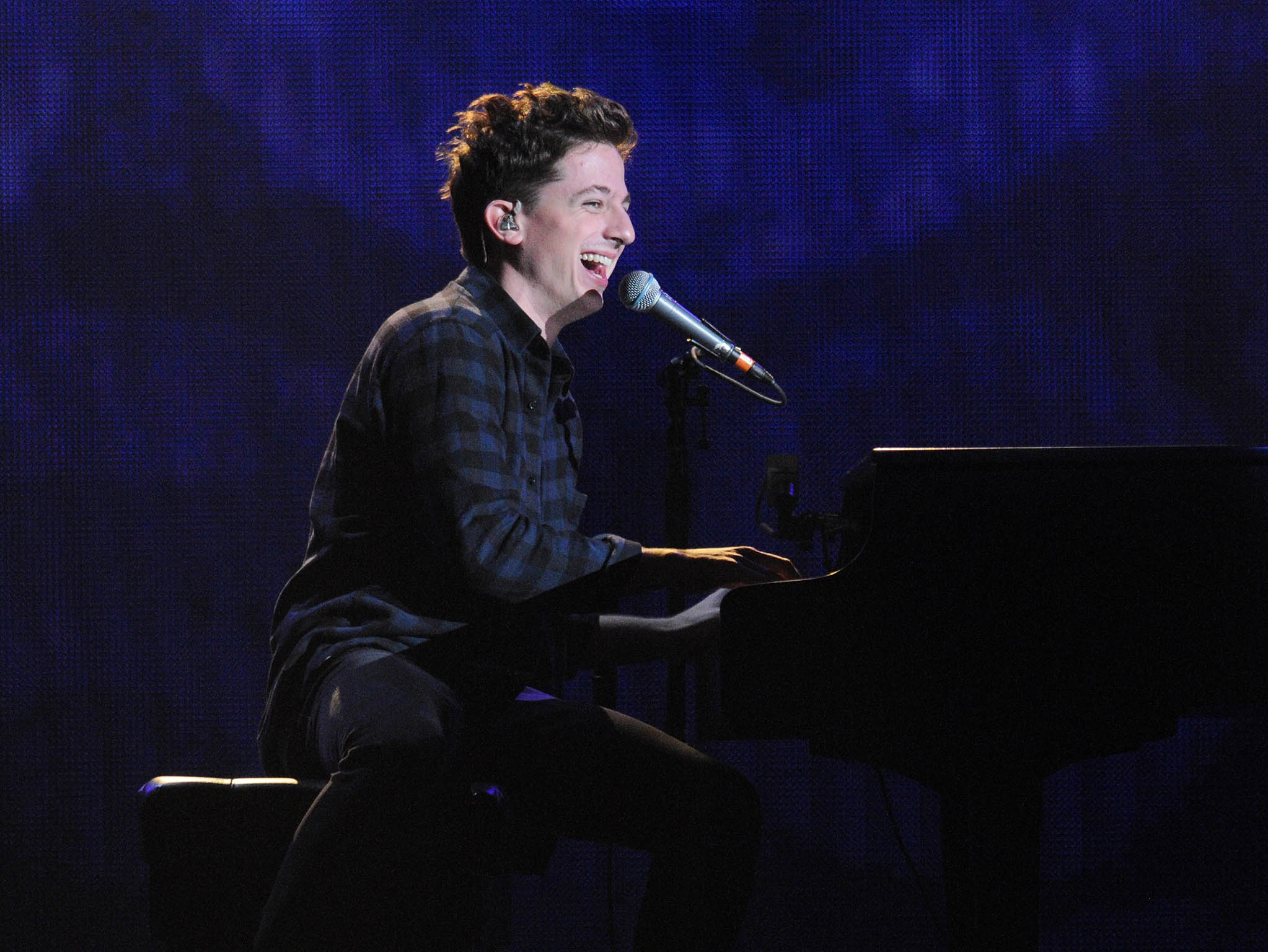 Album names are often obscure and unfathomable, but five minutes with Charlie Puth shows me very clearly why his debut album is titled Nine Track Mind.
His brain works somewhat differently from your average human mind; its single focus is music, to the detriment, sometimes, of other titbits of general knowledge you might expect a well-travelled 24-year-old to have picked up.
He asks me what "halouballo" is – indicating the halloumi on the menu when we sit down to brunch, yet he only needs to hear a song played once to recite perfectly on the piano, which he has been able to play since the age of four.
Most people will have heard Puth's irritatingly catchy "Marvin Gaye", featuring Meghan Trainor, which went straight to No 1 in the UK. He also worked on Wiz Khalifa's "See You Again" from the Furious 7 soundtrack, which went four-times platinum, became No 1 in more than 100 countries and tied the record for the longest run at No 1 for a rap song, along with "Boom Boom Pow," by the Black Eyed Peas, in 2009 and "Lose Yourself," by Eminem, in 2002.
The record is a proud moment for Puth, because the first hip-hop record he ever bought was The Marshall Mathers LP by Eminem, in 2001, when he was nine.
"It was a weird time in my town because everybody's father worked in the World Trade Centre, so it was like a ghost town, everyone had lost their dad, it was a really sad time and it was weird for me... I was pissed off and so what it did was it introduced me to very real and crazy lyricism and there were no punchier snares than Doctor Dre snares.
"So I analysed the production and would try to find other records that had that punchy production, that really well-mixed stuff. There wasn't really anything like it; it was my favourite hip-hop album. It still is my favourite hip-hop album."
Puth was born in Rumson, New Jersey. I ask him to tell me a bit about it. "It is a very business-oriented seashore town, about 15 miles south of Wall Street if you take a boat. It's a very small area of like 7,000 people total," he begins, sounding a bit like a Wikipedia article. "Not a lot of musicians, but for some reason Bruce Springsteen is from there and Bon Jovi lives there and then there's me, so there's the trifecta."
While he was growing up, Puth's mother wrote commercials for HBO and was "one of the first video disc-jockeys at MTV. Just, like, writing out things for Matt Lauer to say," but she gave it up to look after Puth full-time. His father was a builder.

Enjoy unlimited access to 70 million ad-free songs and podcasts with Amazon Music
Sign up now for a 30-day free trial
Sign up

Enjoy unlimited access to 70 million ad-free songs and podcasts with Amazon Music
Sign up now for a 30-day free trial
Sign up
They were poor, he says, but happy, and both parents tried to teach Puth to be grounded in spite of his precocious ability with music.
Music festivals guide 2016
Show all 20
"When we used to go to the car-wash where people would wipe the windows my dad would go out and help them and then tip them as well, so I learned my empathy from my dad and my mum is very empathetic too, but in a very stern way, she will always check my ego," he smiles. Puth's mother shared her interest in pop culture and a love of jazz music with him, as well as teaching him piano.
He found school difficult, although his grades in music were very good. When he was 12 he first realised he had a gift.
"I was raised in a Catholic school and I would always go to church on Sunday and I would hear the same music over and over and over and over again, same gospels, hymns, everything. So one time on Ash Wednesday, which is when you get black stuff put on your forehead for some reason, the church organist didn't show up.
"He must have got drunk or something. I knew every song, so I just went up and played them all from memory. I still had no idea how or why I could do that, but later I found out that I had something 0.5 per cent of the population has, a type of perfect pitch, where I can hear notes and play them back right away."
But in spite of, or maybe because of, his abilities, the other kids at school bullied him. "It was mostly verbal, like name-calling and such, the verbal stuff was massive amounts of discouragement like, 'how could you remotely think you could make it in this industry?', but I didn't listen, because I knew I was pretty dope," he says, brushing it off quite convincingly.
"But they would team up against me so bad and they would kick me in a place that wouldn't feel fantastic and I would need to throw up and they would then say I was pretending to throw up. So you can see why I don't have any association with them." Weirdly, when Puth is back at home, those same bullies are now his fans.
"It leaves a bad taste in my mouth when they are nice to me now and they show all these fake cards all at once. I am pretty civil with everybody because I hate bad energy but it makes me so uncomfortable. So I just say, 'it's nice to see you, OK I'm going to leave now'. But I mostly stay in the house."
Recently a mother from a nearby town drove her daughter to Puth's parent's house to leave cookies on the doorstep for him. When he didn't respond to their request to follow the daughter on Instagram, the mother threatened to publish details of Puth's home address online.
Puth is visibly disturbed by this unpalatable taste of fame. "I don't remember receiving any cookies, I don't think I was even home and then she was like, 'I'm going to leak your house information, I'm going to leak your address if you don't follow my daughter right now'... People change when other people are getting recognition. I don't get what it is in human nature that promotes that, it's just so strange to me too"
After school, Puth went on study classical and jazz music at Manhattan School of Music in Harlem, before going on a bursary to Berklee School of Music. While he was there, he made a cover of Adele's "Someone Like You" with fellow Berklee student Emily Luther, which was heard by Ellen DeGeneres, who then had them both on her show and offered Puth a six-month contract.
Everything took off very quickly from there. "I tell Ellen all the time that she is the reason this has happened," says Puth, tucking into a dairy-free brunch, to save his vocal chords for tonight's show. "She is a fantastic lady but she's a businesswoman too. She's very funny but like off-camera you don't want to do anything to make her mad because she runs a tight ship."
But it was a mixed blessing. The day the contract was signed with Ellen, Charlie found out a friend had been killed in a car accident. That later became his inspiration for the lyrics to "See You Again", a tribute song to Paul Walker, the Furious 7 star who died in a car crash in 2013. He didn't know Walker, so, instead, focused on his friend.
"The moment I found out [my friend] passed away I just walked out into my very long driveway and I kind of just started crying and then I saw my dad come out of nowhere, [and] like, ask me 'what's wrong?' and I told him, but I don't really get emotional in front of my dad, it's not really, like, cool, so that moment stuck with me, because it was the longest day, it was actually the longest day in the world, like, literally, it was, on that day. So that's where that lyric came from, "it's been a long day without you my friend".
Magicians aren't meant to reveal their tricks and I feel the same rule should apply to musicians. Noel Gallagher said he came up with "Champagne Supernova" when he was "out of it" and couldn't think of anything that rhymed with "hall" apart from "cannonball" and David Bowie said he went through a period of coming up with lyrics by writing lines on separate pieces of paper and then rearranging them until they made "just enough sense".
I felt like that's what Puth is doing as he explains one song after another. It all comes so easily to him to write a catchy song, that it makes a mockery of the idea of a tortured artist, squeezing out emotions over months in a basement or secluded cabin in the woods.
Once Puth had finished at Berklee, he signed a new deal with Atlantic and flew to LA. On his first day he wrote "Marvin Gaye". "You can't copyright chord changes, so ["Marvin Gaye" borrows] the movement of "Hungry Heart" by Bruce Springsteen; D-flat major, B-flat major, E-flat major, A-flat major" – he sings notes as he says them.
And those surprising lyrics? They are all Marvin Gaye songs. "So 'you've got the healing that I want' [is] 'Sexual Healing'; 'just like they say in the song', [and] 'until the dawn', that's a Marvin Gaye lyric; 'give it up to me', is another," he grins, "'mercy, mercy please' is another. They are all... Marvin Gaye songs So, yeah, I am downright creative!"
Even if it's not to your taste, Puth's ability to churn out a hit in a day is incredibly impressive, as is the range of styles he's experiments with. "One Call Away", from the new album, is completely different from "See You Again" or "Marvin Gaye".
It's a smooth boy-band-style song, all sultry whispers and high "ooh-ing", on the pop side of R&B. Puth describes it as "more obvious R&B but not so obvious that it can't be played on Kiss".
"It's about reassuring someone that even though they are living halfway across the world or can't be with them because they're doing promo, or you know, in London, they are only one call away and if they needed to they could drop a quarter of a million dollars on a private flight just to get to you."
There are rumours that Puth is dating Selena Gomez, who features on "We Don't Talk Anymore", another mega-catchy pop song on the album. She has been a very good friend to Puth, offering advice about handling his increasing fame.
"I talk about it with her all the time because I don't understand how people are fascinated with her when they don't even know her and she gets upset by it sometimes. She told me never to talk to the paparazzi, don't fuel the fire and to just kill them with kindness, I think that's the name of one of her songs, actually."
In the meantime, he's keen to pay back some of the generosity he's received from bigger-name artists.
"Shy Carter helped me write "One Call Away" he is a brand new artist. I really want to help jumpstart his career because I think he's super-talented. It's like Megan and Ellen did for me. It's that empathy. It all goes full circle to my dad helping the guys wash the car."
'Nine Track Mind' is out now
Join our commenting forum
Join thought-provoking conversations, follow other Independent readers and see their replies