Chris Cornell, Royal Albert Hall, gig review: Soulful grunge godfather dazzles in the capital's most stunning venue
Chief architect of the grunge movement strips back his back-catalogue for show at the world-renowned concert hall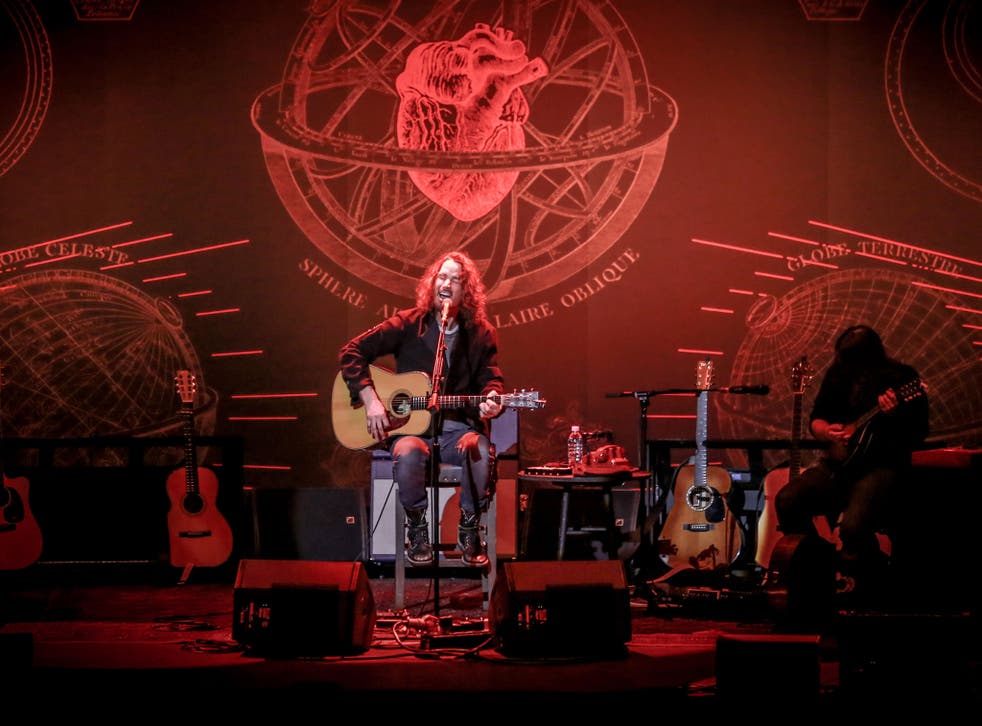 Chris Cornell admits fairly early on this evening that the whole purpose of booking his latest UK / European tour was to play the prestigious Royal Albert Hall. And who can blame him, with the 19th century building having played host to some of the most legendary performers in music; Led Zeppelin, Frank Sinatra, Leonard Cohen, Deep Purple, Shirley Bassey, Dusty Springfield, the list of one-in-a-million true greats that have played momentous shows at this esteemed hall is vast. To that list, we should now add Chris Cornell.
Keeping an audience of 5,000 people enthralled and hushed throughout a 25 song, 2 hour 20 minute set, Cornell manages to shrink the large environs of the Hall, treating those in attendance like guests in his living room (at one point, even graciously pausing mid-set to take a selfie with some over-eager fans). When he unleashes that voice, you can feel the molecules in the room shift, as if everyone were afraid to breathe through fear of making the slightest sound.
These shows, essentially an extension of his Songbook tour that started way back in 2009, allows Cornell to perform stripped-back acoustic renditions from his exhaustive back-catalogue, including songs from the likes of Soundgarden, Temple of the Dog, Audioslave and his solo work. Cornell has the remarkable ability to perform slightly alternate renditions to the studio counterparts of songs such as Blow Up the Outside World, Wooden Jesus and I Am the Highway whilst making them sound definitive. His solo material is often unfairly dismissed, but the songs from new album, Higher Truth, slip seamlessly into the set, with Josephine, Before We Disappear and the title-track sounding as vital as anything else played tonight.
Not many artists can cover some of the greatest music of the 20th century and get away unscathed, but tonight, Cornell takes on songs by The Beatles, Prince, Led Zeppelin, Michael Jackson and Bob Dylan and plays them all as if they were his own. Special plaudits should go to his cover of One, a fusion of the U2 and Metallica songs that both share the same title. Cornell explains that the amalgam came about when searching for the lyrics to U2's melancholy yet uplifting anthem. He googled 'one lyrics' only to be confronted with the words to Metallica's lament to a World War 1 soldier who loses all his limbs and senses after stepping on a landmine. On paper, it shouldn't work, hell in reality it really shouldn't work, but somehow Cornell pulls it off with incredible elegance, joining the dots and making the connections between the two disparate songs and performing them as if the music and lyrics were meant to be one all along (no pun intended).
For the most part, Cornell performs un-accompanied with just an acoustic guitar and occasional tasteful use of effects and loop pedals. But special notice should be given to multi-instrumentalist Bryan Gibson, who accompanies sporadically through-out, his cello work in particular providing wonderfully vivid and inspired arrangements over the likes of Soundgarden's Fell on Black Days and Temple of the Dog's Hunger Strike, whether delicately playing pizzicato or vigorously bowing the strings.
From here, it seems Cornell can go anywhere, his body of work encompassing everything from grunge to soul to punk to modern R&B. One hopes that he takes the confidence earned from these Songbook shows and ploughs it into writing a gritty, unrestrained record with his comrades in Soundgarden, but in truth, whatever Cornell choses to do next, it will be absolutely riveting to see and hear.
Register for free to continue reading
Registration is a free and easy way to support our truly independent journalism
By registering, you will also enjoy limited access to Premium articles, exclusive newsletters, commenting, and virtual events with our leading journalists
Already have an account? sign in
Register for free to continue reading
Registration is a free and easy way to support our truly independent journalism
By registering, you will also enjoy limited access to Premium articles, exclusive newsletters, commenting, and virtual events with our leading journalists
Already have an account? sign in
Join our new commenting forum
Join thought-provoking conversations, follow other Independent readers and see their replies