Courtney Marie Andrews: The rising indie-folk singer hailed by Ryan Adams as 'a phenomenal songwriter'
This relatively unknown artist is one of the brightest things to have emerged during a challenging year that's seen the ascent of Trump and the death of Prince, Bowie and Leonard Cohen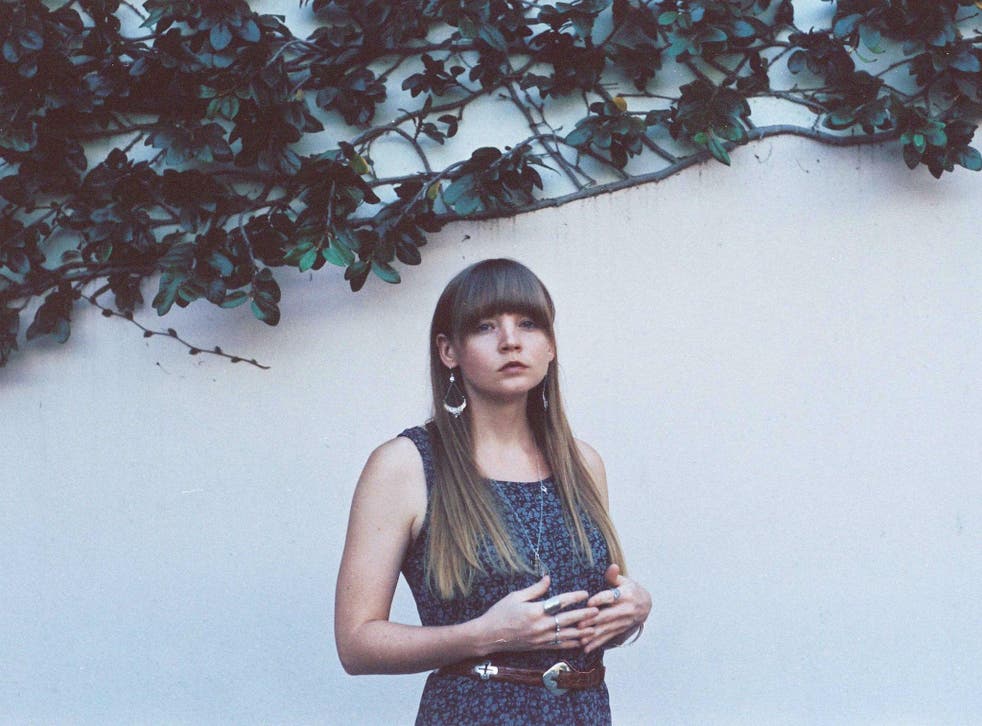 "The first two years of my music touring experiences were busking, and I would honestly say they were the most carefree moments of my life," admits indie-folk/country singer Courtney Marie Andrews, who left home in Arizona at the tender age of 16. "Every day it felt like a day off and busking didn't feel like work at all; any time I got to feel like I was trying too hard it felt bad."
The amiable 26-year-old, who talks to me on a car journey through the Smoky Mountains on the way to a gig in Nashville, started out busking in downtown Phoenix, Arizona ("which was a little hard") with a battery-operated PA; occasionally some friends ("singing three-part harmonies") would help out, too.
For a decade or so since, Andrews has been a session and back-up singer and guitarist for nearly 40 artists, from Jimmy Eat World to Damien Jurado. However, that's all set to change with the release of her sumptuous Honest Life, which, staggeringly, is her sixth record and is due for release on 20 January. The singer-songwriter has already been hailed by the likes of Ryan Adams as "a phenomenal songwriter", and she indefatigably is, but it's her pristine vocals – recalling the likes of luminaries Emmylou Harris, Carole King, Neko Case and Roseanne Cash – that grip. In fact, this still relatively unknown artist is one of the brightest things to have emerged during a challenging year that's seen the ascent of Trump ("It's shocking and I'm still in shock") and the death of Prince, Bowie and Leonard Cohen. Which singer's death hit Andrews hardest?
"Definitely Leonard Cohen; I love Prince and Bowie, but Cohen has taught me poetry in songwriting, which I've always been drawn to," she maintains. "I'm spiritually more connected to Leonard Cohen and his songs to me read like poetry. He rewrites songs until they're perfect, which is just incredible."
Andrews has taken her hero's lead, meticulously moulding her songs and fashioning some poignant and sharply observed lyrics. Her exquisite "How Quickly Your Heart Melts" is a prime example, on which she laments "The jukebox is playing a sad country song/ For all the ugly Americans/ Now I feel like one of them/ Dancing alone and broken by the freedom." The track was written during her glum four-month stay in Belgium, where she endured a romantic heartbreak and felt alienated by her Dutch-speaking band-mates.
"I wrote part of Honest Life in Belgium and I was going through a break-up at the same time, so it was a very hard time because I was away from family and friends and there was no one to help pick me up and help put my pieces back together," she says. "I was kind of alone and the people I was touring with spoke Dutch and didn't remember I didn't speak Dutch.
"It was a really trying time and I was in my head for quite a bit of it. You probably wouldn't have wanted to meet me during those four months [she laughs loudly, as she does often], I was fairly reclusive and I would just write for hours and hours and that was my way of coping and reflecting."
After her melancholic time in Belgium, Andrews returned to the States, working in two "blue-collar" bars (where "women at the bar would cry over their martinis") in a working-class community 45 minutes outside of Seattle, Washington. It's a world she's familiar with, having grown up with a single mother who "hung out with biker people", but she did have her "boundaries pushed as a woman quite a bit in bars". However, she handled the "attention" deftly: "It's a matter of putting your foot down and if you do that, they won't do it again.
"I was immersed in that culture for so long," she continues, "and I feel very empathetic and understand that [blue-collar] group in America. I always think it's going to be part of my music and I'm always going to try and find a voice for those people."
When not serving stiff drinks to blue-collar clientele, Andrews completed writing Honest Life, a record that recalls the country rock of the early 1970s and the Laurel Canyon scene with its copious use of acoustic guitar, pedal steel and piano. The album ostensibly focuses on coming-of-age (embodied by the catchy opener "Rookie Dreaming", which is reminiscent of Jason Isbell), alienation ("Table for One") and looking after yourself ("Irene", where she pleads "You are a magnet Irene/ Sometimes good people draw troublesome things"). Every track convinces and there's an underlining authenticity (or honesty) to Andrews's songwriting (her favourite author is John Steinbeck), particularly on the title track: "All I've ever wanted was an honest life/ To be the person that I really am inside".
"I feel like everyone deals with a lot of dishonesty in their life and nobody veers on a straight path, we all kind of go a little zigzag," she emphasises.
"Honest Life is a coming-of-age album and I think when you're younger you try and fit into other people's boxes and this was a record about fitting into my own box," she adds.
She understandably despairs at being compared to Joni Mitchell (every accomplished female folkie seems to be compared to her), but songs like "Only in My Mind" and her new single "Put the Fire Out" would fit quite snugly on Ladies of the Canyon. However, it's Emmylou Harris who has influenced Andrews more in past years ("She has an incredible voice and has sung on a lot of my favourite records").
After extensive time on the road, Andrews is now enjoyably settled in a small town in the deep forests of Washington and revelling in having a base.
"Honest Life is a traveller's record," concludes the singer. "I was on the road for a long time writing the record and it's the opposite of a lot of albums, which are usually about people wanting to leave somewhere. This album is about wanting to come home and dreams of home and building a life, as I'd never had that."
Courtney Marie Andrews's new single "Put the Fire Out" is out now; her album Honest Life is released in the UK on 20 January and she tours the UK with the Handsome Family from 21 February, starting at the Arts Centre, Norwich
Join our new commenting forum
Join thought-provoking conversations, follow other Independent readers and see their replies