David Bowie dead: Fans share favourite lyrics on social media
The quality of Bowie's lyrics was often unfairly overlooked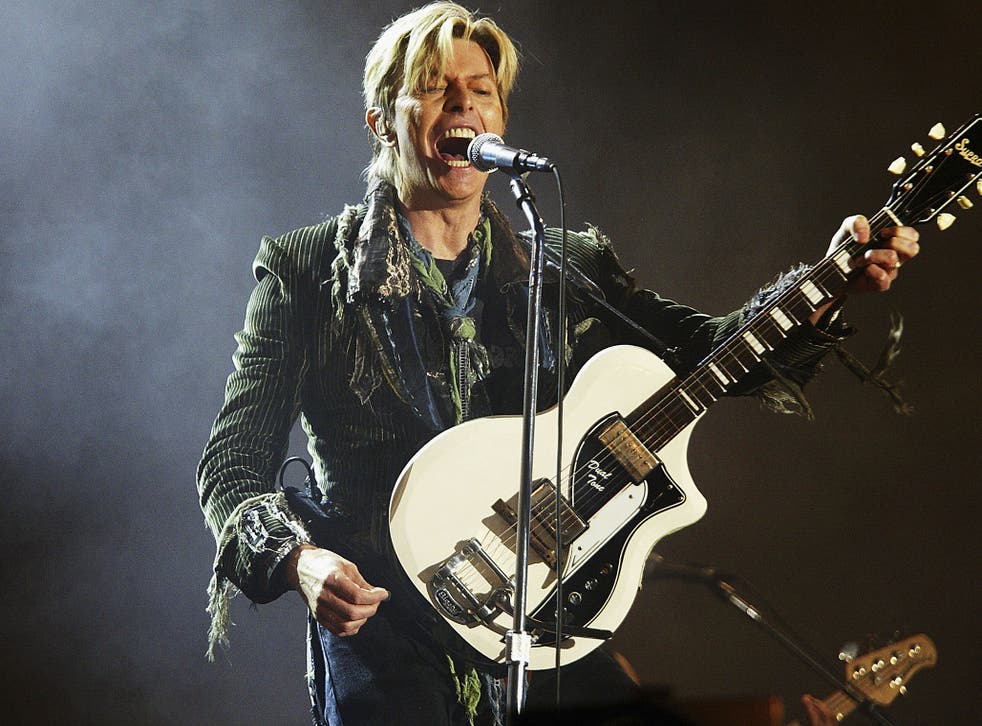 While David Bowie was widely celebrated for his groundbreaking music and influence on the world of fashion, the quality of his lyrics was often unfairly overlooked.
Influenced as much by fine art and highbrow literature as he was traditional rock and roll platitudes, Bowie was able to work elements of science and dystopian fiction into tracks that otherwise sounded that relatively straight forward glam rock and pop.
It comes as no surprise then that many Bowie fans are turning to social media to share their favourite lines from the late singer's songs.
Below are some of our favourite David Bowie lyrics.
David Bowie: Life in pictures

Show all 30
Space Oddity
"This is Major Tom to Ground Control / I'm stepping through the door / And I'm floating in a most peculiar way / And the stars look very different today / For here am I sitting in a tin can / Far above the world / Planet Earth is blue / And there's nothing I can do."
Devoid of flowery language, Bowie's arguably most famous song embraces simple descriptions of the distant Earth to conjure up the feelings of awe, otherness and alienation felt by Major Tom. The song was jointly awarded the Ivor Novello Award for songwriting and composition in 1969, along with Peter Sarstedt's Where Do You Go To (My Lovely)?.
An Occasional Dream
"I recall how we lived / On the corner of a bed / And we'd speak of a Swedish room / Of hessian and wood / And we'd talk with our eyes / Of the sweetness in our lives / And tomorrows of rich surprise / Some things we could do."
The lyrics in this gentle folk track perfectly capture the feeling of a new relationship; looking forward to the future and so wrapped-up in one another that the rest of the world may as well not exist.
The Man Who Sold the World
"When all the world was very young / And mountain magic heavy hung / The supermen would walk in file / Guardians of a loveless isle."
Simple alliteration and evocative phrasing help turn this track from 1970's Ziggy Stardust album into a haunting epic. The song's title may be inspired by Robert A. Heinlein's 1949 science fiction novella The Man Who Sold the Moon but the lyrics themselves are believed to have drawn influence from horror writer H. P. Lovecraft and 19th century poet William Hughes Mearns.
Enjoy unlimited access to 70 million ad-free songs and podcasts with Amazon Music Sign up now for a 30-day free trial
Sign up
Life on Mars
"Sailors fighting in the dance hall / Oh man! Look at those cavemen go / It's the freakiest show / Take a look at the Lawman / Beating up the wrong guy / Oh man! Wonder if he'll ever know / He's in the bestselling show / Is there life on Mars?"
Inspired in equal measure by Ray Davies' simplistic social commentary and Salvador Dali's oddball surrealism, the song is also dripping in knowing references to musical history. The lyrics "Look at those cavemen go," for example, is taken from the doo-wop hit Alley Oop by the Argyles.
David Bowie passes away aged 69
Let's Dance
"Let's dance - put on your red shoes and dance the blues."
A real fan favourite, largely for the way he opts to keep it incredibly simple when describing the primal forces driving the desire to have a good time. As always with Bowie, the story was more complicated, with the lyric taken from the 1948 film The Red Shoes, which itself was based on a Hans Christian Anderson story.
Register for free to continue reading
Registration is a free and easy way to support our truly independent journalism
By registering, you will also enjoy limited access to Premium articles, exclusive newsletters, commenting, and virtual events with our leading journalists
Already have an account? sign in
Register for free to continue reading
Registration is a free and easy way to support our truly independent journalism
By registering, you will also enjoy limited access to Premium articles, exclusive newsletters, commenting, and virtual events with our leading journalists
Already have an account? sign in
Join our new commenting forum
Join thought-provoking conversations, follow other Independent readers and see their replies