Dekmantel Festival 2017 in five tracks: The Dutch extravaganza delivers once again
These five moments epitomised how a winning formula provides one of the most reliable electronic music experiences in Europe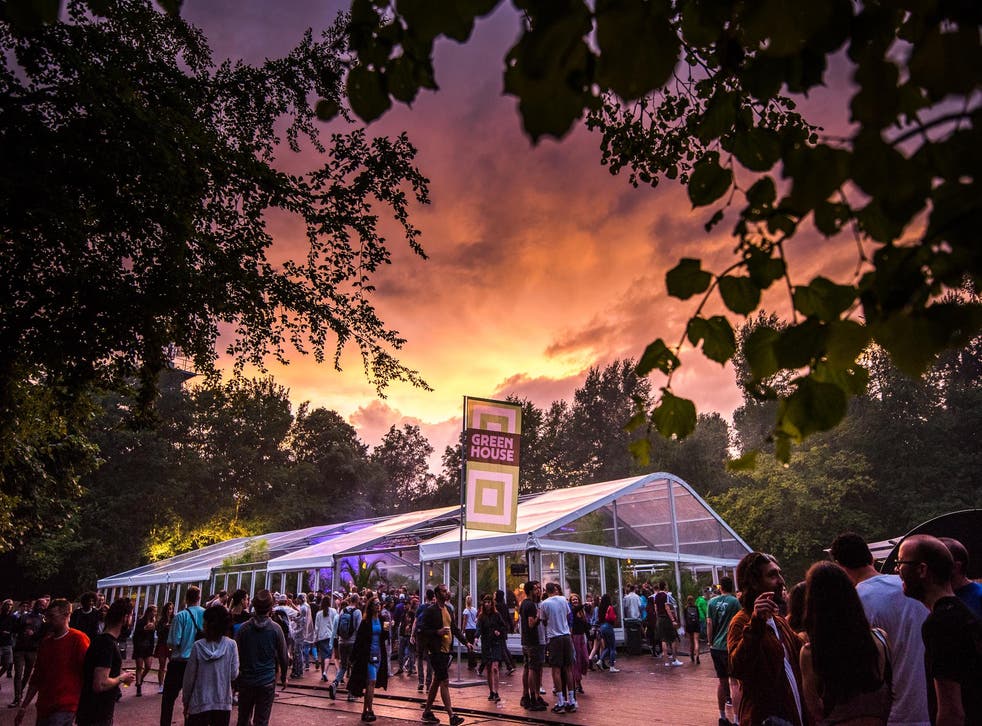 Such is the density of Dekmantel's five-stage scheduling, and the prestige and hype in which the festival is considered among artists performing, that you can pack your diary with momentous sets from start to finish across the three days and not see the same single set that a different attendee saw themselves.
Despite seeing as many performances as was feasible over the weekend, you will still always be left with some degree of FOMO upon hearing reports of what you missed elsewhere. DJ Nobu delivered a closing set in the UFO stage sufficient to even proselytize those for whom the hardest techno is not to their taste, and then you hear people – ravers and artists - talk of Ben UFO's simultaneous Main Stage performance as inspiring them to go and change the world.
As Floating Points played on Main, Donato Dozzy and Peter von Hoessen were pulverising the UFO and Joy Orbison & Jon K were playing a set of UK Funky, Dancehall and other inescapable British sounds in the Greenhouse. Whatever decision you often made, you somehow lost out.
As ever, people seemed wont to dash between the Selectors, Greenhouse and Boiler Room troika with ease, to pick up snippets from lots of simultaneous sets, while the UFO's immersive tendency to collective marbles-losing meant it was less amenable to bite-size sessions. The organisers should feel vindicated in their continued placement of familiar names on the main stage – Ben UFO, Antal & Hunee and Job Jobse b2b Midland did not play forgettable sets – as well as plenty of new names in the prestigious Boiler Room, with Volvox & Umfang, Eclair Fifi and Byron the Aquarius stepping up to the plate with aplomb.
Whether as a fan or an artist, it is said to be the festival for music heads as evidenced by the sheer frequency of big names attending other performers' sets, be it behind the decks or in the crowd. Midland told The Independent that there's "nowhere I'd like to go more to dance just as a punter", while San Proper and Nina Kraviz must have seen nearly a festival's worth of music between them by the number of sightings throughout the long weekend. However, it does not perhaps feel a space exclusively for devotees as strongly as the first few years did.
British ravers seem to make up the greatest contingent year on year at Dekmantel, with the festival's "no football shirts" policy completely unenforced. Rowdiness, props and peacocking accessories do operate on a fine line between fun, atmospheric shenanigans and mindless loutishness. There was even a British hen party at the main stage on the last day (with 'Hen' written on the forehead of who I assume was the bride-to-be), something quite difficult to assess as a positive or a negative – that hen parties are appropriating Dekmantel, or that house and techno are colonising hen parties? ("Where are you going for your stag do?" "Objekt b2b Call Super" is welcome if also strange).
It is undoubtedly to a crowd's credit to exhibit weirdness and non-oppressive rowdiness – a brave raver jumped high off the willow tree during Motor City Drum Ensemble, while a Santa Claus waltzed through Young Marco's Boiler Room pouring people shots. After all, too many chin-stroking "connoisseurs" with their eyes glued to Shazam undoubtedly detracts from an atmosphere too. But the new, jarring sight a few years ago of England football shirts and inflatable sharks are quickly becoming commonplace at the festival, although it rarely significantly detracted from the atmosphere. If the number of braggadocious, hyper-wired men continue to predominate, however, this may not always be the case.
As it is, Dekmantel remains one of the most reliable, low-stress experiences of electronic music worldwide, not least helped by its surrounding city. For the non-camping, the ability to cycle through the mystical forest back into a city every day with a combined nightlife to rival (and in many people's opinion, surpass) the likes of Berlin's - yet with the organisation and efficiency of most of Northern Europe - seems almost too good to be true.
For all of London's history, wealth and prestige, there is of course no nightlife infrastructure that comes even close, with no venues that even remotely rival the likes of De School. As such, the case to be argued to go elsewhere for a festival every August over Dekmantel remains a steep one.
Enjoy unlimited access to 70 million ad-free songs and podcasts with Amazon Music Sign up now for a 30-day free trial
Sign up
Danger – The Flirts (Nina Kraviz, Selectors)
Two particular moments of magic bookend a weekend like Dekmantel: the first time you embed within the greenery of the festival on your first day, experiencing the release and thrill of arrival; and the charged atmosphere of the final day, when a few days' partying have taken their toll, but people want to leave everything out there on the dancefloors of a dreamy holiday.
For the former, many people flocked upon entry to Nina Kraviz opening the Selectors stage. Given over three hours to play with, it was possible to also catch much of Peggy Gou's debut performance at Dekmantel opening the main stage, although the slightly strange decision not to open the festival until the minute the artists began their sets (despite plenty of fans waiting) meant that Gou played to little to no-one for her opening period.
Gou wonderfully ended the opening set with the groover from Voilaaa, "Spies Are Watching Me", but epitomising the euphoric first few hours was a series of Italo hits from Kraviz, before she launched into her customary acid and techno. Unquestionable banger "Danger" by The Flirts had both Nina and the early bird crowd throwing shapes that felt almost mischievously early on in the weekend, less than an hour in, with excitement and glee at the remaining three days still to come.
Touch Me In The Morning - Marlena Shaw (Hunee b2b Antal, Main Stage)
For the latter feeling, that of last day exhaustive raving, the Main Stage line-up and Amsterdam weather combined for an idyllic, perfect storm that will long go down in the memories of those present. Many will have started the early afternoon with either Motor City Drum Ensemble providing the utterly reliable jams in Selectors, or Shanti Celeste, before Palms Trax and Masters at Work followed the Bristol producer on the main stage.
With the sun shining, there was little time to do anything but absorb the deliciousness of the S Tone Mix of Montego Bay's "Everything" or Mark Funk & Danny Cruz' "Givin' My Love", both played by Jay Anderson (Palms Trax). Crowds of young ravers chanting the respective refrains of "You are everything in this world to me" and "My feelings for you have always be real" was spine-tingling.
Masters at Work came next, playing a whirlwind of 1990s and contemporary house, including Karizma's "Work It Out", before Larry Heard graced the stage delivering classics from the Mr. Fingers' catalogue. While many will have taken themselves off to the likes of Helena Hauff or Call Super b2b Objekt, this was all the perfect six-hour build-up to Rush Hour masters Hunee and Antal to close proceedings.
Rifling through their customary disco and soul for a two-hour ride that flew by, including a edit of Skip Mahoney's "Janice", the ecstasy of the crowd was reflected in the sight of the two Dutch masters dancing with more intensity than most, embracing each other often. Hunee commented to Dekmantel after the performance that "when we play music, you always want to create these moments when someone falls in love with this feeling, and I fell in love many, many times tonight," and the feeling was mutual. To finish on Marlena Shaw's heart-breaking "Touch Me In The Morning" brought such hugging and the odd tear from a smitten crowd, that it was almost a cruel way to tell people to go home.
Banana Boat edit - ? (Young Marco, Boiler Room)
Every year Young Marco proves himself as the ultimate court jester of Dekmantel, spinning his most audacious of musical yarns, in directions few, if any, musical mind could either pull of themselves or even predict. In a festival defined by genre-crossing crate-diggers, local man Marco Sterk makes others look positively homogeneous, with selections that are as farcical as they are prodigious.
On Friday night he closed the Selectors stage with the magical purple smoke rising through the willow trees, as he ranged from Can's "Vitamin C" to Stringer J's "Pretty Face" to ABBA's "Gimme! Gimme! Gimme!".
The early shift on Sunday's Boiler Room was the perfect opportunity for Marco to fully roam into the wilderness, playing all manner of smile-inducing vagaries: reggae jam "Call Me Rambo" from Ackie, 1985 hit "Lo De" from French-Reunion star Ti Fock, 1993 disco track "Crusader" by Trax, and most notably a reworking of Harry Belafonte's famous "Banana Boat Song". As the words "Come Mr. Tallyman, tally my banana" rung out across the Boiler Room shelter, the cheers and laughter were audible in equal measure.
Polynomial C – Aphex Twin (DJ Nobu, UFO Stage)
When fans talk about great sets or moments in most stages, they often talk with as assumed mutual understanding of the magic of the moment, that you can sufficiently imagine an idea of what it must have felt like to be there.
This is not always the case with the UFO tent, about which fans describe an almost unknowable quality, as if what they experienced inside can not be easily imagined by someone not present, let alone described adequately with words. The battering one's soul takes in there takes on the guise of a secret shared by only those with the courage to turn down the sunshine, the beautiful greenery, the disco and the bright, smiling faces of the outside world, and strap in for brutal intergalactic warfare.
DJ Nobu ending two hours with this mystic Aphex Twin track epitmoised such an experience, leaving many lost for words, thoughts and sense on a day (the middle Saturday) that people supposedly take slightly more lightly.
Feel The Drive – Doctor's Cat (Midland b2b Palms Trax, Radion)
At night, many go to the famed De School, a converted school where the dancefloor is a sea of hedonistic darkness, or the Katharsis festival at Warehouse Elementenstraat where the likes of DJ Stingray, Rrose and DVS1 shaped up for an uncompromising line-up. The Dekmantel night line-up operated at both Shelter and Radion, featuring a beefy program including Tom Trago, Young Marco, Joy Orbison and Call Super.
One of the highlights was a five-hour b2b set between Midland and Palms Trax on Friday night at Radion, a community centre and club, with a hot dancefloor with a high ceiling, balcony area, sweat dripping from the stone walls, alleviated briefly by the ice lollies served at the bar.
The two British stalwarts took us through 3 hours of slamming house, before sliding into irresistible italo and disco, including the comical Purple Disco Machine's "Body Funk", glitzy "Hypnotic Tango" by My Mine and euphoric "Dancing" (Roger Thornhill Edit) by Tru Tones. Epitomising the fine line between punchy house and heart-melting italo was Doctor Cat's "You Can Feel The Drive", a punchy number that made all those present inhabit an omnipotent purpose to their dancing and moving shapes. By the time they ended at 6am with "That's Us / Wild Combination" by Arthur Russell, a thoroughly gruntled dancefloor was slung over each the handrails and platforms, bodies exhausted with pleasure.
Register for free to continue reading
Registration is a free and easy way to support our truly independent journalism
By registering, you will also enjoy limited access to Premium articles, exclusive newsletters, commenting, and virtual events with our leading journalists
Already have an account? sign in
Register for free to continue reading
Registration is a free and easy way to support our truly independent journalism
By registering, you will also enjoy limited access to Premium articles, exclusive newsletters, commenting, and virtual events with our leading journalists
Already have an account? sign in
Join our new commenting forum
Join thought-provoking conversations, follow other Independent readers and see their replies