Dusty Springfield's 20 greatest songs
To celebrate Dusty's 80th birthday, Graeme Ross brings us the Queen of Blue-Eyed Soul's best hits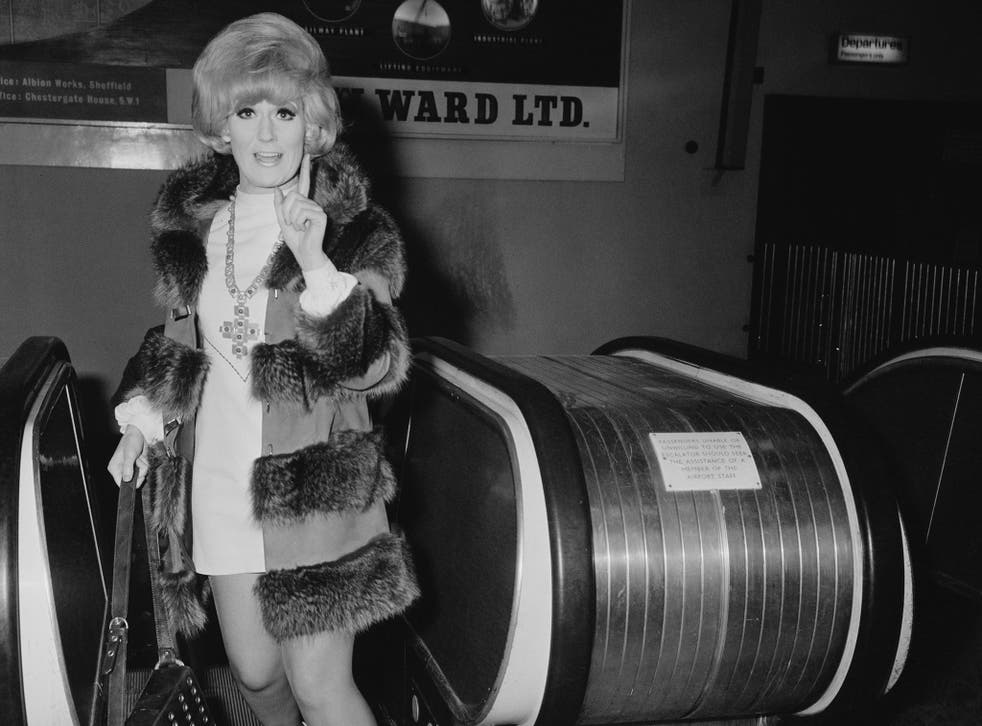 Tuesday 16 April marks what would have been the 80th birthday of Dusty Springfield, who died 20 years ago last month aged just 59. Frequently described as "The Queen of Blue-Eyed Soul" and Britain's greatest female singer, Dusty Springfield was the biggest female pop star of the 1960s and, in Elton John's estimation, she is the greatest white singer there has ever been. With her own primetime BBC television show, she was a style and cultural icon, famous for her beehive hair and panda eye makeup and loved for her huge and varied body of work.
Apart from soul as exemplified by her landmark 1969 album Dusty in Memphis, Dusty – born Mary O'Brien in Hampstead, north London – also embraced numerous other styles from the straightforward pop of her breakthrough hit "I Only Want to Be With You" and Motown-style floor fillers such as "In the Middle of Nowhere", to show tunes and torch songs and grandiose overblown epics such as her most famous song "You Don't Have to Say You Love Me". As heady as the 1960s had been for Dusty, the better part of the next two decades was the polar opposite.
Despite its now exalted status, Dusty in Memphis was a commercial failure and Dusty decamped to America and virtual obscurity. Notoriously insecure, she descended into a well-documented spiral of drink, drugs and mental health issues until an unexpected comeback in the late 1980s – which included a hit song with the Pet Shop Boys – thrust her back into the public eye and resurrected her career. Her reputation as a great artist now, exactly 50 years since the release of Dusty in Memphis, has never been higher. Here are just 20 Dusty songs that vividly illustrate why.
20. I Don't Want to Hear It Anymore (1968)
The songs on the Dusty in Memphis album displayed Dusty's impeccable taste, with the majority of the material handpicked from the catalogues of many of the great songwriters to emerge from New York's famed Brill Building production line. This is a wonderful Randy Newman song about infidelity and gossip with Dusty's achingly desolate vocal a masterclass in vulnerability.
19. Tupelo Honey (1973)
From the sadly overlooked Cameo album (and not on Spotify, so enjoy the YouTube clip instead), this is a soulful cover of the Van Morrison song from a period when Dusty had all but disappeared off the radar. Dusty's version adds a verse not on the Van original yet clocks in at just over four minutes to Van's seven; she effortlessly harnesses the emotion and sentiment of Van's lyrics, and takes the song in her own inimitable direction.
18. All I See is You (1966)
Lavishly orchestrated, big production number in the highly emotional style of "You Don't Have to Say You Love Me" which became a live tour de force. Her fourth hit single of 1966, reaching No 9 in the UK and featuring an early example of the picture sleeve with Dusty in regal pose.
17. Am I the Same Girl? (1969)
A post-Dusty in Memphis single when Dusty's star had begun to fade which sounds as if it could have come from her mid-Sixties pomp rather than at the end of the decade, when it seemed out of step with the psychedelic era. It failed to crack the top 40, but now sounds gloriously retro.
16. I Think It's Gonna Rain Today (1968)
A cover of one of Randy Newman's greatest songs that ranks alongside the composer's as the definitive version, perfectly capturing the emotional resonance of the lyrics and displaying all of Dusty's wonderful interpretive skills.
15. In the Middle of Nowhere (1965)
In April 1965, Dusty presented a live Motown special of the groundbreaking Ready Steady Go! programme that featured, among others, Stevie Wonder, the Temptations, the Supremes, and Smokey Robinson and the Miracles. It was a keynote moment in popularising black music in the UK. "In the Middle of Nowhere", a No 8 hit in the UK, was the high water mark of Dusty's own Motown phase and her tribute to the music she knew and loved so well.
Enjoy unlimited access to 70 million ad-free songs and podcasts with Amazon Music Sign up now for a 30-day free trial
Sign up
14. Wishin' and Hopin' (1964)
From her debut album, a Bacharach/David composition originally recorded by Dionne Warwick with a lovely wistful vocal from Dusty that made an ideal single, hitting No 6 in the US. However, it was never released in the UK, the Merseybeats having beaten Dusty to the punch with their hit version. Dusty memorably duetted on "Wishin' and Hopin'" with Martha Reeves on the Ready Steady Go! Motown special in 1965.
13. Just a Little Lovin' (1969)
The opening track from the epochal Dusty in Memphis that proved white girls could sing soul sets the sultry tone of the album, the perfect Sunday morning record.
12. I Close My Eyes and Count to Ten (1968)
A typically dramatic Dusty number composed by Clive Westlake who also wrote "All I See Is You", it became of Dusty's biggest hits, reaching No 4 in the UK.
11. Some of Your Lovin' (1965)
One of the many fabulous Gerry Goffin/Carole King songs she covered, with one of her most vulnerable, heartfelt vocals. Dusty considered this top10 UK hit her own favourite of her singles.
10. What Have I Done to Deserve This? (1987)
The most unlikely and heartwarming of comebacks starts here with Dusty's collaboration with the Pet Shop Boys, which she herself called a watershed in her life. An unmistakable and unforgettable Dusty vocal was layered over trademark Pet Shop Boys synth-pop and the result was an Eighties classic which reached No 2 on both sides of the Atlantic, almost two decades since Dusty's last hit. More joy followed when Dusty performed "What Have I Done to Deserve This?" at the 1988 Brits with Chris Lowe and Neil Tennant.
Top Ten Musician Biopics

Show all 10
9. Nothing Has Been Proved (1989)
"What Have I Done to Deserve This?" reinvigorated Dusty's career, introducing her to a new generation of fans and more success followed. Dusty was so inexorably linked with the Swinging Sixties era that she proved an inspired choice to provide the breathy, evocative narrative on the Pet Shop Boys theme to the soundtrack of Scandal, the film documenting the Christine Keeler-John Profumo affair in 1963. "Nothing Has Been Proved" sealed the comeback and was yet another hit for Dusty – appropriately, she even performed it on Top of the Pops – a 1960s icon singing about the 1960s on a show that defined 1960s pop culture.
8. Breakfast in Bed (1969)
A much covered song in which Dusty's sensuous vocal makes it clear that something other than food is on the menu. More than a dozen artists have tackled it, but Dusty's version from Dusty in Memphis knocks spots off all of them, although Baby Washington's version cooks too. Indicative of the impeccable choice of songs on that album, "Breakfast in Bed" was written specifically for Dusty by Muscle Shoals artists Eddie Hinton and Donnie Fritts, even including the line "You don't have to say you love me" in the lyrics.
7. Goin' Back (1966)
Goffin and King's timeless lament for the loss of childhood innocence has been recorded many times, but Dusty's version has never been bettered, demonstrating Elton John's assertion that every song she sang, she claimed as her own.
6. I Only Want to Be With You (1963)
Dusty's early success came along with her brother as part of the folk trio the Springfields, but they broke up in late 1963 and she wasted no time in launching her solo career – within a few weeks the exuberant "I Only Want To Be With You" was recorded, released and racing up the charts, eventually reaching No 4. Heavily influenced by girl groups of the era such as the Exciters and the Shirelles, and with lavish Phil Spector-style production, "I Only Want to Be With You" became the first ever song on Top of the Pops when Dusty performed it on New Year's Day 1964.
5. I Can't Make it Alone (1969)
Another classic from Goffin and King, or perhaps Dusty makes the song a classic with her wonderfully despairing vocal as she begs her lover to take her back. The final track on Dusty in Memphis, one of the greatest albums ever, and the culmination of one of the great artist songwriter collaborations.
4. I Just Don't Know What To Do With Myself (1964)
Dusty actually didn't want this released as a single because she had heard it so often she had grown tired of it. Her record company overruled her objections however and the Bacharach/David song made the top three in the UK. The "Wall of Sound" production and the vulnerability of the lyrics never at any time threaten to undermine Dusty's commanding vocal on a touchstone recording, proving that she could match Dionne Warwick as the definitive Bacharach/David interpreter.
3. The Look of Love (1967)
Dusty was famously insecure, but could there be a more assured performance in all of popular music than her breathy, seductive vocal on this Bacharach/David song from the James Bond spoof Casino Royale? Taken at an impossibly slow pace by Dusty, restrained, yet smouldering with sensuality, "The Look of Love" was Oscar-nominated for Best Original Song but lost to "Talk to the Animals" from Doctor Doolittle. Yes, really.
2. You Don't Have to Say You Love Me (1966)
Vicki Wickham, Dusty's manager, and Simon-Napier Bell grafted English lyrics onto an Italian song "lo che non vivo (senza te)" (I, who can't live [without you]), and the result was an intensely emotional, huge production pop standard with a show tune quality. A live show-stopper, responsible for the enduring image of Dusty's iconic hand and arm movements, "You Don't Have to Say You Love Me" sold a million copies and in the process became Dusty's only No 1 single and the most loved of her many signature songs.
1. Son of a Preacher Man (1968)
Originally written for Aretha Franklin, Dusty unquestionably made the song her own with a faultless performance. A top 10 single on both sides of the Atlantic, her last until she hooked up with the Pet Shop Boys, the effortlessly cool "Son of a Preacher Man" was the centrepiece of the Dusty in Memphis album and is, quite simply, one of the greatest soul records ever made, gaining new popularity when Quentin Tarantino used it on the soundtrack of Pulp Fiction.
Support free-thinking journalism and attend Independent events
Register for free to continue reading
Registration is a free and easy way to support our truly independent journalism
By registering, you will also enjoy limited access to Premium articles, exclusive newsletters, commenting, and virtual events with our leading journalists
Already have an account? sign in
Register for free to continue reading
Registration is a free and easy way to support our truly independent journalism
By registering, you will also enjoy limited access to Premium articles, exclusive newsletters, commenting, and virtual events with our leading journalists
Already have an account? sign in
Join our new commenting forum
Join thought-provoking conversations, follow other Independent readers and see their replies