Ennio Morricone: Exclusive interview with the world's greatest film composer
The great composer welcomes Rob Hastings into his house in Rome, ahead of the Academy Awards where he may, at last, win an Oscar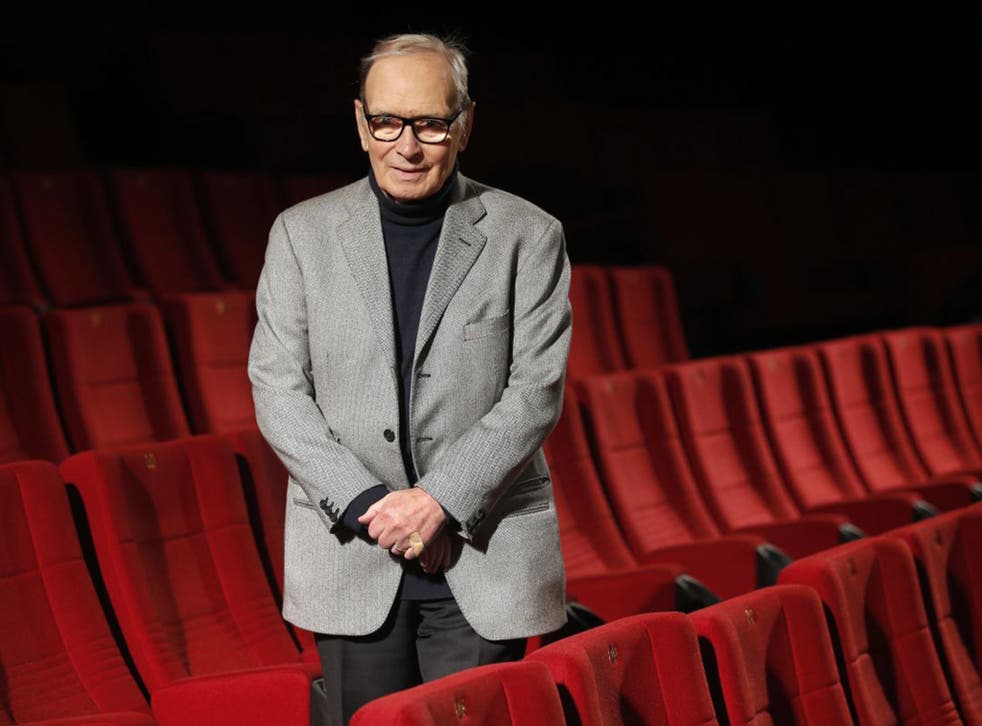 Maestro taps his hand lightly on his knee. He lowers his eyes while tapping away, as he waits for the translator to convert my question into his native Italian, as if withdrawing into himself. What's going through his mind? Perhaps a new melody is emerging, a tune for his next film score, the 500th and more of his career. Maybe a fresh rhythm has revealed itself and he'll write it down as soon as our interview is over.
Or could it be that, at 87, touring the world once again as the conductor of a full orchestra and choir to celebrate 60 years in the business, possibly just weeks from winning his first conventional Oscar, Ennio Morricone – a man who it seems will never run out of energy for life and for his art – is just doing his best to remain patient with me when he'd rather be composing?
It doesn't help that I've already had to apologise, nervously, fearful of possibly having insulted him, here in his home, in his beautiful central-Rome apartment.
I had been given advice ahead of meeting the man Quentin Tarantino calls his favourite composer – some polite guidance from his management. Firstly, I should call him "Maestro". Once I'm in his presence that seems friendly and appropriately respectful rather than fawning; "Ennio" is too familiar, "Signor Morricone" too formal. Meanwhile, I'm best not to refer to "spaghetti Westerns" – a derogatory term, in his opinion – and he prefers to not be asked solely about the old days with Sergio Leone, a genius director but only one of the many auteurs he has worked with, in a tiny proportion of his work. And there's something else: I shouldn't ask him to play the piano. He composes at his desk, purely from what he hears inside his head, and only rarely tinkles the ivories for a producer.
Still, Morricone began his work arranging pop songs, and is known as an experimental composer. So when placing unusual instruments at the forefront of his orchestral scores – think of the mystical pan pipes in Once Upon a Time in America, the Latin twang of the electric guitar in The Good, the Bad and the Ugly, or, indeed, the brooding oboe in The Hateful Eight (which you can listen to in the below video – would he not sometimes collaborate with an inner circle of trusted musicians, to try out different sounds, to help the creative process and decide which instruments best suit which melody?
Morricone, who could be 15 years younger than his real age, frowns. He tells the translator: "No, I would never do that. It would be the evidence of a very amateurish kind of composing. I have everything in my mind."
I hurriedly insist I didn't mean to suggest Maestro was an amateur. He accepts my apology with a smile. "I know that maybe you are not familiar with the way of composing music," he says, before explaining how his ideas comes to him. "When I have to score a film, I watch the movie first and then start thinking about it. And from that moment on, it is as if I were pregnant. I then have to deliver the child, so from that moment on, I think always about the music – even when I go to the grocery store, I think about it."
Suddenly he reaches to the coffee table for a pad of paper and a ballpoint pen, closes his eyes, and begins writing. He is showing me how he writes down segments of music when he finds himself with an idea in a dark film screening-room, when he needs to get a snippet of a tune down but can't see the paper, let alone the stave. For each note, he draws a few lines and then writes a note on top in one motion – rough ideas that he will work on later.
Whatever his methods, they work. Morricone's Academy Award nomination for Best Original Score, for his music to Tarantino's The Hateful Eight, is his sixth. Winning an Oscar this time, he says, would be recognition of his effort "to do something completely unique, not only different from previous Western movie scores but also completely different from all the other film scores I have written until today".
Enjoy unlimited access to 70 million ad-free songs and podcasts with Amazon Music Sign up now for a 30-day free trial
Sign up
"Quentin Tarantino sent me the script and it was so full of details. Usually this kind of reading really bores more, but in this case it was very useful to give me a very precise idea of what the film was about. When he came here, he told me this is a Western movie – but in my opinion, it was not. It was an adventure movie, set in a kind of Western setting. So I decided to do something completely different from the Western music scores I had written for Sergio Leone 50 years ago. I tried to convey a kind of irony. I wanted to stress once more the fact that, for me, this is not a Western movie."
A win later this month would also set right what is arguably one of the Academy's greatest oversights. Although he won an honorary Academy Award in 2007 – the Oscars' equivalent of a lifetime-achievement prize – Morricone has never won for an individual score.
He seems generally relaxed about his omission. "I think it is mainly because most of the movie scores I wrote were for Italian movies, many of these films never made it to the United States, so they could not be recognised."
But being beaten in 1987, when his work for The Mission was overlooked in favour of Herbie Hancock's music for Round Midnight, was really the one that got away. "Everybody was expecting me to receive the Oscar," he recalls. "In fact, the audience in the room was really disappointed and really reacted in quite a noisy way because they wanted to oppose this non-victory."
However, the honorary prize is far from a poor relation, he insists. "People tend to underestimate it, but for me it is extremely important. Sometimes you get an Oscar for a particular film because it has been so successful, has won so many Oscars, and maybe the Oscar for the music comes as an accessory. This is still important but not as important as the lifetime achievement one."
Watching the footage of him on stage receiving that award from Clint Eastwood, the star of the Dollars trilogy that made Morricone's name, you can see how much it meant to him. The composer looked overwhelmed, on the verge of tears, as he dedicated the award to his wife Maria, who was in the audience that day and had opened the door of their home to me with a smile.
The couple still live in the heart of the Italian capital, where Morricone was born. We are chatting in their beautiful living room, with a high, vaulted ceiling and three separate sofa areas – one around the fireplace, another (with a curious wooden doll sitting upon it) around a coffee table laden with neatly piled books, and the one on which we're sitting. A tapestry hangs from one wall, a record player is at the side, and out of the window the Monument to Victor Emmanuel II can be seen in the distance. It is a room that speaks of a life well lived, since the schooldays when he first encountered Leone.
Though they were only in school together for one year, when they were aged eight, there seems something happily fateful about a photo of them standing just one place apart from one another amongst rows of children.
"He changed schools and we didn't see each other for many years," says Morricone. "The first time we worked together, Sergio Leone came to my house asking me to score A Fistful of Dollars, but he actually didn't remember that I was the same Ennio Morricone from school. I recognised him from something in his face. I said, 'are you the same Sergio Leone who was in school?', and he immediately recognised me." On realising the link, they went for dinner, and one of the greatest film directing and composing partnerships was soon born.
Leone would give Morricone the ultimate composing freedom, allowing him to write the music before his films were made.
Given the artistry of the finale of The Good, the Bad and the Ugly, when "L'Estasi dell'Oro" (The Ecstasy of Gold) accompanies Tuco's search for the grave containing treasure he has been searching for, and "Il Triello" (The Trio) plays over the final shoot-out, the decision seems to have worked beautifully. "To be sincere, he is not the only director to do this," says Morricone. "Giuseppe Tornatore, another of my regular collaborators, does that sometimes. Leone and Tornatore are two directors with an understanding that sometimes it is necessary for them to leave the music uncut.
Ennio Morricone - Ecstasy of Gold (The Good, the Bad and the Ugly)
"Even if it was initially too long for a sequence, they would try to expand the sequence to add all the music because they really understood its importance." He adds, however, that: "I bear in mind that the film comes first and the music comes second."
Tornatore's long association with Morricone makes him the ideal director for the documentary he is currently making about the composer – who has also made a score for his new movie, Correspondence, with an electronic edge.
Besides continuing to score, and innovate while doing so, Morricone continues to conduct. But is he not tempted to give up touring? "I really like conducting my music in concerts," he says, "because I'm convinced it's not just for films, it has its own life. It can live far away from the images of the movie.
"Some movies work really well with music from Bach or Mahler that existed long before the film, so music has its own autonomy."
Tarantino accepted Morricone's Golden Globe on his behalf recently, saying Morricone was his favourite composer bar none – and that would include Bach and Mahler. But Maestro plans to be in LA himself for Oscars night, and if he doesn't win, it's easy to imagine the mood in the audience resembling that night in 1987.
Ennio Morricone conducts at the 3Arena in Dublin on Sunday and at the O2 Arena in London on Tuesday (www.enniomorricone.org)
Register for free to continue reading
Registration is a free and easy way to support our truly independent journalism
By registering, you will also enjoy limited access to Premium articles, exclusive newsletters, commenting, and virtual events with our leading journalists
Already have an account? sign in
Register for free to continue reading
Registration is a free and easy way to support our truly independent journalism
By registering, you will also enjoy limited access to Premium articles, exclusive newsletters, commenting, and virtual events with our leading journalists
Already have an account? sign in
Join our new commenting forum
Join thought-provoking conversations, follow other Independent readers and see their replies