'24's Kiefer Sutherland on finally having the chance to star in Western with father
After playing Jack Bauer for a ninth season, he decided now was the right time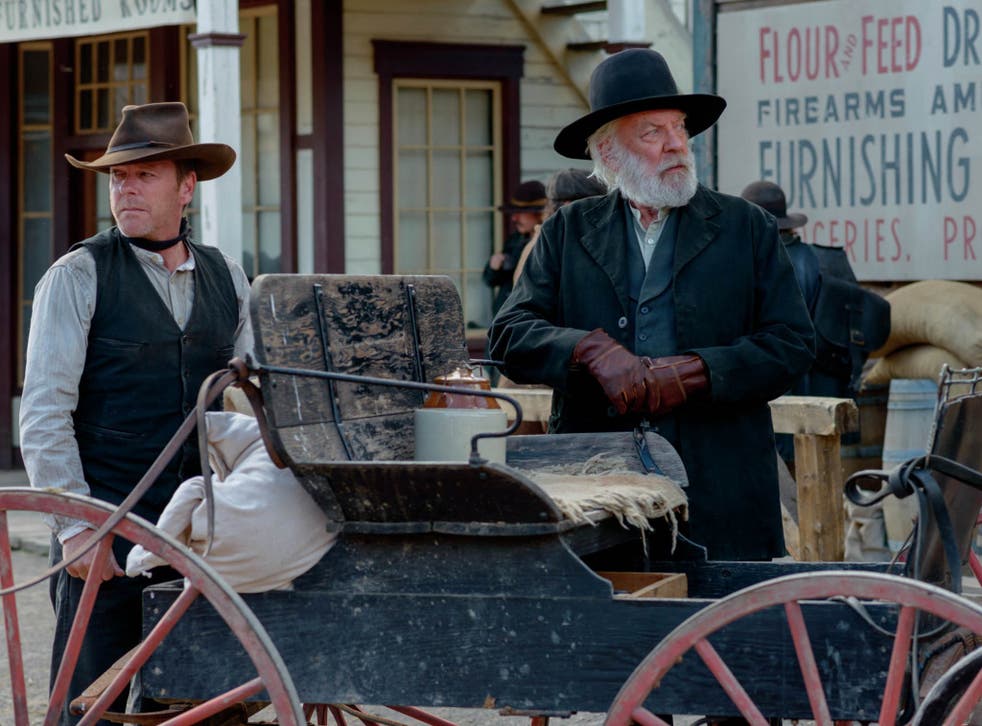 Throughout his time racing against the clock in the high-octane TV drama 24, Kiefer Sutherland harboured a dream. It was a desire that had burned within him ever since he decided to follow in his father Donald's footsteps and become an actor, that one day he would star in a film alongside his dad. The pair have twice appeared in the same movie – in Max Dugan Returns (1983) and A Time to Kill (1996) but never with any significant screen time between them.
After playing Jack Bauer for a ninth season, he was with Donald, now 80, when he "looked up at my father and I thought, wow, I don't have much more time to do this". Over the course of a 30-year-career, Sutherland Jnr had yet to come across a script that he felt would be suitable for them both, so he decided to take the bull by the horns. He thought about On Golden Pond, the family drama starring Henry Fonda and his daughter Jane.
"That is the perfect film where it was done," says the actor. "They got to play father and daughter. An audience thought they got to have a glimpse into real life – although it was not their real life – and that was what I wanted to do."
Wracking his brains, the 48-year-old kept on returning to the classic Western Shane, which features Alan Ladd's young gunslinger coming to town in search of a quiet life but becoming embroiled in a battle between a homesteader and a ruthless cattle baron. "I thought, 'What if it was a son coming back and he has all the same problems?'" At a dinner Sutherland told his friend, the Body of Evidence screenwriter Brad Mirman, who duly started penning Forsaken.
Sutherland Snr was excited about playing Reverend Clayton, who preaches peace and turning the other cheek. He doesn't want his son, who he has not seen since the death of his wife, to take up arms in a battle over property. The supporting cast is made up of friends of Kiefer Sutherland – actors he has worked with before, including Demi Moore (A Few Good Men), Michael Wincott (24: Live Another Day) and Brian Cox (they appeared together in a 2011 revival of the Pulitzer Prize-winning play That Championship Season). Although the action is set in Wyoming in 1872, Sutherland felt that it was important to shoot in Canada, where he and his father are citizens.
Sutherland was born, alongside his twin sister, Rachel, at St Mary's Hospital in London. His mother, Shirley Douglas, is a Canadian film and television actress who was married to Donald for four years between 1966 and 1970.
As a teenager, watching one of his father's best performances in Ordinary People – Robert Redford's drama about a disintegrating family – created angst within Kiefer. A few years after it came out, he remembers meeting Timothy Hutton, the actor who played Donald's screen son. He recalls: "I walked up to Timothy Hutton when I was about 22 and said: 'You stole that moment from me and my dad. I didn't grow up with my dad and I wanted that moment with my father.' Timothy looked at me and said: 'I have got to buy you a drink now.'"
By that time, Sutherland was already a star in his own right. He had played the bully in Stand By Me (1986) and the mysterious vampire gang leader in The Lost Boys (1987). By 1988, he was starring in the "brat pack" Western Young Guns alongside Emilio Estevez and Lou Diamond Phillips, which spawned a sequel two years later. It was one of the last throes of the genre before cowboy movies ran out of bullets.
"I was lucky enough to make a Western 25 years ago," says Sutherland. "I've had actors from Robert Downey Jnr to Kevin Bacon say, 'you're so lucky to have made one'. It's a time-gone-by thing. Hollywood studios will make Westerns with aliens, and try to redo it, but they don't realise that the format of the Western is a beautiful thing for telling stories. New York and Los Angeles – the places where films are made – have long left the middle of America behind, I think Westerns are a part of that. I know that when I'm 80 years old I'll see Robert Downey Jnr and say, 'you still haven't made a Western'."
Enjoy unlimited access to 70 million ad-free songs and podcasts with Amazon Music Sign up now for a 30-day free trial
Sign up
He was married to Camelia Kath for just over a year and they have a daughter, Sarah Sutherland, an actress best known for her role as the President's daughter in the US sitcom Veep. Sutherland offered his daughter a role in Forsaken but she turned it down. "I don't give her advice," he says. "My daughter is one of the smartest people that I've ever met, and one of the nicest things that both of my parents did for me was that, when I started working as an actor, it was a sink-or-swim thing. My parents didn't give me advice. They didn't help me out. They didn't get in my way, either. It was my thing and I have tried to have the same philosophy with my daughter."
As Sutherland's fame grew, so did his notoriety. The tabloids had a field day when Sutherland became engaged to the Pretty Woman star Julia Roberts. They met on the set of Flatliners in 1990, but three days before they were scheduled to be married in June 1991, the wedding was called off, with Sutherland accused of having a liaison with a stripper. Those troubled times also saw him arrested for drink-driving, and he has tattoos on his arms commemorating the times that he has been jailed for driving under the influence. "I have them so that I can see them when I'm driving," he quips. Yet his follow up of "ah, fuck that!" is suggestive of a man who laments having spent 48 days in jail in 2008.
Jack Bauer saved him. In the 1990s, when Sutherland's film career had begun to wane and he was appearing in straight-to-video releases, 24 put him back in the spotlight and gave him a decade-long run with a character that seemed to defy the odds by continuing way after the usual television-show sell-by date.
Although he reprised his Bauer role for a London spin-off in 2014, Sutherland says the counter-terrorist hard man will not be back. "I recently had lunch with Howard Gordon, who has been the head writer for the show for eight years or so. They are working on a new show and it will not be with me. Trust me, if I could have done 24 for the next 20 years I would have done it, but there are only so many bad days one guy can have. At some point, it is going to become ridiculous, and we are on the verge of it becoming ridiculous. Some people will tell you that we've gone beyond the point where it became ridiculous, so, out of respect for the experience, we had to stop."
The end of the show has given him the freedom for projects such as Forsaken. He says working with his father was joyful in unexpected ways. "I waited 30 years to make this film and expecting it to be life-changing. But truth is that between action and cut, nothing was different. The great time was outside [shooting], when we got to talk about what we wanted to. It wasn't until the last few days that I realised this was the most time I've spent with my father. I never got to spend nine weeks with my dad before."
Proudly, Sutherland discovered that they both prepared for parts in the same way, mapping out characters by writing a little book. They also liked to say their dialogue out loud when they arrived on set, before the cameras rolled. They laughed a lot. "I kind of liken it to a father teaching his son to fish. It was a little late, but I got to make a movie with my dad. It was the coolest thing ever."
Forsaken is out next year
Join our new commenting forum
Join thought-provoking conversations, follow other Independent readers and see their replies