#60 hits: The hit parade turns 60!
Actors, musicians, writers, politicians and other household names choose their perfect records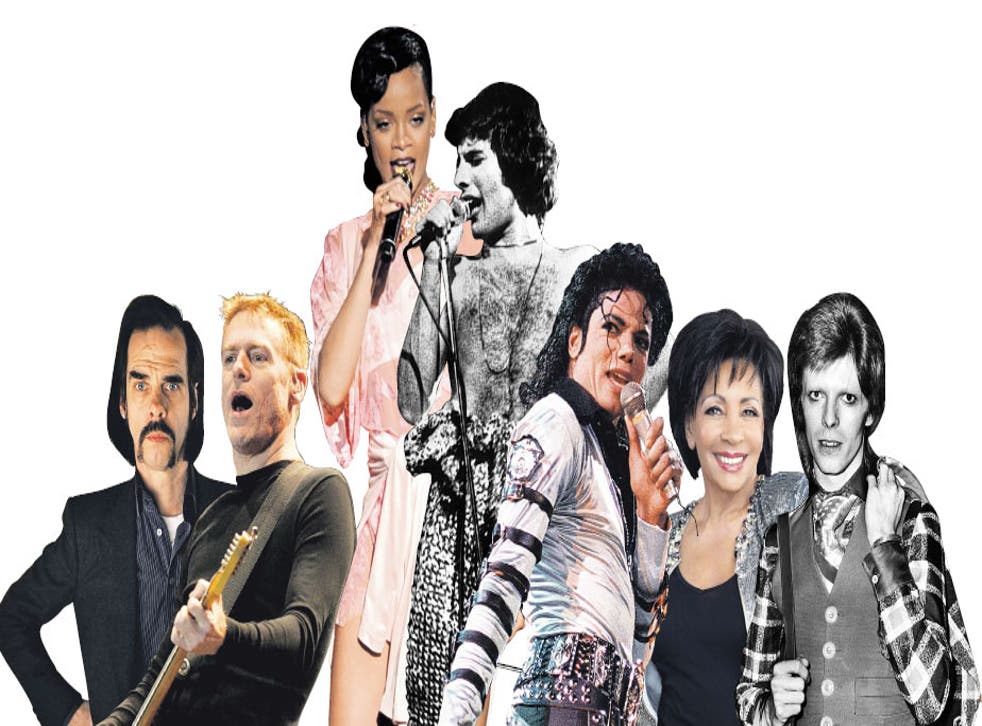 On 14 November 1952, NME published the first UK singles chart. 'Here in My Heart' by Al Martino scooped No 1.
To celebrate the 60th anniversary, we asked 60 of Britain's leading personalities to name their perfect record, and explain why.
The twist: they had to tell us in 140 characters orfewer. Spaces count Join our Twitter campaign and tell us your favourite chart sensations!
Here they are:
Germaine Greer @TheFemaleGreer, 'The Female Eunuch' author and feminist
"Reach Out (I'll Be There)": When you're struggling with your PhD thesis, it made you leap off your desk and jump around. Four Tops, No 1, 1966
Baroness Mary Warnock,

British philosopher and writer
"Bye Bye Love": I especially loved the line 'Hello Emptiness'. It says it all. Their style was unique. The Everly Brothers, No 6, 1957
Gus Unger-Hamilton @gusunger

, One quarter of Mercury-winning band Alt-J
"1 Thing" is the perfect single for me. A great song, made for radio – it didn't matter that we never heard from her again. Amerie, No 4, 2005
Alastair Campbell @campbellclaret

, Former spin doctor for Tony Blair
"Chain Reaction" is the first one that came to mind when you asked me the question. Diana Ross, No 1, 1986
David Morris @MPDavidMorris

, Conservative MP, was on Top of the Pops
"Silly Love Songs" is cleverly written and produced, building up to a crescendo with an amazing horn section. Wings, No 2, 1976
Peter Tatchell @PeterTatchell,

Gay rights activist
"Imagine" captures the aspiration for a more enlightened, fairer world. If politicians put those lyrics into practice, we'd end war. John Lennon, No 6, 1975
Enjoy unlimited access to 70 million ad-free songs and podcasts with Amazon Music Sign up now for a 30-day free trial
Sign up
Jake Arnott @JakeArnott,

Author of The Long Firm. Yet to tweet.
"Johnny Remember Me": A haunting voice calls out from an echo chamber wilderness in a weird and wonderful melodrama. John Leyton, No 1, 1961
Kate Mosse,

Author and co-founder of the Orange Prize
"Wuthering Heights" was one of those songs that seemed to be the backdrop to growing up. It was the first grown-up novel I read on my own. Kate Bush, No 1, 1978
Philip Hensher @PhilipHensher,

Novelist, critic and journalist
"Sexx Laws" makes you laugh, want to dance, play it to the one you love.You can't ask more than that. Beck, No 27, 199
Jenny Colgan @jennycolgan,

The chick-lit queen with a passion for Doctor Who
"Do They Know It's Christmas?" I was 13. Every girl at school had their own line. I liked to think I would sing a duet with Paul Young. Band Aid, No 1, 1984
Heather Peace @heatherpeace,

Lip Service and Waterloo Road actress, musician
"Billie Jean" never fails to excite me when the drum be
at kicks in. Timeless.Michael Jackson, No 1, 1983
Dani Harmer @MissDaniJHarmer,

Tracy Beaker actress, singer and performer
"Bohemian Rhapsody" is an amazing, iconic song by an iconic band. Nothing in my opinion has ever come close; the lyrics and tune are superb. Queen, No 1, 1975
Harriet Harman @HarrietHarman,

Labour deputy leader, shadow Culture Secretary
"A Whiter Shade of Pale" is the perfect song for being 17, which I was at the time. Procul Harum, No 1, 1967
Josie Long @JosieLong,

Comedian
"I Get the Sweetest Feeling" reminds me of my mum. The song is just sweet, cheerful and lovely. It makes me happy. Jackie Wilson, No 9, 1972
Kirstie Allsopp @KirstieMAllsopp,

Location, Location, Location presenter
"Red Red Wine": It's a rare music fact, but this song was actually written by Neil Diamond who is a big favourite of mine. UB40, No 1, 1983
Dave Berry @daveberry_tweet,

Capital FM breakfast show host and TV presenter
"Like a Rolling Stone": I'm a huge Dylan fan. He's still such a big influence on everything, even now. Bob Dylan, No 4, 1965
Edwina Currie @Edwina_Currie,

Former Conservative minister
"Penny Lane" because I used to live there – it's an anthem to suburbia! The Beatles, No 2, 1967
Tony Benn @TonyBenn,

Firebrand of the British left for 50 years
"Give Peace a Chance": it's what the whole thing is about. John Lennon, No 2, 1969
Jo Brand,

One of Britain's favourite stand-ups
"This Old Heart of Mine (Is Weak for You)" is the perfect pop song; it has everything in it. Isley Brothers, No 47, 1966
Owen Jones @OwenJones84,

Columnist and author of Chavs
"Last Goodbye" has to be the ultimate break-up song. The gut-wrenching,head-over-heart end to a loving relationship that has no future. Jeff Buckley, No 54, 1995
Ken Bruce @R2KenBruce,

Radio 2 Presenter
"A Hard Day's Night": The defining moment when my musical taste changed overnight from child to teenager. The Beatles, No 1, 1964
Paul Flynn @Paulflynnmp,

Labour MP for Newport West for 25 years
"Will You": Sultry, sensuous, invitation intertwined with an emotion-churning saxophone caress. Irresistible. Hazel O'Connor, No 8, 1981
Vanessa Feltz @Vanessa Feltz,

Breakfast radio show host
"Killing Me Softly with His Song" was the first record I ever bought – it's dark and sensual. Roberta Flack, No 6, 1973
Jilly Cooper @Jcooper_author,

Author, dubbed 'Queen of the bonkbuster'
"What a Wonderful World" because it's just optimistic, which is particularly important in a time like this. Louis Armstrong, No 1, 1968
Tony Robinson,

Blackadder actor turned Time Team presenter
"Please Please Me" and The Beatles changed my life: finally there was a non-American band that played music I loved. The Beatles, No 2, 1963
Davina McCall @ThisisDavina,

TV presenter best known for Big Brother
"Oliver's Army" is by one of the great singer/songwriters of our time and this track is still relevant today. Elvis Costello & the Attractions, No 2, 1979
Rich Clarke @RichClarke,

Big Top 40 Show presenter
"We Found love" is an anthem for any situation. Performed live it's amazing. Rihanna feat Calvin Harris, No 1, 2011
Joanna Lumley @Lumleynews,

Absolutely Fabulous actress, Gurkha activist
"Are You Lonesome Tonight?" because Elvis is talking to me and also he did a great version where he cracked up. Elvis Presley, No 1, 1961
Lembit Opik @lembitopik,

One-time politician and Cheeky Girl beau
"A New England": from the first time I heard it I was entranced with Kirsty MacColl and followed her avidly until her death. Kirsty MacColl, No 7, 1985
Joan Smith @polblonde,

Author and columnist. Phone-hacking victim
"Girls Just Wanna Have Fun": You can dance and sing to it – it's the perfect pop song. Cyndi Lauper, No 2, 1984
Colm Toibin, Novelist,

playwright, poet
"His Latest Flame" is the most beautiful and true song of all time. I recently sang it throughout a dental operation! Elvis Presley, No 1, 1961
Sally Gunnell @sallyGunnell,

Olympic champion in the 400m hurdles
"Wonderwall": I've seen it live and it's the song I always get up and sing at karaoke. Oasis, No 2, 1995
Brian Paddick @brianpaddick,

Mayoral 2012 candidate
"Diamonds Are Forever" was the first single I ever bought and a clear indication of what was to come. Shirley Bassey, No 38, 1972
Iain Banks,

Scottish writer, with two identities
"Give Ireland Back to the Irish", despite being banned by the BBC, still reached number 16 and proves popularity transcends censorship! Wings, No 16, 1972
Steve Brookstein, @stevebrookstein, First X Factor winner
"Baggy Trousers" is a classic tune that's stood the test of time. Madness, No 3, 1980
Andrew Marr,

Host of The Andrew Marr Show, journalist
"Dig, Lazarus, Dig!!!": it's very funny, very daring. Quite mordant and musically pretty irresistible. Nick Cave and the Bad Seeds, No 66, 2008
Kate Nash @katenash,

Singer-songwriter. Brit award winner
"Smells Like Teen Spirit" makes me want to move in certain ways and always makes me happy. Nirvana, No 7, 1991
Peter Hooton,

Liverpudlian frontman of The Farm
"God Save the Queen" summed up that period, the rebelliousness of the time – it was banned and still made it to the top of the charts. Sex Pistols, No 2, 1977
Alex Horne @AlexHorne,

British comedian. Host of The Horne Section
"I Think We're Alone Now" is a soulful interpretation of Romeo and Juliet with better rhymes and a lower body count. Tiffany, No 1, 1988
Lord Adonis @Andrew_Adonis,

Former cabinet minister
"Money, Money, Money" made me feel cheerful around the doom and gloom of the 1970s. Abba, No 3, 1976
Ross Kemp,

Ex-EastEnders actor; documentary maker
"Mr E's Beautiful Blues" is an uplifting song that can pick you up when you are down. It is on the iPod and I have played it on loop. Eels, No 11, 2000
Eric Pickles @EricPickles,

Communities Secretary
"No Woman, No Cry" sung live brings out the power and talent of one of the late 20th century's greatest musicians. Bob Marley & the Wailers, No 22, 1975
Tom Aikins @tomaikins,

Michelin–starred chef and restaurateur
"Thriller": for the incredible choreography of the dancing in the video. Michael Jackson, No 10, 1983
Rowan Pelling,

Columnist, one-time editor of Erotic Review
"Wuthering Heights" is the song I first practised dancing to and I still love Kate Bush. Kate Bush, No 1, 1978
Ed Balls @edballsmp,

Shadow Chancellor
"Apache" was always my first real memory of music. It still quickens the heart and casts me back to when I was eight. Lovely memories. The Shadows, No 1, 1960
Bob Flowerdew,

Organic gardener, author and broadcaster
"Sympathy": I sing it all the time. It's the lyrics – a Dylan-ish protest song – in a minor key which suits my voice. Rare Bird, No 27, 1970
Diane Modahl @dianemodahl,

English former middle distance runner
"Let's Get It On" is my all-time favourite song. I absolutely love it – when you put that CD on you feel it in your gut it's so good! Marvin Gaye, No 31, 1973
Esther Rantzen @ERantzen,

Television presenter and founder of Childline
"Simon Smith and the Amazing Dancing Bear": The poetic lyrics were so original and different. Every time I hear it, it makes me smile. Alan Price Set, No 4, 1967
Greg Knight MP @gregknightmp,

Senior government whip "Rag Doll" is a perfect pop song; terrific tune, great production and that fabulous, soaring falsetto of Frankie Valli. Frankie Valli & the Four Seasons, No 2, 1964
Isabella Hervey,

Socialite, model and actress
"Fast Car" reminds me of when I went to South America backpacking for three and a half months when I was 18. With very few responsibilities! Tracy Chapman, No 5, 1988
Alan Johnson,

Labour MP for Hull West and Hessle
"Watching the Detectives" was the kind of recording that stopped you in your tracks. It was the first time I heard Costello. Elvis Costello and The Attractions, No 15, 1977
Sir Bob Russell,

Lib Dem MP for Colchester
"Walking Back to Happiness" takes me back to teenage years; happy days of sunshine, our lives before us. I wish it played at my funeral. Helen Shapiro, No 1, 1961
Charles Walker,

Conservative MP for Broxbourne
"Vienna": Quite simply, it reminds me of being young. Ultravox. No 2, 1981
Glyn Davies @GlynDaviesMP,

Conservative MP for Montgomeryshire
"House of the Rising Sun": I listened to it on tape in the car, and performed what I thought was a passable duet with Eric. The Animals, No 1, 1964
Tom Harris @TomHarrisMP,

Shadow Minister for the Environment
"Northern Lights": Beautiful song which I listen to regularly even today, but in 1978 was the first single I ever bought. Renaissance, No 10, 1978
Chris Grayling,

Lord Chancellor, Secretary of State for Justice "Your Latest Trick": The opening sax sequence is brilliant. Dire Straits, No 26, 1986
Kevin Brennan @KevinBrennanMP,

Shadow Minister for Schools
"Starman": When Bowie sang Starman on ToTP it was like a message from another planet for a South Wales boy. Changed my life and my haircut. David Bowie, No 10, 1972
Max Clifford @maxclifford1,

Celebrity publicist
"Annie's Song": Beautiful words, melodies and very romantic. I worked in the music business at the time – I told people I co‑wrote it. John Denver, No 1, 1974
Patsy Kensit @RFTpatsy,

Model, actress, once married Liam Gallagher
"The Seeker" makes me feel triumphant, happy, angry, sad and rebellious. The Who are my favourite band on the planet! The Who, No 19, 1970
Register for free to continue reading
Registration is a free and easy way to support our truly independent journalism
By registering, you will also enjoy limited access to Premium articles, exclusive newsletters, commenting, and virtual events with our leading journalists
Already have an account? sign in
Register for free to continue reading
Registration is a free and easy way to support our truly independent journalism
By registering, you will also enjoy limited access to Premium articles, exclusive newsletters, commenting, and virtual events with our leading journalists
Already have an account? sign in
Join our new commenting forum
Join thought-provoking conversations, follow other Independent readers and see their replies