A guide to New Year's Eve party Nirvana
Four of Britain's top DJs give their verdict on how to party into 2015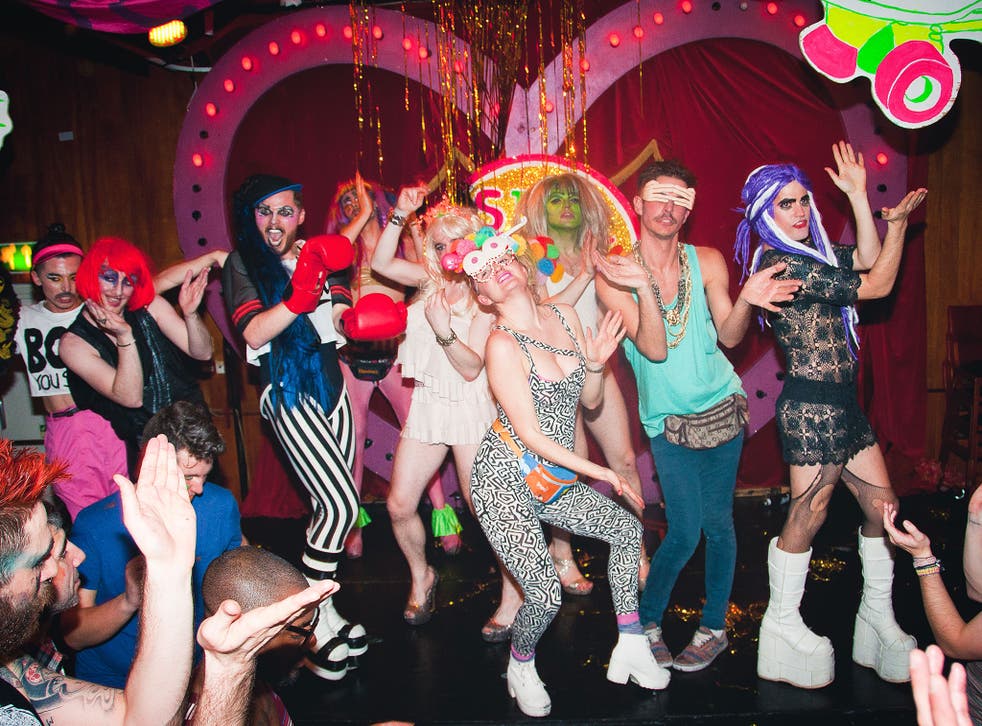 Raf Rundell, The 2 Bears
The 2 Bears play and DJ at polysexual dance-party crew Sink the Pink's NYE event at Shapes, London E9 (sinkthepink.co.uk)
My essential New Year's Tracks
Dan Beaumont – "Trippy Pumper", 2014
Just a really good club record that's come out this year. It's like old New York house music – and the title's amazing.
Alex Reese – "Pulp Fiction", 1995
It's this big bassline tune from my youth. We play a lot of house and techno and disco, but it's nice to play a bit of something different.
LadyCop – "To Be Real", 1996
An amazing reworking of the Cheryl Lynn big disco track, it's a robotic funk version, big and camp.
Big Daddy Kane – "Mr Pitiful", 1990
This is a classic early 90s hip-hop record: a brilliant sample, wicked MC, good honest music.
Michael Jackson – "Rock With You", 1979
People want to hear tunes that they know and love – when you hear those good-time records out on a big sound system … you can't really mess with them.
Do you mind working on the night?
Putting the party on with the Sink the Pink gang doesn't ever really feel like work. Sometimes if you're DJing in Coventry on a wet Wednesday, or you're on a Ryanair flight to Ibiza with a load of people vomiting in your lap, then that feels like work ….
What was your best ever New Year?
Amazingly, I had a really brilliant one on the Millennium. I was with a wicked gang of people, we were down by MI6 on Vauxhall Bridge and watched the fireworks there, then we walked up to Fabric.
And the worst?
Being forced into buying a ticket for some absolutely god-awful trance thing at the Brixton Academy. I ended up going home and watching [Channel 4 DJ takeover experiment] House Party on the telly.
And how do you recover?
New Year's Day is going to pick up the kids and hoping I don't feel too terrible. Then all the usual stuff: Bloody Marys, bad television, chicken jalfrezi.
Gilles Peterson
Peterson DJs at The Prince of Wales, London SW9 (pow-london.com) and the Total Refreshment Centre, London N16 (totalrefreshment.net)
Enjoy unlimited access to 70 million ad-free songs and podcasts with Amazon Music Sign up now for a 30-day free trial
Sign up
My essential New Year's Tracks
Jose Prates – "Nana Imboro", 1958
This has been my holy grail record for the last year. It's the original version of the most famous of all Brazilian songs, "Mas Que Nada". My search culminated yesterday morning!
Speedometer – "Happy", 2014
I like to play something people won't expect. This is a mod jazz instrumental version of the Pharrell Williams' song – people go mad for it.
Sun Ra – "Space is the Place" 1973
At midnight, you can get away with anything. It's a great opportunity to say thank you very much to Sun Ra up in space, who would have celebrated 100 years this year.
DJ Rashad – "We Get High" 2014
DJ Rashad was one of the most exciting new producers and he died this year, really young – he was the king of footwork. New Year's Eve is a time to have a great big party but also to reflect on the year.
What was your best New Year's Eve?
My best were in Tokyo – I'd land on the 31st, go straight to the club, and come back the next day, so you wouldn't get the jetlag.
And the worst?
The year before last I was in Hong Kong and I suddenly thought: what am I doing here, I want to be my friends. I felt really lonely.
Do you mind working on the night?
I wouldn't just go anywhere – the thought of being in the West End… it would be like hell. This year I'm in Brixton, brilliant, and finishing off a party in Stoke Newington which is about a two-minute walk from my house! I've planned it really well.
And how do you recover?
I enjoy being a voyeur on New Year's Eve – I probably won't drink or any of that stuff, and I'll have my mad day the day after.
Heidi
Heidi is DJing at The Warehouse Project, Manchester (thewarehouseproject.com) and the Tobacco Dock, London E1 (londonwarehouseevents.co.uk)
My essential New Year's Tracks
Cajmere & Russoul – "Let's Dance", 2011
A great one to open with. It gets everyone in a great mood. I always play it.
Steve Bug – "November Girl" (Martin Landsky remix), 2003
This is a really old track that has never left my box. It has the most incredible analogue bass line in it. I will play it until my last days on earth.
Jimmy Edgar – "Burn", 2014
Jimmy is one of those producers who has his own style; I call it electro robot funk. Sets the floor on fire.
Daniel Avery – "All I Need" (Roman Flugel remix), 2014
This is my favourite track of 2014. Roman Flugel's remix is so epic – it sounds like five tracks in one. This is great to play late at night/morning – it warps people's brains.
What was your best ever New Year?
Honestly, I can't remember! They all blend together.
And your worst?
That would definitely be four years ago. I spent it alone in a car with a stranger driving to Manchester. No fun zone.
Are crowds different at New Year?
Yes. They are drunk waaay too early and usually lose steam around 2am. So it's my job to pick them up and inject them with some stimulating music until the sun comes up.
And how do you recover?
I hop on a plane and head to Tulum in Mexico – I need to decompress on a beach after a year of music madness. My ears always thank me for this.
Huxley
Huxley is DJing at the Warehouse Project, Manchester (thewarehouseproject.com) and The Perfect Night, Chester (chester-races.co.uk)
My essential New Year's Tracks
Paleman – "Beezledub", 2014
This has been huge this year. I've been a fan of Paleman for ages, but this one really has its own personality, with the horns and its weird bass line.
Chambray – "Ghetto Giants", 2014
It reminds me of the jacking house of the Nineties, it's almost impossible not to dance to it. And everywhere I've played it, from Stattbad in Berlin to Fabric in London, it's always done the trick.
Transmission 5 – "Paranoid London", 2013
Killer – it's just the bass line, and the drum machine and the vocal, but it proves that you don't really need much else to work really.
Mad Mike – "Work Me", 1993
Mad Mike is a legend from [record label] Underground Resistance. This track is almost the perfect house record for me – I love playing it.
Do you mind working on the night?
It's a pretty busy couple of days, but it's more fun to be doing it than not.
What was your best ever New Year?
It might be last year actually. I did five shows in three days, but every show I played was great.
And the worst?
When I was about 15, and me and my friends spent New Year's Eve walking around, drinking cider and generally being depressing.
And how do you recover?
I go to bed for about two days, watch a lot of crap television and literally don't listen to any music until the next week.
Register for free to continue reading
Registration is a free and easy way to support our truly independent journalism
By registering, you will also enjoy limited access to Premium articles, exclusive newsletters, commenting, and virtual events with our leading journalists
Already have an account? sign in
Register for free to continue reading
Registration is a free and easy way to support our truly independent journalism
By registering, you will also enjoy limited access to Premium articles, exclusive newsletters, commenting, and virtual events with our leading journalists
Already have an account? sign in
Join our new commenting forum
Join thought-provoking conversations, follow other Independent readers and see their replies