A pair of blue suede shoes: Rhodri Marsden's Interesting Objects No.98
The blue suede shoes that provided the inspiration for Carl Perkins' song were neither blue, nor suede
Rhodri Marsden
Saturday 30 January 2016 01:44 Comments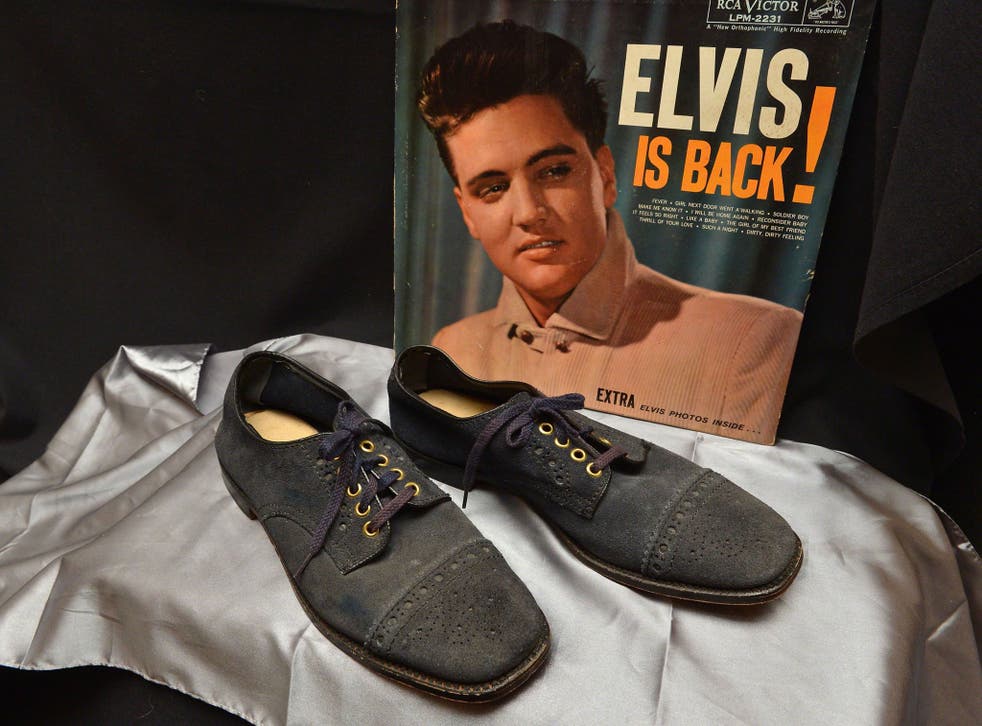 Sixty years ago today, Elvis Presley walked into RCA's New York studios to record some songs for his debut album. On the list was "Blue Suede Shoes", a song we exclusively associate with Elvis – but his recording was a cover version. The original, written and recorded by his Sun Records label mate Carl Perkins, had been released 29 days earlier and was struggling in the charts. "[Elvis] did it more as a tribute thing than anything else," recalled guitarist Scotty Moore.
The blue suede shoes that provided the inspiration for Perkins' song, however, were neither blue, nor suede. In an interview in 1988, Johnny Cash told the story of his US Air Force colleague, CV White, with whom he was stationed when serving in Germany.
"He got dressed up for a three-day pass," recalled Cash, "and in his mind, when he put on his clothes to go out, his [military regulation airmen's] black shoes were blue suede. He would say 'Man! Don't step on my blue suede shoes, I'm going out tonight'."
Cash told this story to Perkins and suggested he write a song about it – but Perkins, remembering the old adage of writing about what you know, shrugged it off. "I don't know nothin' about them shoes," he told Cash.
Towards the end of 1955, Perkins was playing a show in Jackson, Tennessee, when he noticed a couple near the stage having a minor tiff. "Don't step on my suedes!" said the irate man to his partner. Perkins remembered Cash's story, and later that night, at 3am, he found himself scribbling the words on the side of a brown paper potato sack.
By the end of March 1956, three months after the first recording had been made, no fewer than 11 versions of "Blue Suede Shoes" had been released in the States. Elvis's, however, was never a US hit, only reaching #24.
Register for free to continue reading
Registration is a free and easy way to support our truly independent journalism
By registering, you will also enjoy limited access to Premium articles, exclusive newsletters, commenting, and virtual events with our leading journalists
Already have an account? sign in
Join our new commenting forum
Join thought-provoking conversations, follow other Independent readers and see their replies