Above & Beyond: 'Some music feels more like a business operation than art'
In New York, the UK trance act play to a rapturous crowd at the Barclays Center and speak to The Independent about their latest album 'Common Ground'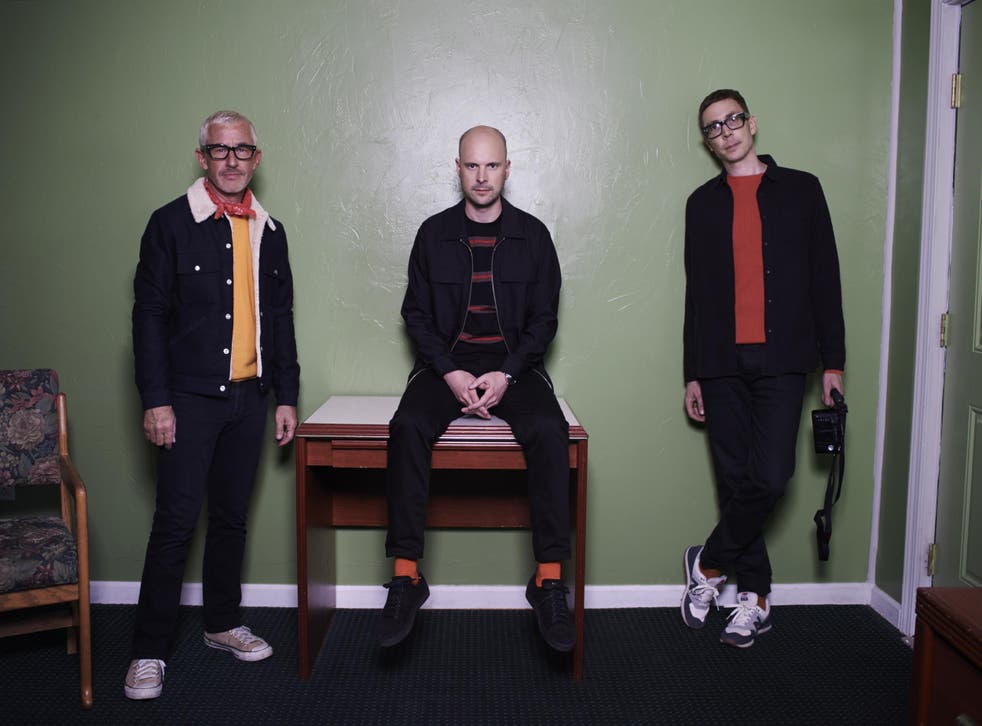 Fans of English trance/electronic trio Above & Beyond are a wonderfully friendly bunch. Case and point: one very lost journalist struggling to work out the New York subway system overhears a woman say she's also going to the Barclays Centre; follows her out of the station, and gets an offer to share a cab with her to the venue.
They swap numbers and end up finding one another on the standing (or in this case dancing) area of the arena, and jump about like lunatics for the better part of two hours. By the end of the night the journalist has made five new friends and has an offer of a place to stay next time she's in the city.
Encounters like this seem fairly common among the A&B fanbase. Hanging out with the band backstage and watching as they do a brilliantly raucous meet-and-greet, you see people shouting cheerfully to one another like long-lost relatives; talking about the last time they saw one another (always at a previous A&B gig).
Perhaps it's the euphoria you experience at one of their shows, that brings so many people together in such a beautiful way. On the night of their Barclays Centre show, the sold-out venue is ablaze with dazzling light displays, and artwork broadcast on a giant screen behind Jono Grant and Tony McGuinness, as they guide their audience through a seamless show.
The gigs have its own rituals, including the hugely anticipated "button push", where a fan and his-or-her friends are invited on stage and one person is given the honour of pushing a button to blast out the next track. Sometimes A&B bring on a famous face to do it, like Bryan Cranston – who appeared in character as Walter White from Breaking Bad and bellowed "Say my name" at the crowd at a gig in 2015.
Common Ground, Above & Beyond's new album, recently debuted at No 3 in the US charts – quite a feat for an English band – and has been met with a particularly rapturous reception by fans. Work on it began around three years ago with "Northern Soul", and was chopped and changed until they had a record with a perfect dynamic of highs and lows.
"The way we write – we end up with loads more songs than we need, then inevitably some songs get carried on to the next album," Grant says. "You can end up with too many songs in a certain style, and it's really important for us to get that balance right. We definitely wanted to make sure the album had quite a lot of space in it, and we weren't trying to make tracks that were ready for the radio – it was a bit more experimental."
Above & Beyond - comprised of Grant, McGuinness, and Paavo Siljamäki - are something of an anomaly because their success is entirely theirs: their operation is run by an independent team, on an independent label they created themselves. In the early 2000s, it was all about being on Radio 1 – Above & Beyond included – before they realised they were very happy to do their own thing and work outside of what the industry expected of any band wanting to be successful.
"If you're relying on the 'gatekeepers', you're putting your careers in other people's hands," Grant says. "So we wanted to do things out own way, and it was kind of a happy accident – we had deals with major labels, so we had some success in that area, but what would happen is that we'd deliver the next single and they wouldn't be interested because they didn't think it would go on the radio. They were only interested in the short term."
Enjoy unlimited access to 70 million ad-free songs and podcasts with Amazon Music Sign up now for a 30-day free trial
Sign up
Their fanbase in the US began to grow around 2003, at the tail-end of the EDM boom where most mainstream press lumped everything in as "techno". But there were different scenes in different cities, Grant points out – Chicago house, Detroit techno – which emerged and perhaps took longer to catch on as a wider music trend "because America itself is so spread out".
"In the UK you had DJs doing three gigs in one night – the geography of the US is so different, so before the internet and without national radio it would have been tougher out there," he suggests.
He's not keen on the tendency by some electronic music fans, and critics, to lump DJs such as Calvin Harris and David Guetta into the same group simply because they're both viewed as having brought certain elements of EDM to the mainstream.
"You don't have to take part in something if it's considered a bit naff. It kind of irritates me when people say 'America has ruined this' – America is just consuming what people have made. It's up to the artist to be interesting, to make good art. It's easy to put these names into one category, maybe because they're all popular, but they're all different artists and they're all doing their own thing."
He adds: "I think with dance music, like in any genre, there are people who are genuinely talented and then there are people backed by big teams of writers, because then it feels more like a business operation than art."
Common Ground sees the return of some regular A&B collaborators, including vocalists Richard Bedford, Zoe Johnston and Justine Suissa.
"We'd written these songs and we tried out a few different singers, and Richard just worked on the records really, it felt right," Grant says. "We really wanted to do something more with him anyway, and he sounded great with the tracks.
"I do think identity is really important, and it's really helpful when people recognise something as yours. There is so much music in the world, so many ways to listen to it, so if you have something that is identifiable that's really valuable as well."
Over brunch near Washington Square Park the day after their show, Grant and McGuinness both reflect on the longevity of Above & Beyond, what it means to them and their fans, and how, despite those uplifting themes of togetherness and community in Common Ground, they generally steer clear of making any explicit political statements in their work. ​
"I think it's nice that music can be an escape from politics," Grant says. "It seems unnecessary to get involved in that. I'm not sure I believe that, because a celebrity endorses something, it necessarily has a net benefit."
"Since Brexit and Donald Trump, politics has become this divisive thing, rather than trying to negotiate and think about how we might get better together – it's about blaming the other guy," McGuinness adds.
"It's a very difficult to bring into music, and Common Ground is about exactly the opposite to that – it's celebrating the things we have in common."
Common Ground, the new album from Above & Beyond, is out now
Join our new commenting forum
Join thought-provoking conversations, follow other Independent readers and see their replies