The Saturday Interview
AC/DC: 'Malcolm was there in the studio and we all knew it'
The rock'n'roll heroes return after four years and the death of founding guitarist Malcolm Young with a new album and a mission to reverse how rock has 'dropped out of mainstream music'. They talk to Laura Barton
Saturday 14 November 2020 07:23 GMT
Comments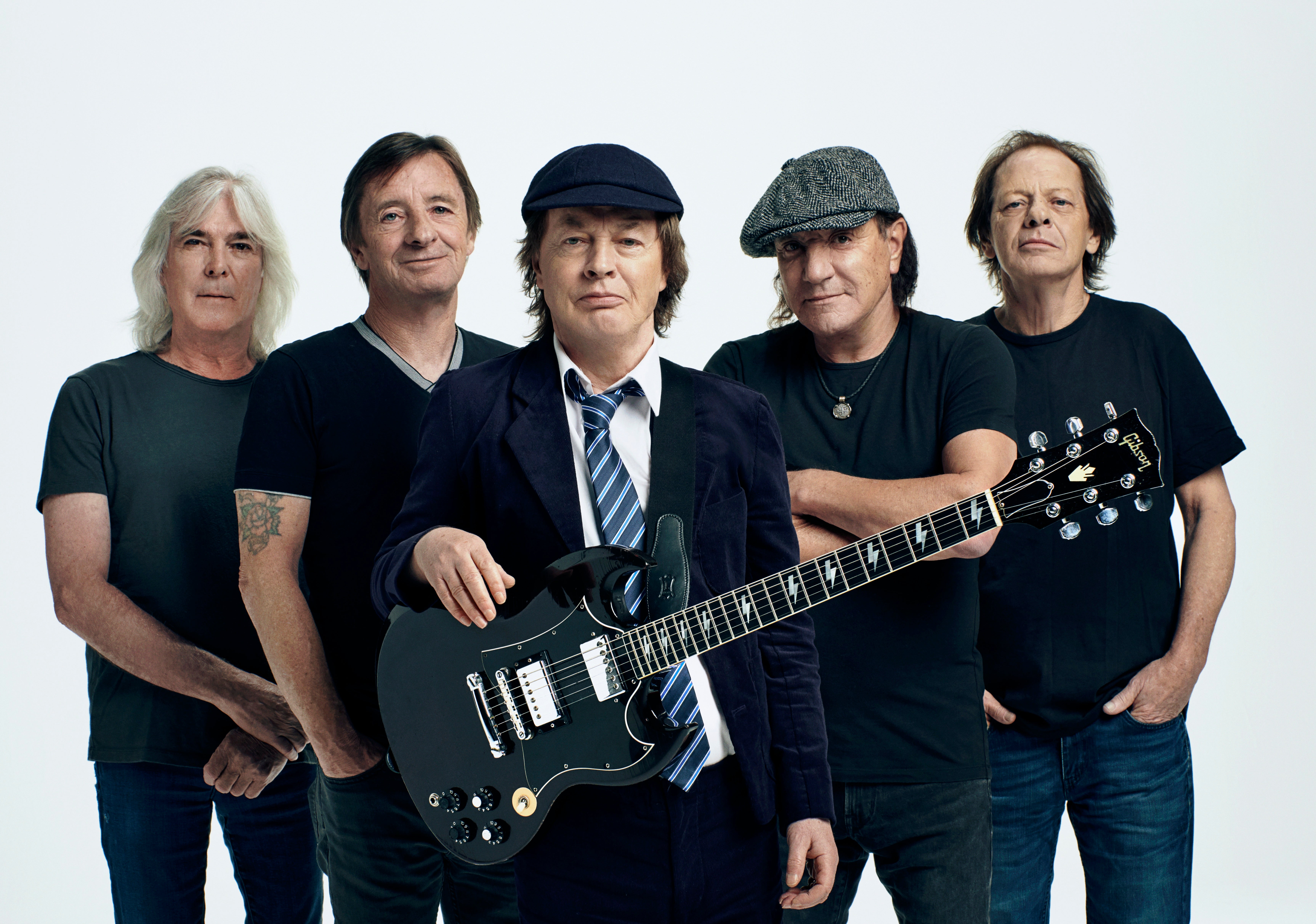 It's nuts over here," says bassist Cliff Williams. "It's just mayhem at the moment, it's really being blown up. It's wild and you add that to the pandemic… It's just really a weird time in America right now." It's days before the US election, and I'm talking to one of the world's great rock bands, AC/DC. Williams and singer Brian Johnson are both British, but relocated to America some years ago. Throughout these 40 years, though, AC/DC have never aligned themselves with a political cause. "No. B******s to politicians," Johnson says vehemently. "F*** them, I want nothing to do with them!"
When AC/DC went on hiatus in 2016, the band had been in existence for 43 years, and with its remaining members now largely in their sixties, it seemed likely that this really was the end. There was a certain period of adjustment. Gone were the days of roaring stadiums and melting amps, the drink, the mayhem, and the schoolboy stage costumes, and in their place something quieter, and more contemplative.
Williams took a philosophical approach. He moved to North Carolina and settled into a gentler routine. "My days are full, I pop around and do stuff," he says. "I don't require too much of anything. I like to go on a bit of boating and things like that. But in the mountains here, it's just a quiet lifestyle which I really enjoy at this point in my life."
In Sarasota, Florida, singer Brian Johnson found the end of the band more abrupt. "I don't think we went into retirement, we just found ourselves in a situation where I had to stop," he says. "Phil [Rudd] was in trouble, he wasn't doing well. Cliff had some health issues too. And you know, at a time like that you sit down and think, 'Jesus, is this it?' It's a weird feeling, because it's not just a band, it's family. You've been together for nearly 40 years, sharing laughs and disasters and tragedies, and coming through it together."
The story of AC/DC has been perhaps rock'n'roll's longest-running soap opera. Formed in Sydney in 1973 by guitarist brothers Malcolm and Angus Young, by 1977 they had a settled line-up of singer Bon Scott, drummer Phil Rudd and Williams, and had established themselves as proponents of a deliciously dirty heavy rock.
By the late Seventies, they seemed to be gathering pace with 1978's Powerage, followed a year later by the juggernauting Highway to Hell. Then, when Scott died of acute alcohol poisoning in 1980, aged just 33, it looked likely the band would call time. Instead he was replaced by Johnson, and the album that followed, Back in Black, was not only regarded as a tribute to Scott,  it would go on to shift more than 50 million units and become the best-selling rock album of all time.
Since then, the band have seen the wax and wane of success, shifting line-ups (there have been 26 members, including a touring vocalist turn from Axl Rose), nine more studio albums, and colossal world tours. In 2010 the band entered a bleaker phase: Malcolm Young was diagnosed with lung cancer, and by the spring of 2014, now suffering from dementia, he was no longer well enough to perform. He was replaced by his nephew, Stevie, but as the band's driving force, Malcolm's illness and departure were a blow. That same year, Rudd was arrested for attempting to hire a hitman (this charge was subsequently dropped) and was found in possession of methamphetamine (this was not). He was sentenced to eight months of house arrest. Johnson, meanwhile, was suffering hearing issues that forced him to depart the band midway through the Rock or Bust Tour of 2016.
It was at Malcolm Young's funeral in late 2017 that the band members reunited, for the first time in a long time. "We just chatted," says Johnson. "Just like we'd never been apart. It was just this sadness, but it all seemed so natural and so good. Nothing was said about getting together or anything, it was just this was for Malcolm."
All the same there was a renewed kinship between them all, and by the following year this had grown into the fledgling idea of a recording a new album. By this time Johnson had begun working with a hearing specialist, which meant performing was once again a possibility, and Rudd had cleaned up and was no longer under house arrest. "When I heard that Cliff was going to be back, getting Phil back, I just stuck my hand up and said, 'I'm in!'" says Johnson brightly. "And basically that was it. It was dead easy, Laura! It was dead easy, it didn't take me two minutes – I didn't care how old I was, I thought I'd give it a shot!"

Enjoy unlimited access to 70 million ad-free songs and podcasts with Amazon Music
Sign up now for a 30-day free trial
Sign up

Enjoy unlimited access to 70 million ad-free songs and podcasts with Amazon Music
Sign up now for a 30-day free trial
Sign up
They regard the resulting album, Power Up, as a tribute to Malcolm Young. "When we got into the studio we all felt the presence of Malcolm," Johnson says. "None of us are spiritual, please don't even think that. But he was just there. He was a strong, strong character in real life and passing on didn't seem to affect his character! He was there and we all knew it. We all just had this enthusiastic feeling that we were doing something that was worthwhile for Malcolm, that would make him proud."
"We were all together for so long it's like, 'He can't be gone…'" Williams adds. "It's a weird thing. When we're all together you can just feel his presence." When he listens to the new songs he feels Malcolm's presence too. "He's just all around," he says. Johnson feels him mostly keenly on the track "Mists of Time". "Whenever I hear it I still get goosebumps," he says. "I still think of him. I was thinking of him when I sang it. It's just these things about the happy days when we first started in the Eighties, when I first joined the band. I just remember these very happy, carefree days. And Angus did a magnificent job of putting those lyrics together. I think he really felt it too because him and Malcolm were inseparable."
Johnson remembers the first time he met Malcolm – indeed all the band, when he auditioned to replace Scott. The former frontman of Newcastle rock band Geordie, he had travelled down to London and arrived at Vanilla Studios a little late. "I opened the door and I went, 'Hello lads, I'm Brian from Newcastle – sorry I've been a bit late!' And Malcolm went 'Oh, there you are!' And he came over and he gave me bottle of brown ale and he said 'It's a long drive down, isn't it?'" He laughs. "And, of course, helped settle my nerves. I wasn't that nervous, but these were a big band, and I was just playing in a small band in the clubs up in Newcastle. The boys had been sitting rehearsing for a while, trying to get over the death of a real character and a wonderful fella, Bon. And that's the first time I met him and just a big smile. I didn't know them as individuals, they could've been snotty, but they didn't, the whole band was like that. And that was the first time I met Malcolm."
This was typical of the older Young brother, he says. "Malcolm was so generous with himself to everybody. He always had time. Mind, if he lost his temper because somebody had really been dumb, he just wouldn't suffer fools gladly." Williams has similar memories – first travelling to an audition from Merseyside in 1977. "Mal was really open, a smile and cracking jokes and trying to make me feel comfortable … he was just a great guy."
When Malcolm left the band, they missed his onstage presence keenly. "Angus always said, 'I used to have to look at Malcolm twice because it always felt like there was two people playing the guitar!'" Johnson remembers, and his face lights up and his voice gathers pace. "He was that clever! And Cliff will tell you as well, he would finish a set and he wouldn't miss a trick. If a guy on a spotlight was 10 seconds late on something he'd note it. If the sound wasn't in the right place… You could not get anything past him, he was always sharp. But he just loved what he was doing, you could tell – the passion he'd put in, his little leg going up and down!" Across the screen Johnson beams. "A lot of other guitarists used to come up going, 'Malcolm, how'd you get that sound, man?' And Mal would just go: 'Hit 'em hard.' That's what he said!" Williams laughs: "For a guy that was five foot three, his sound was seven foot six!"
Recording Power Up was easy. "First of all, you've got to have great songs," says Johnson. "These songs are fabulous." They were also back in a studio they knew, recording with Brendan O'Brien, who produced the two previous AC/DC records. "He brings a vitality that you cannot describe," Johnson says. "He always keeps you busy, you're never sitting still, and he's one of these guys that calls everybody: 'Cliff Williams! Brian Johnson! Angus Young!' He uses all of your name! 'Brian Johnson, upstairs now! You're going to be singing. You boys, Angus Young! Cliff Williams! Phil, get in there, rehearse that next song. I'll be down in two hours. Brian Johnson move it now!' He's like Sergeant f***ing Bilko!"
These are gargantuan songs, huge enough on record, but deserve to be heard live, at their full height. Johnson and Williams are both mournful that it may be some time before the pandemic permits another AC/DC tour. "We're twitchy guys," says Johnson. "I don't like hanging around doing nothing, it's awful!" He has missed the stage these last few years. "For me it's just one of the greatest feelings in the world," he says. "When you get out there and they start roaring – the crowd with this magnificent, deafening roar, you suddenly realise: you better turn up for work today, son!"
Their crowds are older now, though they see diehard fans with their children on their shoulders and feel hopeful for a new generation of rock fans. "I think rock and roll, for the last few years, it's dropped out of mainstream music," admits Johnson. "People would say, 'Oh it's noisy stuff, that's old hat!' But everything travels in cycles and I think it's time. With this album, I hope kids pick it up and say, 'I want to buy a guitar! I want to play this stuff!' Because it deserves to be up there – it's not a joke, it is a bona fide form of music. It's a serious form of music to have the best fun with."
Power Up is out now
Join our commenting forum
Join thought-provoking conversations, follow other Independent readers and see their replies