The Saturday Interview
Adam Lambert: 'Madonna is being p***ed on for her new music, not for being sexual in her sixties'
Exclusive: Freddie Mercury's replacement in Queen talks to Douglas Greenwood about his upcoming album 'Velvet', 'twink' pop stars, and how gay men's 'primal hunt' for sex existed long before Grindr
Saturday 29 June 2019 08:35 Comments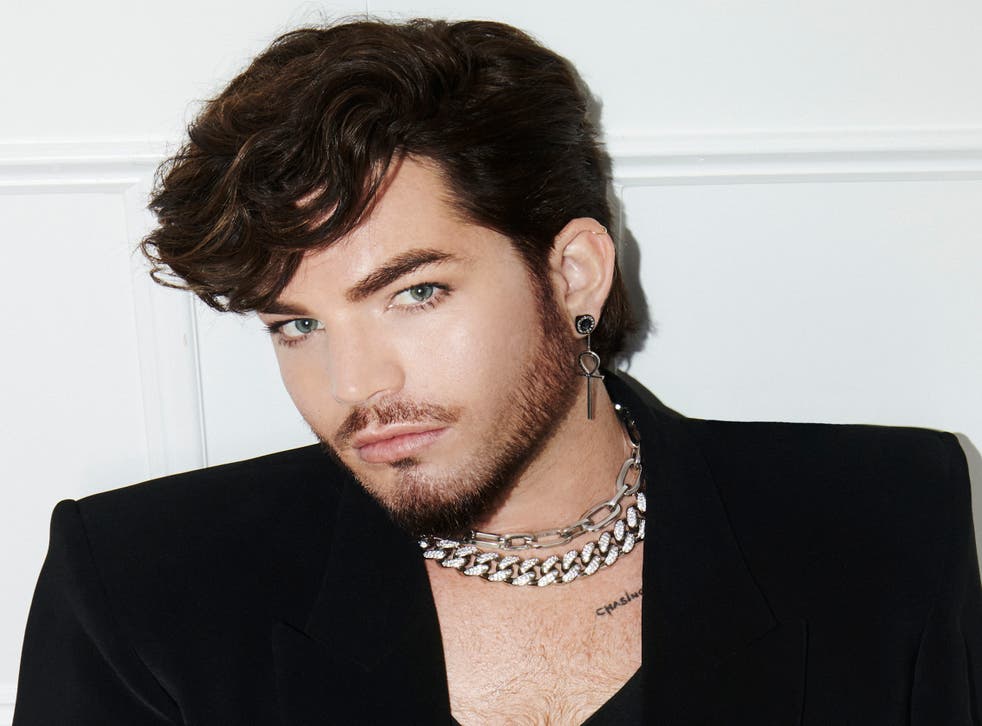 Ten years ago, Adam Lambert sang "Bohemian Rhapsody" for his audition on American Idol. He was labelled "theatrical" by Simon Cowell but spent the rest of the season racking up a huge fan base in Middle America. When Queen's Brian May and Roger Taylor turned up to play "We Are the Champions" live in the final, Lambert duetted on vocals with winner Kris Allen. The runner-up would prove to be the real winner, though, when in 2011 he took over as frontman for the band, as Queen + Adam Lambert, and they've been selling out stadiums ever since.
"Of course, I've caught whiffs of pushback from people over the past 10 years," Lambert tells me, brandishing a glass of rosé in the lounge of his London hotel. "Why is he doing it? Freddie is better," he imitates his naysayers with a flip of his bejewelled fingers, "and it's like, well yeah, of course Freddie was f***ing better. He's Freddie Mercury!"
He's very conscious, too, that it was the tragic death of Mercury from Aids in 1991 that gave him the chance. "I wish I didn't have to, you know, but it's the way the universe handed me this card."
Lambert was the perfect fit. On American Idol, he channelled the kind of camp glam-rock behaviour musicians had struggled to execute since Mercury's death. And like the original Queen performer, he too had a life the masses once didn't know about.
The first time Lambert came out, it was a pretty straightforward affair: a musically minded 18-year-old from California, keen to explore the queer side of West Hollywood, told his friends and parents he was gay. Nine years later, Lambert would have to do it again. Only this time it was on the cover of Rolling Stone magazine, shortly after American Idol wrapped.
In the months prior to that public revelation, in which Lambert, in his words, "confirmed I was out", speculation surrounding his sexuality had dominated tabloids and gossip blogs. Looking back, the star has a different perspective on the "is he or isn't he?" controversy.
"Disclaimer," he announces, holding both hands up. "No one asked me to repress [my sexuality on Idol], and I don't think I did!" A history of closeted stars in fear of public backlash has taught us to assume otherwise. "I look back and think, this is weird, [because] I came out when I was 18 and did Idol when I was 27. I spent the years in between that being very f***ing gay."
"If [presenter] Ryan Seacrest had asked me about my sexuality, I would have been an open book," he continues. "Maybe in the back of my head I knew the attitudes of America and the media at that time, and I just wanted to focus on the task at hand to get my record deal."
It worked. Shortly after the show finished, he signed a contract with RCA in the States, released a warmly received debut album and, three years later, topped the Billboard 100 with its follow-up, Trespassing. He was the first openly gay male artist ("That phrase cracks me up!" he chuckles) in American chart history to do so.
Enjoy unlimited access to 70 million ad-free songs and podcasts with Amazon Music Sign up now for a 30-day free trial
Sign up
The best albums of 2019 (so far)

Show all 67
That fact is often overlooked in the discourse of contemporary "queer" pop, a musical sub-genre that has experienced a spike in success over the past three years. Many of its most famous torchbearers today – be it Sam Smith, Australian synth-pop star Troye Sivan or Years & Years frontman Olly Alexander – might've struggled to break through and find backing as openly gay men in mainstream music if Lambert hadn't done it all first. In the UK, we have Pet Shop Boys' Neil Tennant and Elton John, two closeted gay men who discussed their sexuality later in their careers; both artists' music took a commercial knock after they came out. In fact, only Smith has managed to have an enviable US chart presence as a gay solo pop star since. But the idea of assimilation into the straight world of male music, a necessity for some, wasn't interesting to him. Lambert wanted to be "so gay it got me in trouble".
A "shocking" gay on-screen kiss during his performance at the American Music Awards in 2009 caused "outrage" among conservative members of the public; ABC reportedly received 1,500 complaints. "I hope I didn't martyr myself in that moment," he says on reflection, but he's glad that the controversy is part of the past. "I'm happy to be in the game 10 years later where my sexuality doesn't precede me. It's just who I am."
Which leads us to why we're here today, to discuss Lambert's new record, Velvet, which is due for release in September. It has been almost five years since his last album, The Original High, a relentless collection of glittering EDM produced by masters of pop Max Martin and Shellback, and a sonic switch-up has taken place. The tracks Adam plays me from Velvet – such as lead single "New Eyes" – feel more robust and expressive than his previous work, as if they were made by a man tired of trend-hopping.
He calls his inspirations "a combination of the past… and contemporary alternative", crediting the discovery of Al Green, Brian Eno and Prince as a kid alongside exposure to groups like Jungle and The Black Keys. "I was over the EDM thing," he says, admitting that "alternative playlists" on streaming services were a lifeline in the process of making it. "I'd hear stuff I'd never heard before, and it made me realise how much I missed blues and funk-based music played with real instruments. I realised I wanted to turn a corner and go into this world I'd been listening to for my whole life."
That gear change stems, he insists, from an aversion to "the game" – a phrase Lambert uses a number of times throughout our conversation to describe the music industry's desperate desire to replicate sounds that have led to success in the past. It's an archaic way of thinking that works for some, but for artists on pop's fringes it usually makes their work sound disingenuous, as if made by someone else. "It took the pleasure out of it," Adam sighs. "I felt like I was trying to be something that wasn't me. At the end of the day, if following my instincts means I'm not quite as current, f*** it. I just want to make music that I like, that I can get on stage and perform and not overthink."
The most dominant gay men present on planet pop these days have one thing in common, and Lambert has noticed it. "Did you read that article that's like, 'It's the year of the twink'? It's a great article." The T Magazine piece went semi-viral last year after it highlighted the public's fascination with young, hairless heartthrob types, whether they're gay or straight. Olly Alexander responded by calling the phrase "myopic". "There's a point there," he continues, "the Troye Sivans and Olly Alexanders. I'm thrilled that they are pushing things, and I've watched with glee and joy, [but] it's a bit of a double standard with, you know," he hesitates, keen to get this right. "We need to embrace queer people of colour and put them on the same playing field, because that's where we're at. You see it slowly moving, but it needs to be moving faster."
We're meeting in the middle of Pride month, an annual celebration of the LGBT+ community that gives Lambert hope, just as much as it reminds him of the hard work that still needs to be done. It's been 50 years since Stonewall, and still the rights of the community are fair game for politicians and conglomerate companies, coercively using the rainbow flag as a shortcut to taking genuine action. I wonder if, like many other queer people, Lambert sees queer liberation as something of a myth.
"I think we have to hold on to an idealistic vision, otherwise, how are we going to reach towards hope?" he asks. "If we don't, all of us will give up and be indifferent. We need to keep pushing, otherwise all the bigots are going to win! And we can't let that happen." He says he's learnt a lot about talking to his trans friends (trans women are still disproportionately discriminated against; five trans women of colour have been murdered in Pride month so far). There's also the issue of internalised division. "What's interesting too, though, is that even within gay culture, there's been segregation, racism, classism and all of this stuff," he points out. "That bugs me."
Lambert has been in a relationship with model Javi Costa Polo, whom he met on Instagram, since earlier this year. When you mention it, he smiles like a schoolkid; the lead single "New Eyes" is inspired by him. Finding love, I suggest, will have removed him from some of that bigotry. Online dating apps like Grindr are breeding grounds for the kind of exclusionary lingo ("No fats, no femmes") that showcase the internalised hatred queer people experience. Has he ever used those platforms? "Oh yeah, I've definitely delved in that!" he says (I'm yet to meet a gay celebrity who hasn't), but the culture of chasing sex online is definitely part of his past. "A friend of mine posted something the other day, 'Thanks a lot Grindr for making us all shallow sex addicts'. He's got a point but he's younger and I wanted to say to him, [casual sex has] always been a [key component] of the gay man."
Lambert turned 18 in 2000, before Grindr and hook-up apps were a thing. He's experienced both sides of the culture. "It wasn't an app before, it was cruising in a bar or an alley; the same surface-level primal hunt. If it turns you on to function on visual – seeing a torso and finding a fantasy in that, and having great sex – great! Good for you. I'm not judging that. But I personally got to a point where I realised, after a while of the thrill of sex, I do think you [need to] start looking for a little depth. To each their own. I don't judge." His hands are up. "But for me personally, there needs to be a spirit connected to it now." Whether you're a camp gay white man, queer person of colour or, say, a woman remaining sexually liberated into her sixties – any hint of "other" in the pop world automatically opens you up to scrutiny. I wondered if Lambert – a gay musician who's been shunned by a subsection of his own community, perhaps for being too effeminate, loud, glitzy or maybe even just for not fitting that problematic "twink" mould most gay men choose to rally behind – has learnt to deal with the backlash.
Madonna, one of Lambert's idols, is a veritable icon, but is still dealing with a reprisal from the public for her care-free, sex-positive attitude four decades after she first broke out. "I'm a long-time Madonna fan for sure – but here's my question," he repeats that this is a "question", a valid one, three times to ensure he's not putting himself in hot water: "Does she? Or is she getting pushback because of the music she's making? I love that she reinvents herself. I love her, and I think she's brilliant," he insists, "and I do think she's pissed upon a bit, but I don't think it's because she's a strong sexual woman." Does he think it's because she's a strong sexual woman who's 60 years old? "No, I think it's because she's making the music of 2019 that doesn't fall quite in line with her legacy, perhaps. But I have to give it to her that she's going for it, and she's ballsy and she's confident."
Lambert's experience of being screwed over by the music industry correlates almost perfectly with his identity as a pop music fan who knows what a fan base yearn for. What he says about Madonna isn't rooted in lofty disdain but a common connection; he too knows what it feels like to be put through the music industry wringer by those who claim to know better. "I never want to turn around and realise that a project I'm working on is me trying too hard to be trendy or cool or young or any of those things," he says. "At the end of the day, I'm gonna sleep better at night knowing I made an album I like [that's] true to my experience. Everyone has their own relationship with their own career and the music industry, but personally, I've played the game. I'm not done playing it; [my] music is still pop music – but it's over here." His fingers are pressing against his chest. "It's in my world, and I feel good about that."
When his publicist enters the room to let me know our 45 minutes together is up, Lambert asks for five more. He is, for better or worse, never quite done talking
I ask how touring with Brian May and Roger Taylor has informed the recording process of his new album, but sees them more as bandmates than mentors. "I'm trying to lead by example, instead of them saying to me, 'Sit down young man, I'm going to teach you a lesson!'." He shakes his finger, doing his best rockstar-slash-teacher impression. "Watching the way they don't sweat the small stuff, hearing their stories and understanding their experience has been really valuable, especially in terms of the music business. I voice my frustrations and concerns, [but] they come from a different time. It reminds me that [the industry] is just going to change again."
Does it still feel like a pinch-me moment? He nods, smiling. "Especially given the circumstances. [Things like] the Oscars, Rock in Rio… we do these milestone performances and I'm like, how did I get this gig? I'm really fortunate, and I feel grateful and honoured to carry a torch for Freddie." You can tell he means it. "I wish I knew him. I wish he were here. Whenever I've encountered any sort of speed bump on this journey I say, 'What would Freddie do? He wouldn't give a s**t, so why should I?'"
Time really is up now, and with that Lambert leaves the hotel lobby – fanfare free – and is ushered into a taxi waiting outside. He is a man hardened by an industry that's both welcomed him with open arms and treated him like a has-been; a tribute act. But beyond all that, he's stuck to his guns and caused a necessary scene, all while making the music that he's happy with. I think Freddie Mercury would have liked him.
Register for free to continue reading
Registration is a free and easy way to support our truly independent journalism
By registering, you will also enjoy limited access to Premium articles, exclusive newsletters, commenting, and virtual events with our leading journalists
Already have an account? sign in
Join our new commenting forum
Join thought-provoking conversations, follow other Independent readers and see their replies