AFI Interview with Davey Havok and Hunter Burgan: 'We felt the symbolism of blood tied in perfectly with the record'
The celebrated doyens of modern goth-punk anthems return after a five year absence with their 10th studio record, AFI (The Blood Album)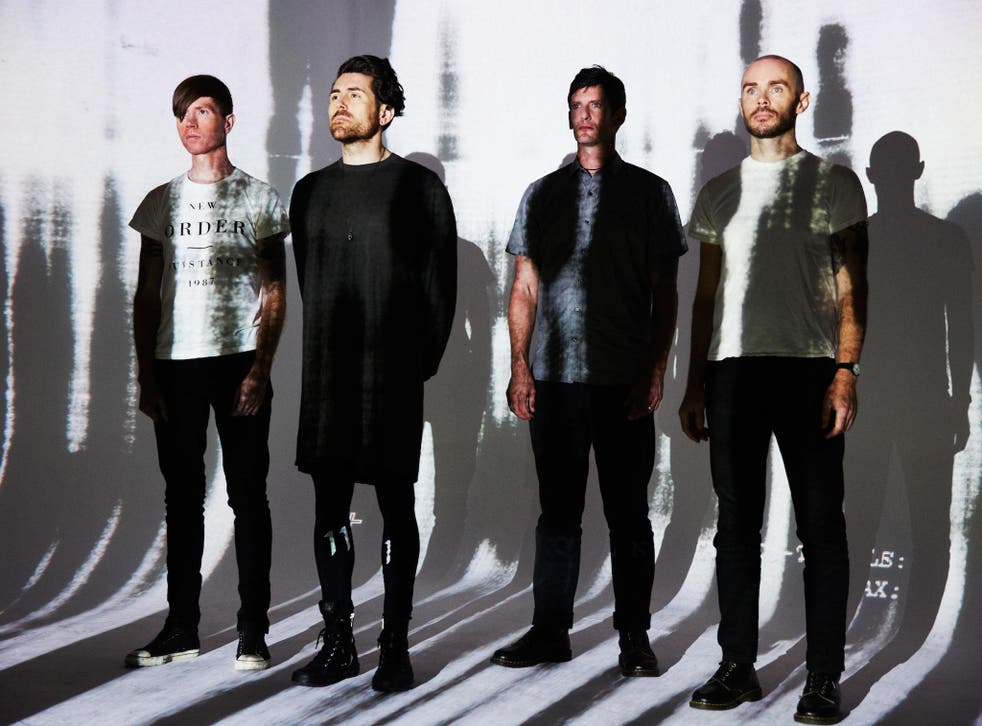 If you happened to be a kid growing up in California, enamoured with raw, intense, razor-sharp music played at vehemently dizzying speed, chances are you've been to or at least heard of 924 Gilman Street in West Berkeley, California.
The all-ages, DIY venue that played host to early sets from Green Day, The Offspring and Rancid was a mecca for punk's pop, ska and hardcore, particularly during the early 90s when the genre as a whole was probably the least fashionable it has ever been in its 43-year history (before you quibble, The Ramones formed in 1974).
If you had walked into 924 Gilman Street around this time, you may have stumbled across a band cryptically calling themselves AFI, an acronymic name that's caused a whole ton of debate over sticky floors and punk forums ever since. (Anthems for Insubordinates? Asking For It? Another F*****g Initial?
Wisely the band eventually settled on A Fire Inside). Here was another group of pissed off adolescents armed with three chords and the truth, rallying against a whole slew of social injustices with a raging juvenile temperament.
At this point, the band spewed forth raucous, fiery 90-second ditties whilst frontman Davey Havok yelped mile-a-minute diatribes about Key Lime Pie and wanting to get a Mohawk (although in a chilling twist, the protagonist's mother would not let him get one). From inauspicious beginnings...
The AFI of 2017 are a very different beast from the one that started out playing grotty punk basements in the summer of 1991. They've evolved and re-invented their music countless times, adding a hint of new-wave glam here, sprinkling touches of electronic synths there and coating the whole shebang with a thick gloss of goth-punk romanticism everywhere.
The militants of Gilman Street may protest, but they're rarely the sort to have time for such frivolous ideas as 'progress' when it comes to music.
AFI's bassist of 19 years, Hunter Burgan, sums up the band's evolution from album to album succinctly, 'We're trying to encapsulate the essence of what we are as a band on every album we make; our sound has evolved and progressed along with us. Each album is an expression of who we are and where we were at that time. I think the themes on this record are about us and where we are as a band.'
As musicians grow, the music they make evolves and in that respect, AFI are no different. You don't manage to sustain a career over a quarter of a century, a milestone AFI passed last year, by standing still and refusing to evolve. But there are other factors that have enabled this band to stay together where so many others have fallen apart, as vocalist Davey Havok attests.
Enjoy unlimited access to 70 million ad-free songs and podcasts with Amazon Music Sign up now for a 30-day free trial
Sign up
"We started this band as friends; Adam (Carson, drummer) and I are original members but Jade (Puget, guitarist), Hunter and I were friends before they were even in the band. So we started as a group of friends that could play instruments, we all had the same goals and desires and I think that was important.
"And those goals and desires remain the same to this day; to create music we love. I think a lot of times bands will break up because their goal is commercial success and most bands aren't going to get that, it's out of their control. If you do, you're one of the lucky ones but that commercial success will likely fade and you'll end up breaking up anyway. But if you're playing because you have to, because it's who you are, then you'll just keep doing it."
But for a time, AFI were one of the lucky ones; their switch to Dreamworks in 2003 for major label debut Sing The Sorrow brought them a whole heap of mainstream attention, which blossomed even further with the release of 2006's Decemberunderground, a #1 album in America, no doubt bolstered by the album's first single, Miss Murder.
This infectious, bouncy earworm of a song became one of the anthems of summer '06 and sounded a million miles away from Havok's protestations about his lack of Mohawk cut over a decade previously.
"The same intentions went into our first early 7"EPs as it did the records we made that just so happened to make the mainstream turn its head for a couple of years," says Havok.
"I think sometimes people have a different idea of what starting a band is going to be. Whilst I do personally think it's the best thing in the world, there are difficulties to it; you're choosing a life that is one of constant travel, where relationships at home may become compromised by being away all the time and you're sacrificing any semblance of stability or knowing exactly what your income is going to be from month to month, you know what I mean? Sometimes I think that some stability would be nice!"
The hearty chuckle down the transatlantic phone line reassures me that Havok has no intentions of settling down for a quiet life anytime soon. As a matter of fact, the band as a whole seem to be in a very good place, excited to get back into action as a unit after a fairly lengthy absence to start the touring cycle for what will be their 10th full-length studio album.
In many ways, despite this numerically pleasing milestone, The Blood Album is business as usual for a band that has defiantly followed their own intuitions throughout their career. Tonally, the new material fits somewhere in-between the brighter, more jangly electro-pop of 2009's Crash Love and the far bleaker, darker atmosphere that put a dark cloud over 2013's Burials.
"We've been a band for 25 years,' says Burgan "and that's something to be proud of but at the same time, it is more challenging to find fresh new ways to craft our sound. We're still working with the same instruments, even as we add elements of programming and there's only so many ways that you can formulate things.
"In a sense, we're not trying to re-invent the wheel, we're just trying to create a new perspective on the wheel, and there are things we've tried musically on this album that I don't think we've ever done before. We're all bringing our own interpretation to each song; I'm sure whilsy I'm trying out one thing, Jade is trying to do something else and Adam's going for something else entirely and that's what makes it AFI."
Though self-titled as a cheeky ceremonious nod to themselves for reaching their tenth record, this record is fated to be referred to as The Blood Album, a sub-title the band hit upon when discussing the themes at the heart of the record. "I was recognising the re-occurrence of the word 'blood' in the lyrics early on during the writing process," Havok observes.
"I brought that up as something we should take note of, as it seemed to be reoccurring organically. I would imagine I must use at least 20 words in my lyrics over and over again, I'm constantly mocking myself for that! You're going to see the word 'heart' alot, you're going to see the word 'stars' a lot, there are constant references to nature, but at the same time the reason I use those words is because they appeal to me.
"Blood is very much one of those words; the record has themes of connection running through it and misperceptions of identity and blood re-occurs as a metaphor that speaks to those themes. Once we amassed the songs that we decided would represent our year of creation, we felt the symbolism of blood tied in perfectly with the record we were making."
With AFI now being adept at the art of making records and guitarist Jade Puget pulling double-duties by taking on the role of producer for the record, The Blood Album took just 6 – 7 weeks to record. In stark contrast, Crash Love, the album which saw the fickle mainstream begin to turn their heads away from AFI, took over a year to record, with the studio sessions plagued with a wealth of difficulties.
Initial reports announced Canadian producer David Bottrill, responsible for capturing hugely intricate sonic soundscapes for the likes of Tool, Muse, Coheed and Cambria, King Crimson and Silverchair, would be recording with the band. Despite Bottrill's impeccable CV, he was off the project after just a couple of months, to be replaced by Joe McGrath, who had been promoted from his previous position as engineer on AFI's Sing the Sorrow and Decemberunderground.
Not only that but Jacknife Lee, the ex-Compulsion guitarist and famed producer and remixer for everyone from U2 to Taylor Swift, was brought in to do additional work on three songs.
"Crash Love was a really unique experience for us," recalls Burgan. "It took a long time to demo the songs that make up that record. I think at some point in that process we lost perspective on the things that really matter but we had already invested so much time and money into it that we felt we needed to take extra steps in order to make sure that we didn't get it wrong.
"Jade produced the new record and I think that helped us to throw out some of those processes that are often totally unnecessary. Our approach is much more focused and methodical now that we're so well versed in the recording process."
It's clear that AFI are operating as a harmonious unit; they have the 'all for one, one for all' gang mentality that only the strongest of bands are able to nurture and maintain. The current line-up has been preserved since 1998, an impressive feat by anyone's standards, but Havok points out a practical reason why the band have stayed together this long.
"We don't do drugs," he says "and I think that's a really big thing in music. I think drugs can often destroy a band, and in some cases, they'll lead to literally destroying the members of a band. There are examples of people who do survive that and are fruitful amazing artists who make it through, but the reason you're aware of them is because they're the ones that made it through.
"But for every Iggy Pop or Keith Richards, there are a dozen people like Darby Crash, Jimi Hendrix, Janis Joplin or Jim Morrison; the numbers don't even compare. You don't even have to look at actual fatality to see how drugs can affect a band, there are countless instances of bands breaking up due to the turmoil they can cause, whether it be someone going to jail or internal fighting when perhaps a little more restraint and communication could have been shown."
As the band go into their 26th year, anticipation for new material is as fevered as it's ever been. The band will finally return to UK shores after an absence of 7 years when they support fellow Cali-natives Deftones in London, Manchester and Glasgow. Havok is just grateful that he's managed to keep AFI an integral part of his life since the age of 16.
"It's surreal, it really is, because I am still making music for the exact same reason that I began making music, out of the love for it, and in many ways, I feel very much the same way as I did 25 years ago.
"But it's also really gratifying that we've been going for that long; most people don't get the opportunity to do something they love for the majority of their life and I really appreciate that I'm able to do this and still have people care about it. We're lucky that we get given the opportunity to express ourselves to a large audience who continue to listen."
AFI (The Blood Album) is available now on CD, Vinyl and Digitally via Concord. AFI will begin a UK tour supporting Deftones on 5th May at Alexandra Palace, London
Join our new commenting forum
Join thought-provoking conversations, follow other Independent readers and see their replies