Akon: So what if I own a diamond mine?
Rap star Akon served three years in prison, but these days his fortunes have changed, he tells Matilda Egere-Cooper
Friday 16 February 2007 01:00 Comments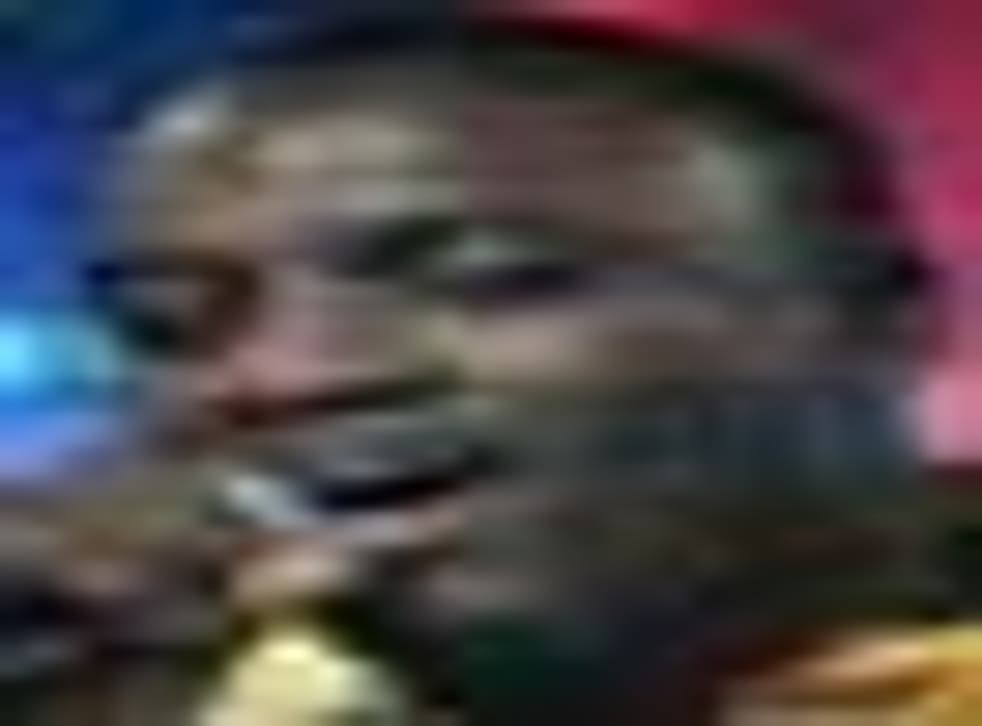 There's bling and there's bling: while most urban music stars might feel somewhat naked being seen without the requisite rocks, how many can boast of owning their own diamond mine? Akon is currently the proud owner of one in South Africa and is remarkably matter-of-fact about his acquisition. "I don't even believe in conflict diamonds," he announces. "That's just a movie. Think about it. Ain't nobody thought about nothing about no conflict diamonds until the movie came out. Where was all that shit before the movie? That's the problem with people - they believe everything they read or see on TV." He slaps my knee and emits a hearty laugh. He's getting excited. "It's no different from The Blair Witch Project. Everybody thought that was real. That campaign and marketing was incredible. After that, they're getting Oscars. Unless you go to Sierra Leone and see what's going down, don't believe everything you're reading or see on TV. Trust me."
It's not often you come across an R&B star who's willing to let you past the polished lothario façade and is prepared to have a decent political dispute. And it gets good. "If anything, there's conflict oil," he continues. "Worry about the oil - you see what the oil is doing to people. You see what Bush is doing over there... oil is conflict. When you're driving your cars, you're driving conflict fuel. It's killing thousands of people a minute. Diamonds are the least of our worries."
Aliaune Damala Bouga Time Puru Nacka Lu Lu Lu Badara Akon Thiam has spoken. Whether you side with his conspiratorial rant or find it all a bit frivolous, no one can deny that when he's got something to say, he makes it his business to be heard - whether you like it or not. A few years ago, he turned an irritating, sped-up sample of Bobby Vinton's "Mr Lonely" into a No 1 single in the UK and Australia, charting in five other countries. His nasal tones have sat comfortably alongside the vocal outings of pop princess Gwen Stefani and rap kings Eminem and Snoop Dogg because "the best way to conquer the industry is to conquer particular territories".
He gets away with singing with the abrasiveness of a rapper. So there's no apology to the ladies for the misogynistic undertones of the Grammy-nominated "Smack That", where he begs to inflict light-hearted assault "until you get sore", or the saucy "I Wanna Love You". It just so happens to be a dedication to the pole dancers of Atlanta, which comes with an explicit version that'd have feminists across the nation grinding their teeth in dismay. "If I had to put it in so many words, it's a dedication record," he says. "It's just something I wanted to do. It felt, you could say, refreshing. It was something I couldn't hold in... so you just gotta sing it. It was one of those type of moments. And I break a lot of my records in the strip club."
But surely it's too much vulgar talk for a crooner? What ever happened to the days of whispering sweet nothings? "There's a lot of R&B out that really beats around the bush," he counters. "You just get tired. Just say it, man. Damn. We're smackin', we're fuckin' ... Just say it." He adds: "And you know what's crazy? More girls like the songs than guys do. It's really the women's favourite songs, believe it or not. They're the ones calling up and requesting it. Guys ain't even thinking about that record. They're playing the me-and-Snoop record. People just need to loosen up, because it's all in fun at the end of the day. That's how I look at it."
His record label is coming along swimmingly. His clothing lines Konvict Clothing, a streetwear range, and the more upmarket Aliaune, are launching any day now. He's casting for a movie based on elements of his life - ER actor Mekhi Phifer will play the lead, he says - and, at last, he's in the diamond business. He doesn't expand on the details, but says he took the opportunity to secure the mine when it was presented to him last year. "Diamonds are always going to be selling, people are always going to get married, black people will always want to shine and bling-bling," he smiles. "I always felt like if you get to a point where you've got enough money to invest in something real, you gotta invest in anything that's related to a natural resource because that's gonna be here forever - so you might as well invest in something that's gonna be here, rather than invest in something that's gonna wear out. I know for a fact that these are going to be selling forever."
If he has it his way, so will the music. In only the space of two albums, 2004's Trouble and 2006's Konvicted, this singer/songwriter/producer/record executive/diamond chief executive has captivated the world while keeping many of the circumstances of his life strictly private. And the St Louis-born son of the Senegalese jazz percussionist Mor Thiam likes it that way. It is known that he lived in Senegal at some point until he was seven, moved to Atlanta and won a basketball scholarship. But a knee injury squashed any dreams of a sports career.
His real age is still a mystery. Musically, he dabbles with a variety of styles and you never know what he's planning next. But his records sell by the truckload. "I just represent me," he says. "I'm me all the way around. There's no way to describe what kind of style... it's just me, this is who I am. That's why when I do records, when I do features, I don't just limit myself to hip-hop and R&B - I try to do everything, because it's what I represent. I just like music all the way around the board. I can't stick to one thing - I've got to move around."
Perhaps, but one could say it's all in the name of brand expansion. Take Jay-Z's collaboration with Linkin Park, Mary J Blige's hook-up with U2 and even the forthcoming Beyoncé and Shakira record. R&B and hip-hop have long clocked that the business can only stay afloat if the pop market is on board. But Akon insists that's not his agenda. "It's always the music first for me," he contends. "But if the music isn't selling, there isn't gonna be no business. So you gotta make sure music is always the first priority. I just do what feels good to me - I don't do what sells, or what market. If it feels good to me, I'm putting it out."
Enjoy unlimited access to 70 million ad-free songs and podcasts with Amazon Music Sign up now for a 30-day free trial
Sign up
In not so many words, he attributes his business acumen to his former days as a member of a car-theft ring in New Jersey while trying to get his break in the music industry. A deal with Elektra had flopped, and the accomplished musician managed to bide his time as an extended family member of The Fugees. But it wasn't enough to stop him entering the "car business" as a way to maximise his hustle. He once said in an interview that the operation was like the movie Gone in 60 Seconds. "The hustlers are the most intelligent people on this Earth," he says. "They know exactly what's going to happen before it happens. They're chess-thinkers, as I call them - they make two or three moves ahead."
Does he think crime pays? "Crime paid for me!" he laughs. Another slap on my knee. "It definitely paid for me in all aspects, before and after the crime. But I wouldn't recommend it, because not everyone's lucky. I was definitely lucky." He changes his tone. "I wouldn't recommend it. You get all of that, from houses to cars to all that money, and they seize all of your accounts, repossess all your houses and cribs, and then you're stuck in here. Then when you get out you don't own none of that, so it's like what was all that done for?"
Akon was in prison for three years. He still regards it as the worst period of his life. He says: "It's a badge of disgrace at the end of the day. It's stupidity." But he penned the majority of his debut album in jail and, on his release, he secured a deal with Universal Records. Then came the single "Locked Up", a hard-hitting, head-nodding testimony of his time in the pen ("Visitation no longer comes by/ Seems like they forgot about me/ Commissary is getting empty/ My cell mates getting food without me/ Can't wait to get out and move forward with my life... But instead I'm here locked up"). The rest is chart history in the making. Akon is still trying to get his head around all the brouhaha that now precedes him wherever he goes. "It's just a record," he says. "Think about it - it's just a song. That's it, right? That's it! You know what I'm saying? It's more fluff and hype around it is anything else."
He doesn't consider himself a celebrity and longs for the days when he can just nip out for a bite to eat without legions of women looking to chase him in the process. "When 'Locked Up' was out, I couldn't go to the movies in the 'hood," he recalls. "So I would go to the white area to go to movies or hang out in a restaurant. Now, when 'Lonely' came out, I couldn't do that in the white areas! So, I had to go back to the 'hood. Now - it's different. I got both sides. You've got 'Smack That' with the pop crowd, 'I Wanna Love You' with the urban crowd... I can't go to any foreign areas because internationally it's huge. So I've got to find certain areas to go - like I may go to the Indian community and chill out there. Or go to the Mexican spot."
Things in Senegal aren't any better. "Now I know what Michael Jackson goes through every day around the world in that little region," he says, shaking his head. That's why Akon has put aside his dreams to run for the presidency of Senegal, and is more content with being the current leader's "dawg". "I don't even want to be president no more," he says. "Remember, back then I used to say I wanted to run for president in the next 10 years? Now I'm like, 'never'. I see what I have to go through as an artist, on a day-to-day basis. Can you imagine what the president goes through? Then after watching 24 the series, I was like man... I'm good. I'll just be the ambassador."
He might be taking an early retirement. A collaboration with Jackson, the king of pop, "is in the air", and he's revealed that he's working on a Whitney Houston record. He has also taken UK rapper Sway under his wing and reckons that he could blow-up in the US "with the right producers, right direction, surrounded by some fly girls in the video of some party records..."
Making his own songs could soon be the last thing on his mind - not that he's sweating with his steady cash flow and a knuckle-tight strategy for the future. "I just use that as collateral to create other opportunities," he says, and mentions he's also keen to invest back into Senegal. "That's it. While I'm here, I'm gonna milk it for all I can, so when I'm no longer hot - and I know that day is coming - I will step over here and enjoy everything I've created up to this point. The music is just opening all these doors, so I can relax. And if I decide to do music after that, I'll do it because I just feel like doing it - but not because I have to do it."
The single 'I Wanna Love You' is out now on Island
Register for free to continue reading
Registration is a free and easy way to support our truly independent journalism
By registering, you will also enjoy limited access to Premium articles, exclusive newsletters, commenting, and virtual events with our leading journalists
Already have an account? sign in
Join our new commenting forum
Join thought-provoking conversations, follow other Independent readers and see their replies