Alabama Shakes interview: 'I didn't think I wanted to do this any more'
Singer Brittany Howard, drummer Steve Johnson and guitarist Heath Fogg talk new album, Sound & Colour, and balancing band/work life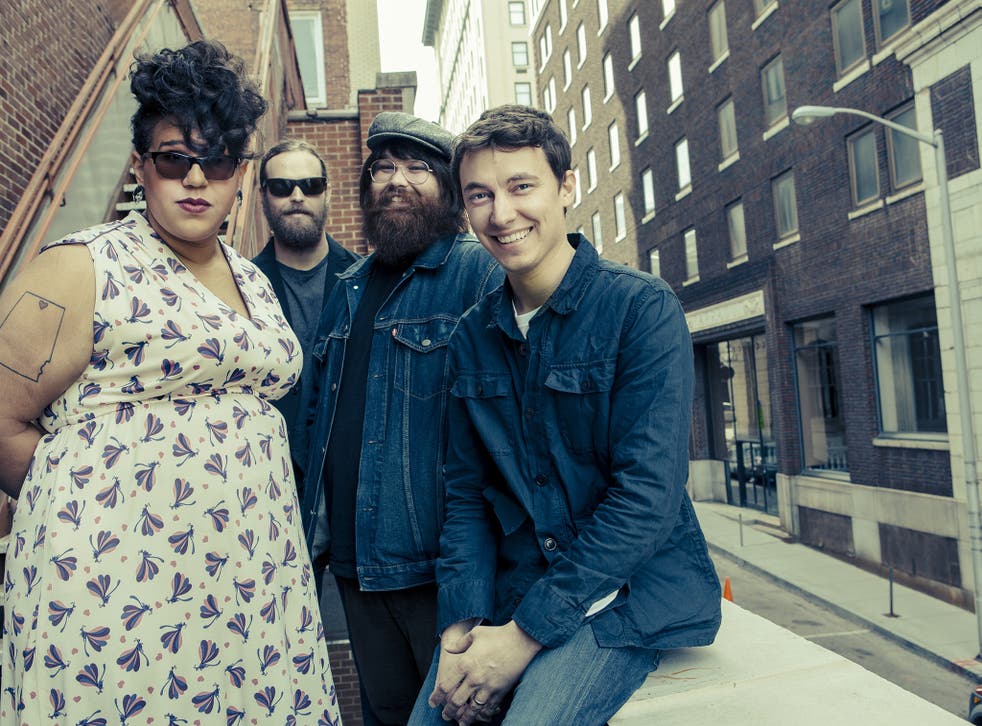 If you were lucky enough to catch Alabama Shakes' set on the Pyramid stage at Glastonbury last weekend, you'll recall lead singer Brittany Howard's performance. She rocked, screamed, howled, quaked and contorted. She danced like a lunatic and screwed up her face into a ball. But in person, Howard sits, sturdy and still, at a round table with two of her bandmates, drummer Steve Johnson and guitarist Heath Fogg.
The vast space of the hotel dining room where we meet seems to be sucking the band's energy. Either that or they're conserving their energy to promote their Top 10 album, Sound & Colour, with the tour that kicked off at the start of May and won't finish until November. Either way, there is no outpouring of emotion from the band's singer and driving force today. She gives honest, polite answers in her deep Deep South accent.
In a patterned orange-and-blue shawl, with triangular sparkly silver earrings and a plume of orange hair, she has an unsettling tendency to focus at a point just over my right shoulder. You can just about detect that she is partially blind in one eye, a result of the retinoblastoma treatment that scarred her as a baby. It's the same cancer that killed her sister Jaime, who died in 1998, aged 13. Howard, now 26, was nine at the time. Her parents split up soon after and Howard was left to amuse herself in Athens, Alabama (population 20,000). She mostly stayed in her room, bored or angry. Then one day, she dragged her sister's old guitar out the closet, and taught herself how to play.
Once she could play, Howard recruited her schoolmate Zac Cockrell and he became the bassist. Later, she started to hold jam sessions in her great-grandparents' house, which is when Johnson and Fogg joined the group.
"The band was... the only happy thing I had," says Howard hesitantly. "Every time else I spent working and that was the only place I had fun."
They released their first four-song self-titled EP in September 2011 and received a flood of requests from labels wanting to sign them. By November that year they'd been signed and their first full album, Boys & Girls, released in April 2012, became a Top 10 in six countries. Now their second album, Sound & Colour, has hit No 1 in the US as well as making Top 10 lists around the globe.
"What seemed like it was happening really suddenly to everyone else seemed to us like it was happening pretty organically. I mean, I know how we got to where we are and why," says Howard. "This Feeling" is about recognising how far they've come. She purrs: "It was kind of like having time to take a deep breath and look around and see what's changed and how good it feels." That's not to say they're sitting back on her laurels. They all share a strong work ethic and all had day jobs before the band took off. "I worked for the United States postal service," says Howard. "I delivered mail. Steve worked at the power plant."
"We were trying to balance the band and work and then it got to a stage where it was like, 'I don't think I wanna do this any more', and then I quit", says Fogg, who had a job painting houses.
New single "Don't Wanna Fight" is about that time. The track starts with a warbled scream from Howard, before breaking into a retro rock'n'roll groove. It's about "when you're working to get ahead but you can't because every time you try, someone gonna take it from you," she says. "Like when I used to work and I was going to school and paying my utility bills and you end up with not enough at the end of the day but you go to work anyway and there's still not enough and lots of people live that way."
The others nod in agreement. They were all broke and in debt when the band started touring. "We would all be sleeping on an air-mattress, sharing one room in the hotel, and then it would deflate." They all smile at the memory. "It's alright," says Howard. "I'd still like to get some place that is a little more comfortable, a little more conducive to being creative. But it's all a part of the process; you make a record, and then you tour the record," she says. "Right now is a time for work and I feel like if I work really, really hard now, then later, there'll be a little more time to focus on things like that creative endeavours and things like that."
For Sound & Colour Howard would spend eight hours a day sitting in her home studio, trying to make the words come out right, emerging only once in a while onto the veranda to consult producer Blake Mills on her progress. "When I got stuck, I would be like: 'How am I doing on this? How am I doing on this?' and usually he would be like: 'You can do better', and I would be like: 'OK, he's right.' Really digging on the porch."
I get the feeling that once Howard has got through the struggle of putting her feelings down on paper, she doesn't like to discuss them afterwards. Whereas in a live performance, she's totally at ease with spilling her heart out to the crowd. I had to ask four times before she could give me any real answer as to what she was thinking about when she wrote "Over my Head", her favourite song on the record. "I guess what I was going for is like, imagine if you believe in reincarnation. So everyone you've ever known in each life and all the love you ever gave or gotten? that never goes away. So the song is about realising that and then knowing how to harness the love around you at any point in time."
Judging by the adoration of the huge crowds at their Glastonbury show, the love of the fans should sustain them for a long time to come.
New single "Don't Wanna Fight" is out on Monday
Join our new commenting forum
Join thought-provoking conversations, follow other Independent readers and see their replies