Alex Clare interview: 'The world is a crazy place'
The Jewish singer-songwriter talks about his new album Tail of Lions, his rollercoaster ride with Island Records and how his life has changed immeasurably since moving to Jerusalem
Jess Denham
Wednesday 09 November 2016 18:48 Comments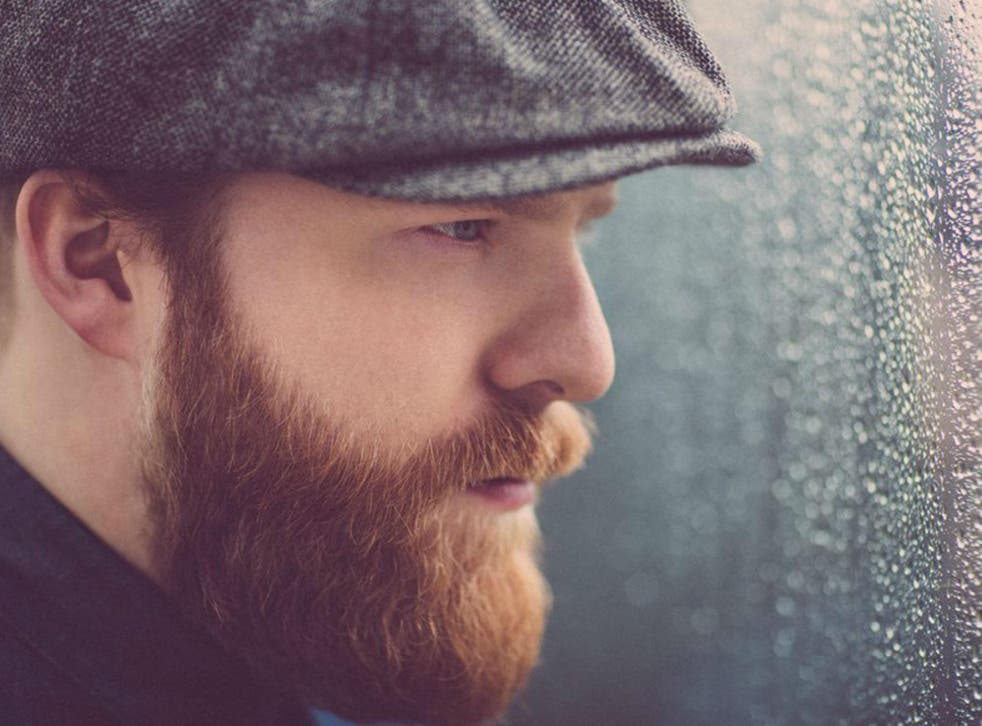 Before meeting Alex Clare at a laid-back diner in Soho, I'm given a heads up not to expect a handshake. He is not an arrogant rock star but an observant Orthodox Jew and, since marrying, the only women he touches are his wife, mother and daughter. Far from your usual singer-songwriter, he has fascinating stories to tell.
Born and raised in leafy Bromley, South London, home for Clare is now the holy city of Jerusalem, Israel, where he lives with his young family. He is back in the motherland to promote his upcoming third album, Tail of Lions, which he recorded on a narrowboat on the River Lea last summer after a rollercoaster ride with Island Records saw him signed, dropped, resigned and dropped again. Now, he is taking back creative control and releasing the record on his own. "I can only blame myself these days, but so far so good," he laughs.
Clare, 31, joined the major label in 2010 but got the boot after his debut album The Lateness of the Hour failed to generate enough hype. His big break came shortly afterwards, when Microsoft chose to use his club banger "Too Close" for its Internet Explorer 6 ad. The song rocketed up charts around the world, earned a Brit Award nomination and became a staple on the radio. Island came grovelling back, but "didn't get behind" Clare's more stripped-back second album Three Hearts and parted company with him once again in 2014. Two years later, he is happy to have freed himself from an environment he struggled to fit into. "The record industry is a bit sleazy, kind of slimy and there's lot of sycophancy and overt, negative social schmoozing," he says. "I like realness and sincerity."
Clare was exposed to an eclectic range of music growing up, with his six elder siblings listening to everything from Black Sabbath to Oasis. Despite feeling pressured to enjoy hip hop and pop to fit in with his skater friends, he preferred his mother's blues and soul compilations, while having an older father born in 1936 meant he saw many jazz greats in concert. By his teens, Clare was immersing himself in the early folk music of Bob Dylan, Woody Guthrie and Johnny Cash, while also drumming in rock and garage bands.
"London in the early Noughties was a very exciting place to be if you wanted to create music," he says, but intense personal growth over the past decade has naturally led to a shift musically. Clare no longer finds himself occupying the same head space that he did as a relative unknown on the Camden music scene, most famous for his brief relationship with Amy Winehouse (they dated for a year in 2006 before their careers took off).
"I definitely don't write about the same things I wrote about back then," he says. "I'd been through different relationships and had a more selfish outlook. I like to think I've matured as I've got older."
Surprisingly, Clare's parents are "not even slightly religious": he began practising as an Orthodox Jew in his early twenties after a secular upbringing. "How you grow up is either a reaction or a result of your parents and I'm blessed to have really cool ones," he says between sips of black coffee, wearing his customary black hat and tassels. "They'd have been happy if I'd have become a Buddhist monk and moved to Tibet."
Clare has always believed in God and became drawn to Judaism after learning to read Hebrew as a teenager. In religion, he found a sense of belonging he had never experienced as a child. "I never felt at home growing up," he says. "If I'd lived in north west London where there is more of a Jewish community that might not have been the case, but as it was I always felt a bit alienated." Finally, after years spent "trying to escape from negative surroundings and negative people", he settled in Jerusalem with his wife, who comes from a "fully bearded" Jewish family. "There's a materialism and a striving for the temporary in the modern world and I never liked it, it always frustrated me," he says. "Jerusalem is one of the most incredible, cosmopolitan, buzzing cities in the world and it holds a strong emotional place in most Jewish peoples' hearts. For me, it's home."
Clare's career is "definitely unusual" in the Orthodox community, but his musicianship is encouraged due to a strong belief that spiritual elevation is only possible by making use of your gifts. "If you're a musician and you don't choose a musical career then it's a waste of your talent," he says. He spends his Friday nights and Saturdays celebrating the Sabbath with his family, eating, drinking, singing and praying.
Enjoy unlimited access to 70 million ad-free songs and podcasts with Amazon Music Sign up now for a 30-day free trial
Sign up
"It's a prerequisite of Judaism that you're offline and disengaged for those days, which is a special thing in the modern age," he says. "You can't even turn on a light switch." But the clash between Jewish holidays and Clare's busy musician's calendar hasn't always been so easy to navigate: the final straw with Island came when he was unable to perform a Radio 1 Live Lounge session due to religious commitments. "They had to be tolerant to be politically correct and they tried, but they'd never worked with anyone who observed the rules of the Sabbath before, so it was difficult for them."
Despite his past struggles, Clare is not bitter and admits that making his first album without Island's support would have been impossible for an "inherently lazy" musician. He acknowledges his debt to "Too Close" – "it bought my house and will hopefully put my kids through college", but insists that he is not chasing after a repeat. "Labels want pop hits, they want to make the dollar, but you can't force that," he says. "I don't want to feel pressured to achieve commercial success. I just want to make music and if people like it and it has some kind of impact, then great."
Tail of Lions is heavily inspired by Clare's relationship with his wife, and the change of dynamic they experienced after the births of their daughter, now three, and son, one. "When you're dating everything is viewed through rose-tinted, starry eyes and then you realise that, actually, you need to work hard, there are huge challenges and it's not always easy," he says.
"There are times when you want to run miles away and others when you want to run towards them, so you have to find a balance." Clare is thrilled when asked about the title of the album, which comes from an ancient Jewish proverb. "'It is better to be a tail to a lion than a head to a fox' means that it is better to follow someone who is truly great, than to lead something negative and crooked," he explains, nodding to celebrity culture and politics as fields full of foxes. "I'd rather be a happy, real person than a miserable, fake person selling a pack of lies."
One look at Clare's active Twitter timeline is proof of how politically engaged he is. "I live in the Middle East so I have to be. It's shocking what's going on but people lack perspective," he says, gesturing to a nearby table of laughing co-workers. "Look at them, enjoying their coffee, while 500 kilometres from my front door there are people dying in Syria. There are fanatics in east Jerusalem who want me dead, just because I'm a Jew. The world is a crazy place."
Clare has experienced anti-Semitic abuse first-hand in London, most recently while travelling in religious clothing on the Tube with his children. "One guy got on the train and called us 'fucking Jews'. It's unbelievable that this still happens in 2016. It's a sad reality, but the majority of people are open-minded," he says. "I don't want my children to be paranoid and think the worst of everybody. I want them to treat everyone with respect, dignity and love and hopefully receive that back."
Meeting female fans is "really awkward" for the friendly and open Clare, who struggles to explain why he can't hug them for a selfie. While most respect his personal boundaries and are moved by a level of fidelity that is all but unheard of today, others are less understanding. "I keep a respectable distance and hope they get the same vibe but sometimes people get offended," he says, recalling a recent meet and greet in Arizona that left him feeling uncomfortable. "One lady got so upset with me, calling me a misogynist, which I'm definitely not."
Clare admits he does sometimes miss the old days of drinking and partying, but now places great importance on a newfound sense of self-discipline. "I loved it, I had so much fun, but the number of times you regret things you have done makes you realise how unfulfilling that lifestyle is in the long-term," he says. "If I was to do something contrary to my beliefs, it would destroy me, so I don't spend much time backstage or stay for after parties at awards ceremonies. I don't give myself those challenges."
He is currently plotting another collaboration having previously teamed up with Diplo and Rudimental, but Clare is sworn to secrecy until the plans are finalised. Judging by the wide grin on his face, they are evidently exciting. "I'm always happy to collaborate with people. If they like my music and I like theirs, it works," he says. "I just really hope people get into this album and enjoy it and relate to it. That's my mission for the next few months."
Tail of Lions is released on 11 November
Register for free to continue reading
Registration is a free and easy way to support our truly independent journalism
By registering, you will also enjoy limited access to Premium articles, exclusive newsletters, commenting, and virtual events with our leading journalists
Already have an account? sign in
Join our new commenting forum
Join thought-provoking conversations, follow other Independent readers and see their replies