Interview
Alison Mosshart: 'Nobody tells me what to do. There's no gender issue'
The Kills' singer talks to Helen Brown about not being 'the girl in the band', her first solo single, trouble with state troopers, headbanging and her obsession with the musical, 'Annie'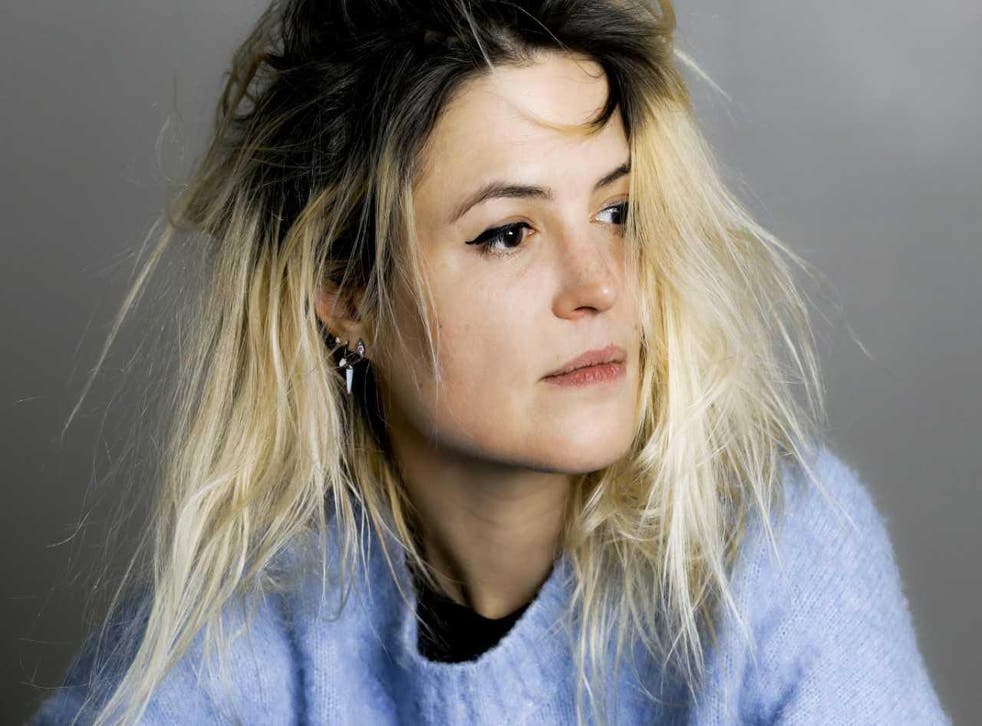 "You don't see kids headbanging so much these days, do you?" says Alison Mosshart. "Shame! When I was growing up, it felt like we were all trying to break our necks. You knew it had been a good night when you had to carry your own head out of bed!"
Kids in need of a masterclass need look no further than the video for Mosshart's first solo single, "Rise". The skills learnt as a teen growing up in the small town of Vero Beach, Florida, are given full rein. The 41-year-old frontwoman of both The Kills (with Jamie Hince) and The Dead Weather (with Jack White) says she drank "quite a lot of wine" before filming herself in her studio. "When the sky is falling/ And the sun is black … We will rise up!" bawls Mosshart, still living what she likes to describe as her "best vampire life".
The mood starts out menacing as Mosshart smokes and smoulders before the peroxide storm breaks. She gives it the full-up-and-down, side-to-side and round-and-round, without once dropping the ash from her permanently lit cigarette. "The label did ask if I had any footage without me smoking. But I didn't," she tells me over a crackling line from her Nashville home, Disgraceland, where she is quarantined with two friends and keeping busy by "going through closets, taking long walks, drawing, painting and making weird sculptures from all the delivery boxes we have because we can't go out. I've been spray-painting them, cutting them up and fitting them into tall shapes like puzzles".
News of a solo release sparked rumours that The Kills – one of the early Noughties' defining indie rock duos – might be finished. Some fans panicked. Others liked the idea of her breaking free from the male guitarists who often took up more than their fair share of the headlines.
But that's actually Mosshart's regular bandmate and "soulmate", Jamie Hince, you hear playing guitar on "Rise". Because "he's always my favourite guitarist. And," she stresses, "there is no plan to 'go solo'. We actually worked on the new Kills album every day for a month in England before I flew back to Nashville to vote in the US primaries and then we got locked down. Although we often write separately for The Kills, this just didn't feel like a Kills song."
Turns out "Rise" was actually commissioned for the soundtrack of supernaturally charged crime drama Sacred Lies, available via Facebook Watch, the social media platform's video-on-demand service. In a warm, chatty mood, Mosshart describes the drama, based on a young adult novel, as "dark". "There's murder, poverty, a cult… The director needed a number of different, troubled characters to be able to sing one song. The plot features a lot of cold cases [about missing women] so I was conveying a sense of triumph over trauma, grief and sadness. That was the vibe."
As she was sitting in the meeting, Mosshart remembered a song she'd written in London in 2013: "I recall the moment I wrote it very clearly, I was missing somebody very much. Although that's not at all how it sounds now. Anyway, I sent them the demo and they loved it. The characters sing it in the actual show so that was that. But when they asked me to record my own version for the final show I was really excited. You always want your own take on your own s***, right?"
Listening to her talk, I can't imagine there has ever been a time when Mosshart wasn't fiercely in control of that. Born in 1978 on Florida's "Treasure Coast", Mosshart was raised with a love of motion and a strong sense of self-determination. Every summer, her dad, a used car dealer, would pack his family (including Mosshart's younger brother, chef Matthew Mosshart, who dated Kelly Osborne between 2011-2014) into a van and they would tour the US.
"The second I got out of school," she once said in a feature for Interview Magazine, "we were basically leaving the next day, and I would be so excited, I would think I was going to throw up. I would pack everything and just get ready for this adventure, like, 'Who am I going to meet? What am I going to see?' I loved waking up somewhere new every day. I loved always heading somewhere. And it didn't really quite matter if we ever got there. It wasn't about that. It was about moving. He really did give me that curiosity, and that thing about wanting to go everywhere. He definitely gave me this sort of rootlessness about myself, which is why I hate being anywhere longer than two weeks."
Enjoy unlimited access to 70 million ad-free songs and podcasts with Amazon Music Sign up now for a 30-day free trial
Sign up
Even at home, Mosshart was a study in stop-start motion, in thrall to neighbourhood kids with skateboards and a boom box blasting out punk rock. She shaved off her hair, aged 11. And, in counterbalance to the punks, she tells me, she developed a "total obsession with the musical, Annie. A New York production came to our town and every day I would mow lawns to get the five dollars to go and see it again. I must have seen it 70 times. I was obsessed. If any of the actors had died, I could have stepped in and taken any part. I knew all the words to all the songs".
Mosshart formed punk band Discount aged 13 and was touring at 14. "My parents weren't always happy about it," she says. "But I was a straight A student, so I suppose they didn't think I'd get into trouble. They were amused by the idea of this very quiet, shy girl wanting to perform on stage for hundreds of people. But I really did. From the first time I went sliding across the stage of a high school talent contest in my socks."
Earlier this year, Vice journalist Sarah MacDonald wrote in praise of "how Mosshart's onstage prowl changed music", reminding listeners how much we needed to see and hear women swearing, roaring, sounding that "unbothered and intimidating" in the early Noughties.
Mosshart insists: "I'm not that social. I'm frightened by things that other people find normal and so I surround myself with loud, funny people so I can laugh my ass off and chip in at the sides of conversations. But going on stage is like crossing a line in the sand into a place where I can do, say, feel, express, become anything that I want to. I feel very safe on stage and that's wonderful. The adrenaline gives you an extreme energy surge. I will probably tour my whole life because I genuinely love that high."
The Kills were famously formed while Mosshart was in London and heard squat-dwelling art-rocker Hince (born in Buckinghamshire in 1968) playing guitar in a room above her. She fell instantly in love with his "broken" sound and they bonded over a love of vintage equipment and rock'n'roll style. They skip-dived for gear and lived on carrots and toast. When people complained about the noise of rehearsals in Hince's London studio space, they asked some carpenter friends to make them a sound-proofed cupboard and sat in there, singing together and staring into each others' eyes while, Hince once said, "willing these psychic ghosts out of each other". They created daft pirate stage names for themselves: she was VV and he was Hotel.
Although the pair generate an intense chemistry onstage, they both insist the relationship has always been platonic. Today, Mosshart tells me that those earliest days of working with Hince were "the happiest of my life". She has the date of their first gig – 14 February 2002 – tattooed onto her left wrist.
"One of my favourite, most defining memories of the early years is of our first tour of America," she says. "This was before I had a cell phone. I booked the whole tour by post. We bought a really cheap, two-door car from my dad. Just me and Jamie with our amps, literally, in our laps, driving around for three months. Playing our eight songs in dive bars, often for 10 people. I had a video camera with tapes, trying to record stuff. We took turns driving but Jamie kept getting us into all sorts of trouble, driving in America for the first time making all kinds of bizarre errors."
After one of Hince's infractions caught the attention of a state trooper in Ohio, the pair ended up in an absurd car chase. "I mean, I would have stopped," says Mosshart, "but Jamie just decided to go faster! We were flying down these country roads, looking at all the cornfields. Jamie got the idea to pull off and hide the car so we went blasting down this dirt road at a billion miles an hour. We couldn't see anything behind us so we stopped. Our hearts were racing. I was filming our conversation. We were talking. Then all of a sudden, the smoke and dust behind us cleared and in the rearview, I saw the cop just standing there. We just screamed."
The pair were duly escorted to the local jail where, Mosshart sighs, "we had to hand over all of our money. And I mean of it. It really sucked. We had to start over again financially. We were so broke we had to sleep in the car. Or we would get discounts on motel rooms that hadn't been cleaned. They could be really disgusting. Like, a trucker had just left it an hour ago. But it was so great. Every day was a challenge – would we make it to the next show? And there was a thrilling feeling: this is the beginning! Things can only go up from here!"
Everything did go up from there. The Kills surfed the wave of rackety indie rock that swelled towards the turn of the century and reverberated with a generation rocked by the events of 9/11. Along with The White Stripes, The Strokes and The Yeah Yeah Yeahs, they were offering a dirty, sexually ambiguous narrative to balance the era's neatly formulaic mainstream pop.
The Kills signed to Domino and convinced the label to set up offices in their favourite place: New York's Chelsea Hotel, where oil paintings and ash trays filled the corridors and dogs rode the elevators alone. They put out their first album, Keep on Your Mean Side, in 2003, delighting the scene with the knowing sneer of songs like "Kissy Kissy" (still Mosshart's favourite Kills' track) and "F*** the People". "You want a warning/ You got a warning/ Bet you something I can get your mouth shut," sang Mosshart. And, as Sarah MacDonald says: "Listening to women – any woman, really – tell someone to f*** off is deeply satisfying. It is terrifying. Or, if you're on the side of the brewing storm, exhilarating."
In Lizzy Goodman's book on the whole Noughties indie rock scene, Meet Me in the Bathroom, Mosshart is quoted on the fierce rivalry between the bands. "This is a competitive sport," she said. "We all wanted to outplay each other. Think of the nature of all these bands – we were all dark secretive f***ers." Today she says she's still competitive: "I don't just want to fit in. I want to impress my peers."
While others on the circuit struggled with drugs, Mosshart apparently preferred to stick with cigarettes, tequila, coffee and red wine – often using the last two substances to smudge into the sketches and paintings that have appeared in exhibitions around the world.
The mainstream narrative of The Kills is one of outsider musicians dragged into tabloid-level wealth and fame when Hince got together with supermodel Kate Moss in 2007. The pair married (with Mosshart as best man) in 2011 and divorced in 2016. Hince often said the public scrutiny made him a more guarded lyricist.
But Mosshart tells me that Hince meeting Moss "didn't change anything for us. We were still in the same place, financially and realistically. I think the press just enjoyed that narrative but it's not how things happened".
In 2009, Mosshart teamed up with The White Stripes' Jack White to form a second band, supergroup The Dead Weather. "When I first got into a room with Jack, Dean [from Queens of the Stone Age] and Jack Lawrence [from The Raconteurs], I thought: 'I've got to be as loud as these guys. I've got to get to this massive insane energy.'"
While Mosshart got a fresh buzz from the "wild, uncontrolled singing" she did with The Dead Weather, Hince later said he had been unsettled by the shift in her vocals.
In 2011, he told The Quietus: "After she came off tour with them she was singing with this really powerful rock voice that she'd "honed", as they say, in The Dead Weather. The vulnerable side of her voice is what I love about The Kills, the way it kind of cracks, and when she just belts it out there's kind of only one dimension. I speak to Alison so much, as you can imagine. I've called her and talked to her and screamed at her so much. We've cried, we've laughed, and I know every tiny aspect of her voice, and all of those aspects I want to hear in my band."
When I read the quote to Mosshart, she goes quiet. I point out that Hince called The Kills "his" band. It sounds unfairly like Mosshart is being treated like an old school "girl singer" bounced between the visions of two men. I think of how Sonic Youth's Kim Gordon and the Yeah Yeah Yeah's Karen O have spoken about the challenges of being "the girl in the band", even into the 21st century.
"I have absolutely no comment on that quote," she says. "Nobody tells me what to do. There's not any gender issue. My bands are the place where I feel like I am heard. Otherwise I would find another band. I do know what Jamie means about my voice ... I can be a chameleon. I know what will inspire him to write his best work."
In lockdown, Mosshart has surprised herself by how much she has enjoyed making videos. "It's like moving paintings! So wonderful!" she enthuses. "The stuff you see in the 'Rise' video is the first stuff I think I've shot since using the old tape camcorder on that first American tour. Ten days before lockdown I was in LA and a friend invited me to see these guys on the lowrider scene. It's mostly a Latino thing, that's been going there since the 1940s. Beautiful cars, often painted with entire family histories. They use crazy hydraulics to raise the cars up – you need, like eight car batteries under the hood. Well, I'm obsessed with cars, I write most of my songs when I'm driving (Mosshart's first book, a collection of art, stories, photographs and poetry called CAR, MA was published last year). I bought a £300 camcorder and went along."
Stuck in lockdown and forced to find imagery for the "Rise" video, she realised that the lowrider footage was perfect. "I would never have made that connection otherwise," she tells me. Then I realised: "Rise! Of course! I feel like lockdown is forcing us to solve problems where we would have just skipped on beforehand. I've always struggled with being in the same place for more than two weeks. But I feel I'm getting these beautiful moments of deeper thought and focus. Epiphanies and enlightenment. I feel like I've been on tour for 24 years. But I'm still going. Still creating. Still moving at the same pace, just in a smaller space."
'Rise' is out now
Join our new commenting forum
Join thought-provoking conversations, follow other Independent readers and see their replies