All white on the night: Why does the world-famous Vienna Philharmonic feature so few women and ethnic minorities?
Francesca Jackes on the dark side of the orchestra
Thursday 04 March 2010 01:00 GMT
Comments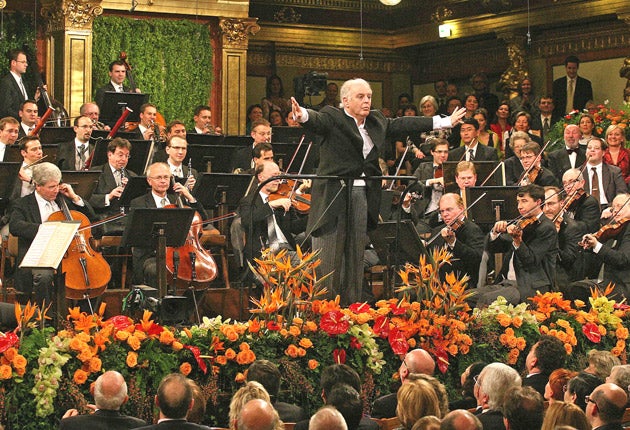 The Vienna Philharmonic is currently visiting the UK in a haze of otherwordly sound, toting instruments long since vanished from the rest of the world. Bernstein called it "that unbelievable orchestra, which plays like one hundred angel-fingers growing out of my hands". Yet once Stravinsky immolates into silence, pause, for before you is a bald fact: an orchestra almost exclusively male and white. No other internationally ranked orchestra has so few women and non-whites: respectively three percent and zero per cent. The belief system surrounding classical music seems to reach its most conservative apotheosis in Vienna. The Philharmonic's maleness and whiteness seems to remain as inviolable a part of its identity as the liquid legato of its Vienna horn.
In February 1997, the Philharmonic voted to end its discrimination against women. The date was no coincidence, being a week before the orchestra flew to New York to play the Carnegie Hall. American public opinion, due to the research of conductor and musicologist, William Osborne, was turning against it. It found itself threatened with 800 protesters and negative press so it hastily voted to admit Anna Lelkes, a harpist, and to ensure open auditions would follow. Its then chairman, Werner Resel, resigned shortly afterwards.
Consider the mysterious Anna Lelkes. What orchestra did she leave that she could so quickly be summoned to save the VPO from its American Götterdämmerung? None. She had already been playing with them. For 26 years. Unacknowledged. Paid less. Kept out of orchestra photographs. On this great day, she was nearing retirement. And, evidently, was an opponent of women joining the orchestra, even though she had been told by the Austrian conductor Hans Swarowsky: "Your place is in the kitchen."
After the vote, four years passed. Auditions came and went. In 2000, Jörg Haider came and the Ministry for Women went. Unsurprisingly, nary a female ticket came out of the VPO audition hat. Lelkes' name migrated to the retired list.
The second women tenured was her replacement, Charlotte Balzereit. Two more women passed their probejahr, four remain today on probation – all in the string section. In 2003, a string player lamented "three women are already too many. By the time we have 20 per cent, the orchestra will be ruined". And in 2006, Werner Resel, who had resigned in 1997, reappeared in the newly created role of Director of the State Opera Orchestra, then aged 71. (The Vienna Philharmonic is the private band of the State Opera Orchestra, which holds the auditions. After three years, a State Opera musician is eligible for the Philharmonic. Thereafter, musicians work for both.) Dr Wolfgang Zinggl, the Green politician, concluded: "It's easier for a camel to pass through the eye of a needle than for a woman to get into the State Opera Orchestra under Resel." The State Opera responded by saying Mr Resel's role was "administrative". Yet 2006 saw the firing of Iva Nikolova, a move documented by Zinggl, that exposed the conflicted heart of the orchestra: Zinggl documented petitions denied, threats nailed to dressing-room doors and attempts to revise orchestral laws. Yet the one tarred in the press was Zinggl.
The appointment of a woman, Albena Danailova, as a concertmistress, seems groundbreaking. She was promoted in 2008, shortly after the orchestra fired Helene Kenyeri, oboist and only woman outside the string section. No women have been tenured since. While Danailova's ability is unquestionable, was this tactical? There are still no women outside the string section even when women comprise 62 per cent of students at the Viennese University of Music and Performing Arts, and have done for 20 years with better graduation results than men, so why does the VPO hire 20 times more men and why is the firing rate for women higher? (another Austrian orchestra, the Bruckner, has 35 per cent women.) There are a number of Philharmonic women substitutes but a musician of the State Opera said: "You cannot have a female principal because if she's hired at 23, you can be guaranteed within 10 years, she'll have to take two years off to have a child, which is an impossible situation for the orchestra", and an ex-VPO musician snapped: "I like women. Just not in the Philharmonic."
The same pattern emerges with race. Asian students comprise 25 per cent of music students in Vienna yet the Philharmonic's only non-white musician, tuba player Yasuto Sugiyama, was fired before he completed his trial year in 2003. Dr Clemens Hellsberg, VPO chairman, says that although he didn't fit, Sugiyama is "maybe one of the best tuba players in the world". He says that "even sitting in the audience, I could hear how differently he played compared to the rest of the orchestra".
There is a 1996 quote from Dieter Flury, flautist and current business director: "From the beginning, we have spoken of the special Viennese qualities.... The way we make music here is... something that has a lot to do with the soul. The soul does not let itself be separated from the cultural roots that we have here in central Europe. And it also doesn't allow itself to be separated from gender... Therefore, I am convinced that it is worthwhile to accept this racist and sexist irritation, because something produced by a superficial understanding of human rights would not have the same standards." (This statement was made before women were admitted).
Arguably, Vienna is not the melting pot that London is but William Osborne stated: "In addition to the exclusion of women, the Vienna Philharmonic believes that ethnic uniformity gives it aesthetic superiority. In some cases, these views... assume the tones of a racial ideology."

Enjoy unlimited access to 70 million ad-free songs and podcasts with Amazon Music
Sign up now for a 30-day free trial
Sign up

Enjoy unlimited access to 70 million ad-free songs and podcasts with Amazon Music
Sign up now for a 30-day free trial
Sign up
The Austrian government has what the orchestra calls a business "kontrakt" with the Philharmonic worth about 2.8 million euros annually. The Chancellery refers to this kontrakt under "arts funding", which is interesting; firstly, because it's illegal for governments within the EU to subsidise discriminatory organisations and secondly, the Philharmonic is a private organisation. The VPO also gets cheap mobile-phone contracts and its members get out of National Service. However, let us skip over this grey area. Underpinning this kontrakt is the commitment to "absolute equality between men and women".
Hellsberg said: "There is no racism and no sexism in the orchestra" and added that they are "ambassadors for Austria". He noted "the mathematical disparity between, for example, female flute students and the orchestra" and said "it must be addressed" but added that "playing for both the State Opera and the Vienna Philharmonic makes it very difficult for family life". He pointed out "two more women have been confirmed". He also pointed out: "In the first violin section we have two half-Japanese players."
The orchestra's spokeswoman added: "Perhaps women are just not as ambitious as men."
Cello, girls: Women in orchestras
* In most orchestras, the ratio of men to women is roughly 50:50. If anything, there is a slight bias in favour of women, since as teenagers, girls are more likely to be encouraged to study a musical instrument to professional level.* There are plenty of women in top orchestral jobs in the UK. The Philharmonia has a woman leader, Maya Iwabuchi; the London Philharmonic's new principal cellist, Kristine Blaumane (right), is also an established soloist. Two of the capital's finest first bassoons are women: Rachel Gough of the LSO and Julie Price of the BBC Symphony Orchestra.
* Orchestral schedules are not family-friendly. Much orchestral work takes place during evenings and weekends. A woman player is unlikely to spend more than three evenings a week at home. This is equally true for the men.
* Orchestras do not usually have crèches, nor are they accommodating towards school holidays. Many orchestras spend the summer touring to international music festivals. Christmas is usually free, but not always, and New Year's Eve may bring concert bookings overseas. Half- term can be a nightmare.
* Flexibility is one advantage of the self-governing model of most London orchestras. If a musician plans ahead, she can take work off, though she will be paid only for what work she does. Matters are more complex in the salaried orchestras, where money is regular but demands more rigid.
* An orchestral tour may look like a good excuse to take the family abroad, but British orchestras' tour schedules are gruelling; travel and concerts generally take place on the same day to save cost, and late evenings followed by early mornings and long coach journeys are standard.
* Dress in an orchestra can be a roller-coaster. Sponsorship from a designer clothing company might sometimes provide cut-price access to glamorous evening wear, but this may be superseded by Talibanish directives about not showing too much flesh on stage. jessica duchen
Join our commenting forum
Join thought-provoking conversations, follow other Independent readers and see their replies