Alma: Album Stream
Ambient post-singer/songwriter two-piece re-release their self-titled debut mini-album with additional remixes and stream it with The Independent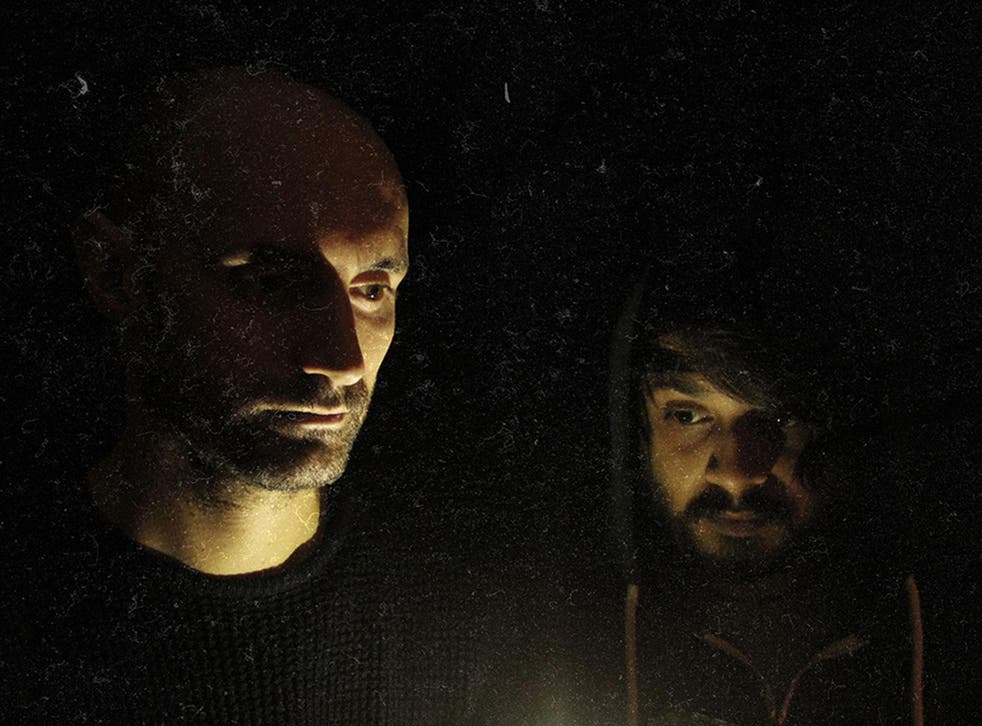 London-based cinematic two-piece Alma, are set to re-release their self-titled debut album through Fierce Panda Records on Friday 28th October alongside an additional re-worked version of the album, with remixes courtesy of the likes of Charlie Barnes, Message To Bears, Tom Hodge and Evolv. The album, originally released in the summer of 2015, is available to stream with The Independent below, alongside it's re-mixed counterpart.
Initially starting life as a singer/songwriter project for Pete Lambrou (ex-Monsters Build Mean Robots and Codes In The Clouds), Alma's sound expanded with the addition of fellow Code In The Clouder Ciaran Morahan, and together the duo create an expansive, lush, vivid aural foundation for Lambrou's angelic falsetto vocals. Drawing comparisons to the likes of Sigur Rós and Stars of the Lid, Alma create a shimmering soundscape of delicate ethereal beauty through the use of a multitude of delay pedals, guitar bowing, loop effects, a piano and strings. This allows Lambrou and Morahan to create an enormous sound, even with a core group of just two people. 'Monsters Build Mean Robots had 8 members' says Lambrou, 'which made it very difficult to get everyone together at the same time! Having just the two of us is a lot easier for sure; it certainly gives you flexibility but it also makes us work harder, which keeps us on our toes. We have to play 2 or 3 parts of each song; you'll see Ciaran juggling drumsticks, guitar and keys half the time. One foot on a volume pedal, whilst each toe on his other flicks through about 6 delay pedals. You never really finish a song, you finish recording and draw a line under it, but it'll always keep changing and evolving live.'
Breath-taking in its scope and evoking imagery of the vastness of space with titles such as Cosmonaut and To The Stars, Alma aim to transport the listener out of their surroundings with their evocative, haunting music. 'The themes of the record all started to fall in place when we started to record the album' says Lambrou. 'It's an album based entirely on escapism and where better to escape but the stars!?'
The idea to re-release the album with a new version entirely made up of remixes comes through Lambrou's love of fluidity in the process of creating music. 'I love the idea of having different versions of each song' he says. 'It's something we aim for live, either because the line-up can change from show to show, or because I like to base most tracks around the loops and build them up from scratch. So this seemed like the next natural progression, it's really interesting and inspiring to see where other people take the songs. We've been huge fans of each 're-mixeer' for a long time, it's been amazing to see how other people we admire view the songs. I think most of them actually got the crux of the song better than we did in truth!'
Alma and Reworking and Remixes is re-released on Vinyl and Digitally through Fierce Panda on Friday 28th October and is available to pre order now. Alma play a show to celebrate the re-release on Monday 31st October at The Lexington.
Register for free to continue reading
Registration is a free and easy way to support our truly independent journalism
By registering, you will also enjoy limited access to Premium articles, exclusive newsletters, commenting, and virtual events with our leading journalists
Already have an account? sign in
Register for free to continue reading
Registration is a free and easy way to support our truly independent journalism
By registering, you will also enjoy limited access to Premium articles, exclusive newsletters, commenting, and virtual events with our leading journalists
Already have an account? sign in
Join our new commenting forum
Join thought-provoking conversations, follow other Independent readers and see their replies