Finnish pop star ALMA: 'I like to keep it simple and real'
Emerging artist on nerves, festival season, and working with Charli XCX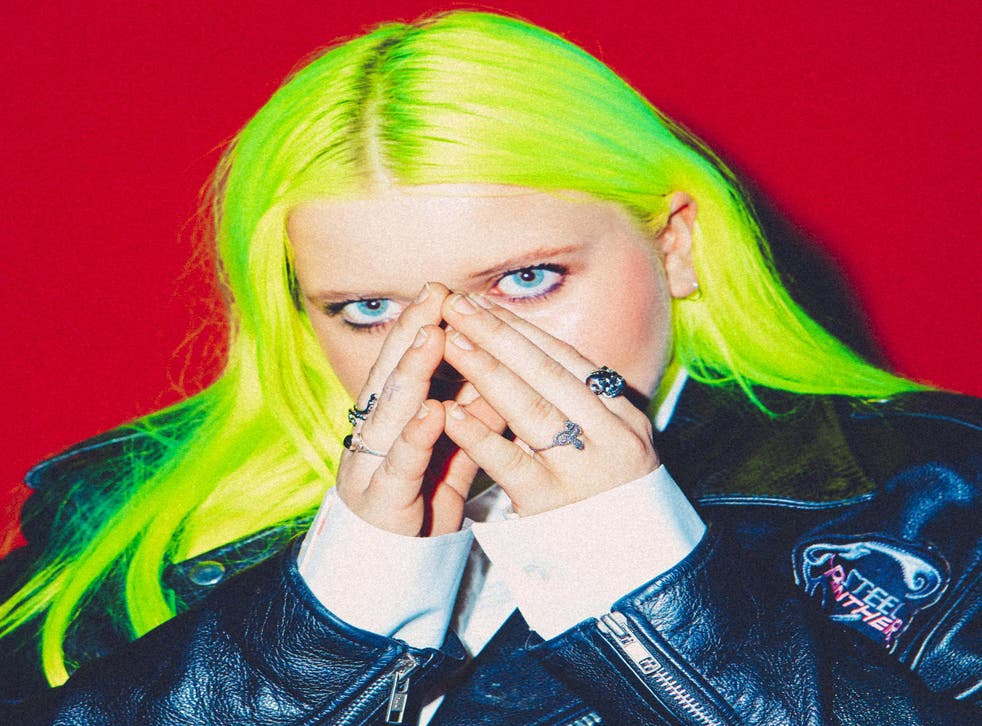 ALMA knows how to make an impression. Whether it's her neon yellow hair or powerful voice, it's hard to miss her – even in the dark, as it was at her packed show at London venue XOYO in August.
A few months later and the Finnish pop star is chilling with her twin sister Anna, who performs with her on stage, before a trip to the US.
The 21-year-old is something of an anomaly in Finland; a country left on the sidelines somewhat, in the feeding frenzy over a smörgåsbord of pop music that has emerged from its Nordic neighbours in Sweden, Norway and Iceland over the past five years.
"I think people in Finland have maybe been scared to even try to go abroad," ALMA suggests. "But it's changing a bit, people tell me that more young artists are emerging. We just haven't had anyone for years.
"Every time there's an article about me it's like 'Finnish international hope'. I try not to think about it too much because it's a lot of pressure, but when I have dark days when I want to say 'f**k this shit' I think 'hey, let's make Finland great again'," she grins.
ALMA writes straightforward pop music that is fun and brilliant in its simplicity. At the time of writing, her hit "Chasing Highs" had clocked 63 million streams on Spotify, the title track from her EP Dye My Hair had 38 million, and her song "Phases" ft. French Montana is going steady with 12 million.
It's different to anything else you'll hear in the charts – inspired in part by the Nineties pop that she grew up on in Finland. "It's easy, everybody can understand it, and sometimes it's even cheesy," she explains. "I like to keep it simple and real."
And it draws crowds: "Our last festival show in Berlin, Germany, and we were playing at 2pm, which is f**king hard," she says. "But there were 20,000 people. The organisers were telling us we had a bigger crowd than the headliner the day before. Everybody was like 'what the f**k?!'. It was huge."
She jumps over and shows me footage on her phone, of crowds stretching back as far as the eye can see, and her, bouncing around on the stage with apparently relentless energy. "It was the biggest crowd at the festival so far," she says, beaming. "The perfect way to end that season. It was almost a bit too much, you know?"
Enjoy unlimited access to 70 million ad-free songs and podcasts with Amazon Music Sign up now for a 30-day free trial
Sign up
With her hair and 'dgaf' attitude, many people assume she's more punk than pop. She admits she dabbled in the music when she was younger, and was involved in those scenes a little. She loves mosh pits, and the people. But she loved pop music too much to stray from it for too long.
"Sometimes it's hard for people who see me and think I can't be a pop musician because of how I dress or my attitude," she says. "I love the teenage rebel feeling in it, and for the next album I'll really try to get some songs based on that love of the genre."
She's been working with friend, collaborator, and fellow pop wunderkind Charli XCX, who directed the video for "Phases"; apparently they already have around a hundred songs written down. Recently they set up a songwriting camp where they would decide who would get what song. Other producers and writers were there, but it was mainly the two of them, working together. "It's very easy to work with her because it doesn't feel like working," ALMA smiles.
She and her sister have proven to be another fruitful partnership. When ALMA started out, her sister would take photos of her performances, before they decided that she should join her on stage.
"We've been doing everything together since we were kids so it felt right, and she's a great singer so… why not?" ALMA says.
You wouldn't believe it from her swaggering, irrepressible stage presence but she does still lose her nerve before a gig. "I don't like when the lights are very bright, it can make me anxious about going on stage," she says. "But it goes away every time. Anna helps me a lot, telling me not to think about it. Just go."
For her debut album, which fans have been clamouring for since the release of her first single in 2016, she says she wants to find the same energy she heard on the pop music she grew up on, and create those feelings she had listening to the likes of Pink, Kanye West and Gwen Stefani as a teenager.
"It's not going to sound dated, but that's what inspires me with my music," she says. "It's crazy how you can hear one intro from one song and you start to get these memories. That's what I've been trying to do, to recreate that feeling in my own music for the album.
"I don't want to write an album about being on a plane and doing promo and not sleeping. I've never written any diary or anything which I think is sad because I won't remember stuff in 20 years. So maybe this album is kind of like my diary. It's all the good memories of first times doing things".
'Phases', the new single from ALMA ft. French Montana, is out now
Join our new commenting forum
Join thought-provoking conversations, follow other Independent readers and see their replies