AMENRA – MASS VI: Album Stream
Revered Belgian avant-garde post-metal luminaries stream the sixth album in the MASS series in full, whilst vocalist Colin H. van Eeckhout provided The Independent with an exclusive essay on the history of the band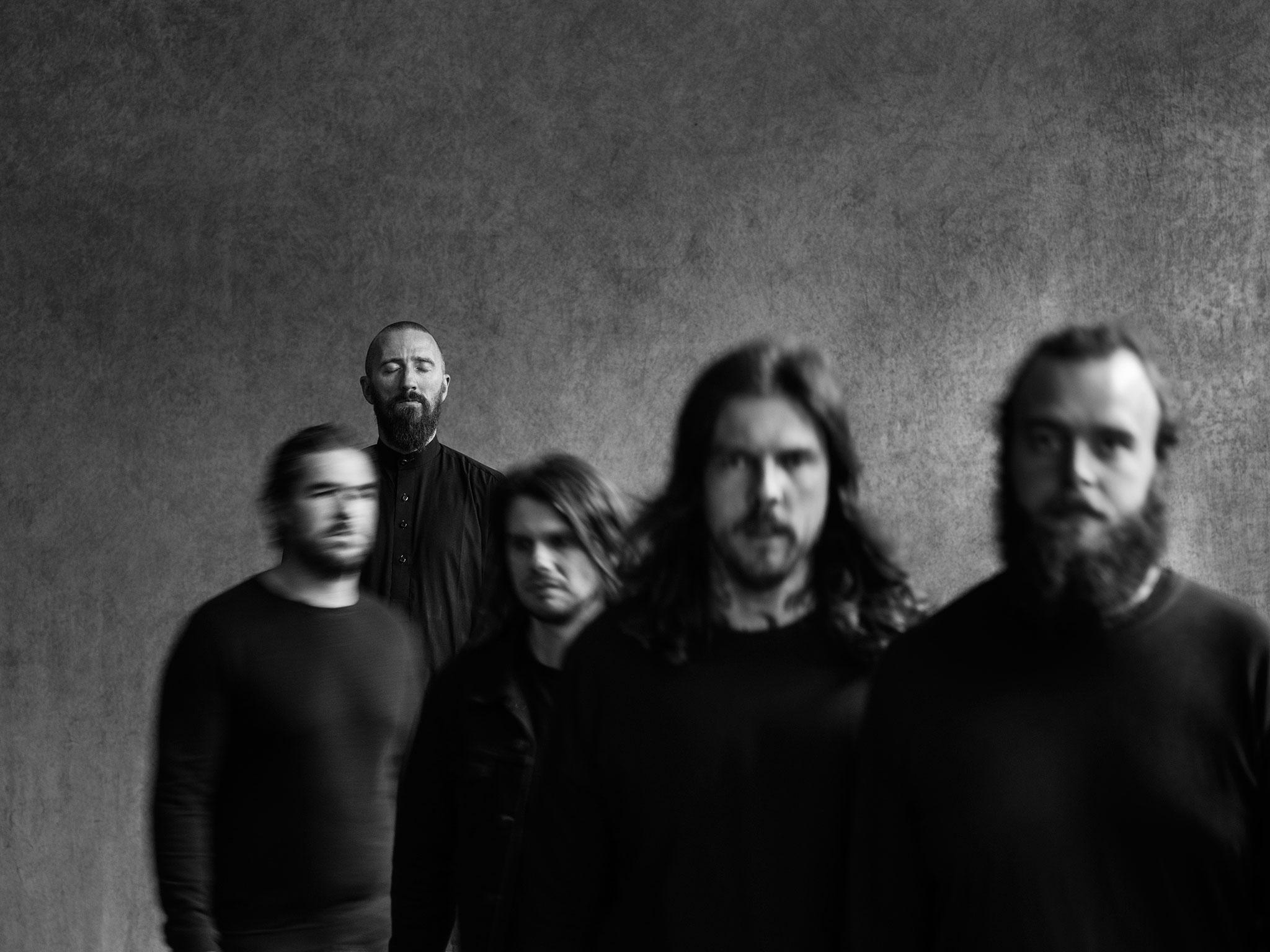 Formed in the Belgian city of Kortrijk in 1999 by vocalist Colin H. van Eeckhout and guitarist Mathieu Vandekerckhove, AMENRA push the boundaries of extreme music by being heavy in practically every conceivable way; sonically, emotionally and spiritually. That last descriptor may seem odd in the context of a band that focus predominantly on life's darker themes – pain, misery, suffering, torment – but it is no coincidence that their albums all come with the prefix Mass and that one of their websites, a cryptic and oracular descent into the abyss, is christened Church of Ra. It has been five years since AMENRA released their last MASS, and MASS VI will finally be delivered on Friday 20th October but you can listen to the whole sermon for yourself 4 days in advance below.
Their live performances have become particularly entrancing communions, with stunning visuals, uncompromising sonic power and a visceral, enigmatic turn from Eeckhout, who somehow manages to captivate an audience whilst predominantly playing to the back of the stage. Such is the high level of esteem bestowed on the band that they were joined by Scott Kelly of Neurosis and John Dyer Baizley from Baroness earlier this year at the prestigious Roadburn Festival for a devastating rendition of Nowena | 9.10, the final track from MASS V.
MASS VI may well be the most vivid, transcendent and dynamic recorded representation of the band yet, a searing 41 minute exploration of loss, grief, sorrow and the passing of time. The album is available in two different mixes, both with different artwork and designs, one for the US (via Neurot Recordings) and one for Europe (via Consouling Sounds). The US version is mixed by Billy Anderson, whose credits include Neurosis, Pallbearer, Swans and Sleep, whilst the EU version is mixed and mastered by Jack Shirley, who has enormous recent success working with the likes of Deafheaven and Oathbreaker.
Colin H . van Eeckhout very kindly provided us with an essay about the history of the band, the MASS series and the circumstances around the making of MASS VI.
AMENRA Then and Now: The History of MASS
An essay by Colin H .van Eeckhout
We have one story to tell and it is always the same. I always write about life's pain. I always use personal experiences as a reference to relate as truthfully and as honestly possible, from the heart. I try to bend the darkness into the light. In essence, we only write for ourselves as a means to find ways to cope with what is happening around us. To us and our loved ones. Besides our longstanding friendship with one another, the music and words bring comfort and strength. We aim to summon a force that is undeniable. That force brings an energy that, for me, is unmatched.
From the beginning, our intention with the MASS albums was to devise a platform for self-reflection, to set a base for introspection; that moment when you're on your knees and you ask questions that don't have answers. The moment you turn 'religious'. It is the search for these answers that is something of great value to us as a species. We need something to turn our hopes to, something to reach for, something to rely on. Something intangible that rests its hand on your heart and whispers that 'everything will be alright'. You need something that is willing to pick you up by the arms and help you fight that invisible enemy. That is exactly what AMENRA aims to be. And claims to be. And each MASS is like a moment in time; every song takes me back to a certain experience, a certain 'phase'.
AMENRA Live Gallery
Show all 8
It took us longer to write MASS VI than any of our previous albums and that is simply because we didn't yet have the right reasons to write it. In the five years between MASS V and IV, life ran its course and each one of us began to see its darker sides. Ultimately, it was the death of our drummer's mother that brought us together to record and finalise this album. It brought us all together right in that moment, in one phone-call. We all knew the time had come. We all dug into the cancers, losses and pain we carried with us, and told our collective story, once again. And to my relief, we wrote a new MASS.
MASS VI was hard to write because, as a band, it's hard to reinvent yourself without losing yourself. We choose not to seek inspiration from other bands but within our own. That was the hardest thing yet to write. The feelings and abstractions that we want to translate into music are of an honest and sincere nature, therefore we can never see it as merely 'good enough'. It never translates the 'truth' it should convey towards those moments in our existence.
That being said, in comparison to the previous albums, I think the depth of the music has evolved on MASS VI, and the emotional resonance of the music appears to have a broader reach. The 'acoustic' parts of the songs have gained more significance and seem to cut deeper than they did before. The impact of the full-blown heavy parts has increased, gaining much more power and hitting with so much more force than they ever have done before. I feel that my clean singing also cuts deeper than it has done before. I suppose I would say, the music has more thought-out, careful layering; we have slowly but surely mastered our 'style' and, over time, have created music with an identity of its own.
Tracing our evolution is something strange. AMENRA evolved as humans as we did as musicians; we actually learned to play our instruments together. Around the MASS I era we had played together for two years; now we have been together for almost two decades. We have been living AMENRA for so long now, we have almost become the music. We found direction with MASS III I believe; that was undeniably a keystone moment in our existence. We had a few songs that stood out before then, that guided us towards what we would do with MASS III. We fine-tuned it with MASS IIII and then MASS V provided a new turning point; it was the first album we recorded in a professional studio and released via Neurot Recordings. (Producer) Billy Anderson succeeded in doing what we thought was impossible, translating the live sound into an album. It was a natural choice to continue down this path and work with the same people, who have become our extended family, for MASS VI. I strongly believe that with the album, we have a new momentum in our almost two-decade long career and instead of losing hope, I am drawn to spread more warmth and love than ever before.
We never know when it will be our last album. It would make no sense to write, if it weren't for the sheer necessity to create a new MASS at any given time. I would love to see our music survive us and I would love our music to be relevant long after we are gone. I believe it will be relevant, but I doubt people will remember us. If our music doesn't, then I hope our 'message' will; that is surely something that can keep on spreading forever...
MASS VI is released on Friday 20th October and is available to pre-order in Europe via Consouling Sounds and in the US via Neurot Recordings. The deluxe edition 2xLP 45rpm 180gr vinyl is available in different limited colours. The band begin a European tour with release show in Brussels, where a special edition of the album will be available with screen-printed art
Join our commenting forum
Join thought-provoking conversations, follow other Independent readers and see their replies