Back to black: How we keep failing Amy Winehouse
As her debut book charting the rise and tragic fall of the singer is released, Kate Solomon looks at why history keeps repeating itself when it comes to women in pop, from Britney Spears to Jesy Nelson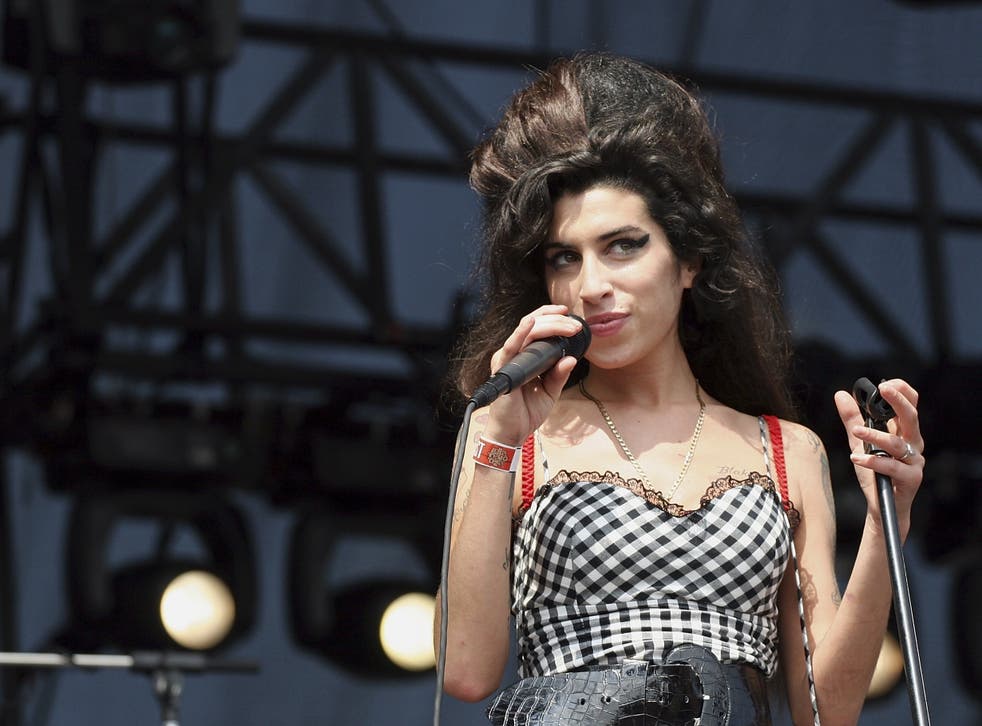 Amy Winehouse is inextricably linked, in my mind anyway, to those irreverent pop TV shows of the early 2000s. These were programmes like Popworld, Never Mind the Buzzcocks and SMTV: Live, where pop stars either leaned into the silliness or were shown up for being po-faced. Winehouse was the former, but with teeth. If a TV interviewer compared the singer's work to Dido's, she'd shut down completely. But if they asked her to carve a beef joint in a local butchers ("I love handling meat!"), she was game. Answering the same question for the hundredth time? No. Campaigning for the Brits by shouting at passersby from the back of a cab? Yes, and can we stop to lob apples at a Dido billboard on the way?
Winehouse appeared twice on Never Mind the Buzzcocks, BBC Two's hilarious but often harsh quiz series. You needed to be sharp as a tack and able to dodge an attack to do well and Winehouse was adept at both. But in 2006, while promoting her second album Back to Black, something had changed. Amid the usual snark lurked something darker. Winehouse, visibly drunk, belligerent and sloppy on the show, was met with calls of "Do you want another drink?" from host Simon Amstell, then "Do you want us to just sit here while you drink yourself to death?" There were jokes about her working with Pete Doherty ("He wants to sell you drugs!") and her drug use ("I thought crack was your new thing"). "Can we resuscitate the old Winehouse? I loved you when you were sober... This isn't even a pop quiz anymore, it's an intervention Amy," Amstell chirped. Everyone laughed, including Winehouse.
Jibes such as these were just a drop in the ocean of offhand comments that made a joke of Winehouse's problems. She died 10 years ago this July, a cause for reflection on both her music and the way her life was presented to us, and a reminder of how little our view of fame and the resulting effects it has on artists has moved on. Over the past few weeks, a number of films have sparked again some much-needed discussion about how women in pop have been and still are treated in the public eye. The comments levelled at Winehouse were reminiscent of those squawked at Britney Spears in the press, as evidenced recently in the documentary Framing Britney Spears.
Amstell teased Amy Winehouse about her drinking habit on Never Mind the Buzzcocks
The new Billie Holiday biopic The United States vs Billie Holiday, meanwhile, chronicles the legendary singer's reliance on hard drugs to perform alongside the racism and legal persecution she faced for her refusal to drop the anti-lynching song "Strange Fruit" from her repertoire. And more recently, Jesy Nelson, previously of Little Mix, detailed how vicious online comments drove her to consider suicide in her 2019 documentary Odd One Out, an extreme example, perhaps, but one that gives you chills. Looking back at the depiction of Winehouse in the media – lauded singer to party girl to hopeless druggie – or watching Asif Kapadia's excellent film Amy, you can't help but feel guilty, almost complicit, for your part in allowing it to occur.
Perhaps at the time, these cruel attitudes towards Winehouse were normalised because she often seemed to be in on the joke, laughing at herself too. Her wit was legendary and maybe that made it feel acceptable for us to laugh alongside her. But it's obvious now that this was not the case. Three years after her final appearance on the show, the BBC released a DVD compilation of the best bits of Never Mind the Buzzcocks. It was during a time when Winehouse seemed to be in recovery, and Simon Amstell provided a commentary. He talked about this Winehouse episode slightly shame-facedly, saying: "It wouldn't have been funny if she'd died. But she didn't so it's funny again."
While I don't doubt that Amstell, who was friends with the singer, was genuinely concerned for her, the fact that this clip is remembered for its comedic elements rather than a giant red flag that a human was in clear need of care and help, is telling. For years we were bombarded with photos of Winehouse in various states of disarray; stories about her problems with drugs and alcohol were sold by people close to her; she was hounded by paparazzi and eventually had to leave the UK to escape the relentless scrutiny. It began to feel like the tabloids were actively willing her to pass away. Think of the headlines! The sales! The sensation!
Her death, when it came, was a shock. In public, save for a few admittedly major relapses, Winehouse had seemed to be getting healthier. She'd kicked drugs, put on weight and largely been out of the public eye, tending to stay cloistered in her Camden flat drumming and looking through old photos to avoid attention. Many of us who were old enough at that time remember exactly where we were when we heard the news that she'd passed away, and I put it down to a misguided feeling that Winehouse could survive anything: she'd lived through so much and seemed to be so well, we thought she'd weather any storm.
Amid a sea of disturbing stories and upsetting images, Amstell's commentary stayed with me. "She lived, so it's fine." So often, we dismiss things that were awful because they turned out OK. It's only when some horror befalls someone that we see how monstrously they've been treated: Britney Spears public struggles of 2007 are finally being treated with sympathy and empathy now that the details of the conservatorship she's been allegedly trapped in have come to light. Nelson had to go on TV and tell millions of people that she was at her limit before we could see that it was our own behaviour that had damaged her.
Go back through the history of popular culture, and there's a long, sad list of women whose lives have been ruined by fame and the scant support they received for mental health problems and addiction. So many of these women became the sole income for the people around them, their personhood discarded as long as they kept the cheques coming in. A worrying number of artists I have spoken to during my career have talked about needing support. The US pop singer Meghan Trainor once told me she wished there was a way she could get all the pop women together to talk about the problems they face, the business side of their lives, the sheer intense weirdness of their existence as stars. In Apple TV's Billie Eilish documentary, The World's a Little Blurry, Katy Perry tells Eilish to call her if she needs to: because it's a wild ride, becoming famous, and no one really knows how to handle it. Who can support you through that if they haven't lived it?
In Winehouse's case, it's easy enough to look back and pinpoint moments where things could have changed. Her life was so publicly captured and so relatively recent; Kapadia's Amy gave us a glimpse of that pressure and asked questions about why she was forced to, for example, play her final show in Serbia where she was so drunk she could barely stand and the impatient crowd booed her off stage.
Though the problems that Winehouse's story highlights are by no means solved, the conversation is at least evolving – although you have to wonder why it has taken so long and required so much public shame on the music industry's part to spark any kind of change. Mental health has become a less taboo subject, and the major labels last year said that they're making mental health provisions for artists a priority in the wake of the deaths of rappers like Lil Peep and Mac Miller, and EDM producer Avicii (though how effective these are is unclear).
On a more grassroots level, the British singer Lauren Aquilina has set up just the kind of network imagined by Trainor, called Girl and Repertoire, to help aspiring singers in the UK – she herself left the music industry on the day her first album came out. And stars like Swift and, more recently, Billie Eilish and Demi Lovato, are taking back their narratives and being honest about the struggles of fame in the films they are releasing about their careers.
Of course, it wasn't simply fame that caused or prolonged Amy Winehouse's struggles. She was dealing with eating disorders and depression long before she entered the public eye, and she was very resistant to therapy or treatment. She would sit in a therapist's office and stonewall them, saying she didn't want to talk about anything, that she could deal with all herself. During the height of her addictions she treated rehab facilities like hotels to check into whenever she felt like it.
Winehouse felt, I think, that she could channel these feelings into her music and that would fix her. Back to Black, which is largely about the end of an unhealthy relationship with a man she was infatuated with and a hugely problematic presence in her life (Blake Fielder-Civil), is a masterpiece because of the raw emotion that she poured into it. But again, she'd couch these very serious problems and dark feelings in pop melodies and dance-floor beats: whenever I hear "Rehab" at a wedding I have to fight the urge to go up to the DJ and say, "You know what this song is about, right?"
It's tragic that the many problems that Amy Winehouse fought, overcame and succumbed to have overshadowed the story of her life; sad that throughout it you can't help but think, what if... A phenomenal voice and a talent for writing sharp, funny lyrics that were as intimate as a 3am deep and meaningful made us all feel that we knew her. I think we all bear a responsibility to the people whose art soundtracks our lives; they shouldn't have to suffer for us. Let's not let the continual failings that Amy Winehouse bore happen ever again.
'Lives of Musicians: Amy Winehouse' by Kate Solomon is published by Laurence King Publishing. It is out on March 18th, RRP £12.99
Join our new commenting forum
Join thought-provoking conversations, follow other Independent readers and see their replies