Angel Olsen interview: It's her magnificently expressive vibrato voice that makes her stand out
The Missouri-raised singer-songwriter has moved away from plain folk-rock with the use of synths and Mellotron on her new album, 'My Woman', and wants to have fun in her videos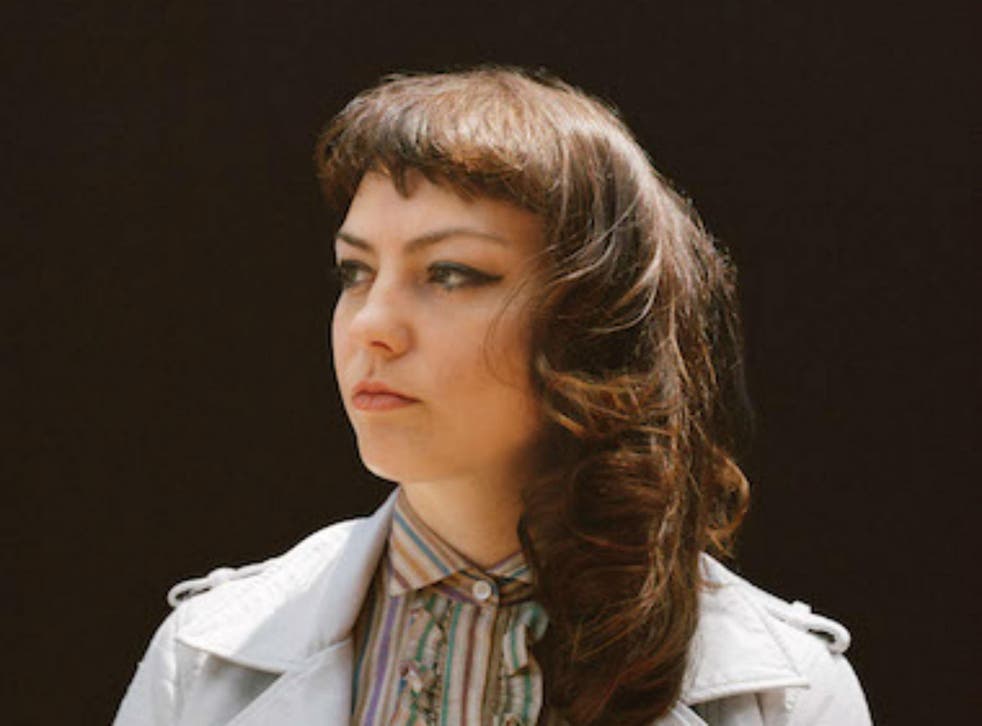 "People think if you write something that's emotional and articulate that you are carrying this weight around with you, and reliving it every time you perform," says Angel Olsen, sitting across from me in her UK record label's boardroom. "But sometimes you don't even remember some of the things that inspired the songs."
The Missouri-raised singer-songwriter has been warmly embraced – by audiences and critics – in the UK and is starting to play bigger and bigger venues; in May next year Olsen is booked in for a show at the Roundhouse in London. The adoration and success are fully deserved, especially after this year's compelling My Woman, her third and most ambitious record. The album, which blends glam rock, psychedelia and folk, features the droll "Intern", the deliciously catchy grunge pop of "Shut Up Kiss Me" and the epic (more than seven-minutes long) "Sister", with the videos for all three tracks directed by Olsen herself – and featuring the singer in a rather striking synthetic, silver wig. The 29-year-old, who enjoys being in control of the whole creative process and her own image, was surprised by the reaction to her latest videos.
"People said you've developed this 'character' because I'm wearing a wig," laughs the elfin-like Olsen. "People said 'I feel we're seeing you for the first time' with your videos, which is actually so funny because it's part of me and my sense of humour.
"I don't think I'll stop putting so much energy and time into making serious songs, but there's a certain consequence to it and you're supposed to be sad in everything you do," she adds. "But with the video-making process I was just having fun, there wasn't a tonne of meaning and I was goofing around."
Olsen's songs are by turns daft, serious, deeply romantic, intense and, very occasionally, angry, but what elevates them all is her magnificently expressive vibrato voice. The introduction of synths and Mellotron on My Woman is very welcome and a departure from the predominantly folk rock sound on her first two albums, Half Way Home and Burn Your Fire for No Witness, but it's Olsen's voice (married to her raw, enigmatic lyrics) that makes her stand out from pretty much every other current artist. And she's in demand too, with Cass McCombs employing her vocal services on haunting single "Opposite House". However, she's not entirely satisfied with the "culture" and narrative surrounding her personality, finding it "really weird".
"Articles use the same adjectives, phrases and headlines all the time," Olsen claims. "I can write my own frecking article about me at this point.
"If I'm having a lovely conversation [with a journalist] I don't want to over-analyse it later," she adds before adopting an amusing child-like voice (she does this quite often), "but I remember Mike [a made-up journalist] and he was really nice, we had a laugh together and he told me about his sister and his baby, but in his article he was not very nice to me."
Olsen, who was adopted by a foster family aged three, was born and raised in St Louis before leaving for Chicago aged 20. She now resides in North Carolina's Asheville, a sort of hippie paradise, which is teeming with micro-breweries and music venues. She finds Asheville idyllic, describing it as "like a pillow", and maintains that she needed to find somewhere to relax after hanging out with artists all the time in Chicago. However, she hasn't lost her pained edge ("I dare you to understand what makes me a woman" she sings on "My Woman") or crossness ("Don't you know you'll/ Never have a part" on "Pops").
"I get mixed comments on the new album," she says. "People say you seem calmer and then other people are like, 'you seem angry', well I don't know what I seem.
Enjoy unlimited access to 70 million ad-free songs and podcasts with Amazon Music Sign up now for a 30-day free trial
Sign up
"On My Woman's "Not Gonna Kill You", when I wrote it I knew it wasn't going to be a pretty song," she says. "It's similar to "White Fire" [from Burn Your Fire for No Witness], on which I started angrily writing things like 'I want a love that's like this and like this… and it's not going to kill you'. I was looking at the words and thinking how do I make this melodic?" she laughs, loudly.
"I just write in different styles obviously, and for me it makes me feel better that I can," she emphasises. "I wouldn't want to play songs like 'Not Gonna Kill You' all of the time; it's nice to have a song that's weird, a piano song that's emotional and a pop song like 'Never Be Mine'. But I don't wake up thinking I'm going to write four different song styles. I just end up being inspired by different things and sometimes it's more aggressive."
Olsen is generous with her answers, covering everything from her love of Netflix's Stranger Things and Ron Howard's recent Beatles documentary ("They were this huge band, but they had this DIY, garage band set up") to Bob Dylan ("I wish he would hook up with comedian Louis CK and have a go at people") and reading Leonard Cohen's poetry. However, she does repeatedly return to certain topics, most notably her work ethic and her strong desire not to be ill-defined, pigeonholed or manipulated.
"I wanted the title of my new album, My Woman, to be something strong," she admits. "The title is an attitude of doing something for myself and now I get to make the decisions [especially in terms of the videos] because I should."
However, she also recognises "prima donna" behaviour and playfully mocks "someone more famous than I am" on the parodic, synth-laden "Intern" (where she pleads, tongue-in-cheek, "I don't care what the papers say"). But she does admit to being very "hard to please" and slightly contrary.
"I'll say things like the show in Brussels was so good and pristine, but I wanted someone in the audience to heckle, I wanted something to get the blood boiling," she confesses.
"You can have a string of gigs that are respectful and all the same and you get bored," she adds, "and you want someone to fuck with you a little bit sometimes."
"But then you have to slap your wrists sometimes and realise that this [playing music] is a privilege," she says. "And I remember when I was playing punk shows in basements and no one gave a shit about my potential."
That potential has been more than fulfilled and although she claims to not have a fan club yet ("I have a group of people who like to come to the show real early and sometimes they're real weird"), barbed, blistering songs such as "Shut Up Kiss Me" and "Intern" and sumptuous laments like "Iota" are going to garner this remarkable talent a lot more attention.
Angel Olsen's My Woman is out now; she plays Islington Town Hall tonight, and London's Roundhouse on 24 May 2017
Register for free to continue reading
Registration is a free and easy way to support our truly independent journalism
By registering, you will also enjoy limited access to Premium articles, exclusive newsletters, commenting, and virtual events with our leading journalists
Already have an account? sign in
Register for free to continue reading
Registration is a free and easy way to support our truly independent journalism
By registering, you will also enjoy limited access to Premium articles, exclusive newsletters, commenting, and virtual events with our leading journalists
Already have an account? sign in
Join our new commenting forum
Join thought-provoking conversations, follow other Independent readers and see their replies