Anna Calvi interview: The singer-songwriter on loneliness, resisting the patriarchy, and starring at Meltdown Festival 2015
Calvi - who is two Mercury-nominated albums into a critically acclaimed career - tells Holly Williams why she went into hiding ahead of a UK tour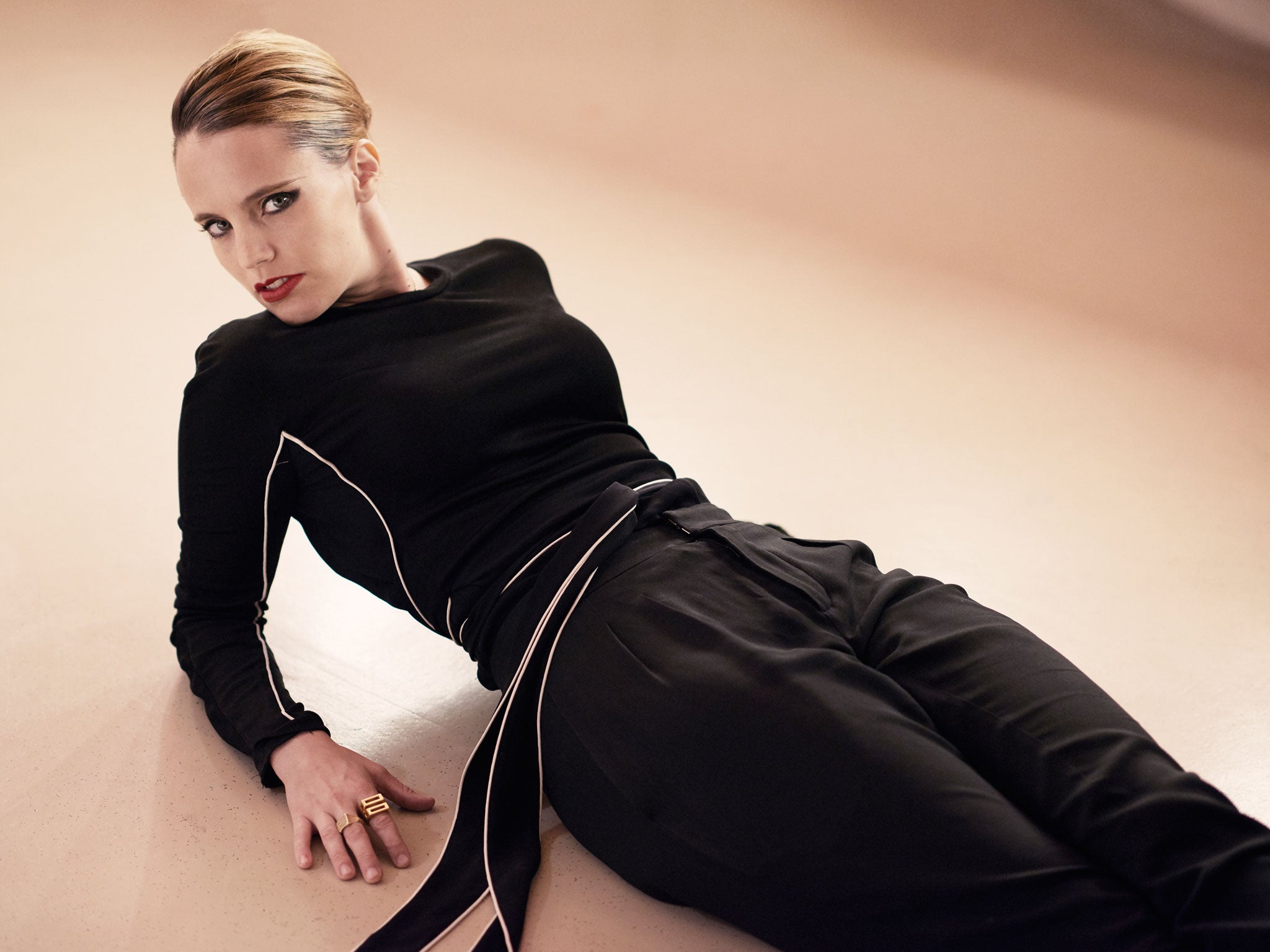 When she steps on stage, Anna Calvi is utterly fearless. "It's the area in my life where I'm the closest to the superhero version of myself," says the guitarist and singer, currently on tour, with two albums and an EP behind her. "I feel very in control of what I'm doing but at the same time I can really let go… let go of the worry that I have, my anxiety. It's very cathartic."
'You have to know what you are doing is good yourself. I was relying too much on what others were saying, which is why I decided to start living like a monk'
Such statements will come as no surprise to anyone who's seen Calvi live – she's a dynamo, with a powerful, rich voice; you'd call her a belter if she didn't have such velvety control and craft. When she emerged, seemingly a fully formed star, in 2010, she had the flamboyant look to match the sound: dressed in men's flamenco outfits of blood-red shirts and black trousers, hair slicked back, a splash of scarlet lipstick. Stroking her instrument in a circular motion – a technique also lifted from the flamenco tradition – provided a textured, dramatic backdrop to her meaty vocals.
Which is why it's a surprise meeting Calvi in person; restrained and contained, she seems so much smaller, and has an almost squeaky London voice that bares no relation to her full-throated recordings. It turns out that to become the consummate performer she is today, Calvi had to overcome another, internal, voice saying, "You can't do this."
Arts + Ents News in Pictures
Show all 50
Although she played violin and guitar as a child, and studied music at the University of Southampton, it wasn't until she was in her twenties that she forced herself to sing. "I'm more of an observer than someone who takes centre stage. To take that role and be like, 'Listen to me,' is not what feels natural. But then there was a part of me that was like, hang on a minute – why not? Why is my voice less valid than anyone else's? I guess it was that determination that made me start singing. And when I started to sing, it was the ultimate expression. You feel silenced in your life, and suddenly you can just go 'Ahhhh'" – Calvi opens her mouth wide and lets the sound flow out.
That voice has certainly helped her records, 2011's eponymous debut and 2013's One Breath, win fans and acclaim; both were Mercury Prize-nominated. Yet Calvi says she was "phobic" about singing for many years, not able even to warble in the shower or along with the radio. "I guess I always felt a bit hemmed in. I just decided one day, I'm going to work and work and see if I can sing. I practised for hours every day. I had a few lessons at the beginning, and they were more like therapy sessions: me being like, 'I can't, I can't,' and [the therapist] being like, 'You can, you can!' I would say it is the thing I'm most proud of in my life, finding this voice."
British audiences will have a chance to hear her this month, when she plays dates including David Byrne's Meltdown festival at London's Southbank Centre, where, excitingly, she's playing alongside the Heritage Orchestra and a choir. "When I write music, I often imagine it as an orchestral piece with strings, very dramatic. So actually arranging it for an orchestra really works," says Calvi.
The choir is even more thrilling for her: "There's something about voices singing together, some kind of innate human thing – it's really powerful, really moving, but also quite scary. A choir is the most beautiful thing, the most heavenly, but it can also be terrifying. I'm really excited about this show, and I'm trying to do things I haven't done before. Visually, it's going to be different…" Not that she'll tell me how; she doesn't want to give it away. I wouldn't bet against Byrne himself making an appearance, at Meltdown at least – he sang on two tracks of her "Strange Weather" EP last year.
Calvi is a fan of both the man and the music: "I really liked the way he worked, he was fearless. And his voice sounds so classic because it's been on all these great songs; he makes everything sound cool."

Enjoy unlimited access to 70 million ad-free songs and podcasts with Amazon Music
Sign up now for a 30-day free trial
Sign up

Enjoy unlimited access to 70 million ad-free songs and podcasts with Amazon Music
Sign up now for a 30-day free trial
Sign up
Don't bargain on hearing much in the way of new music, though. Calvi is in the midst of writing her next record, and she's guarding it fiercely. Not just from journalists – she's spent most of 2015 travelling by herself, to allow song ideas to bubble up without anyone else's judgement.
"No one has heard any of the stuff I've written, which I find freeing. If you write stuff and share it with your friends or your band, it's like they're deciding for you whether it's good. You have to have some kind of shield to protect you from other people's opinions; you have to know it's good yourself. I was relying too much on what people were saying, so I guess that's why I decided to start living like a monk."
Calvi is technically currently of no fixed abode , and has been roaming round, hanging out in Paris and Strasbourg. But most fruitful of all has been time spent by the sea in Dorset; she recently had three weeks alone in Swanage, going for long walks and letting melodies emerge. It was pretty isolating: the only words she spoke the whole time were a single request to a waitress for a hot chocolate.
"I can get really lost in my own imagination, and there's something important about having that space," she says. "Not speaking, not writing, just thinking. It's funny, when you're left with your thoughts, they go to different places… k I do think it affects how I write – this idea of loneliness, what it means, how it can be liberating, but also reminds you of all the most scary things about being a human… I kind of like that."
As you can tell, Calvi is not afraid of exploring the deep stuff: loneliness, anxiety, identity, reinvention. Before our interview, I'm told by the PR she'd like to "discuss gender". So we do.
She claims it's a topic she didn't used to think about much – until she became a famous musician and journalists started asking her highly gendered questions. "I felt I was being reminded constantly about my gender in a way you never usually are. 'What's it like as a woman playing guitar?' 'As a woman, how do you…?' 'What is it like to play such a phallic instrument?' At first it surprised me, then it made me angry, and now it's like my eyes are opened to seeing the world in a slightly different way. You're so brought up in the patriarchal way we live, you don't notice it, yet it's everywhere. It's everywhere."
She fears we're sliding backwards in terms of gender roles, that pressure is again increasingly being put on women to simply be pretty and passive, as if their appearance is their primary purpose. "It's beyond perfection, the way a woman is supposed to look. And shapeless – like an 11-year-old boy. You look in the mirror and see that you have hips and you imagine they shouldn't be there. I do shave my legs and my armpits but really, what are you being told, that you have to shave off parts of yourself? You're not allowed to just be in the world. You're always being told that your natural state is a bit disgusting."
As we delve further into the topic, it emerges that gender has long been a preoccupation for her. "When I was a child, I really wanted to be a boy. Not just in an 'Oh, I wish I could wear shorts and play with cars' way, because I did that anyway, but in a deep-seated way where I felt wrong in myself. I remember talking to my parents when I was five or six and saying I should be a boy."
Her parents – both psychotherapists – didn't deem it of professional concern. "They didn't take me to see a therapist or anything! They were maybe disappointed that I wasn't more girly, but I had a sister who was. As I grew up" – in Putney, south London – "it seemed to settle. I don't feel I was born the wrong gender – but there's definitely something about me. I'm not a girly girl; I just don't identify with that."
That she's always been drawn towards the masculine finds a fruitful, vital outlet in her stage persona. "For me, transcending gender is the ultimate goal," she says. "For men and women, the gender roles we're assigned are incredibly limiting. Being a woman, expressing masculinity is an interesting thing to do. When on stage, I feel powerful. I feel like a woman and a man."
Anna Calvi tours the UK from Tuesday (annacalvi.com). Meltdown is at the Southbank Centre, London SE1 (southbankcentre.co.uk), from tomorrow to 30 August; Calvi plays Queen Elizabeth Hall on Saturday
Meltdown fever: Our pick of the festival
If you like experimental pop…
Try Bianca Casady, one half of CocoRosie, who premieres solo material. Some kind of theatrical performance is promised, too; sure to be interesting.
If you like to wig out…
Bask in the scorching rays of SUN O))), whose intense drone-metal sound, replete with Tibetan ritual instrumentation, will take you way, way out.
If you like something to watch while you listen…
Radiohead's Jonny Greenwood's orchestral soundtrack accompanies a screening of There Will Be Blood, while the BBC Concert Orchestra plays along to Planet of the Apes.
If you like West African grooves…
Not only is the Afrobeat-influenced Sinkane playing solo, he's also part of super-group Atomic Bomb!, who play the songs of William Onyeabor, a funk pioneer who married West African rhythms with electronica.
If you like Spanish sounds…
Catch fiery flamenco star Estrella Morente, or opt for Catalonia singer Maria Rodés's delicate take on classic Spanish songs.
Holly Williams
Join our commenting forum
Join thought-provoking conversations, follow other Independent readers and see their replies