interview
Anna Calvi: 'Being queer isn't the new counter-culture. We're talking about life and death'
The singer-songwriter's third album, Hunter, is shortlisted for tonight's Mercury Prize. She talks to Alexandra Pollard about the limitations of gender, Trump, and the beauty and challenges of a gay relationship
Thursday 19 September 2019 07:00
comments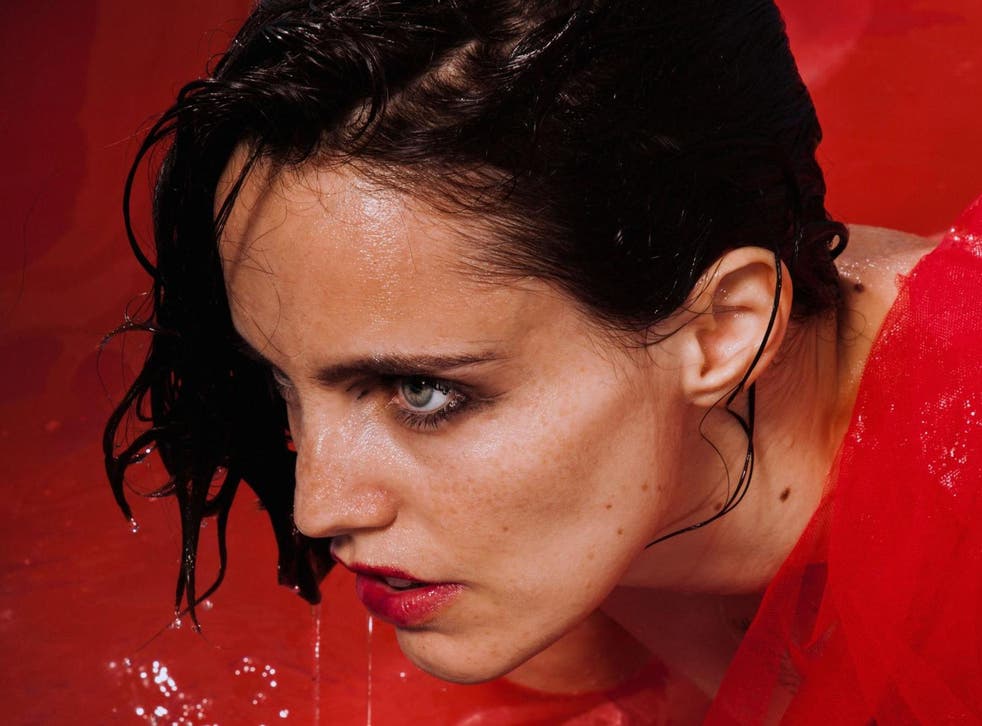 I have urges to grab my girlfriend and snog her whenever I see a church," says Anna Calvi, her hair extravagantly curled and swept to one side. The 38-year-old speaks softly, her voice barely rising above a whisper, but there is a fierce conviction in her words.
Her third album, Hunter, is an exercise in defiance, kicking back against the constraints of femalehood with a resplendent howl. At once tender and combative, steely and vulnerable, Hunter is her most direct record to date – an untethering of pent-up love and fury. "If I was a man in all but my body," she sings over muted guitars and erratic drums on "As a Man", "Oh would I now understand you completely?" "Don't beat the girl out of my boy," she pleads elsewhere.
The word "hunter" doesn't appear in the title track – which glides along as elegantly as a Bowie ballad – but Calvi felt compelled to name the record that anyway. "I hate the fact that strong words about going into the world and taking what's yours are so male-gendered," says the singer-songwriter, sitting in a London cafe. "Hunter we just assume is a manifestation of maleness, and I really wanted to turn that around and look at a woman doing all those things. Anger, and expressing your sexual self, is definitely not an equal thing between men and women."
It was "scary", she says, to release such intense, intimate music. "It's a weird thing to say really personal things and then think that any old person is gonna hear them. Especially if you're quite an introverted person, which I am."
The risk has paid off. The record is one of 12 in the running at tonight's Mercury Prize, shortlisted alongside albums by Foals, Dave, Little Simz and The 1975. Calvi says it feels "incredible" to be nominated, but she's not concerning herself with what happens on the night. "I've experienced losing twice, I know how it works," she says with a laugh. Her self-titled debut was shortlisted in 2011, as was its follow-up, One Breath, two years later. "You spend the whole time thinking, 'I'm not gonna win', and then you get there, and you're waiting at the table, and there's two minutes where you're like, 'Hang on a minute, I could win this!' And then they announce the winner, and it's someone else. So I'm so ready and prepared for that. I've got it down."
"Is that your guitar?" a woman interrupts, pointing at the pearly white electric guitar sitting on a chair next to us. "Oh yeah, sorry," says Calvi, jumping up to retrieve it. "I don't have a case for it," she whispers, "I'm not just trying to look cool."
I'm reminded of an old interview in which Calvi lamented the questions she's asked as a woman who plays guitar; ones like, what's it like to play such a "phallic" instrument? Does she still get asked such things? "Yeah. Less so, but still. Particularly in Germany. I get a lot of phallic questions in Germany. But it's not phallic-shaped," she says, gazing at her guitar, which is now propped up next to me. "It looks more like a woman than anything else. But music has always been very genderless to me anyway. That's why I've loved it. Because I can escape the limitations of what supposedly a woman is meant to be." What are those? "Make yourself smaller and prettier and less hairy and less stinky. You're told to zip yourself up," she says, sucking air through her teeth and squeezing her shoulders together so she's as compact as possible, "to not get in the way. I f***ing hate it."
Calvi was born in London to an English mother and Italian father, both of whom were therapists. As a child, she says, "I really felt like my parents' son. I felt like being a girl was wrong. It just felt wrong. But now I've reconciled the idea of having this body." At her all-girls' school, she says, the strongest way to insult someone was to call them a lesbian, so she waited until she was 18 to come out as gay.
On Hunter, Calvi is more blatant about her sexuality than she has been before. Though she insists "it didn't feel like a coming out thing, because my songs have always been about women", only a few people picked up on it before this album. "You can almost say it to someone's face," she says, "and somehow they still don't see it." Marika Hackman said something very similar. "I keep dreaming about Marika Hackman," she says. "I had a dream about her last night." What happened? "I think we were at a party together. I don't know what that's about."
Enjoy unlimited access to 70 million ad-free songs and podcasts with Amazon Music Sign up now for a 30-day free trial
Sign up
Both Hackman and Calvi have written songs about unwanted male intrusion into queer female relationships – "Boyfriend" and "Don't Beat the Girl Out of My Boy", respectively. "When you're in a gay relationship and you're out in the world," says Calvi, "you can feel that your love is protecting you both, and you can feel really happy. But there's always this risk that someone's gonna try and break this beautiful thing that you have and say something to you, or try and make you feel uncomfortable. That feeling of being present in this beautiful thing can change and I just have this rage in me. Like, 'F***. Off.' And that's what that scream is," she says, referring to a guttural, drawn-out yelp in the middle of the song. "I will protect this beautiful thing that I have with all my life, and my defiance of you is my happiness. Nobody is gonna make me feel that we don't have a right to be in this space, and to express ourselves."
Not that people don't try. "A year ago, I was in a bar in Southbank with my girlfriend – I guess it was a straight bar – and we had a kiss, and a guy shouted at us that we were dogs. Even there... I don't know if there's anywhere that's completely safe, for many people. As a lesbian woman walking through the world, even as a white, able-bodied person, you're constantly adapting your behaviour in order to not become a target for someone's hate."
The best albums of 2019 (so far)

Show all 67
She brings up a recent hate crime that made headlines – two women, who were on a date, refused to kiss for a group of men and were beaten up on a London bus. "I've never been punched," says Calvi, "but I've had idiots on a bus bother me and my partner. It's made me feel like I want to scream at them. When you're being yourself with your partner, there's always a tiny bit of your brain that's aware of who's around you. Are a group of men coming up towards you? It's nice to give people the benefit of the doubt, but from experience, you think, 'Is it worth it?' And I hate that. That you still have to have those thoughts."
Calvi is buoyed by the increasing acceptance of queer artists into the mainstream, though she worries about her identity being commodified. "I talked to a journalist who was a bit older who was saying, 'Is this whole sudden queer thing the new counter-culture, like the punks?' And I tried to explain to her that the main difference is that if a trans person doesn't feel they can be understood... we're talking about life and death. People kill themselves. It's not just for fun, it's not about what music you like or what hobbies you have, this is about people's lives. And I think it's really dangerous to try and condense it and make it a product. But I do think it's great for me as an artist that there's a family of queer artists. The difficult thing is if only people in that community hear about each other, then there's a sense of ghettoising. I suppose equality is only when it's not even a thing anymore. And we obviously are far away from that being the case."
The problem, she continues, "is our world exists around the idea that the default human is a white male. Anything else is an exotic anomaly. That's the big problem. Because the default is male in our world, there's this feeling that if a woman wants to exist on equal terms, we have to almost become male. You have to be aggressive at work. 'If you want it, you have to be more like us.' Well, why don't you try and become more female? When you look at PMQs, they're making all these ridiculous noises. It feels like a boys' club. Yes, there are women, but I don't think this is the natural way that most women would want to conduct their conversations."
Men who display traits of aggressive masculinity are still rising to the top, though. Why does she think that is? "I guess in times of instability, people want a strong patriarchal figure to come and save everything," she says. "That's why we've got Trump and Bolsonaro and Boris Johnson. Maybe this has to happen for people to finally realise that the ultra, alpha, patriarchal masculine figure isn't the person that's gonna save us. Trump is like a caricature of the worst masculine tropes. Maybe people have to see it to believe."
That's the silver lining, she says. "Maybe people will be like, 'Actually that doesn't work.' We've had millennia to see what that kind of person does. He's not going to keep you safe."
The Mercury Prize will be broadcast live tonight on BBC Four from 9pm, and on BBC Radio 6 Music from 7pm. Hunter is out now
Join our new commenting forum
Join thought-provoking conversations, follow other Independent readers and see their replies