Ash frontman Tim Wheeler reveals how he came to terms with his father's dementia
Wheeler's father suffered from Alzheimer's for three years, increasingly lost in the confusing shadows of his mind. When he died, there was only one way the Ash frontman knew how to respond: with a heartfelt solo album
Nick Duerden
Saturday 18 October 2014 02:28 Comments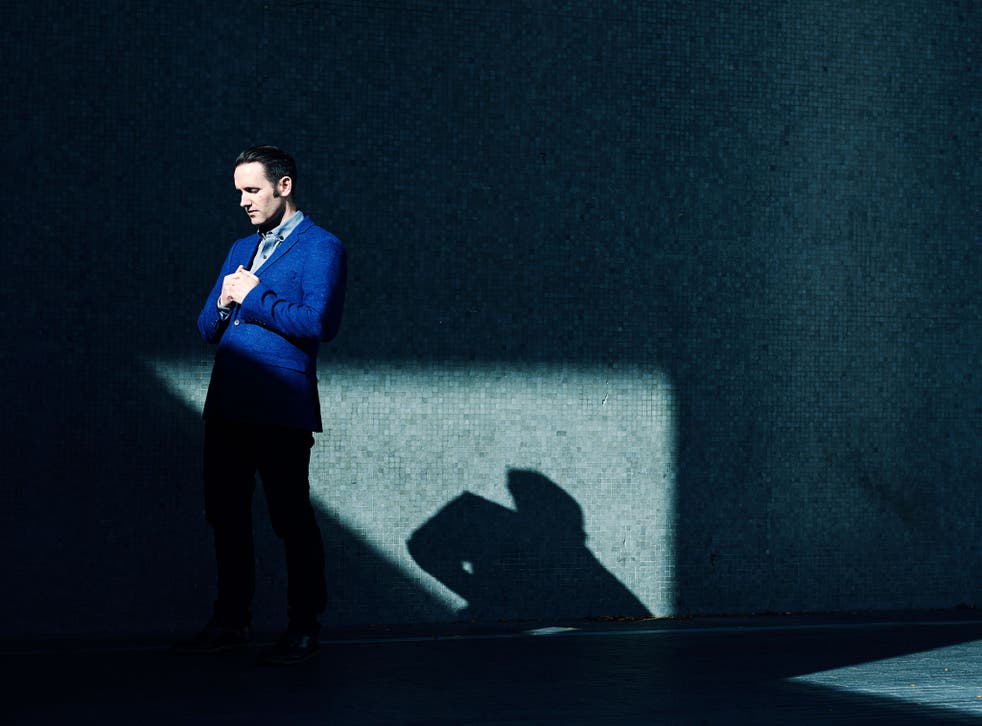 At some point during 2008, Tim Wheeler's father George, a former district judge, began to lose his memory. At first, he forgot small things: where he had put the car keys, the way home from the shops. Then it was big things: family members, his own identity. He was 75 years old, retired for less than a decade.
Retirement had, by his son's account, suited him. He spent a lot of time outdoors in the woods behind his house in Downpatrick in County Down, Northern Ireland, at one with nature, mellowing in old age.
"He had been quite a stern father, I suppose," Wheeler says, "a real character. He was smart, strict. He liked to have things under his control. He wouldn't tolerate lying, for example. He could also be quite an angry, road-ragey driver." Here, Wheeler smiles wryly at the recollection of his father livid behind the wheel. "But after he stopped working, he had a big heart-bypass operation, and that changed him. He became much more gentle, sweet; a lovely man."
Then came the memory loss – and with it an abrupt change of character. He was moody, and there were flashes of rage. His family grew concerned because, Wheeler says, "It was obvious that something was wrong. He was very difficult with my mother; he took things out on her. He couldn't help it, and she couldn't handle him. He wasn't rational. I think he didn't know how to deal with what was happening to him."
There were hospital tests, then a diagnosis: Alzheimer's, the most common form of dementia. Wheeler knew little about the condition; few of us, it seems, do – though Wheeler hopes now to help right this by working with the Alzheimer's Society's Dementia Friends programme.
Dementia is a growing global problem. The Alzheimer's Society's head of policy, George McNamara, says that 520,000 people in the UK currently suffer – but we are an ageing population, and the figures are spiralling. "By next year it will be 850,000," McNamara says, "and 44 million worldwide. By 2051, we estimate two million in the UK alone will have it."
Research into the illness is under-funded, which means greater knowledge into how and why it occurs – much less finding any potential cure – is many years away. "With dementia, we are now where we were with cancer 20, 30 years ago," says McNamara. "It has a stigma, and distinct lack of support. We need to change this, because it's a terrible illness to endure."
As it was for George Wheeler. Two years after diagnosis, he was admitted into a dementia ward from which he would not re-emerge. His son, now living in New York, crossed the Atlantic many times over the next six months until, in January 2011, George died. To help deal with the fall-out of his death, his son did the only thing he has ever done with consistency: he wrote songs about it.
Tim Wheeler, co-founding member of Ash, the Belfast pop-punk outfit, was a mere 18 years old when his band had their first hit, "Girl From Mars". It was 1995, and he had just, under his father's firm insistence, completed his A-levels, but would delay entry to university – where he thought he might study business and French – to better focus on Top of the Pops appearances, and recording an album. A year later, the idea of university was dropped for good. Debut album 1977 was at number one, and Ash were pop stars. The hits kept coming: "Angel Interceptor", "Oh Yeah, "Shining Light", "Burn Baby Burn".
Enjoy unlimited access to 70 million ad-free songs and podcasts with Amazon Music Sign up now for a 30-day free trial
Sign up
Ash's songs were suffused with a gleeful, knockabout energy, throwing Wheeler's debut solo album into such stark contrast. Lost Domain, out next month, is an inescapably grown-up record, an elegy to his late father, and the most musically ambitious thing he has ever done. There are lots of instruments on it, and Wheeler plays all of them. Lyrically, it doesn't flinch from its subject in the way that, in person, he does. Songs such as "Vigil", "End of an Era", "Hospital" and the album's centrepiece, the 10-minute "Medicine", offer forensic insight into just what it is like when a family member takes ill and slowly wastes away, becoming unrecognisable in the process. This should make it all an impossibly bleak, and thoroughly depressing listen. Instead, it's deeply moving and life-affirming.
Wheeler tells me he always wanted to record a solo album, to prove to people that there was more to him than a perpetual pop-punk bounce. He just never imagined he would be prompted into writing one through personal tragedy. But after his father's death, the songs poured out.
"I suppose… well, I've always reached for the guitar to help me express emotion," he says with a palpable awkwardness that will hang over the hour I spend with him on a bright October morning at London's Southbank Centre. He is polite but shy, and never effusive. The process of facing questions about so private a matter clearly drains him, but it is a process he feels necessary.
As perhaps befits the frontman of a band that always did sound irrepressibly teenage, he seems younger than his 37 years, and in the swept-back hairstyle he sports, and the sideburns that creep below the earlobes, he looks like someone who might come sixth or seventh in a Belfast Elvis lookalike competition. We talk, haltingly at first, about early memories, how his father was a formative musical inspiration. "He could sit at a piano and bang out a tune, any tune," he recalls. While his siblings – he has three; two older, one younger – went into sensible professions, from physiotherapy to chemical engineering, Wheeler himself balked at the idea of 9-to-5. "I didn't want to have my life quite so mapped out."
Presumably, I say, his father didn't approve? "He was a little concerned, yes, but the fact that we had success so quickly clearly pleased him. It made him popular in court. Barristers k always wanted to talk to him about me, about the band." A big grin. "I think he liked that."
George Wheeler became a fan. He listened to their demos in a car with a bumper that sported an Ash sticker, and he would spend lunch hours in local record stores making sure their albums were prominently displayed. "He got a thrill from us being famous, I guess. But, wisely, he never took it too seriously either."
Wheeler thought long and hard about making the songs on Lost Domain public. He wondered how it would go over with his family, whether it would remind them of those final days and their collective suffering. His older brother, he admits, found it very difficult to listen to. "It brought him to tears." And his mother?
"Ah," he says, his face clouding. "I played it to her during a car journey. It was a bit…" He starts to fiddle with the spoon in his coffee. "It was a bit… um, I don't know, to be honest. She didn't say much about it. She's quite stoical, my mother. I just hope she wasn't upset by it. That wasn't my intention."
He says he felt rudderless after the funeral, and fell into something resembling a depression. He returned to New York and tried to focus on Ash, but his thoughts kept straying back to those dark months on the dementia ward. "I remember how distressed he was by it all. He was always trying to make sense of what was happening to him. I'd visit, and find him scribbling on paper a lot, gibberish, illegible stuff, as if he was trying to write his way out of his situation. I'd watch him do it and, well, it was hard to see."
Some days he would visit and his father would have no idea who he was. Other times, his son's face would jolt within him a sudden recognition. If anything, Wheeler says, these were the more painful moments to witness. "One particular day, he looked up at me as I came in and gasped, as if he knew exactly who I was, but also who he was, and why he was there, in hospital. He just started crying."
Back in Manhattan, Wheeler met up with Mat Whitecross, a British film director whose own father had died of Alzheimer's, and who was making a film about the illness called Ashes, starring Ray Winstone. Whitecross asked him to score the film. Wheeler then returned to Belfast to perform an Alzheimer's benefit concert alongside his friend Neil Hannon from the Divine Comedy. Hannon's father Brian, formerly Bishop of Clogher, is also a sufferer. At subsequent Ash concerts, money has been collected for the Dementia Friends campaign, which works to raise awareness and understanding. Some of the profits of Lost Domain will similarly be donated to the cause.
"It has been nice to meet and work with people who've gone through similar experiences," says Wheeler. "It helps channel my helplessness into something I hope is productive."
He picks up his coffee spoon again, and stirs his now empty cup, an act that takes up all his attention. Presently, he looks up. "He was a very strong character, my dad, in many ways a lot to live up to. I kept thinking, after he died, whether I had managed to, you know, to live up to him."
And what were his conclusions? A half-smile etches brackets around his mouth. "Ah…" he says. "I don't know, I don't know."
'Lost Domain' is out on 3 November. For more about Alzheimer's Society's Dementia Friends programme: dementiafriends.org.uk
Register for free to continue reading
Registration is a free and easy way to support our truly independent journalism
By registering, you will also enjoy limited access to Premium articles, exclusive newsletters, commenting, and virtual events with our leading journalists
Already have an account? sign in
Join our new commenting forum
Join thought-provoking conversations, follow other Independent readers and see their replies