Ashley Roberts interview: What The Pussycat Dolls were really like
As Ashley Roberts goes solo, she lifts the lid on who got the cream in The Pussycat Dolls...
Nick Duerden
Thursday 21 August 2014 14:21 Comments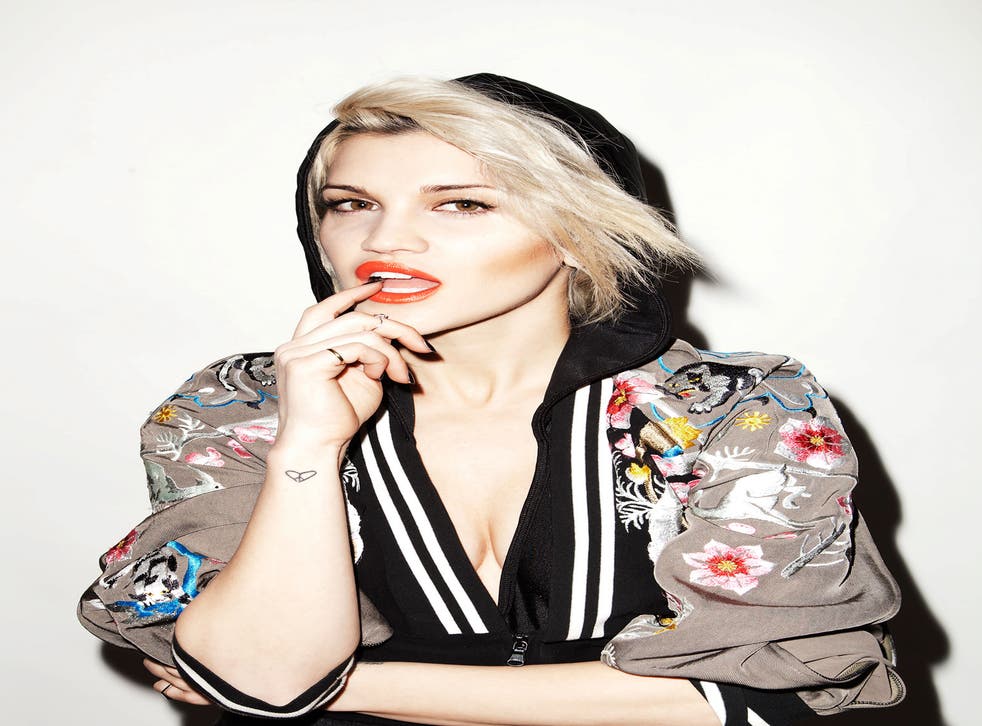 Ashley Roberts is running late, stuck in traffic, the usual excuse of popstars on the promo treadmill. But, look, here she comes now, all blonde and radiant, sunglasses quickly repositioned on top of her head to reveal the whites of her eyes, and suddenly she is pulling me into an unexpectedly warm embrace, cheek to cheek. I should have shaved.
"Oh, I am so sorry!" she shrieks. "I hate, just hate, being late. Do forgive me!"
She introduces me to her dog, a cat-sized thing called Cooper, which suddenly sticks its head out of her handbag.
"He's Maltese, purebred, five years old," she beams. A tiny ball of white fluff, it steps out of her bag now, as if to prove it has legs, and can walk, and offers me its unfurling pink tongue in greeting. "Be careful," Roberts warns. "He can get quite aggressive with men's trousers."
A waiter appears, and Roberts requests a juice, "something green". But they don't do health juices here, it transpires, and so she has to make do with sparkling water. She is big on detoxing, she tells me, but only intermittently. She has just come back from a week at a health spa: "Very hardcore." I ask how she celebrated upon returning home, and she laughs. "Dim sum, and a bottle of vodka."
Ashley Roberts was once one of the four Pussycat Dolls that wasn't Nicole Sherzinger, the US burlesque act of Don't Cha fame whose singer so dominated the spotlight the other members were cast into shadow, a blur of bedazzled bra and knicker combinations.
"We were always told it was very much Nicole's project," she shrugs. "They said that we were the football team, and she was the quarterback. You know, we weren't allowed to talk in interviews. We weren't even allowed in the studio sometimes."
But she doesn't want to talk about that. It's too negative, and Roberts, you quickly realise, works hard to maintain radiant sunshine in a world of stormclouds. She meditates every day, balancing chakras, and this helps her focus on the positive.
Since those bleak days, Roberts has reinvented herself, primarily as a star of reality TV in the UK. She is an alumnus of I'm a Celebrity (Get Me Out Of Here) - in the 2012 series, she was runner-up - and is a regular co-host on Ant & Dec's Saturday Night Takeaway. She lives in London now, Notting Hill. "Great Mexican restaurant there," she says. "Which is important."
The 32-year-old releases her debut solo album this month, Butterfly Effect, an airy, catchy confection, replete with Katy Perry-style female empowerment anthems, that does pretty much everything a modern pop album should do. It had a difficult conception, she admits, born largely out of confidence issues.
Enjoy unlimited access to 70 million ad-free songs and podcasts with Amazon Music Sign up now for a 30-day free trial
Sign up
"In the studio, my voice just closed up. During my time in the Dolls, I was told that I shouldn't sing, that I wasn't allowed, and I suppose that had an impact on me. A bigger one than I realised…"
Two years ago, Ashley Roberts made a concerted effort to change her life. The Pussycat Dolls was fast disintegrating, so she left, and she also walked out on her boyfriend of five years. "In one week, everything changed. I wanted to press the restart button, and go off on a journey."
The life coach she had been seeing for a decade encouraged her to spend 2012 doing things she had never done before. So she went skydiving, took trapeze lessons, long motorcycle rides, and said yes when ITV offered her a place in the jungle. She also spent a lot of time hugging people, under the guidance and instruction of an Indian-born guru named Mata Amritanandamayi, for whom hugging is a speciality.
"She sells out arenas, honey! All over the world she travels, hugging people. She's amazing! I've done retreats with her: three days of meditation, mantras, her teachings, and she gives you hugs every day. They are the most wonderful things, honestly. It feels like she cracks you right open, and helps you release things."
One might argue that there are things Roberts needs to release. Born and raised in Phoenix, Arizona, her father is Pat Roberts, formerly drummer in The Mamas and Papas, but later a car dealer who went out of business. He filed for bankruptcy in 2005, a consequence of which, the Daily Mirror claimed, has put a strain on their relationship. Her younger brother Jayce, meanwhile, is a paranoid schizophrenic, and has been arrested many times on drug charges, theft and for indecent exposure.
"My brother has been dealt a shitty card," she says. "He's in a home now, so I don't get to see him much, but I do visit every Christmas. I hug him and tell him I love him. He's been an angel for me, and I guess he reflects back to me that I should live life as an adventure, and make the most of everything." For a while at least, being in the Pussycat Dolls was her making the most of everything, but that soon soured. "Of course, the media likes to pick up on the bad points, and it was shitty at times, sure, but then we were five girls with periods, boyfriends, emotional issues. We never stopped working. But we also had huge success, we got to play stadiums. Without them, I wouldn't be where I am now, and so that's what I focus on. It was a learning experience."
She is beaming now, flashing her perfect teeth at me, oozing positive energy. She picks up the dog and plops him in her lap, and Cooper, perhaps typical of Maltese purebreds, remains puppet-like in her clutches. His tongue lolls.
"I remember when I first left Phoenix for LA," she says. "I was 19, and I arrived with just $1000 to my name. I probably had more confidence back then than after leaving the Dolls. I had pretty much lost all my confidence by then, but doing the jungle, and recording Butterfly Effect, has helped me get it back."
She leans forward, breathes in a measured breath, then breathes out.
"I'm ready to assert myself now."
'Butterfly Effect' is released on 1 September
Register for free to continue reading
Registration is a free and easy way to support our truly independent journalism
By registering, you will also enjoy limited access to Premium articles, exclusive newsletters, commenting, and virtual events with our leading journalists
Already have an account? sign in
Join our new commenting forum
Join thought-provoking conversations, follow other Independent readers and see their replies