Aurora on her debut album, John Lewis Christmas advert, and remote upbringing
The 19-year old ethereal Norwegian singer tells Emily Jupp about her childlike philosophy why her best friends are a dead moth and a red balloon from Manchester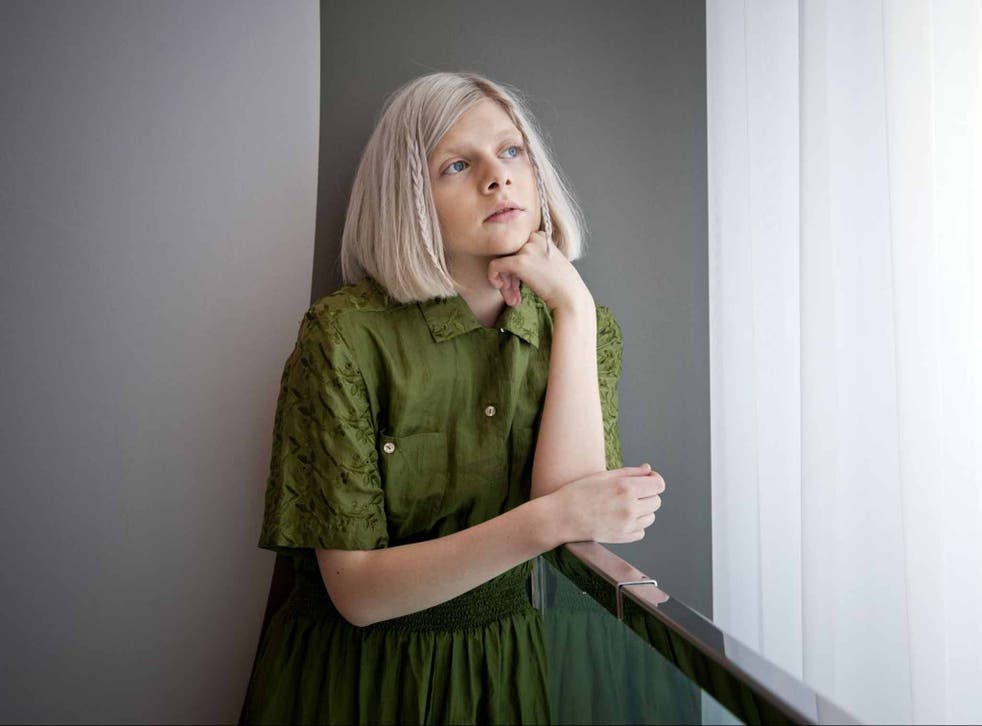 A conversation with Aurora Aksnes feels a bit like talking to a mystical creature or some sort of fairy: a changeling, perhaps. It's not just her appearance – she's tall and slight, her face an impish heart shape with huge blue eyes – it's also the way she talks. She tells you things that blur facts with imagined stories, as if reality and the world inside her head were equally important.
In a sense, they are, as her best songs come from stories she has made up. "Running with the Wolves", a propulsive song about being wild and free that appears on her debut album, All My Demons Greeting Me as a Friend, came from an idea she had when there was a blood moon in the summer of 2014. It inspired her to imagine a story, and in turn a song, in which everyone dropped their mobile phones and started running towards the woods, to become "pure creatures that follow our instincts".
Aurora is best known in the UK as the voice of the John Lewis "Man on the Moon" Christmas 2015 advert. Whether you liked or loathed the Norwegian singer's wistful cover of Oasis's "Half the World Away", it is not typical of Aurora's music. That tends to circle dark themes of love, loss and fear, though she can be playful too.
John Lewis Christmas Advert 2015
Even before her record went on sale at the weekend, Aurora's YouTube videos had already racked up more than 15 million views. (That's about 10 million more than this year's Brits Critic's Choice winner Jack Garratt.)
At a recent gig at the Union Chapel in Islington, London, she mesmerised the crowd with her ethereal voice and Bjork-like movements, flicking her fingers and twirling her hands in fraught, frantic gestures. During a pause in the music, she brought out a limp red balloon, "His name is Manchesteau," she told us, staring at him in delight. He fell from the ceiling while the band were doing a sound check in Manchester and she has carried him, it, with her ever since. When we meet, I ask after him.
"I felt that he was my soulmate and so we brought him everywhere," she says. "He came to restaurants with us. But we were flying to Amsterdam two days after the gig and they took him away from me in the security check. I stood there for several minutes just going, 'No! Why?' I was almost crying. I know he is only a balloon and I am almost 20, but I really felt connected to that balloon. I get very easily attached to things if I feel there is something magical about them."
She also keeps moths, dead ones. She currently has nine of them. The first one she ever found, which she has named Nightcrawler, travels with her in a glass jar. Her album sleeve is a picture of her bandaged up, like a grub or cocoon, with moth wings behind her.
"It seems that in nature moths are always flying around when it's dark but they are always flying towards the light... so it's kind of like a sad fate. And everyone hates them and that makes me like them even more. I think they are really pretty," she says, dreamily.
Aurora grew up at the edge of a small town in Norway, Os (pronounced "ooz"), 40 minutes from Bergen. Her family's home, to which she returns between touring, is near the coast and has forest, lakes and that clear Norwegian light that turns golden in the evenings. It takes 40 minutes to walk to the nearest shop.
Enjoy unlimited access to 70 million ad-free songs and podcasts with Amazon Music Sign up now for a 30-day free trial
Sign up
"My home is very different from the city," she says. "There are almost no cars and the roads are small and bumpy and there are lots of trees everywhere, it's very quiet and the internet is bad." She loves the seclusion and hopes one day to have a house of her own somewhere remote, in the mountains. "It makes me so happy to think about that, I almost start crying when I think about it. It is just going to be so nice! It will be like living in a fairy tale."
Aurora talks about crying a lot. She seems delicate and vulnerable, but it's a sign of strength that she's willing to expose herself so completely. It comes out in her performances and her music, which are fearless.
"One of my songs that means the most to me is 'Through the Eyes of a Child'," she says. "That song is about how I'd rather see the world through the eyes of a child because everything is a bit better. I care a lot about people's inner child and I am very determined to never lose my inner child. I get why we need all these layers to survive. It is a very tough world [and] I think sometimes we forget that child, sometimes we lose it and I think that's a bad thing."
Aurora started playing music when she was very young. Her older sister had a piano that she stopped playing. It was gathering dust up in the attic and Aurora missed the sound of her playing, so she gave it a try herself. By the time she was nine, she had written her first song; some of the music on All My Demons was written when she was 11, but there's little sense of juvenile emotions in her music.
"I loved telling myself stories and so I used my head a lot and my heart. So I think that's where I got the idea to write or create something new so early. I don't know, it was just in me," she says of her early work.
"Runaway", written after she "wandered off for a while" when she was 12, is about a desperate longing to be back home and safe. "For me now, that song is about my actual home where my parents are. When I was 17, I remember being quite scared [when she was away and touring] because it seemed so far away and I thought, 'will my family die?'
Music festivals guide 2016

Show all 20
"You get crazy, going away, you worry what might happen, but I have been doing this for almost three years now and now I quite like it. When I am home for three days in a row, I will start to miss travelling, which is nice. It is nice missing things. I like missing my family, I like missing my house. I know that I can see them again and it is nice to be reminded of what lovely people you have in your life, so now I don't mind.
"I try to see the good and bad sides of everything, and that is what the album title, All My Demons Greeting Me as a Friend, is about – it is about how you can disappoint yourself and other people can disappoint you, and loss and grief and hard times, and just accepting that maybe all of that is a good thing."
Aurora seems so playful and young, but then she'll say something wise. How is she able to convey these stories of heartbreak so convincingly when she's only 19? "Well, I have been through many things but I don't think that's anything special," she replies. "I think we all go through things. I don't know, I read a lot of books and I observe a lot, and so maybe my stories are about things that I see or hear about that I know is happening somewhere.
"Not every song is about something I have experienced. It is fiction, but it's real."
'All my Demons Greeting Me as a Friend' is out now on Decca, Petroleum and Glassnote Records; Aurora tours the UK in October
Register for free to continue reading
Registration is a free and easy way to support our truly independent journalism
By registering, you will also enjoy limited access to Premium articles, exclusive newsletters, commenting, and virtual events with our leading journalists
Already have an account? sign in
Register for free to continue reading
Registration is a free and easy way to support our truly independent journalism
By registering, you will also enjoy limited access to Premium articles, exclusive newsletters, commenting, and virtual events with our leading journalists
Already have an account? sign in
Join our new commenting forum
Join thought-provoking conversations, follow other Independent readers and see their replies