Banks & Steelz: Wu-Tang Clan leader RZA and Interpol frontman Paul Banks on their unlikely musical partnership
The duo discuss their new hard-driving pop album, their mutual love for Leonard Cohen and Clacton-on-Sea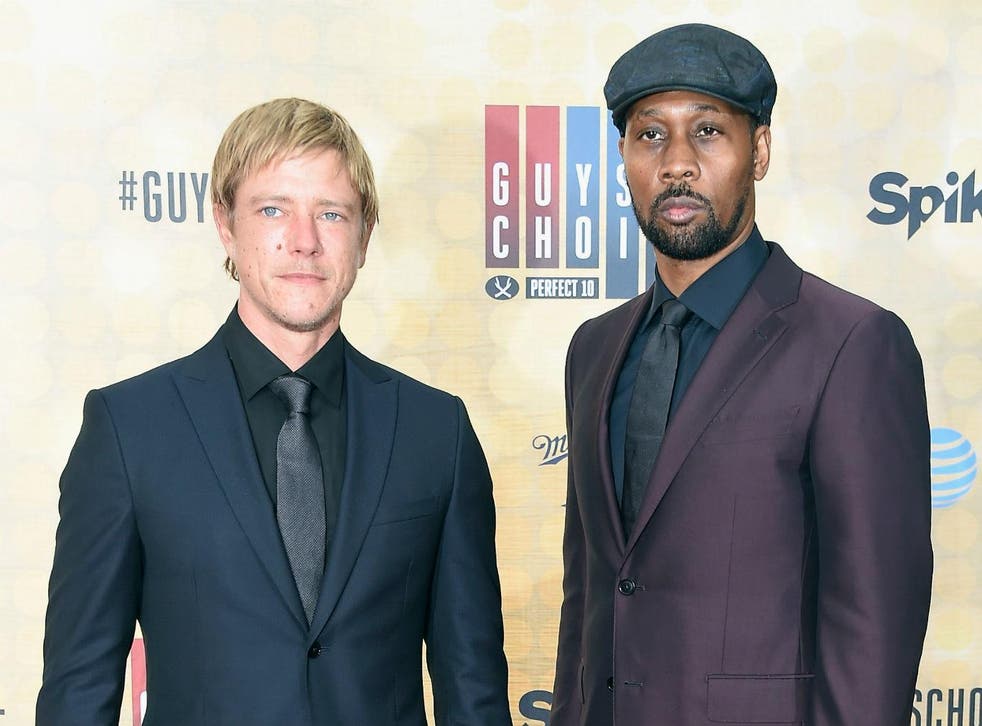 It started in Chinatown. Paul Banks, singer with New York indie-rockers Interpol, and RZA, mastermind of the cinematic, chaotic, Nineties hip-hop-defining collective Wu-Tang Clan, met for the first time at a Los Angeles tequila bar in 2011. RZA then drove them into Chinatown, where their bond deepened over plates of noodles. Later they discussed a mutual love of chess, and the music of Leonard Cohen. Five years on, they're releasing their debut album as the duo Banks & Steelz, Anything But Words, one of the more convincing marriages of rock and rap. Guitar solos and scratching are just part of the hybrid picture, Banks's voice – too light now for the Ian Curtis comparisons that used to gall him – running into RZA's rapped fantasias.
They seem equally complimentary as I walk in on them in their record company's London office. RZA – real name Robert Diggs – is wearing a flat cap and well-cut, soft pastel-coloured suit. Banks's more casual suit is all black, and later he'll slip outside to smoke, slouched against a wall in a rocker's leather jacket. Banks's voice is more urgently New York, RZA's Zen-calm. They're easy with each other.
Though RZA thinks of both men as New Yorkers, they took twisting paths there. Robert Fitzgerald Diggs was born in Brooklyn in 1969, but lived in South Carolina till 1976, then spent difficult years in Steubenville, Ohio, a city dubbed Poisonville back when Dean Martin was raised in its corrupt, gangster-infested streets. Acquitted of attempted murder there in 1992, the Wu-Tang Clan's crucial debut the next year confirmed his escape and rebirth. Banks's childhood odyssey with his British parents through Spain, Michigan and Mexico began, by contrast, with his birth in 1978 in the Essex resort of Clacton-on-Sea. Has he ever been back?
"Once," he smiles. "I have fond memories. I'm proud to be from Clacton."
"Clacton is like tough, gritty?" Wu-Tang's leader enquires, associating himself for the first time with its buckets and spades.
"It's like Jersey Shore," Banks informs him. "And there's even a TV show about Essex that's like it. But I certainly have nothing negative to say about Clacton-on-Sea. I loved growing up there."
Wu-Tang Clan failed to achieve RZA's dream of a takeover of the music industry by its numerous combustible stars, such as the late, memorably anarchic Ol' Dirty Bastard. Clashing egos and unreliability left him despairing of his creation, till 2015's redemptively soulful comeback, A Better Tomorrow. Directing the martial arts film The Man With the Iron Fists (2012), helping score Tarantino's Kill Bill, cameoing for Jim Jarmusch and solo work as Bobby Digital offered other outlets. But Banks & Steelz was a unique relief. "Most of the time I'm creating, the weight is all on my back," RZA reflects, "because I'm the only one who can carry the weight. But in this collaboration, he can carry it. He's a musician. So both being captains on one ship put me very much at ease."

For his part, Banks has interspersed five Interpol albums (the last three hitting the UK Top 10) with three solo records, and a largely derided hip-hop mix-tape, Everybody On My Dick Like They Supposed To Be (2013). Asked if he envies hip-hop's cultural dominance over rock in the new century, he demurs. "All I've been into since the Nineties is hip hop. It's more interesting, rich and alive. I'm with ya. I don't want to slag rock, because I love rock concerts, that's why I'm still in a band. But lyrically I've borrowed from hip hop my whole career. It's also a yin and yang thing for me. Aged 12 in Spain, I was listening to Straight Outta Compton because it was so foreign. You know, my parents are British, and part of what I love in some hip-hop is that braggadocio, that's completely contrary to my personality and upbringing."
RZA was also moving towards Banks & Steelz's middle ground. He used to loathe the rock he'd hear played through Ol' Dirty Bastard's brother's walls, but now loves its unpredictable rhythms and the frequencies of electric guitars. But there's a spiritual element in the work of a man who tells me he praises Allah for his "blessed life", with all its hardships, which Banks can't meet, preferring indie rock's more personally tortured world. "We talked about this," Banks says. "As a lyricist, I'm darker, because I think darkness implies light, like watching horror movies to reaffirm our will to survive. I express myself more enigmatically, and without that final touch of redemption."
Hope and its flickering place in America are built into Robert Fitzgerald Diggs, who was given Bobby Kennedy's first and John Kennedy's middle name. A speech by the latter can be heard on Anything But Words, as Martin Luther King Jr is on A Better Tomorrow. "I always want positivity for the world," RZA says of their tradition. "I'm always betting for it." And yet, we're talking just after the US police shootings of unarmed black men Alton Sterling and Philando Castile, and the subsequent killing of five policemen in Dallas, part of a fearful, quickening spiral. RZA's easygoing mood turns grim at its mention.
Enjoy unlimited access to 70 million ad-free songs and podcasts with Amazon Music Sign up now for a 30-day free trial
Sign up
"It's terrorising," he says. "And if it's terrorising, then somebody must be a terrorist. It's terrorising to see the things that are happening on both sides of the spectrum, but especially as a black man on my side. I saw the last guy who the cops shot, in front of a little girl. I learned about that from my wife. I came home, and she'd got tears on her eyes. 'What's wrong?' She showed me the thing, and I didn't even wanna see it, because, 'Damn'. But next day later, you got a protest going on and cops who got up that morning and kissed their wives goodbye, they headed out to go protect and serve their community, and then they don't make it home. It's just terrorising, it's tear-jerking, it's foolish. Only way to win it is to stop it. That's the only thing you can do is say, 'Let's just stop.' So..." He trails off disgustedly.
"And I would say it's a good collaboration in that I have nothing to add," Banks says wisely.
A few minutes later, RZA joins me in the lift, ready to step into a summer day in Kensington, west London. Though he's still simmering, his voice stays cool and even. "I'll tell you one thing about America," he says. "When I was a kid, the first thing I did every day was to go to school, and stand up in front of the flag, and pledge allegiance to 'one nation, under God, indivisible, with liberty and justice for all.' For all," he emphasises. "Now that's a pledge. And who is keeping that pledge?"
Anything But Words by Banks & Steelz is out on Warner on 26 August
Join our new commenting forum
Join thought-provoking conversations, follow other Independent readers and see their replies