Basement Jaxx are back: can they recover their sunny outlook in time for Bestival?
Left behind by bubblegum rave, assailed by stalkers, muggers and UFOs – and to top it off, they're now twice the age of their audience. But with their first new album in five years and a tour on the way, can Basement Jaxx recapture the joyfulness that made them the nation's most effervescent party starters?
Matt Munday
Friday 22 August 2014 23:48 Comments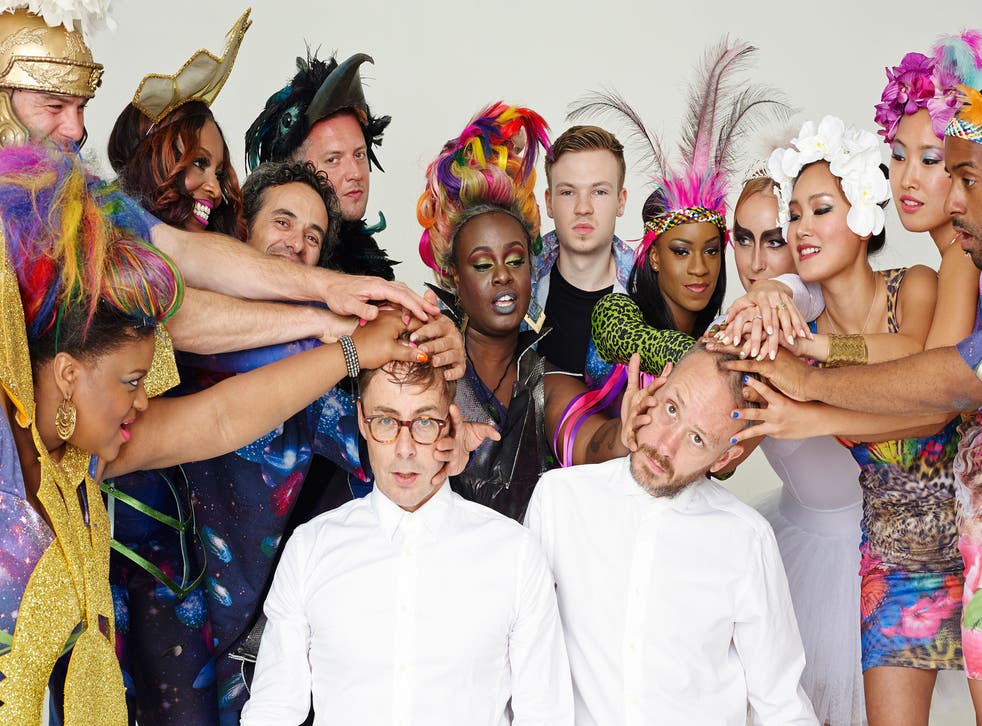 Felix Buxton, the effervescent, bespectacled frontman of Basement Jaxx, is recounting his UFO story. His partner in the band, Simon Ratcliffe, reclines next to him, silently – he didn't share the experience and cannot embellish the tale, which he has already heard many times anyway. Not for the first time in their working relationship, Ratcliffe allows the more outgoing half of Basement Jaxx to take centre stage.
The story goes like this: one afternoon last year, Buxton and the singer/songwriter Kristyna Myles were sitting in the Jaxx's airy new studio in King's Cross, staring out of the window at the London skyline, when they saw "something very still and glinting in the sky, like light reflecting off a car". They grabbed their phones and filmed the object, "because it looked like a flying saucer, basically", but could not zoom in enough to get a detailed image. Soon after, they looked up and it had gone.
The encounter has weighed on Buxton's mind ever since, not least because it took place while he was having, if not an existential crisis, then certainly "a time of looking at my own spirituality, and also talking to my dad [a vicar] about ghosts and exorcisms and different dimensions".
It was a phase that saw Buxton sign up for an Alpha course to learn more about Christianity, and devour books about philosophy and religion. He mentioned the UFO during a talk he gave at Oxford University, "where the students were cool about it – whereas people of my generation tend to get angry when I tell them I saw something I don't understand. It shows how closed-minded people are, generally."
He catches himself, suddenly aware that his frustration has temporarily got the better of him, and hastily steps away from the pulpit (not that there is one – we're sitting on Brighton beach on a balmy Saturday afternoon). "I could talk about this for hours," he says, grinning ruefully, "but it probably wouldn't be helpful"
Nevertheless, he has written a song, "We Are Not Alone", about the experience, which appears on Basement Jaxx's forthcoming seventh album, Junto, and frames the possibility of meeting other forms of life as cause for euphoric celebration rather than the onset of a pointy-headed apocalypse. Very optimistic, very Basement Jaxx.
Two former public-school university graduates who moved to London after university, Buxton and Ratcliffe met in a Clapham pub while in their early twenties in 1993 and bonded over a shared love of underground New York club music. Their first albums, Remedy (1999) and Rooty (2001), were clarion calls to the dancefloor, but over the years the duo have gradually strayed from their original feel-good manifesto, which for a time felt like progress.
They released their fifth and sixth studio albums, Scars and Zephyr, within months of each other in 2009. Zephyr was a wildly inventive but downbeat fusion of glitchy, experimental electronica that undeservedly sank without trace. Scars was suffused with gloomy sentiments that reflected the malaise in both the world economy and their own personal lives: Buxton had endured two violent muggings and a court case that sent one of his assailants to jail, and a female stalker who threatened to take an overdose outside his house. "Everything was getting a bit dark and not very joyous," he says.
1990s dance survivors

Show all 5
Ratcliffe, whose deadpan quietude is the perfect counterfoil to Buxton's fizzy vivacity, recalls the "lines of Evian bottles filled with piss" that were left outside the recording studio adjacent to their former set-up in Brixton "by guys making drum and bass who couldn't be bothered to go to the toilet". The Jaxx studio was windowless, and "we needed a fake sunlight to stop ourselves getting seasonal affective disorder. It was meant to be a stopgap, but we ended up being there for 10 years."
Enjoy unlimited access to 70 million ad-free songs and podcasts with Amazon Music Sign up now for a 30-day free trial
Sign up
Recognising that the only way was down, they moved in 2012 to their airy new studio – with windows big enough to spot possible UFOs – in north London, and embarked on a series of fresh starts. They both moved houses, reconnected with old friends, released an album of classical versions of some of their hits made with a Dutch orchestra, and created film soundtracks for Attack the Block (2011) and this year's hula-hoop movie The Hooping Life.
They also took their first extended break after more than a decade of near-continuous recording and touring. Which is not to say that they had become rock'n'roll burn-outs, they insist. "We've been conscious of not losing it on drugs and alcohol or becoming arrogant," says Buxton. "We've always been aware it wasn't cool. To me, that whole rock'n'roll thing always seemed very egotistical."
Ironically, the Jaxx had increasingly found themselves playing rock festivals before their break, alongside Muse and Arctic Monkeys. At the same time, the fashion in clubland had moved away from vocal house music, their natural habitat, first towards dubstep, and then into EDM (electronic dance music), the youthful, bubblegum ravegasm that has erupted across America and turned the leading DJs who play it into Forbes-listed gazillionaires. "There didn't seem to be a place for us," Ratcliffe admits.
Were they ever tempted to clamber aboard the EDM bandwagon? "Yes," they reply, honestly. "As DJs we've played EDM tracks in the past, and it's amazing how well it goes down," says Ratcliffe. "So there was definitely a moment where we thought, 'Are we gonna go for that?' But we didn't want to do it and fall short – that would have been pointless and embarrassing."
But then, two years ago, as they began to discuss whether to record another album – their deal with the XL label had expired – and what direction to take, clubland changed again, this time in their favour. A new generation began dancing to deep, soulful house music, a 1990s sound given a modern sheen by young artists who are now rewriting the pop rulebook: Disclosure, Duke Dumont, Oliver Heldens.
Having spotted the trend early through their DJ gigs, the Jaxx decided to act, signing to an independent label, Pias. They did talk to Sony, but "we went with our hearts rather than the cash in the end", says Buxton. However, they were canny enough to enlist a largish group of talented young renegades to work on their new material – including the super-fierce transvestite rapper Mykki Blanco, the super-smutty Scottish rapper Patricia Panther and the super-smooth south London teenager ETML, who sings like Jamiroquai's kid brother.
The resulting album, Junto – the Spanish word for "together", pronounced "hoontoe" – is, in their words, "fun, a light listen", and a return to vintage form; upbeat, synergetic vibes prevail throughout. Basement Jaxx were once renowned for their sunny outlook and their madcap, maximal, multiculti approach to house music – and Junto is the sound of the duo going back to the future. "We thought, let's return to the fundamentals of what we're really about," says Buxton. "Although this time the sound is a little more stripped-back. We made the effort to not put everything in; we wanted it to be authentic in its heart."
A few hours later, in a field somewhere near Brighton, Buxton, Ratcliffe and their rainbow "family" of musicians, singers, dancers and rappers explode across the main stage of the Shakedown Festival. Many of their young congregation appear to be in some kind of orbit, possibly surrounded by entire star-fleets of UFOs; the atmosphere beforehand is intense and frazzled, caught in the limbo between a good and bad trip, but the Jaxx's kinetic show, with k new songs from Junto slotting seamlessly alongside classics such as "Red Alert" and "Romeo", causes boisterous, happy carnage.
Ratcliffe and Buxton buzz around the stage alternating between guitars (Ratcliffe) and a bank of sonic toys that includes keyboards, laptops, CD decks, sample pads and a mixing desk. They "never notice" that they are twice the age of most of their audiences, says Ratcliffe (who, at 44, is a year older than Buxton). The rapturous ovation they receive at the end of their set confirms the absence of any generation gap: not since the late 1990s have Basement Jaxx been so aligned to the zeitgeist.
I should confess to having an unusually clear view of all this. During the penultimate song, "Where's Your Head At", I was on stage too – in a gorilla suit, doing my best to channel my inner Serkis. The brief I had received from Andy, the stage manager, had been to keep it "ape" (translation: please try not to dance like a berk).
The Jaxx have two gorilla suits, and tend to grab whoever is backstage for a spontaneous cameo, all part of the fun. Unbeknown to the audience, past apes have included members of Vampire Weekend, Mike Skinner of the Streets and, I can exclusively reveal, Prince Harry, a few years ago at the Wireless Festival in London.
Unfortunately, HRH broke the cardinal "ape" rule with some very cheesy disco moves, provoking Buxton to rugby-tackle him, sending the royal security guards offstage into meltdown. In the heat of the moment, Buxton had forgotten who was inside the suit. He apologised profusely afterwards, inexplicably giving "a sort of curtsy" for which he has never quite forgiven himself.
"The appeal of dance music has always been that it isn't about the ego – it's about people just having fun together," says Buxton. "They say that when a country goes through a recession, people look back to the things that are near and dear to them. And if you've had no money, you need to hold on to things to make you feel good." Amen to that.
'Junto' is out tomorrow. Basement Jaxx play Bestival on 4 September. Their UK tour begins at the O2 Academy, Sheffield, on 29 November; for dates and tickets: basementjaxx.com
Register for free to continue reading
Registration is a free and easy way to support our truly independent journalism
By registering, you will also enjoy limited access to Premium articles, exclusive newsletters, commenting, and virtual events with our leading journalists
Already have an account? sign in
Join our new commenting forum
Join thought-provoking conversations, follow other Independent readers and see their replies